Jump to Recipe
***This recipe for Best Ever Fettuccine Alfredo first appeared on Loaves and Dishes on May 11, 2015 and has been republished with NEW content!***
Hi!  Want to be a KITCHEN ROCK STAR???  You already are!  You have it within you!  (I read that line once on a "working out" website – and I am so NOT a Workout Rock Star as a result, it made me laugh to even read it).  However,  YOU CAN BE a Kitchen Rock Star with this super simple and SO SO YUMMY recipe for the Best Ever Fettuccine Alfredo!  I promise!  REALLY, I PROMISE!
WHY WOULDN'T YOU SERVE BEST EVER FETTUCCINE ALFREDO!?
I have deliberated even sharing this recipe for the Best Ever Fettuccine Alfredo because, um, it is NOT what you would call ,even remotely, a healthy recipe.  (but hey – it's International No Diet Day!) This recipe is however, the most delicious and decadent recipe that I have in my "perfect every time" arsenal. I urge you to put it in your kitchen weapon stockpile too.
FETTUCCINE ALFREDO IS WHAT THEY REQUEST EVERY SINGLE TIME…
This is the dish that my grown children request when they are coming home for dinner after being away for months at school. My daughters request Fettuccine Alfredo when they are having "someone special" over for the first time.  Fettuccine Alfredo is the dish that my oldest daughter asked me to make when she brought two chef friends home for a holiday break.
Most of all, talk about easy, this is the dish that my youngest daughter has learned to fix and "wows" her friends with.  So , SEE! , if my 16 year old daughter can fix this dish for 10 hungry teenagers, you can fix this for any number of your closest friends and AMAZE them EVERY SINGLE TIME!
THE PROBLEM WITH THIS FETTUCCINI ALFREDO IS…
You will laugh when you see how easy this is and you will never order Fettuccine Alfredo at a restaurant again because you will say to yourself, "it won't be as good as mine – I would rather have something that I can't make for myself".  Promise.
CAN BEST EVER FETTUCCINE ALFREDO BE FROZEN?
Fettuccine Alfredo can be frozen and still taste fine.  The problem is that the sauce often separates and then it looks unappetizing.  If you are going to freeze it, you will want to allow it to thaw gently and then heat gently on the stove top and add a little bit of milk to bring it all together.
WHAT MEAT WORKS BEST WITH FETTUCCINE ALFREDO?
Seriously, a better question would be, "What meat DOESN'T work with Fettuccine Alfredo?  It is really your pick, but this dish works perfectly with…
Chicken
Beef
Pork
Scallops
Shrimp
The thing is, you will want to choose a meat preparation that is lower in fat.  For example, a lean piece of chicken like grilled breast works best or a leaner cut of beef like sirloin works well.  The fat in the fettuccini alfredo balances out the leaner choices.
CAN YOU MAKE FETTUCCINI ALFREDO WORK WITH VEGETABLES?
Absolutely!  This dish is perfect with some grilled veggies like peppers, onions, mushrooms and broccoli!
HOW LONG CAN FETTUCINI ALFREDO SIT OUT ON THE COUNTER?
You will want to put a lid or plastic on this and put it in the fridge within 2 hours.
HOW LONG WILL FETTUCINI ALFREDO KEEP IN THE REFRIGERATOR?
This recipe for fettucini alfredo works best when eaten right away, however, if leftovers happen, wrap them up and place them in the fridge. They will keep for about a week.  When reheating, add a little milk and heat on the stovetop over a medium low heat until heated through.
Recipe Inspiration for Best Ever Fettuccine Alfredo
About 10 years ago (maybe more) I ran across this recipe  and I am so sorry that I have no idea where I found it.  Over the years, I have changed the amounts, added the garlic and added the oregano.  So, while I didn't make this one up from scratch, I am positive it has changed significantly from the original version.  I hope you use it as your own for many years to come.
Serving Suggestions for the Best Ever Fettuccine Alfredo
Serve Fettuccine Alfredo with a crusty bread because you will need it to sop up the extra sauce.  Serve with steamed Broccoli on the side or serve with a green salad and that is all you need!  Since the Alfredo is kind of heavy it's best to make your side dishes light.  Wonderful and Easy Dinner!
YA'LL HELP ME OUT
Please leave me a 5 star 🌟🌟🌟🌟🌟  comment below in the comment section , all right? I would LOVE to know if you made this recipe or even if you are planning to! Of course, head on over to Pinterest, Facebook and Instagram and tag me with some photos of your creation!
I can't wait!
Ya'll know I love your comments!! ❤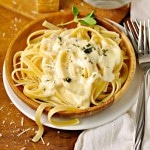 Best Ever Fettuccine Alfredo
DELICIOUS AND EASY GO TO DISH
Keyword:
Fettuccine Alfredo, Alfredo
Ingredients
1

stick of butter

1

clove

of garlic – minced very small

1

8oz

block of cream cheese – cut into 1 inch cubes.

the lite kind is ok – but believe me, if you are having fettuccine – have the fettuccine – don't skimp.

1

cup

of heavy cream

again, you can use half and half or milk – but if you are having fettuccine, have the fettuccine!.

1

cup

of freshly grated Parmigiano Reggiano

¼

cup

of Parmesan Cheese

you know, in the green plastic can – I have no idea why – but this makes it creamier.

1/4

tsp

dried oregano

1

box of fettuccine noodles

Fresh oregano for garnish

Salt and pepper to taste

the tasting is very important – see the instructions
Instructions
In a thick bottomed heavy soup sized pan, heat the butter until melted over medium heat. Add the minced garlic, cream cheese, heavy cream and the Parmigiano Reggiano and Parmesan cheeses. (If, like me, you live in a remote place where the real deal Parmigiano Reggiano is not available to you at your local grocer – you CAN use the Parmesan in the green can for the entire amount – however, the flavor is SO MUCH BETTER with the real thing – pick some up on your next trip into the city – it is expensive, but lasts a super long time and makes a lot when you grate it up!). Reduce the heat to medium-low and stir frequently until all is melted. Add the dried oregano. Reduce heat to low and maintain until ready to serve. Stir frequently to keep from burning to the bottom of the pot.

While the ingredients in step one are melting, cook the fettucini noodles according to package instructions except DO NOT SALT THE WATER.

Once the sauce is completely melted, it is very important to taste it BEFORE you add any salt – then carefully add salt until it tastes right to you. Then this is important too – take a prepared noodle (remember you didn't salt the water), dip it in the cheese that tastes right to you and make sure it still tastes right. It might need a tiny bit more salt – since the noodle has none. Cheese is very salty and often the salt does not require any salt – it really just depends on the quality of the cheese you are able to locate. When the sauce and the noodle combo finally taste just right to you, you are ready to serve your masterpiece! When ready to serve, place the noodles in a large serving dish and as guests sit down to eat, pour the sauce over the noodles, toss gently and garnish with fresh herbs. Serve immediately. Keep sauce separate until ready to eat because it will clump as it cools. If you need to reheat leftovers, you can place in a sauce pot, heat over medium heat and add a little milk and stir frequently.
Nutrition Facts
Best Ever Fettuccine Alfredo
Amount Per Serving
Calories 400
* Percent Daily Values are based on a 2000 calorie diet.