Cauliflower Cheese. Cauliflower Cheese. What can I say about Cauliflower Cheese? It is darn good. Now you have it, that is what I have to say, post over, hit "print", let's go home and fix this dish!
Really, truly I am having some writers block over this post. I wish you could just come over and we could peek into the stove together as this is baking. We would giggle about the bubbly cheese and the way it is browning on the top – so delicious and crusty.
I think the "foodie" in me is about 7 years old – because honestly – these are the things I get excited about. While I like adult foods like balsamic vinegar and flavored olive oils or a great arugula endive salad – those things are way too grown up for the real me. Give me some bubbly stringy cheese pulls and pasta any day!
Which reminds me, one great thing about this recipe – the pasta –there isn't any. Remember I told you about someone in my life who has to be really careful with their carbs? Pasta can cause some real food sensitivities. Instead, in this recipe the pasta is replaced by cauliflower. Cauliflower with CHEESE!! I promise this isn't some crazy dish that is "far out" like cauliflower crust pizza, which I have seen on Pintrest. I mean, really? Please don't try to fool me like that – because I will get mad at you if I bite into what I think is pizza and it turns out to be cauliflower!
PAIRINGS FOR CAULIFLOWER CHEESE
Talking about balsamic and grown up tastes, this Cauliflower Cheese would pair great with Arugula Caprese Salad! Oh yes it would! YUM! Those bright acidy notes would play so wonderfully against the creamy goodness in cauliflower cheese. You can find that recipe RIGHT HERE < CLICK HERE.
TELL ME: What age is your inner foodie? Leave me a comment below – because I am honestly curious about it.
With that, I will leave you with the charge to Make Dinner, Not War!
COMING UP NEXT TIME:
A delicious and cheesy meatball dish that you won't want to miss! And WAIT – bookmark this website – because very soon my recipe for THE Chocolate Cake is coming up. You WILL NOT want to miss that!
The true light that gives light to every man was coming into the world.He was in the world, and though the world was made through him, the world did not recognize him. ~ John 1: 9-10
Recipe Inspiration and adaptation from
I do want to give this recipe proper attribute. This recipe was inspired and adapted from a recipe I saw back in October on smittenkitchen – one of my favorite food blogs. You can find that link HERE. Smitten Kitchen is AMAZING and you should go there and follow her blog! A true legend in food blogging!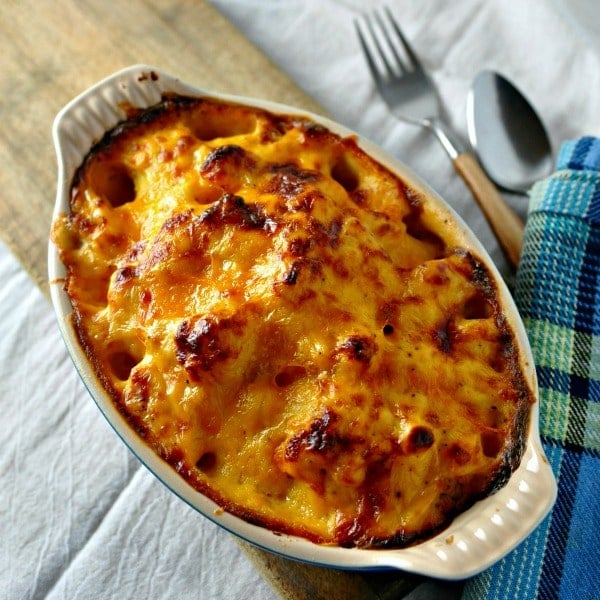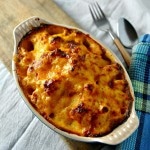 Cauliflower Cheese
Cheese Cauliflower Cheese - all the goodness without the pasta
Keyword:
cauliflower cheese, cheesy cauliflower
Ingredients
1

medium head

approx. 2lbs cauliflower

4

Tbs

unsalted butter

4

tbs

all purpose flour

Salt and pepper to taste

1/4

tsp

smoked paprika

1/4

tsp

black pepper

1

tsp

whole grain wet mustard

2

cups

whole milk

2

Cups

grated cheese

very Sharp - something like Cabots

1/4

Cup

Freshly grated Parmesan Cheese
Instructions
Preheat oven to 400

Remove cauliflower florets from the stalk and discard stalk. Cut florets into 1-2 inch pieces. Steam the cauliflower for 5- 10 minutes until firm but tender. You may also roast the cauliflower in the oven - a delicious twist!

Spread out 2-3 layers of paper towel onto a baking sheet and then spread the florets out onto a paper towel to dry while making the cheese sauce.

In a medium sauce pan, melt the butter over medium high heat, add the flour and whisk to combine. Cook for about 1-2 minutes so that any flour taste will be removed.

Add the smoked paprika, black pepper and wet mustard, black pepper and stir to combine.

Pour the milk in a steady stream into the cheese sauce, whisking the whole time so that the mixture stays creamy and does not clump.

When mixture thickens, add the cheese one handful at a time. Taste the sauce and adjust the salt/pepper as needed.

Spread the dried cauliflower florets into a 2 quart baking dish (or iron skillet), spoon the sauce over the top and sprinkle the fresh Parmesan cheese over the top. Bake until browned and bubbly – about 30 minutes. Garnish with fresh herbs if desired.
Recipe Notes
Choosing a good cheese for this dish is imperative as that adds a ton of flavor. 
Nutrition Facts
Cauliflower Cheese
Amount Per Serving
Calories 330
* Percent Daily Values are based on a 2000 calorie diet.
DESSERT
And now for the post blog dessert. Do you know Esther? Me either. But I am her friend on Facebook. I think she and her dads are a hoot. I have a bucketlist item now to visit her farm. You should check her out – you can find her right here. I ordered her calendar for 2015 (plus I ordered an extra one for my friend Marcia who loves her too – but shhhh don't tell Marcia – it's a surprise for Christmas). So – when you are wondering about all the behind the scenes stuff at Loaves and Dishes – you can think about me scheduling all of my recipes on my Esther calendar. Lol. Fun.