Jump to Recipe
Don't you LOVE restaurant quality taste in an easy cook at home dish?  ME TOO!  This recipe for Lamb Shanks in Wine Sauce is just that!  Slow Cooked in a delicious, rich sauce and cooked 'till falling off the bone.  Oven and Crock Pot / Slow Cooker instructions are included.
Some folks don't like cooking with wine, and I get it.  No worries.  I've got a solution for you too – Simply follow the instructions for broth only.  It's no big deal, really.  
And here is some great news: This recipe doesn't have to cost a fortune!  Because an inexpensive bottle of red wine is fine. Just choose something that you would actually drink, and that will work for making Lamb Shanks in Wine Sauce!
Slow cooking is what makes all the difference for these Lamb Shanks in Wine Sauce.  Hence, simply follow the instructions for making sure that they are prepared correctly and consequently, you'll be on the right path.  
HOW LONG DO YOU COOK A LAMB SHANK IN THE SLOW COOKER?
Because Lamb shanks are a leg portion, they can be tough – as leg muscles tend to be.  As a result, slow cooking takes care of tough meat.  As you are cooking, if you pull the lid off to test yours out and think it isn't tender enough -most of all, it just needs to cook some more.  
The lamb shanks I purchased probably cooked on high (at about 140-180 degrees, if done in the oven) for about 4 hours.  Therefore, a slow cooker set on low should be done in 8 hours.
HOW DO YOU COOK LAMB IN A SLOW COOKER?
Lamb is the perfect meat to cook in a slow cooker or a crock pot or in a dutch oven at a low temp in your home oven.  Simply clean the lamb shank according to the instructions I've included and then put everything in and turn it on!  Consequently, it is ready in almost 4-6 hours!
HOW DO YOU COOK A LAMB SHANK IN THE OVEN?
Most noteworthy, just exactly like you do in a slow cooker or crock pot!  Simply put everything in a dutch oven and set the oven on 160 – cook for 4 hours.  See how that works?
HOW MUCH DO LAMB SHANKS COST?
The cost of the lamb shanks depends on the weight.  I bought these at Publix and it was about $5 per shank.  You can see in the photo.  Hence, $10 for this dish.
HOW TO PREPARE THE LAMB SHANKS FOR Lamb Shanks in Wine Sauce
Remove from the package
It is especially relevant that you will want to make sure that the lamb shanks are prepared as follows.  Perhaps your butcher already prepared them this way, but mine didn't.
2. Cut around the small end of the bone to release the tendon
Use a sharp knife to cut around the circumference of the bone near the small end to release the tendon on that end. (There is no photo of this process because I am unable to take a photo,  hold the lamb shank and cut around the circumference of the shank).  Just use a sharp knife and cut all the way around the small end of the shank – cut directly down to the bone.  If you look closely at the photos you be able to see where I have done this. 
Use your sharp knife to remove the extra fat from the shank.  Most of the time I encourage you to leave the fat on what you are cooking, but in this case, your sauce will end up too fatty and that just doesn't taste good. So, go ahead and remove it now.
3. Remove as much of the fat and the silver skin as possible
You will notice the silver skin on the shank as well.  I like to remove this as well.  Simply slip the tip of your sharp knife below the silver skin and make a cut, then pull to remove.  You might have to repeat this several times.  
PHOTO PROCESS OF Lamb Shanks in Wine Sauce
First you will brown the lamb shanks on all side in hot oil in the bottom of a frying pan or in your dutch oven.  This photo shows a dutch oven.
Brown the other side.  The shanks should be about this brown when you turn them.
Then put the veggies in to brown as well.
Then add the other ingredients…
Then add everything in and put the lid on so that it is ready to go in the oven.  If you are using a crock pot, pour everything into the crock pot and turn the crock pot on.
This is how it looks when it is ALL DONE!
TIPS AND TRICKS FOR Lamb Shanks in Wine Sauce
Make sure the clean the lamb shanks as I described.  They will be too fatty and greasy and have too many tendons and clingy silver skin if you don't.  Ewww.

I think it is best to cook them first and then allow them to sit overnight in the fridge if you possibly can.  Not everyone can do that, but believe me, it's best and you won't be sorry.  Hey! If you are making these for a dinner party – that part will be over and you'll only have the sauce to worry with on party day!

For the BEST results, choose lamb shanks that are as close to the same size as possible.  In this case, you can see that my lamb shanks were quite different in size.  You can see from the photos that the small lamb shank did actually fall off of the bone.  No worried about over cooking – its just better if they are the same size.  That wasn't possible for what I had to choose from.

Sometimes the meat DOES fall off the bone – don't worry about it if this happens to you – just put it all on the grits/potatoes/ starch of your choice.  

Just fyi – lamb has a different taste than beef or pork.  If you haven't ever eaten lamb before, this would be a good first dish – make sure to get that fat and silver skin off – I think that must be where some of the lamby taste comes from.

If you need MORE than 2 shanks – that is fine!  Simply prepare more!  This recipe will easily handle at least 6 shanks and there will still be sauce left over!
SERVING SUGGESTIONS
These are EXCELLENT over a parmesan polenta (which is just like fixing grits – if you are a southern gal like me), they are, coincidentally WONDERFUL over parmesan grits and PERFECT over some parmesan mashed potatoes.  I haven't tried them over noodles – but I bet – wow.  I would try some garlic,buttery noodles.  Rice?  Same.  

You will want to pair with a bitter green – my advice, anyway.  Like an arugula salad – with parmesan curls, of course!

Wine – just choose a red wine that you would drink at the table too.  Aldi makes some good low price options as does Trader Joes.  At Trader Joes, go for the Charles Schwab (we lovingly call it 2 buck chuck).  For these photos, I used Blackstone Merlot 2014 – about $10 per bottle at Sam's Club.  Very good in my opinion and fairly inexpensive.  I'm a white wine drinker and I like this particular red.
If you DON'T WANT TO COOK WITH THE WINE, simply substitute with chicken broth in the same amounts.  That's fine.  
IF YOU ENJOYED LAMB SHANKS IN WINE SAUCE, YOU MIGHT ALSO ENJOY….
Southern Fried Potatoes and Onions
10 Minute homemade creamy pasta sauce
THE RECIPE FOR LAMB SHANKS IN WINE SAUCE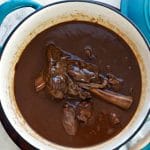 Lamb Shanks in Wine Sauce
This is a simple restaurant quality recipe for Lamb Shanks in Wine Sauce.
Keyword:
lamb shank recipe, lamb shanks
Ingredients
For the shanks
2

Lamb Shanks - prepared

Salt and Pepper

2

Tbsp

Olive Oil

1

medium

onion - quartered

2

small

carrots - cut in half

4

cloves

of garlic - crushed

3

Tbsp

flour

32

oz

chicken broth

2

Cups

red wine

if not using wine, substitute 2 Cups more chicken broth

1

tsp

coriander

1

tsp

cumin

1

tsp

smoked paprika

regular paprika is ok

1

tsp

dried thyme

3

bay leaves

4

Tbsp

tomato paste

Salt and Pepper to taste
For the wine sauce
½

cup

water

3

Tbsp

cornstarch
Instructions
For the Lamb Shanks
In a large frying pan or in the bottom of the dutch oven, heat the olive oil until shimmering. When the oil is hot, add the prepared lamb shanks (tendon cut, silver skin removed and salt and pepper sprinkled over both) one at a time and brown on each side. Once browned, remove to a plate.

Add the onion, carrot and garlic and brown until each has some browned color to it.

Add the flour and stir. Allow the flour to cook on the veggies for about a minute. Add the tomato paste.

Add the chicken broth all at once. Use a wooden spoon to scrape any stuck on bits from the bottom of the pan. (If using a crockpot, pour all of the ingredients into the crockpot at at this point).

Add the lamb shanks back to the liquid.

Add the wine, coriander, cumin, paprika, thyme and bay leaves. Cover. If using crockpot, then cook on high for 4 hours or on low for 8 hours. If using a dutch oven, place in the oven on 160 and cook for 4 hours. Lamb is ready when the meat is nearly falling off of the bone. (Pulls away from the bone easily with a fork).
For the wine sauce.
When the lamb meat is done, remove the shanks and any loose meat from the cooking vessel. Strain the liquid that is in the cooking vessel through a fine mesh sieve and reserve the liquid. You can discard the solid vegetable pieces.

At this point, I put the lamb back in the liquid, allow it to cool and then place in the refrigerator overnight. The next day, I spoon the fat off of the top of the cooled liquid. Then reheat the contents. It is also fine to simply proceed with the directions. If you do so, the sauce will be more fatty and greasy.

Place the liquid back in the dutch oven and place on the stove top (if you have used a crockpot, put the liquid in a large skillet or saucepan). Set on medium.

Heat till bubbling. Allow to reduce until about ½ of the original amount.

Mix ½ cup of cool water with 3 tbsp of cornstarch and mix till no lumps are visible (it will look like milk if you have mixed it correctly). Add this to the bubbling liquid and mix well (but gently). Liquid should thicken over the next few minutes.

Reduce heat and replace the shanks back in the liquid. Serve when lamb is reheated and is warm throughout.
Recipe Notes
This recipe contains directions for both crockpot/ slow cooker and dutch oven.  Either is fine for this recipe.  You will dirty more dishes if you use a crockpot/slow cooker.  
Please note that you should start this recipe the day BEFORE you plan to serve the dish.  This works in your favor in TWO ways: 1.  You can serve this for a dinner party and all you will have left to do to the main course is to make the sauce and heat the meat through!  2.  You will be able to spoon off the extra fat - this makes a much nicer sauce that is less "gamey" tasting - that lamb "gamey" taste that many people complain about is mostly in the fat.  
If you need more instructions for how to prepare the lamb shank, please search "Loaves and Dishes" through the search function for in depth instructions. 
If you are serving MORE than 2 people - just prepare more shanks.  There is WAY more than enough sauce to go around! This recipe will easily handle 6 shanks.  
Nutrition Facts
Lamb Shanks in Wine Sauce
Amount Per Serving
Calories 230
* Percent Daily Values are based on a 2000 calorie diet.
A VERSE TO SHARE
Have you ever waited in line at the drive through and when you pulled up, the drive through person said, "the person ahead of you paid for you – yours is free" or maybe been at a restaurant and asked for the bill when the waitress says, "Someone else paid your bill".  
I have.
Wow.  It's a nice feeling.  
That is called, "Paying it forward".  I try to do this some too.  Make someone else's day.  
We don't often read about this kind of thing in the news.  Why?  I suspect it is because no one profits from this.  It happens though – because there are plenty of good people doing good things out there in the world.
I have some even better news for you.  
There is ONE who is the original of "pay it forward".  Do you know who paid your eternal debt?  Do you know who MADE SURE that your soul is forgiven?  Jesus did.  He paid it forward BIG TIME.
Your crown has been bought and paid for – so – you should put it on!  You are an amazing child of God.  Your head is anointed and every precious hair is counted and known.  
Isn't that wonderful news?
Yes.  Yes it is.
Let's remember that the next time we are feeling down and pitiful.  When we go to "no one loves me and I don't matter".  
Child, you DO matter.  Jesus paid the price for you because NO ONE MATTERS MORE!  
Put that crown on.  Hold that head high.  You are beautifully and wonderfully made.  So is everyone else that you run into.  So, remember those in need.  In His memory, maybe you could pay it forward too.  Make the world a better place.  🙂  Peace friends.