Perfectly browned and juicy, you can cook these mushrooms at home! Ready to top a delicious hamburger, steak, pasta or just to eat by itself! Done in 15 minutes when you know how to saute mushrooms!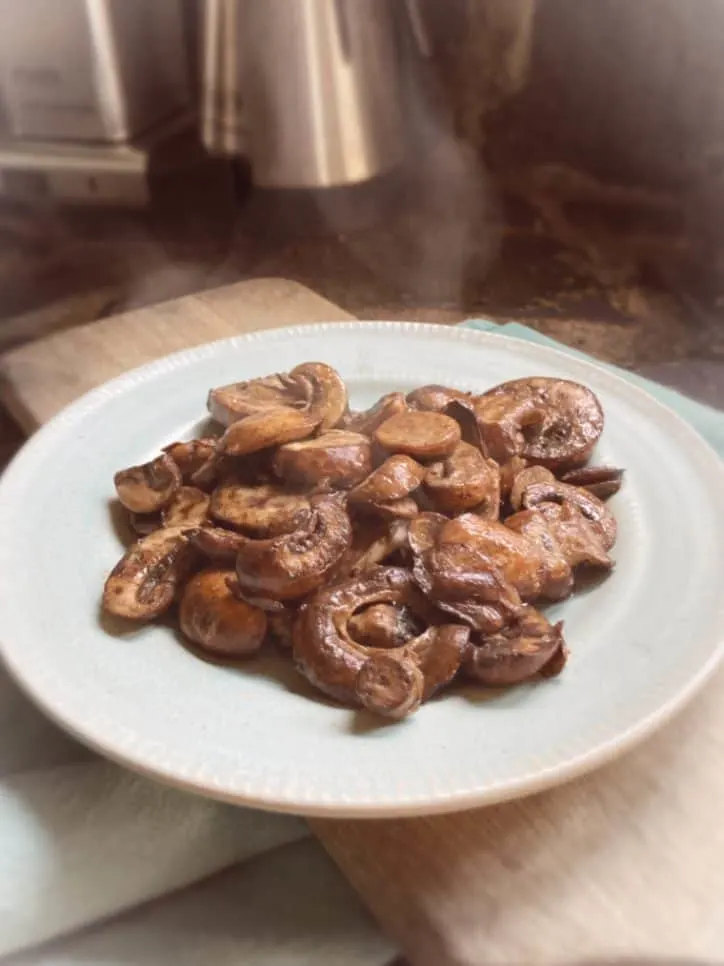 How To Saute Mushrooms
Mushrooms are a terrific way to add meaty flavor and interesting shapes to so many dishes!
Ways to Use Mushrooms
We LOVE mushrooms in these dishes and there are so many others to choose from too!
Egg Dishes Like – Frittatas, omelets and breakfast casseroles.
Pizza
Casseroles
Stir Fry
Pastas
Over meats in sandwiches and straight off the grill too!
Or use in dishes like these…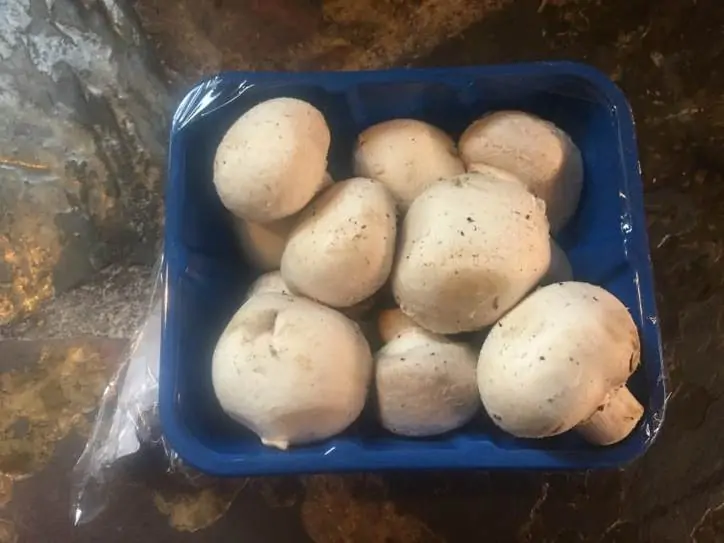 Saute in a Few Easy Steps
Clean and slice the mushrooms
Heat the pan
Saute over medium heat till mushrooms release their water and begin to brown.
Here's What You'll Need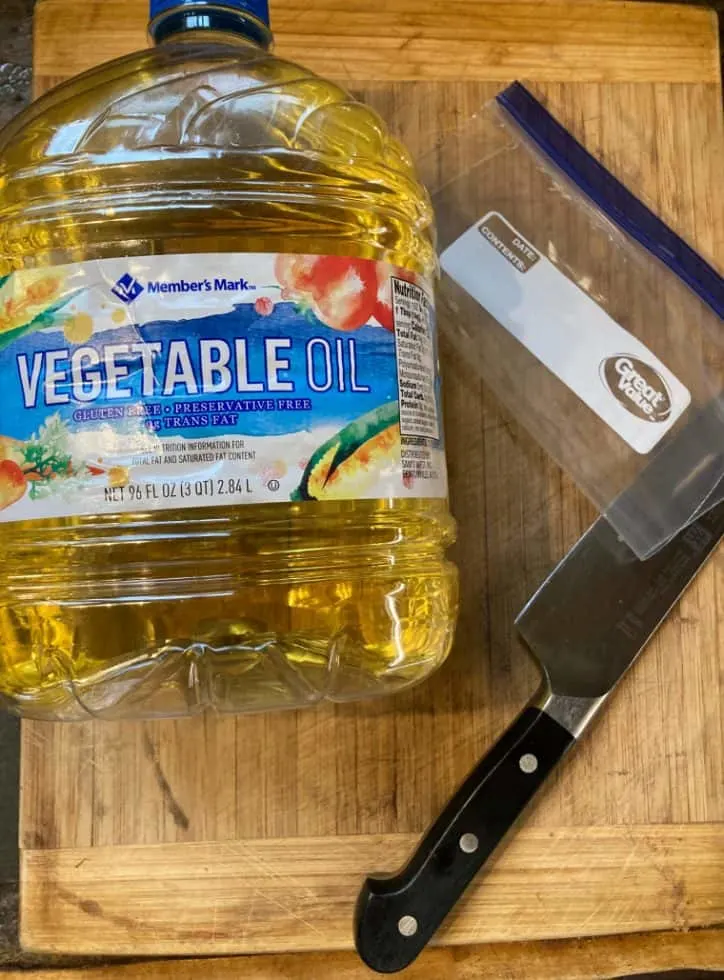 Cutting Board
Knife
Frying Pan
Oil
Mushrooms
Stove
***No need for plastic bag***
Frequently Asked Questions (FAQ's)
What Kind of Mushrooms Work Best for Sautéing?
You can saute any kind of mushrooms! It's easiest to find:
Button Mushrooms
Baby Bellas and
Portabellas (same thing as a baby bella, just full grown).
At the grocery store, but you can also saute:
oyster mushrooms
cremini
chantrels
and many more when you are able to locate them!
How Do I Clean Mushrooms Before Sautéing?
It's best to use a damp paper towel to brush off any visible dirt, however, if the mushrooms are just way too dirty for that, then rinse and rub the dirt off with your fingers, then lay out to dry on a towel. Use when dry.
How Do I Season Sautéed Mushrooms?
Oftentimes, less is more with sensational tasting ingredients like fresh fine mushrooms! Therefore, salt, pepper and maybe a dash of garlic is a favorite.
However, be adventurous and try some other flavor combinations like soy sauce, cayenne, onion powder, balsamic vinegar or chinese five spice even!
How Do I Know When Sautéd Mushrooms are Done?
You'll see as you saute the mushrooms that for the first minute or so, some browning takes place and the pan is very dry. In the next few minutes, water will appear in the pan (the mushrooms are releasing their water). In another minute or so, the mushrooms will develop a deep brown and will have shrunk a little. Now they are done!
How to Cook Mushrooms for Pasta?
You can use this recipe for sautéed mushrooms for your pasta OR if you are adding mushrooms to your tomato sauce, simply add them in and let them simmer.
What Does a Bad Mushroom Look Like?
Bad mushrooms become mushy and have spots on the caps that are dented in. Often you'll notice a strong funky odor.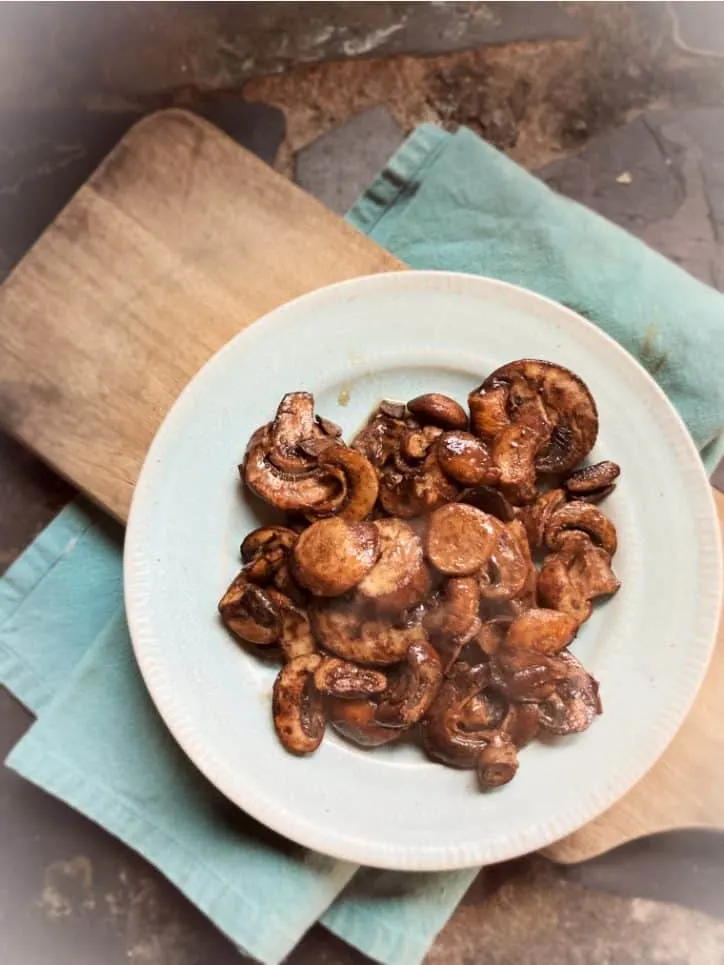 Tips and Tricks
Use the freshest mushrooms you can find.
The older your mushrooms are, the less liquid they will release. So, don't burn your mushrooms up looking for the liquid to come out.
Generally speaking, mushrooms that are marked down for quick sale or often past the point of tasting good and looking beautiful.
You'll want to use a flavorless oil (like vegetable oil) or butter to saute your mushrooms. You can use olive oil, but it often lends its own flavor and you'll have to decide if that is what you want in your recipe or not.
Any skillet or even a saucepan will work for sautéing mushrooms, I like to use my cast iron because it heats so evenly.
Let the pan come to temperature before adding the mushrooms.
Always add some salt to your mushroom dish. Mushrooms often take more salt than what you expect.
If You Enjoyed This Easy How To Recipe, You Might Also Enjoy…
Watch Me Saute Mushrooms Right Here
Can You Help Me Out?
Please leave a 5 STAR comment in the comment section below. This helps others to find the recipes at Loaves and Dishes!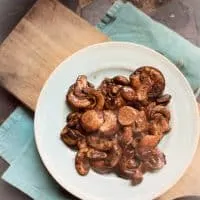 How to Saute Mushrooms
A quick way to cook up delicious mushrooms for your recipes or to eat as a side! Easy, fast and done in less than 15 minutes!
Print
Pin
Rate
Ingredients
2

tbs

oil

vegetable or olive oil

8

oz

mushrooms

sliced

pinch

kosher salt
Instructions
Heat skillet on the stovetop over medium heat. Add the oil to the pan.

Once the pan is preheated, add the sliced mushrooms all at once.

Heat in the skillet until lightly browned and until the water has been released from the mushrooms. (2-4 minutes). Sprinkle with a pinch of salt.
Notes
Use the freshest mushrooms you can for this recipe. You want your future recipes to have fresh ingredients!
This works for any type of fresh mushroom that you can purchase in the grocery.
If you decide to wash your mushrooms first, be sure that they are completely dry before starting this recipe.
If you do not wash your mushrooms, be sure to brush off any visible dirt with a paper towel.
Check your mushroom label, they may be prewashed. The label will tell you.
The mushrooms will keep in the freezer for a three months.
PRO TIP: Use a mixture of mushroom types for more interesting flavor and textures.
Nutrition
Nutrition Facts
How to Saute Mushrooms
Amount Per Serving
Calories 74
Calories from Fat 63
% Daily Value*
Fat 7g11%
Sodium 3mg0%
Potassium 180mg5%
Carbohydrates 2g1%
Protein 2g4%
Vitamin C 1mg1%
Iron 1mg6%
* Percent Daily Values are based on a 2000 calorie diet.
With a pandemic upon us, it can seem like a stretch to find things to be thankful for. That isn't what the Lord calls us to do though. We are a people called to be thankful in all situations, even this one.
Personally, I am thankful for you!
1 Thessolonians 5:18
Give thanks in all circumstances; for this is the will of God in Christ Jesus for you.