Date night at home! Whoot Whoot! You can make something that tastes better than what you buy at a restaurant and will certainly be more affordable! I mean seriously, when was the last time you prepared something as classy as a Creamy No Stir Parmesan Mushroom Risotto? Sounds difficult, doesn't it? Nothing could be easier!
Have you ever prepared Risotto? Here is what you do: stir, stir, stir, stir and stir some more!
I don't know about you, but I hardly make gravy any more because of the stirring. You certainly don't want to be stirring like that when you have had a hard day at work and you are tired and hungry and frankly, HANGRY!
You don't want to stir endlessly when you have other things cooking and when this is supposed to be a date night!
But, oh man, this is the perfect method for a "hardly any stirring" creamy light and delicious Creamy No Stir Parmesan Mushroom Risotto and I couldn't be more thrilled to share it with you. You simply have to follow my directions explicitly and you will be walking to the table with a beautiful and tasty dish that you will be so proud to serve your friends, family and special someone!
INSPIRATION FOR THIS Creamy No Stir Parmesan Mushroom Risotto
The basics for this dish come from one of my TV heros: Ina Garten. I watched her prepare this on TV and I was HOOKED! Her dish calls for frozen peas. I like the frozen peas, but I love the addition of the bullion concentrate, mushrooms and garlic better.
In fact, that is the beauty of this recipe. Once you have the basic recipe down. You could add whatever you like to it. You could add broccoli and small carrot bits. You could add some small pieces of pancetta or bacon. You could garnish with fresh herbs. The possibilities are endless.
THE RECIPE FOR Creamy No Stir Parmesan Mushroom Risotto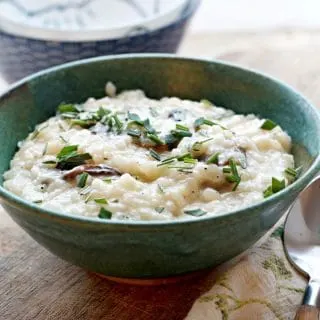 Creamy No Stir Parmesan Mushroom Risotto
I want to eat it every day and every weekend all year long. You will too. Creamy, luscious and it feels so RICH!
Print
Pin
Rate
Ingredients
1 1/2

cups

Arborio rice

4

cups

chicken stock

1

cup

of chicken stock

1

cup

freshly grated Parmesan cheese

1/2

cup

dry white wine

3

tablespoons

unsalted butter

diced

2

teaspoons

kosher salt

1

teaspoon

freshly ground black pepper

12

oz

mushroom

wild if you can find, button if not
Instructions
Preheat the oven to 350. Rinse the Arborio rice well in cool water.

Place the rice and the 4 cups of chicken stock into the dutch oven. Cover with the lid and place in the oven.

Bake for 45 minutes.

While the rice is cooking, in a separate skillet, heat the 2 tbs of olive oil. When the oil is shimmery on the surface, saute the garlic in the olive oil and after one minute, add the mushroom slices. Cook the mushrooms until lightly browned and until the water is released from the mushrooms. Then remove from the heat and set aside.

Remove from the oven. Most of the stock should be absorbed. Add the other 1 cup of stock, the parmesan, white wine, butter, mushrooms and garlic mixture.

Stir well for 3 minutes without stopping.

Add salt and pepper to taste.
Notes
OK, you DO have to stir, but only a little bit at the very end. It's enjoyable actually.
Nutrition
Nutrition Facts
Creamy No Stir Parmesan Mushroom Risotto
Amount Per Serving
Calories 330
* Percent Daily Values are based on a 2000 calorie diet.
TIPS AND TRICKS FOR Creamy No Stir Parmesan Mushroom Risotto
Only use the Arborio rice. If you try to use some other rice, it won't work. Then you will be writing to me and saying, "I used Jasmine rice and my dish was terrible, overcooked and stuck to the dutch oven – this recipe is terrible". You MUST use the Arborio rice. When I first began making this dish, I could only find Arborio rice at Whole Foods (a 45 minute drive for me). Now, however, my local grocery carries it – so, it is likely that yours does too. Believe me, if we have it here, it is probably everywhere.

If you make your own chicken stock, this dish will be SO MUCH BETTER! If you don't know how to make chicken stock- you are in luck, because nothing is easier than making stock. I have a post HERE about that. Just skip the canning step and use it straight up.

If you make your own stock, you could skip the addition of the bullion concentrate because yours will have enough flavor.

If you do not want to add any wine to yours, that's fine. Just substitute extra chicken stock instead. The wine does give it a little flavor punch and surprise though and ½ cup for the entire dish isn't enough alcohol to do anything for anyone. I do understand that some people can not have ANY alcohol, so you be the judge in your kitchen.

If you ARE adding the wine – use a dry white wine. Something in the family of Pinot Grigio works or a dry Chardonnay. I usually go for the one with a rooster on the label. Only use a wine that is good enough to actually drink – no gut rot wines allowed. I can't remember the name of the one with the Rooster – in fact there are several with roosters on the label and the ones I've tried have all been good. In the $6 per bottle range here in NC – so, not terribly expensive.

If you do not have a dutch oven, then don't try to do this with any other crockery or metal/stainless/aluminum cooking vessel. It is time to invest in a decent dutch oven. I'm going to include a photo of the exact dutch oven that I use. I bought mine at Sam's Club a few months ago for $35 – so check prices locally before you buy on Amazon. This photo is a link – you can click straight through to Amazon if you want to see how much and consider a purchase (affiliate link).

Butter. I know some of you prefer to use margarine. The problem is that margarine, when melted is really just a vegetable oil and it tastes like it too. Could you just do the butter this once? You won't be sorry, promise.

This makes more than what two people can eat in one sitting. Let me start by saying, this stuff warms back up GREAT! Just add a little chicken stock or water to thin it and heat over medium heat on the stove top. Stir consistently. YUM! You can also microwave it as is, but it will be a little clumpy that way – still tastes great but if you want it back like it was when you first finished the dish, do the stove top reheat.

I haven't ever frozen it, so I can't say how that goes. It never makes it to the "what will we do with these leftovers" stage at my house because I eat it three times per day when I make it until it is completely gone!
A VERSE TO SHARE
Was it only 2 weeks ago that the entire nation was talking about how statues offend? Was it only two weeks ago that I watched videos of people throwing rocks and glass at one another in Charlottesville over the color of their skin?
I haven't heard one word of that this week.
Not one single word.
We all have something bigger to think about, don't we? Our thoughts and prayers are going up to our brothers and sisters in Texas. I haven't seen any pictures of rescues based on race or skin color, have you? Thank God!
In thinking about this, I was reminded of Isaiah 46.
God promises his steadfastness. He is the one who created us and he won't leave us. When we create our own Gods (money, racism, our jobs, power, nicer clothes, better makeup, whatever that other God is to you), it becomes REALLY HEAVY and IMMOBILE as you try to move on with your life.
Think about that for a second.
As an example, when I was a young adult, I wanted NOTHING MORE than a bigger home (something with at least 2 bathrooms for my growing family) and a bigger kitchen. I wanted a nicer car. I wanted a large deck on the back of my house to enjoy cookouts.
I am much older now and I have a larger home, a nicer car and a deck (I still have never had a big kitchen! lol).
What happened when I was able to improve my home and car? I also gained extra work in caring for the home. The yard is larger and takes longer to care for. The square footage is more and it is a LOT more to clean – which takes longer. My car is nicer and therefore, I stress more about keeping it clean and doing the necessary upkeep. I spend more money fixing small things that I wouldn't have worried about with my old car.
Isaiah 46: 5-7 slays me right there. I set those idols up and they are immobile while I toil and work to keep it all up.
For that reason, I've been working on downsizing. It is freeing to let go of things.
We sold the car. I'm driving our old truck these days.
I cleaned out my closet, gave away what some others wanted and the rest went to charity. I'm down to about 12 t-shirts, 4 shorts, 2 scrubs sets (for the day job), 1 pair of jeans, 2 dresses, 5 dress shirts, 2 dress pants, 6 pairs of shoes, a suit, 1 light jacket, 2 rain coats, a heavy barn coat, a heavy dress coat and necessary underthings.
Wow! Amazingly easy to keep my closet clean! Easy to decide what to wear when we go somewhere. Easy to do laundry and put it away. I keep most of my shoes in boxes these days and now they stay clean and nice looking!
No one seems to notice that they are seeing me in the same things all the time. I'm starting to think that other people aren't considering my stuff that much – they are worried about their own stuff!
So, all of that to say this, when we lay down our burdens, our heavy idols, we are freed.
Two weeks ago we were arguing over skin color and which color matters most. Now, because of a huge storm, we laid those burdens down and stepped up to help each other. We have freed ourselves.
We have seen people of all colors working together to save others. We have seen people of all colors working to save pets. We have seen people of all colors serving one another – realizing that no color matters more than another. We are all brothers and sisters in this work.
My prayer is that we can continue on that path.
I suspect that we will return to our old ways. Muscle memory is strong and we have certainly flexed our racism muscle for many many years.
I pray, out loud here, Lord, I pray for the people of the flooded areas. Let us continue to see each other for the human beings that we are. Let us continue to reach out and help each other. Let us honor and respect one another for the differences we have. Let us praise each other for the differences, accept them and move forward. Lord I pray that you use this flood for good.
This I pray. I hope you will pray with me. Amen.
Isaiah 46: 1-13
Bel bows down, Nebo stoops low;
their idols are borne by beasts of burden.
The images that are carried about are burdensome,
a burden for the weary.
They stoop and bow down together;
unable to rescue the burden,
they themselves go off into captivity.
"Listen to me, you descendants of Jacob,
all the remnant of the people of Israel,
you whom I have upheld since your birth,
and have carried since you were born.
Even to your old age and gray hairs
I am he, I am he who will sustain you.
I have made you and I will carry you;
I will sustain you and I will rescue you.
"With whom will you compare me or count me equal?
To whom will you liken me that we may be compared?
Some pour out gold from their bags
and weigh out silver on the scales;
they hire a goldsmith to make it into a god,
and they bow down and worship it.
They lift it to their shoulders and carry it;
they set it up in its place, and there it stands.
From that spot it cannot move.
Even though someone cries out to it, it cannot answer;
it cannot save them from their troubles.
"Remember this, keep it in mind,
take it to heart, you rebels.
Remember the former things, those of long ago;
I am God, and there is no other;
I am God, and there is none like me.
I make known the end from the beginning,
from ancient times, what is still to come.
I say, 'My purpose will stand,
and I will do all that I please.'
From the east I summon a bird of prey;
from a far-off land, a man to fulfill my purpose.
What I have said, that I will bring about;
what I have planned, that I will do.
Listen to me, you stubborn-hearted,
you who are now far from my righteousness.
I am bringing my righteousness near,
it is not far away;
and my salvation will not be delayed.
I will grant salvation to Zion,
my splendor to Israel.