Hello Friends!  What will you fix on this coming COLD Saturday morning?  You realize we are in a polar vortex, right?  Do you want to join me and be a little bad?  Not a LOT bad – just a little bad?  Yeah, I thought so.  Gravy.  Sausage Gravy.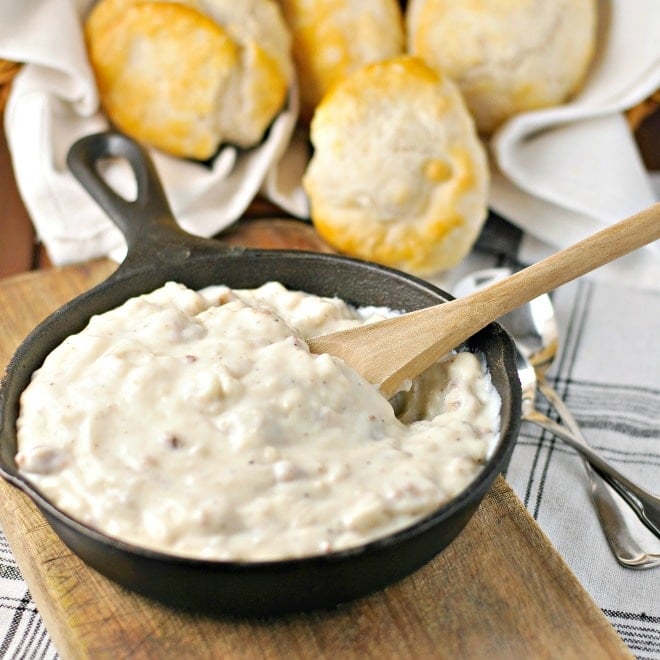 Today I am going to share one of my OLDEST recipes.  It might be old – but its not tired.  I'm not exaggerating here – my ENTIRE family asks for this sausage gravy every time we are together.  We eat it for breakfast and then take a little nap until lunch.
This sausage gravy is ALSO an man keeper.  Want to work your way to a man's heart right through his belly? This sausage gravy  is for you.  I PROMISE that the man in your life will love you forever for fixing this sausage gravy.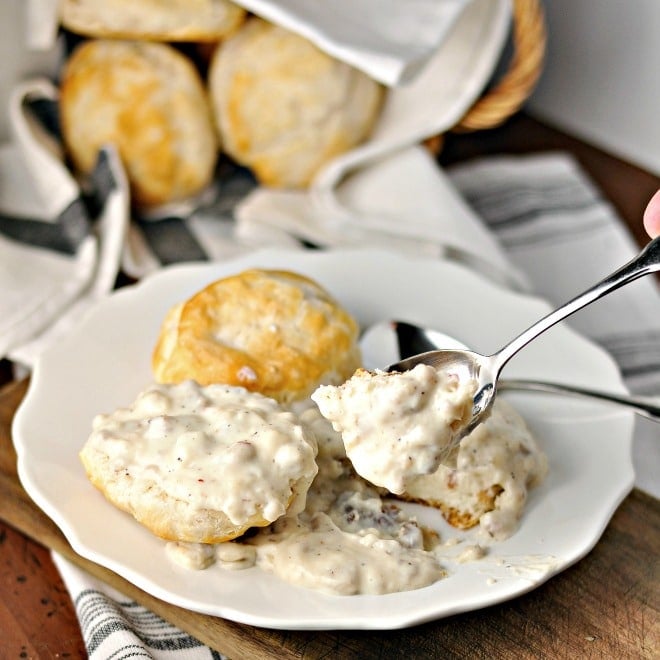 I was disheartened when I saw a very famous TV chef making MY sausage gravy recipe on TV recently – but I promise – this has been my recipe for about 25 years.
This sausage gravy recipe was given to me by someone who I admire very much.  Many years ago I had a home health patient who was "second level" famous.  This patient had been the lifetime personal assistant to someone who is SO FAMOUS that if I mentioned the name right now – everyone reading this would know who I am talking about.  Everyone.
On this particular day, after I finished my visit with my home health patient, the patient said, "I feel like some sausage gravy – do you want some?"  I thanked my patient and said I had other patients to visit so I needed to go.  I then commented that I am a terrible gravy maker, so I wish I could stay, I would love to learn. My patient said, "Well, come back when you are done working this evening and I'll show you how!" We can have dinner together.
Breaking all conventions of medicine and crossing all kinds of professional boundaries, I returned.  I really wanted to learn to make gravy!  I did go to the grocery and pick up the supplies.
Just out of curiosity – I measured the total calories for this entire recipe – 2100.  136 carbs.  128 grams of fat. 114 grams of protein.  There are at least 10 servings in this recipe.  210 calories in a serving – which for how this tastes – NOT bad!  Its worth a splurge on a weekend!  It will stick to your ribs too.  You could use lower fat milk and those figures would change even more – but it wouldn't taste as good.
So, this is not a recipe that is good for you like Kale Chips.  Its not spicy like Vindaloo Curry Spiced Carrots.  But it is warm and comforting and oh so filling.  You will love it!
The sacred recipe for Sausage gravy follows.  You will have to use your judgment a little – but I know you can do that!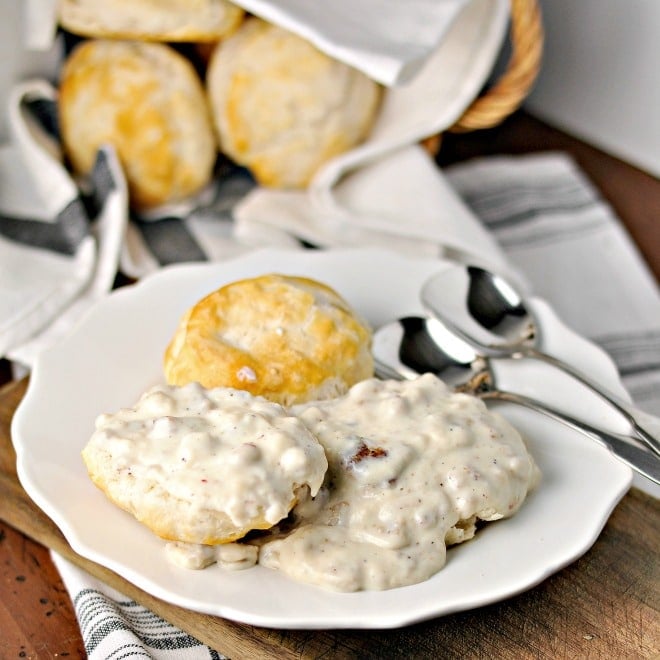 Don't forget to subscribe to Loaves and Dishes so that I can send you an email notice when the next recipe posts.  I PROMISE to never give (or sell) your email address to anyone else – and I PROMISE not to bug you to death!
Serving suggestions for Sausage Gravy
Serve with hot biscuits, scrambled eggs and grits.  No question.
Now I ask you,  Make Dinner, Not War.
In the same way, let your light shine before others, that they may see your good deeds and glorify your Father in heaven.  Matthew 5:15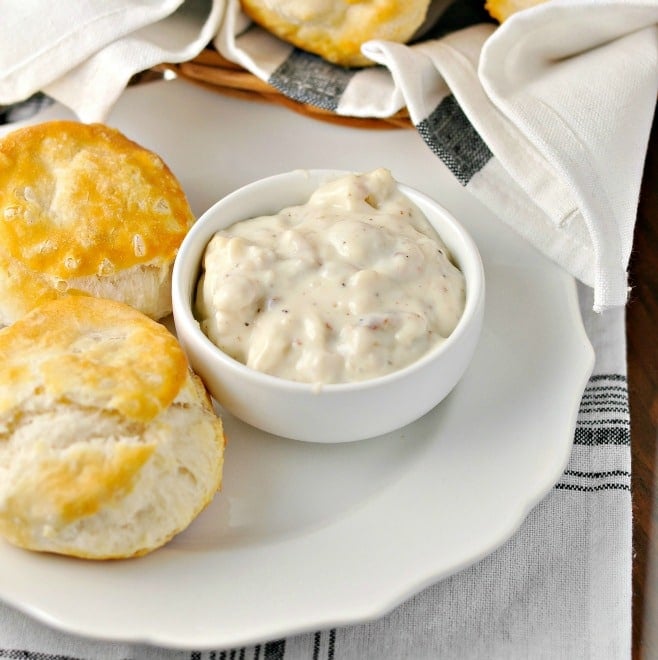 Sausage Gravy
The most delicious recipe for 3 ingredient sausage gravy you will EVER eat. EVER
Author:
Loaves and Dishes
Ingredients
½ lb breakfast sausage
½ Cup all purpose flour + more if needed– use your judgment
½ gallon of whole milk
Salt and pepper to taste
Instructions
Crumble and brown the sausage in a large skillet on medium heat. When done, drain off all of the fat. With the skillet pulled off of the heat, add the flour and mix it around so that it works into the sausage – add more flour if needed – the sausage should resemble lightly powered donuts.
Place skillet back on the burner set on medium high. Stir and cook the sausage with the flour on it for 2 minutes. FROM THIS POINT ON DO NOT STOP STIRRING. Add the milk all at once and deglaze the pan with the milk (I know that sounds weird). Scrape the tasty bits from the bottom of the pan and continue stirring and scraping the bottom of the pan until the tiniest boiling bubbles begin to form in the milk – then reduce the heat quickly to just below medium and be ready to push the pan off of the heat quickly if it begins to boil over. Add salt and pepper.
continue to stir and scrape until gravy begins to thicken. DO NOT STOP STIRRING. Cook to desired thickness. Allow gravy to sit for about 5 minutes before serving. It will thicken more during this time.