Flaky buttery and fluffy buttermilk biscuits slathered in a creamy meaty spicy and peppery as you like it sausage gravy. That's the ticket to a wonderful Saturday morning, no?
WHAT IS SAUSAGE GRAVY?
Sausage Gravy is a Southern Favorite that abides the best Saturday morning tables around. It is made from milk, flour, sausage and spices and adorns fluffy buttermilk biscuits and everything else on your breakfast plate.
This is my OLDEST recipe. Old does NOT equal tired, by the way.
Your WHOLE family will love this recipe so much that they will ask for it EVERY SINGLE TIME you eat together, so be forewarned. You will be stirring gravy until you are dead. Just sayin.
SEE WENDI MAKING SAUSAGE GRAVY SO YOU CAN LEARN TOO!
WHERE DID THIS RECIPE COME FROM?
I broke all conventions of medicine and crossed all kinds of professional boundaries to get this recipe. Email me if you want the rest of the story.
The best sausage gravy recipe ever deserves to be in good company, don't you think? I think so too! I totally recommend checking out All the Secrets to Perfect Southern Biscuits and how about a frittata and fresh strawberry jam with fruit cups too!
Seriously, if you are gonna do it, do it right!
IS SAUSAGE GRAVY GOOD FOR YOU?
Just out of curiosity, I measured the total calories for this entire recipe.
If you ate the entire pan: CALORIES: 2100.
136 carbs.
128 grams of fat.
114 grams of protein.
There are at least 10 servings in this recipe.
210 calories in a serving
As good as this recipe is? That's not bad!
Its worth a splurge on a weekend! It will stick to your ribs too.
I know you have other questions too, so let's get to those!
CAN YOU FREEZE SAUSAGE GRAVY?
As a matter of fact, you CAN freeze sausage gravy! We like to freeze ours in sizes that we can use on weekdays.
Then all we have to do is remove from the freezer, heat up, and it is like the weekend on a weekday!
CAN YOU MAKE SAUSAGE GRAVY ON THE NIGHT BEFORE?
Yep, you surely can make sausage gravy on the night before! Just refrigerate and when you are ready to warm it back up, you might need to add a splash of milk to thin it a little and heat it back up in a jif!
HOW TO REHEAT SAUSAGE GRAVY
All this talk of making before or freezing makes me think you might need to know how to reheat the sausage gravy! Just one thing to know: SAUSAGE GRAVY THICKENS AS IT COOLS
If the gravy is frozen:
Place it in a zip lock bag, let soak in a bowl of warm water in the kitchen sink till thawed. Then follow the refrigerated instructions
Place the frozen block of gravy in a large sauce pan, add a small amount of milk (1/4 to 1/2 cup) and heat over a very low heat till thawed. Stir frequently and break up with your wooden spoon as it thaws.
If the gravy is refrigerated:
Heat in a skillet with a small amount of milk added till hot and bubbly
Reheat in the microwave in a microwave safe bowl for 1 minute. Then repeat microwaving on high at 30 sec intervals, stirring in between until reheated.
IS SAUSAGE GRAVY KETO or LOW CARB?
This recipe for sausage gravy is NOT keto. If you want a good keto recipe, try out my friend Logan's recipe for Southern Style Keto Sausage Gravy over at Better than Bread Keto. I think he does good work.
HOW LONG IS THIS SAUSAGE GRAVY GOOD FOR?
If you put this homemade sausage gravy in the fridge after breakfast, it will be good for another 3-5 days. Simply reheat using the instructions above.
WHAT DO I SERVE THIS HOMEMADE SAUSAGE GRAVY WITH?
I totally recommend learning to make delicious southern style biscuits. I give you All the Secret to Perfect Southern Biscuits right here.
A whole breakfast might include Perfect Pancakes from Scratch or Apple Pecan Waffles with Apple Pecan Topping though! This homemade gravy is excellent on top of southern fried breakfast potatoes or southern fried potatoes and onions! So eat up!
So, no excuses!
WHAT SPICES TO ADD TO SAUSAGE GRAVY
Personally, I don't think you need ANYTHING except salt and pepper BUT, you might also want to try..
Sage
Thyme
Garlic
Try a Few Of Our Other Famous Gravies!
Ya'll Help Me Out, OK?
Scroll on down to the bottom of the page and leave me a 5 STAR 🌟🌟🌟🌟🌟 comment, ok? This helps the rest of the internet to know that THIS is the place for the BEST home cooking recipes!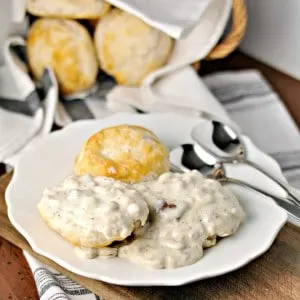 Sausage Gravy
This sausage gravy recipe is even more wildly delicious than it looks like it should be. You'll have your family begging you for it every time you see them and YOU'LL be even more wildly popular than you ever dreamed!
Print
Pin
Rate
Ingredients
½

lb

breakfast sausage

1/2

Cup

all purpose flour + more if needed– use your judgment

½

gallon

whole milk

Salt and pepper to taste
Instructions
Crumble and brown the sausage in a large skillet (9-10") over medium heat. A cast iron skillet is best.

When the sausage is browned, pour off all but 1 Tbs of the fat.

With the heat off, add the flour to the skillet and mix it around so that the pieces of sausage become coated (they start to look like little white powdered donut holes). If the flour seems to disappear, add a little more (1/4 cup or so).

Place the skillet back on the burner and set to medium high. Stir and cook the sausage with the flour on it for at least 2 minutes. The longer you cook the sausage and flour the darker your gravy will be. Stop at 2 minutes for a light colored gravy. Cook longer for a darker gravy. Do not cook longer than 4 minutes.

Add the milk all at once. FROM THIS POINT ON, DO NOT STOP STIRRING. You will likely hear the milk sizzle and that is OK. Use your wooden spoon to stir and scrape up the flavorful bits from the bottom of the pan. Keep stirring and scrape the bottom and the side often. When you begin to notice small bubbles forming at the side of the pan, quickly reduce the heat to medium low.

Heat the gravy at medium low until it is the consistency that you want your gravy. Understand that if the gravy starts to bubble up, you may have to slide it off the burner suddenly. Do not stop stirring. You can place it back on the burner when it slows down.

When the gravy is near the consistency that you prefer, taste it and add salt and pepper to your desired amount. (This varies greatly depending on the sausage you chose and your own personal tastes). Once seasoned, allow to sit for about 5 minutes before serving and it will thicken more.
Notes
You may substitute 2% or skim milk for the whole milk, but the recipe will not taste near as good.
This does make a large quantity and you CAN freeze or refrigerate the gravy.
To freeze the gravy, simply divide into servings that you can manage and place in a freezer quality plastic container.
When reheating, reheat slowly and use a little milk to thin the gravy as it will have thickened when it cooled. You can reheat on the stovetop or in the microwave.
Feel free to make this gravy ahead and refrigerate. Reheat on the stovetop and give it a splash of milk to help it along with reheating. Use medium heat when reheating.
Season this recipe with salt and pepper according to your own tastes. The salt level in various sausage preparations varies greatly and you will have to use your own taste buds to see what is right for you.
Serve this gravy over buttermilk biscuits, toast or breakfast potatoes!
Nutrition
Nutrition Facts
Sausage Gravy
Amount Per Serving
Calories 400
* Percent Daily Values are based on a 2000 calorie diet.
***this post originally published on Loaves and Dishes February 20, 2015 and has been updated with NEW information! ***
A VERSE TO SHARE
In the same way, let your light shine before others, that they may see your good deeds and glorify your Father in heaven. Matthew 5:15