Hello Beautiful Person! Today I have a magic trick to share. I learned this about 4 years ago, and honestly, it still surprises me! No kidding. Chicken goes into the crock pot before you leave for work and when you come home, its READY! Let's eat! Whoot whoot! So what follows is a description of how to roast a chicken in a crockpot.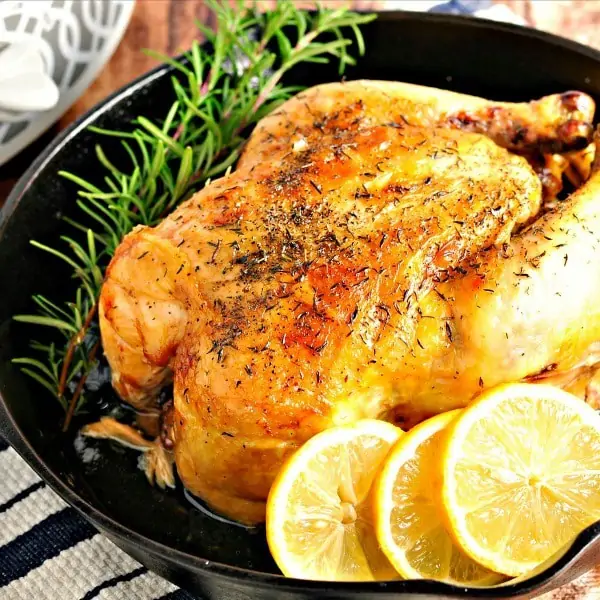 I love those little roasted chickens in the warmer at the grocery store. The chicken always smells delicious in the car all the way home. So easy, just carry it inside and DINNER IS READY!
Sometimes I have thought though, "wonder what is in that chicken" "wonder who fixed it?" "wonder how long my chicken was sitting under those warming lights?". I try to push those thoughts out of my mind.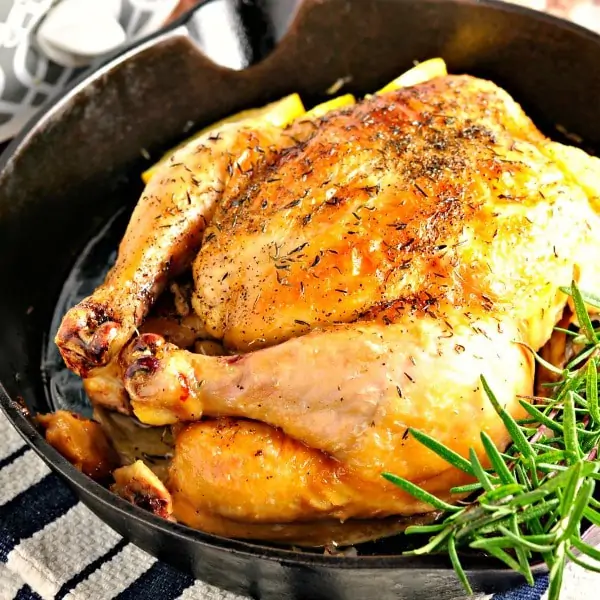 With this recipe for how to roast a chicken in a crock pot, you don't have to wonder and you will have tasty, tender fresh chicken for other recipes too! We will do some of those in the coming weeks!
And now, I have a special gift to you, my friend. My service to you. Know what this is?
A mess???? YES!!! EXACTLY.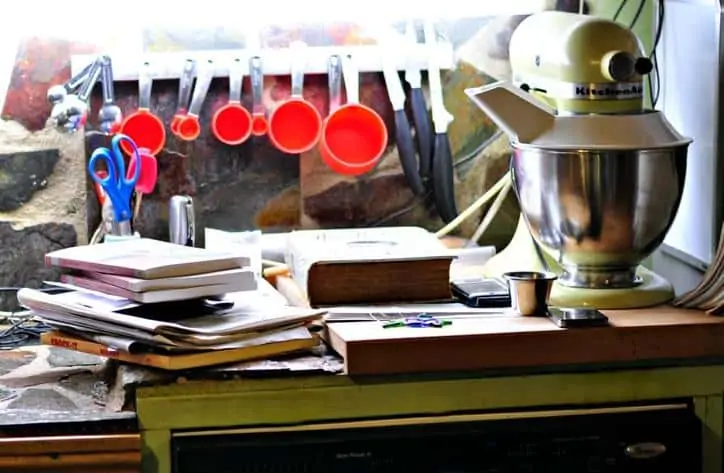 Yes! This is a mess!!! This is what my husband refers to as the nerve center. Everyone in my family knows that if they want me to see something, sign something, remember something – it goes right here. This is where I keep important things. Lots of important things there right now!
What is in there? Let's see…. Books I need to distribute to my bookclub, an empty cleaning packet for the coffee pot so that I will remember to order more, a pile of recipes that I want to try, a WONDERFUL book that a friend gave me for Christmas – we will talk about that in a different post – my ipod, playing some great music for me to think and cook by, my ipod case because of bad design – its laying beside the ipod, my ancient but well loved Kitchenaid, a magnetic strip that holds measuring cups and small knives on the wall – every space in my teeny tiny kitchen is used – THE KITCHEN SCISSORS – DO NOT TOUCH! (Said in my BIG MAMA VOICE) (I'm like that about some things), and THE recipe cards – which is how this whole website got started anyway.
See – don't you feel better about your own mess now? I bet you do. You are welcome. I don't even charge for these services! Your messy kitchen can't be worse than mine and I write a food blog for heaven's sakes!!! Which will eventually bring me to dessert – but you have to read all the way through to get to dessert.
Serving Suggestions for How to Roast a Chicken in a crockpot
Serve with fresh salad and pasta or rice or other veggies – or, or, or – so many things you can do with a roasted chicken.
I use a crockpot that is this size right here made by this same company and would recommend it any day, any time. I have 3 other crock pots – I know, I know – but honestly, I use them all! If you want one like mine that holds exactly one regular sized chicken, then get this one.
And this is the cast iron skillet I have! (Used in the recipe for browning the chicken) If you aren't sure how to take care of one – I covered that in a different post on How to season a cast iron skillet. Just click right HERE. Its not hard at all. Cast Iron is the perfect non stick and affordable cookware!
DISCLAIMER: You should know, if you purchase either of the items I have noted here – or from the advertisements on the sidebar – I will get a small percentage of the sale. Any monies earned from your purchase will be tithed first at 10% and then the rest will go to offset the expense of operating this blog. 🙂 I would never ever recommend any product in my blog that I wouldn't or haven't personally used and recommend. Your respect and trust mean WAY more to me than the pocket change I will earn from your purchase. Always.
Coming up after How to Roast a Chicken in the Crockpot
My husbands very favorite dish. Weeknight Stroganoff.
I would be SO HAPPY if you would sign up for my mailing list. Right over there on the left side of this post <<<< I solemnly promise you that I will never ever share you email address and I won't bug you to death either – I'll just let you know when a new post is ready. Promise.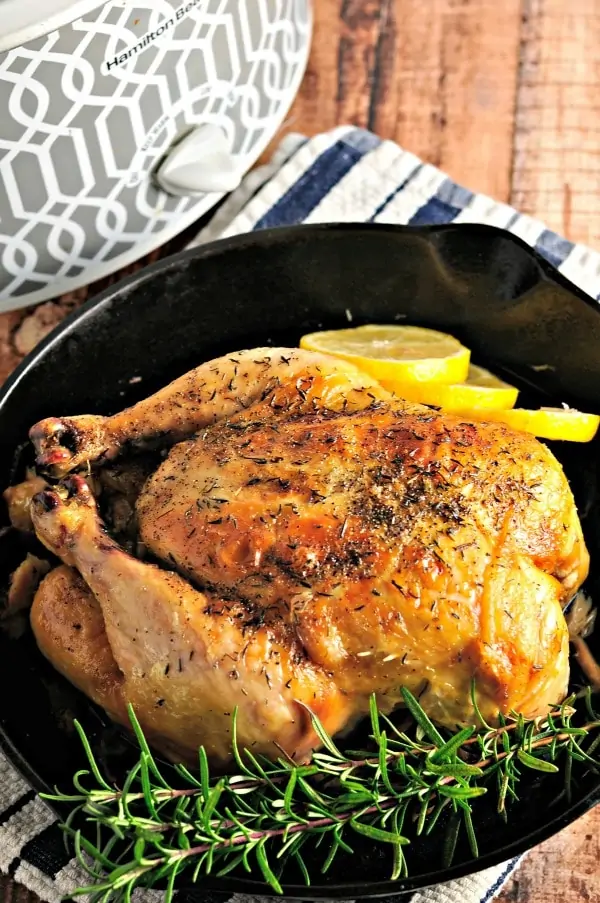 I will give them an undivided heart and put a new spirit in them; I will remove from them their heart of stone and give them a heart of flesh. ~ Ezekiel 11:19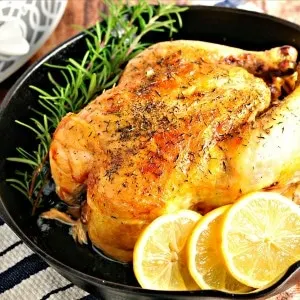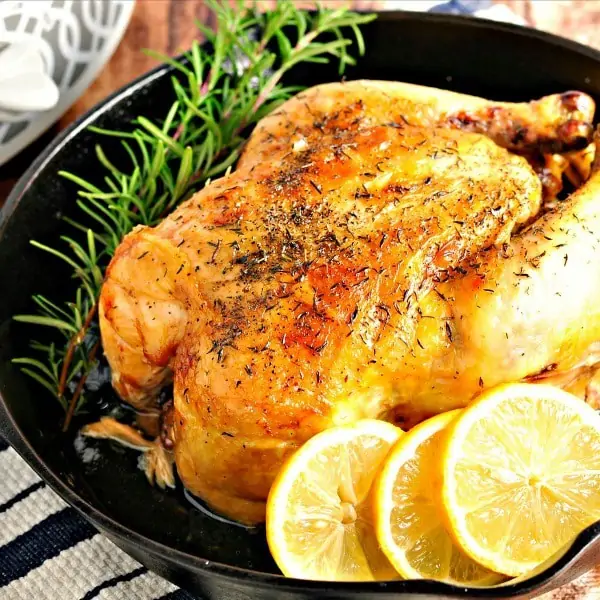 How to Roast a Chicken in a Crockpot
This exceedingly easy recipe for how to roast a chicken in a crockpot will ease any kitchen burden you have!
Print
Pin
Rate
Ingredients
1

Whole Baking Hen

Salt and Pepper to taste

1

tsp

thyme

1

TBS

butter – melted

optional

Garnish with lemon slices and rosemary
Instructions
Remove Hen from packaging and rinse well. Pat dry with paper towels. Salt and pepper the inside of the cavity and the outside very well (should feel like it fell in the sandbox and you quickly dusted him off– use plenty). Sprinkle Thyme over the chicken.

Place the chicken in the crock pot – I like to put it in with breasts facing up – but that is up to you – either way will work.

Place the lid on the crock pot. Turn crock pot on low. Do not disturb for at least 8 hours. That's it, don't add water, don't add anything. Now, Go to work – chicken will be done when you get home. Seriously. Don't put anything else in the crock pot. Really. Go to work.

When you arrive home 8 hours later – a little longer is no big deal – the chicken is ready. Only do this next step if you are super crazy about super crispy chicken skin. The skin will be suitably crispy just from the crock pot.

(Optional step) Turn the broiler on in your oven. Gently lift the chicken out of the crock pot with two large wooden spoons and place it gently in a cast iron skillet. Gently. Don't scream or anything but his wings and legs might fall off. Paint the melted butter onto the exposed skin. Place under the broiler for 3-5 minutes until golden brown. Garnish. Serve.
Notes
I know you are worrying about putting a chicken in the crockpot dry - don't worry. Trust me.
Nutrition
Nutrition Facts
How to Roast a Chicken in a Crockpot
Amount Per Serving
Calories 330
* Percent Daily Values are based on a 2000 calorie diet.
And now for the post blog dessert….
Do you have a messy kitchen – or messes in your kitchen? I figure if my kitchen were clean it would mean that nothing was happening in there. My husband who knows me very well bought this for me on one of our trips to the beach. I smile and think of him and the beach every time that I read it – which is every day. I love knowing that he thinks I'm sexy even if my kitchen is usually a disaster – even if I am a disaster sometimes. That is what true love is all about. God knows, I love him – a lot.