Eggs in Purgatory. What does that even MEAN?? I know, right? I can't figure out why such a delish dish should be called anything but "Eggs in Heaven". The name really is bothering me … Not enough that I refrain from eating said egg, but, you know, it bothers me…. some.
Today's post is sponsored by Bertolli's – and I THANK YOU SO MUCH for making Loaves and Dishes possible by visiting their page HERE and wishing them at Happy 150th Birthday! Ya'll are the best!
So this egg. The one in Purgatory. I am figuring that it did something bad and before it is allowed "in" it has to redeem itself through the boiling hot lava-like lake of tomato sauce? Am I close?
I don't know. All I can say is keep on doing what you are doing little egg! Cause, however naughty you were – you are making up for it in Purgatory RIGHT NOW! And HEY! You! The one reading this. Here is something important. I KNOW you want to help hungry kids AND WIN a $25 Visa Gift Card! Right! Life is short! Life is hectic! Take a minute and enjoy a little naughty egg and some AWESOME tomato sauce!
I have to tell you how this redemption dish came to appear on Loaves and Dishes. I saw a picture. Yeah – on Pintrest. Isn't that where we ALL go to look at stuff we will probably never make? Yep. Except, here is the problem. I saw a picture and I skimmed right on over it and then my mind does this tricky thing. Replays of that picture won't leave me alone – it is like a loose tooth when you are 6 years old. Your tongue just menaces the tooth until you FINALLY have to do something about it.
My proverbial loose tooth in this case was a picture I saw of some poached eggs floating around in a red sauce inside of a frying pan. I was in a hurry when it appeared to me – like a vision on my smartish phone. I didn't Pin it. I didn't save it. I didn't do anything. When I went back, I couldn't find it again. ACCCKKK!
PANIC!!!!
What is the dish called? What are the ingredients? I don't know!!!
That is when I said Hello to my dear friend, Google. What I found in searching was several dishes from ALL OVER THE GLOBE! – the Middle East, South America and Italy – all with the same basic ingredients and slightly different spices. The basics: A tomato sauce, herbs and naughty little eggs floating in a lovely tomato sauce. Here is what I am thinking. If several spots on the EARTH think it is good – it must be WICKEDLY so! Right? Right! The whole world can't be wrong!
Instead of following any known recipes, I decided to simply make up my own – why not? I mean, really, I have the basics right here! I have several bottles of Bertolli's Sauce, I own chickens who bless me with eggs every single day! I even have a freezer full of local farm raised sausage. (Not one recipe I reviewed called for sausage, but it is what I thought would be good!). Because my on hand ingredients have lead me to an Italian style dish, I am going with the Italian Name – Eggs in Purgatory. Besides, it reminds me of college Literature class. Dante can be a lot of fun with the right people.
With that – I'll just say – allow yourself about 20 minutes and try out this SCRUMPTIOUS dish! And one more thing – the taste of mushrooms and eggs together is shear heaven. Try out the Bertolli's Porcini Mushrooms and white truffle oil Riserva Sauce. HEAVEN! Slow down and smell the roses- enjoy cooking this simple dish and kick up your heels!
I bet you could kick up your heels a little bit better with a $25 Visa Gift Card! Am I RIGHT? YESSSSS!!!! I AMMMM!!!!!!
Here is how to sign up! For each thing you do in the "Rafflecopter" below – you get one entry into the drawing! Do them all and get 5 entries! Tweet every day for an extra entry!
Help Feed Hungry Children with Eggs in Purgatory
Best of all? For each photo shared via social media using #MyTuscanTable throughout October, Bertolli® will make a $1 donation to help end childhood hunger in America through a partnership with No Kid Hungry. With each dollar, No Kid Hungry will provide 10 healthy meals to kids in need, up to a half a million meals. No Kid Hungry is ending childhood hunger in America by ensuring kids have the healthy food they need, every day. The Bertolli® brand is proud to lend its passion for uniting people over food to help connect kids struggling with hunger to the nutritious meals they need to grow and thrive.
See – now get out there and sign up for the $25 Visa Gift Card and help some hungry kids!!!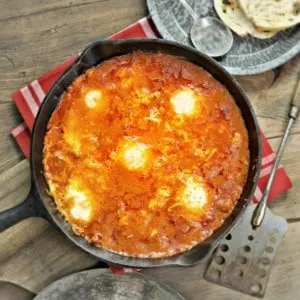 Eggs in Purgatory
A delicious red dish that soothes the ravage soul.
Print
Pin
Rate
Ingredients
1

lb

HOT breakfast sausage

1

shallot – small chop

1

clove

garlic - minced

1 24

Oz

Jar Bertolli Riserva Porcini Mushrooms & White Truffle Oil Sauce

¼

tsp

Crushed Cayenne Pepper

5-6

large eggs

1/2

Cup

Shredded Mozarella

1/4

Cup

grated Parmesan
Instructions
In a heavy oven proof skillet (cast iron is NOT the best option – the sauce will take some of the seasoning off of the pan) over medium heat on the stove top, crumble the sausage and add the shallot. Cook until the meat is browned and the shallot is soft. Add the garlic a minute before the sausage is done browning.

Add the sauce and the crushed cayenne pepper and mix well. Continue to heat over medium heat until sauce begins to simmer. Stir the sauce well again.

Preheat the broiler on your oven. Crack the eggs, one at a time into a bowl to ensure that no egg shell is in the egg. Using a large spoon, make a divet in the sauce and pour the egg gently into the divet. It is important to keep the sauce simmering well. Do this repeatedly until all of the eggs have been added to the sauce. Allow the sauce to simmer, cooking the eggs. This takes about 7 minutes. Sprinkle the cheeses over the top of the dish - avoiding the tops of the eggs.

Place the skillet in the broiler for about 2 minutes to cook the tops of the eggs when it appears that the rest of the egg is poached well.

Serve with crusty bread or over grits. You may garnish with parsley if you please.
Notes
If you have never baked an egg, it takes slightly longer than you think. Check it by jostling around with a fork.
Nutrition
Nutrition Facts
Eggs in Purgatory
Amount Per Serving
Calories 220
* Percent Daily Values are based on a 2000 calorie diet.