Lazy weekends and busy weekdays are the perfect time for these delicious sausages and once you know how to cook breakfast sausage links in the oven, you'll be enjoying them all the time. WARNING, you can't eat just one!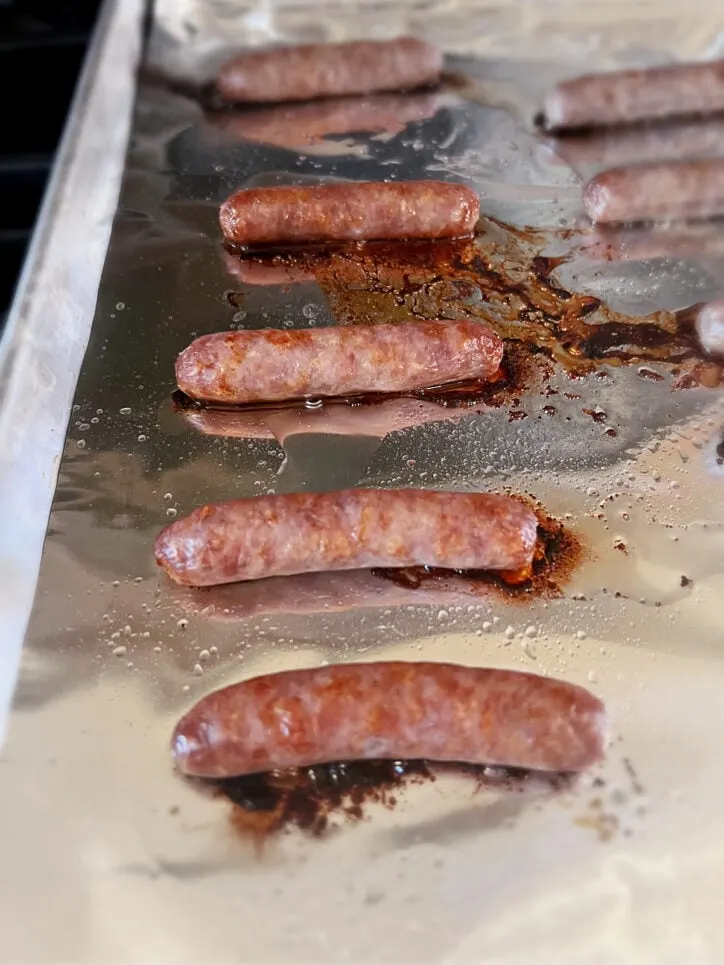 A hearty breakfast is the best part of the day, right? This easy recipe for the oven (with even easier clean-up) is the best method of cooking sausages whether its your first time or if you've done it a million times.
It's just a few simple steps as I've outlined below for the oven and this easy meal is in the books with you enjoying breakfast with your family instead of slaving over the stove. These are terrific with our family favorite Sausage Gravy.
Why This Recipe Works
Easy to make with a short cooking time
No need to form patties, simply put them on a baking sheet in a single layer and cook them
Short cooking time!
Here's How You Do It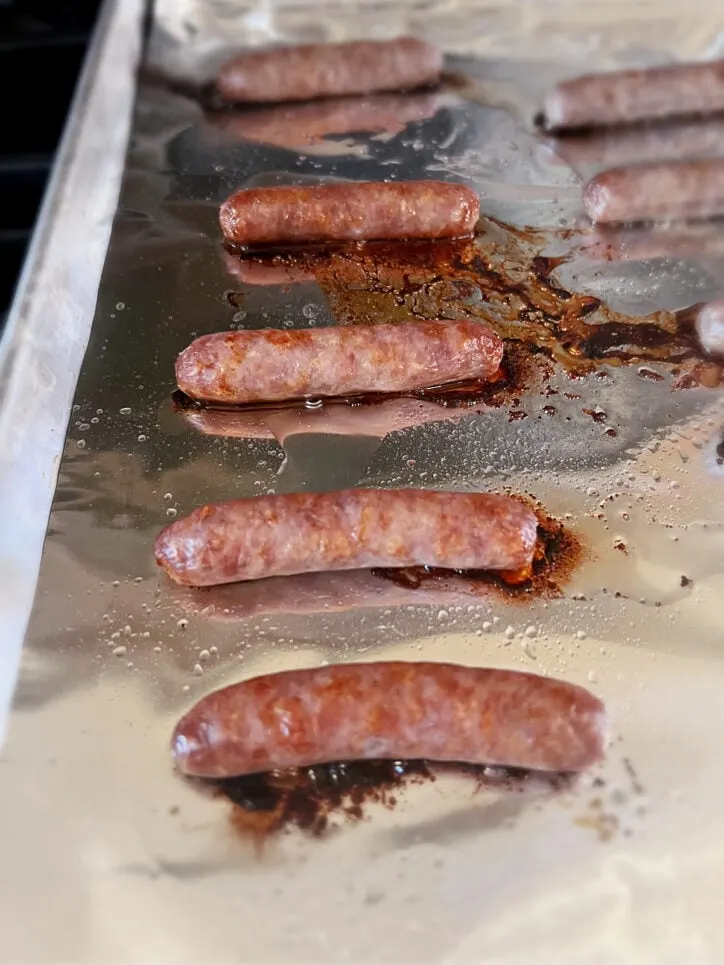 What Different Types of Sausages Does This Recipe Work For
This recipe is written for little breakfast sausages, but will work for cooking raw sausages of different types.
Type of Sausage that this recipe will work for:
Chicken Sausage
Pork Sausages
Italian Sausage
Turkey Sausage
Homemade Sausages of Ground pork, other ground meat
Fresh Sausage Links
Frequently Asked Questions (FAQ's)
What is the Best Way to Cook Breakfast Sausage Links?
My favorite way is to cook them in the oven. You can also cook breakfast sausage on the stovetop. Either way gives the sausage a nice crispy outside texture and you can drain them on paper towels.
How Do You Cook Raw Sausage Links for The Best Results?
Lay them in a baking sheet or dish and cook in the oven until the sausage has no more pink color and the internal temperature reaches 160 degrees as measured by a meat thermometer.
How Do You Cook These in a Cast Iron Skillet
While cooking in the oven is easier, you can heat up a little oil in a cast iron skillet, and cook the sausage until there is no more pink color and the internal temperature reaches 160 degrees.
How Do You Know a Sausage is Cooked?
You know that the sausage is fully cooked when there is no more pink color, and the internal temperature is 160 degrees.
Is a Little Pink in a Sausage OK?
No, sausage should be completely cooked through and should be at an internal temperature of 160 degrees to be safe to eat.
What Happens If You Eat Undercooked Sausage?
Undercooked sausage can carry food borne pathogens that can lead to food poisoning.
Where's the Best Place to Buy These?
You can purchase yours at the local grocery store, but honestly, the price at Sams Club (and probably Costco is about half the grocery price).
The Easiest Way to Store Sausages if You Have a Lot of Sausage Left Over
A great way to store cook sausage is to place sausages in an airtight container like a freezer bag or gladware type container for an easy breakfast.
How to Rewarm after Cooking Breakfast Sausage Links
The hands-off method and easy way to reheat these leftover sausages for juicy sausages is to place on a sheet pan and place in a 350 degree oven for 8-10 minutes.
Alternatively, you can reheat using this easy air fryer recipe by heating on 400 for a couple of minutes. Give a few extra minutes for thicker sausages.
A microwave works well too. Simply place on microwave safe dish and heat for 30 seconds to start, repeat until heated through.
Other Frequently Asked Questions (FAQ's)
Can I Freeze Breakfast Sausage Links?
Yes! Freeze Raw – simply put the sausages in a freezer safe bag, squeeze out as much air as possible and place into the freezer for up to six months or Freeze After Cooking – place the cooked links into a freezer safe container and press out as much air as possible and seal, place in freezer up to 3 months!
How Long Are These Good For?
These sausages will keep for up to 5 days if you keep covered in the fridge!
Tips and Tricks.
Allow space between the sausages on the pan so that the hot oven air can circulate between them and cook them evenly.
Letting the grease drain off the sausage is very important. This makes the sausage much more palatable.
Make sure that you are cooking the sausage links to the proper temperature. Here's a great guide from the USDA.
Watch Me Make These Sausages on the Stovetop
Ya'll Help Me Out, OK?
Please leave me a comment and 5 STAR ( 🌟 🌟🌟🌟 🌟 ) review, I ALWAYS love to hear from you and your comments MAKE MY DAY! (Plus, it helps me out by letting everyone know that this is the place to find good recipes!)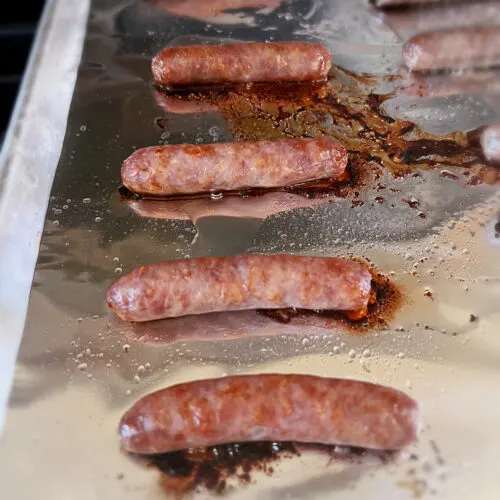 How to Cook Breakfast Sausage Links in the Oven
This simple recipe will have you cooking sausages in the oven in not time at all, it's easy and requires almost zero clean up!
Print
Pin
Rate
Instructions
Preheat the oven to 350 degrees. Line a baking sheet with aluminum foil or parchment paper (for easy clean up – but not required).

Add the sausage links to the baking sheet and place into the center of the oven on the middle rack. Bake until there is no longer pink in the sausage link (about 15 minutes). Remove to a paper towel lined plate and allow to drain for 2 minutes before serving. Serve hot.
Notes
Plan for 2-4 links per person.
When cooking sausage links, do not crowd the pan because then the links will steam rather than fry.
If you are cooking a large number of links, use two baking sheets and two oven shelves to cook them. Allow plenty of space between the links on the pan.
Usually you do not have to add salt and pepper to sausage links because they are already filled with enough, but you be the judge of that.
Nutrition
Nutrition Facts
How to Cook Breakfast Sausage Links in the Oven
Amount Per Serving (2 links)
Calories 122
Calories from Fat 99
% Daily Value*
Fat 11g17%
Cholesterol 29mg10%
Sodium 254mg11%
Potassium 99mg3%
Protein 6g12%
Vitamin A 30IU1%
Vitamin C 0.3mg0%
Calcium 4mg0%
Iron 0.4mg2%
* Percent Daily Values are based on a 2000 calorie diet.