Welcome to Loaves and Dishes awesome reader!!  I am SO EXCITED that you are here to celebrate 1970's week with me!! Put on your silk shirt, your platform shoes and dig your pic from your hip pocket cause we are fixing to GROOVE on some 1970's food!  That's enough jive talk – we need to honker down to the table and dig in!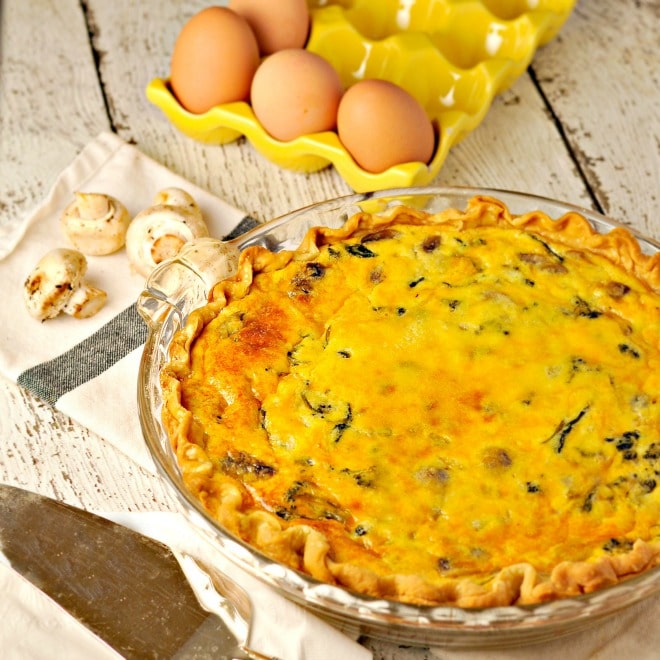 Our first dish this week is quiche – put on your elegant 1970's hat for a moment and join me in the WAY BACK machine.
I can remember the first time that I heard the word quiche,  I was about 10  years old (the later 70's).  My mother invited some friends over to play bridge.  I can remember that the ladies ate from the good china and had quiche for lunch.
I distinctly remember that even though I was told to entertain myself upstairs and stay out of the way, I peeked from the stair landing down on the ladies while they dined and drank their coffee from our tiny good china tea cups.  They all seemed so elegant.  I knew it was a very big deal.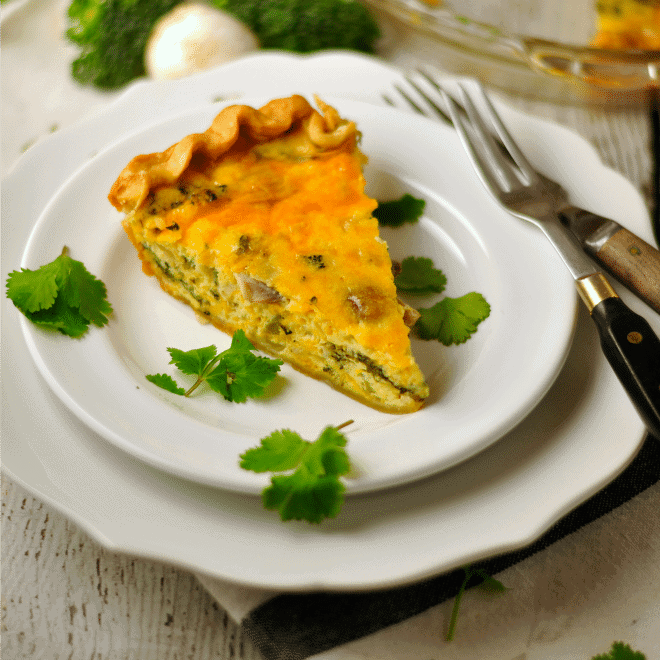 Quiche is actually a VERY old dish (like medieval times old) and classically French.  If you want to know some very nerdy things about quiche – just fire up your google and check it out.  Let's suffice it to say that quiche enjoyed a certainly popularity in America during the 70's.  Unfortunately, in the early 80's quiche became symbolic as an "anti-masculine" food – as in, "real men don't eat quiche".  Lol.  Whatever.  It is delicious.
Now, grab your 8-track and crank up the Led Zepplin and let's run to the dinner table!
Recipe adaptation for Vegetable Cheddar Quiche
This recipe is adapted from my Bacon Leek Quiche recipe and unfortunately, I do not know where that recipe came from either.  I only know that both are delicious.
Don't forget to subscribe to Loaves and Dishes so that I can send you an email notice when the next recipe posts.  I PROMISE to never give (or sell) your email address to anyone else – and I PROMISE not to bug you to death!
Serving suggestions for Vegetable Cheddar Quiche
Serve Broccoli Cheddar Quiche with a light salad a crusty bread and a tall glass of iced tea.  Easy and delicious.
Now I ask you,  Make Dinner, Not War.
The LORD is my strength and my song; he has become my salvation.  ~Psalms 118:14
Here are the step by step photos for Vegetable Cheddar Quiche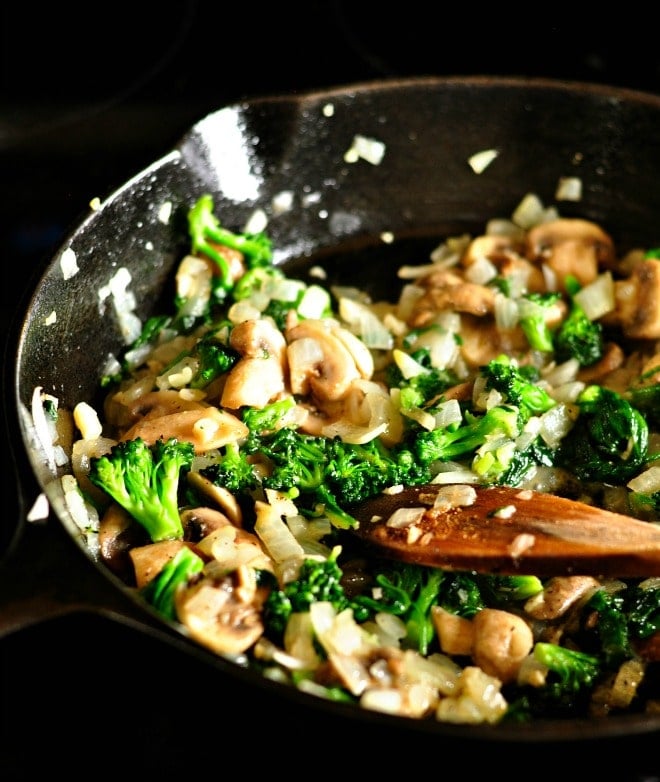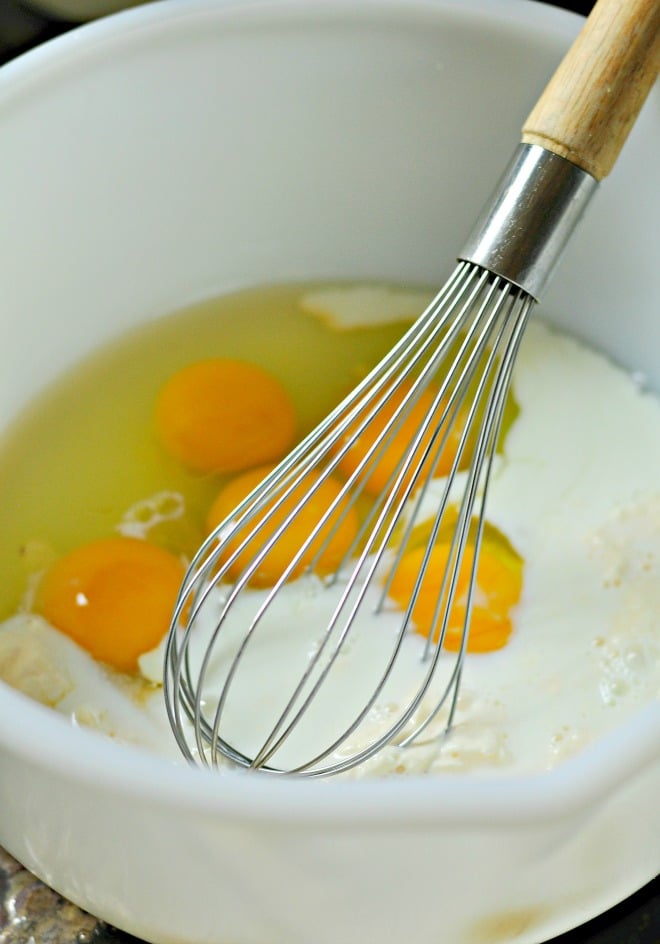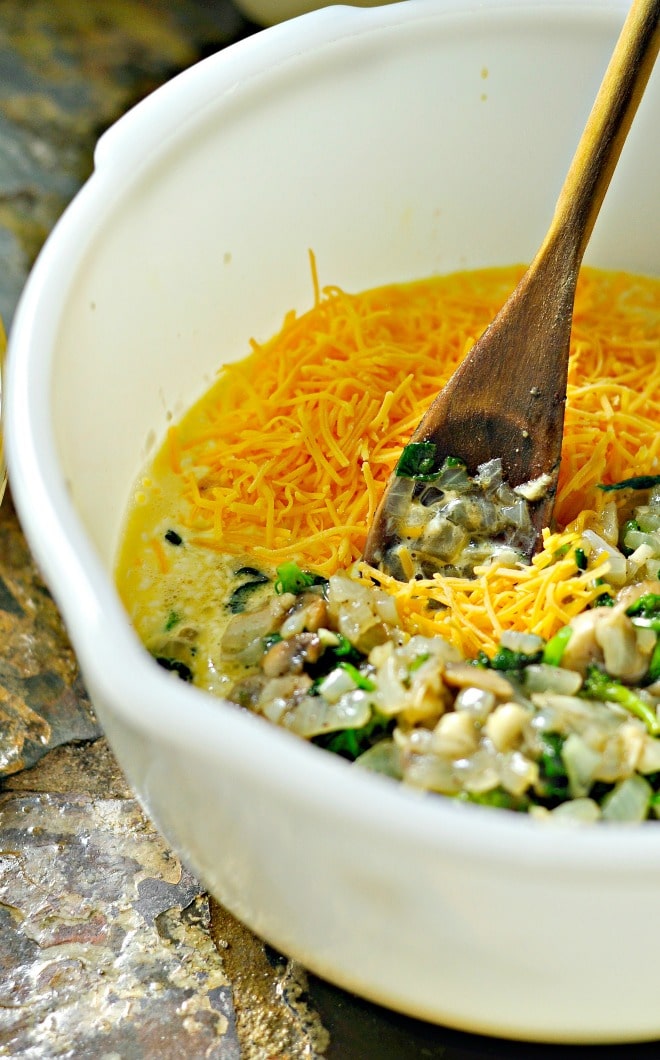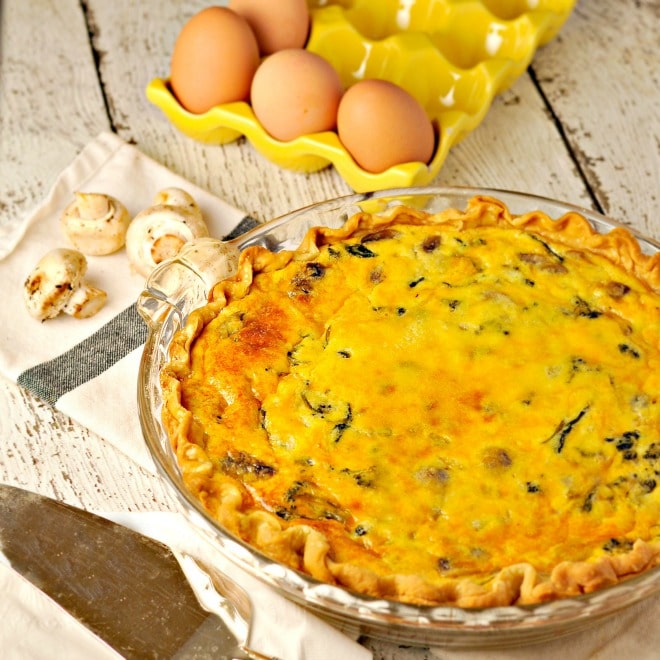 Thank  you so much for visiting, please come again!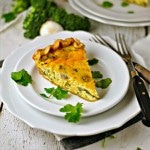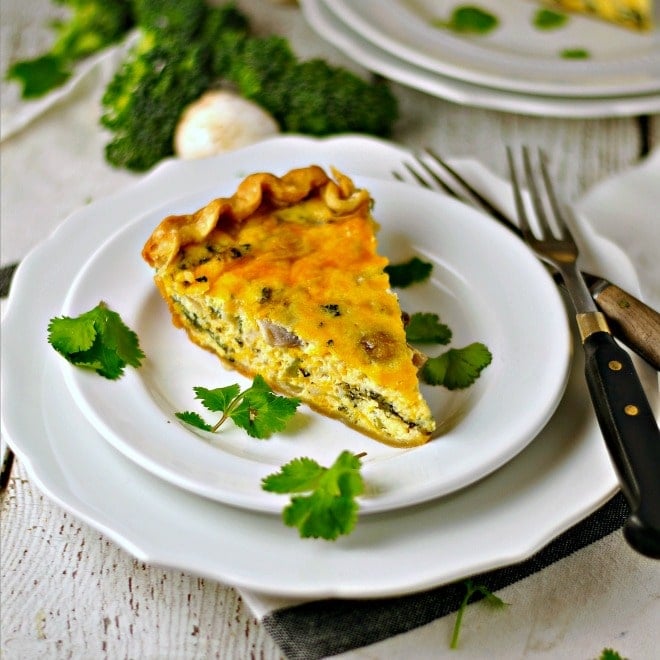 Vegetable Cheddar Quiche
A simple and delicious quiche
Ingredients
1

refrigerated pie crust

2

tbs

olive oil

5

eggs

1

Cup

sliced fresh mushrooms

1

Cup

chopped onions

1

Cup

Broccoli florets – cut up small

1

Cup

fresh spinach

2

cloves

minced garlic

½

tsp

salt

½

tsp

pepper

1/8

tsp

cayenne pepper

1/3

cup

mayonnaise

1/3

cup

milk

1

Cup

shredded Sharp Cheddar cheese

3

Tbs

parmesan cheese – freshly grated is best.

Cilantro for garnish
Instructions
Preheat oven to 375. Unroll pie crust and place into pie plate – crimp edges and set aside. Cook vegetables and garlic in frying pan over medium heat on stove top for about 5 minutes until tender – stir occasionally. Add salt, pepper and cayenne pepper while cooking. After vegetables are tender, remove pan from the heat and set aside to cool.

In a bowl, beat the eggs, mayonnaise and milk with a whisk until all is blended and smooth. Once vegetables have cooled, add them to the egg mix. Add the cheese as well and then pour the mixture into the pie crust. Top with the 3 tbs of grated parmesan cheese.

Bake for 40-45 minutes until you can jiggle the pie plate and the center of the quiche is set and not jiggly! The top should be golden brown. Let quiche stand for 10 minutes before cutting to serve. Garnish with cilantro