What to do with leftover Fried Apples? You could warm them up, right? You could smear them on toast. You could do a lot of things. One of my favorite things is to make fried apple cake!
OK. I shouldn't act like this has always been my favorite thing, because frankly, it hasn't! I only just realized that you could actually use fried apples in a cake. However, here it is and guess what? It is GOOD!
First you will have to make fried apples and you can find that recipe HERE: THE SECRET TO PERFECT FRIED APPLES. You will be so happy you tried it out! Don't eat it all though, because you will need about 1 ½ cups leftover to make this cake!
The best part? This is made using a cake mix!! Very little measuring. Just whip it up and pour it in the cake pan! Done!
And let me tell you – nothing goes better with the taste of apples than caramel. Am I right? I know. I'm right.
THE RECIPE FOR Fried Apple Cake with Caramel Icing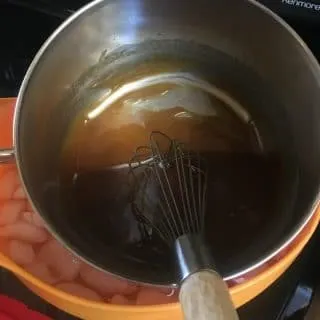 Fried Apple Cake with Caramel Icing
Fluffy spicey apple cake with a creamy dreamy caramel frosting! HELLO!
Print
Pin
Rate
Ingredients
1

box of yellow cake mix

1 ½

Cups

fried apples - cut into 1 inch pieces.

1

tsp

ground cinnamon

½

tsp

ground nutmeg
For the Icing
½

Cup

butter

1

Cup

Dark Brown Sugar

packed

¼

Cup

heavy cream

½

tsp

real vanilla extract

½

tsp

real almond extract

⅛

tsp

espresso powder
Instructions
Preheat the oven to 350. Prepare a 9x13 cake pan with baking spray.

Mix together the ingredients for your yellow cake mix per package instructions.

Using a butter knife, cut the apples in the fried apple slurry into smaller pieces - about 1 inch per piece.

Add in 1 ½ cups of fried apples, 1 tsp ground cinnamon and ½ tsp ground nutmeg

Pour into the prepared pan and bake per package instructions. At the designated time, check the cake. If it is still wobbly and loose in the center, bake for another 5 minutes. Keep checking in this manner until the middle is no longer wobbly and loose and when it only jiggles a little - it is done.

For the icing: Boil all of ingredients in a small saucepan for 3 minutes - set a timer. Stir vigorously for the full 3 minutes. Remove the pan from the stove and immediately submerge the bottom half of the pan in an ice bath. Stir the icing until it is thickened and you are able to spread it over the cake.
Notes
This cake is slightly heavier than a box cake. So, if yours turns out that, no worries! That is the way it should be!
Nutrition
Nutrition Facts
Fried Apple Cake with Caramel Icing
Amount Per Serving
Calories 240
* Percent Daily Values are based on a 2000 calorie diet.
TIPS AND TRICKS for Fried Apple Cake with Caramel Icing
This is a heavier cake – like a spice cake.

The cake will turn out a dark color and will be more rustic on the top.

If you do not have espresso powder, just leave it out.

It is important to use real extracts for the vanilla and almond or you may get that over sweetened false flavor that sometimes comes with imitation flavorings.
IF YOU ENJOYED THIS Fried Apple Cake with Caramel Icing, YOU MIGHT ALSO ENJOY:
THE SECRET TO SOUTHERN FRIED APPLES
CHICKEN CASSEROLE WITH PEAS AND MUSHROOMS
A VERSE TO SHARE
Last time, I told you about hearing that there are 365 references to "be not afraid" in the Bible. I take that as a sign. One for every day.
This time, I'm telling you that there are MULTIPLE references about "Don't worry". You could probably construe that as part of the "be not afraid" since worry and fear are similar.
Just in a quick internet search, I found 30 references to "Don't worry".
Here is one of my favorites! What are your favorites? Wouldn't it be fun if we listed them here in the comments and had a nice chat about it?
Matthew 6: 25-34
Therefore I tell you, do not worry about your life, what you will eat or drink; or about your body, what you will wear. Is not life more than food, and the body more than clothes?
Look at the birds of the air; they do not sow or reap or store away in barns, and yet your heavenly Father feeds them. Are you not much more valuable than they?
Can any one of you by worrying add a single hour to your life?
"And why do you worry about clothes? See how the flowers of the field grow. They do not labor or spin.
Yet I tell you that not even Solomon in all his splendor was dressed like one of these.
God cares for us
If that is how God clothes the grass of the field, which is here today and tomorrow is thrown into the fire, will he not much more clothe you—you of little faith?
So do not worry, saying, 'What shall we eat?' or 'What shall we drink?' or 'What shall we wear?'
For the pagans run after all these things, and your heavenly Father knows that you need them.
But seek first his kingdom and his righteousness, and all these things will be given to you as well.
Therefore do not worry about tomorrow, for tomorrow will worry about itself. Each day has enough trouble of its own.