Jump to Recipe
What is your favorite part of fall?  Leaves falling and beautiful fall color?  Pumpkin spice everything?  Yoga and sweatpants season?  Yeah, me too.  All of it.  But then, there's apples.  God's perfect little fruit gift and the base for THE SECRET TO PERFECT SOUTHERN FRIED APPLES.  This post may contain affiliate links for products and services the purchase of which helps to support this website. 
You might be saying to yourself, "Fried Apples, Fried Apples, Fried Apples – YUM! – How do you make fried apples?" or "Wonder How do I fry apples?".  Perhaps the burning question is , "How do you make cooked apples?"  The answer is the same for each!  Keep reading and I'll show you everything you need to know.
HOW DO YOU MAKE FRIED APPLES
Oh, wait!  Caramelized apples might be your focus too.  It's ok.  Same thing.
My guess is that you have been to a restaurant where fried apples were served on the buffet or as a side item and you thought, "I wonder how you make fried apples?"   
Perhaps your grandmother always made fried apples when you came to visit and although you watched her make fried apples you were still wondering, "How do I fry apples".  No worries.
What you learn here will likely work for most apple recipes.
THE RECIPE FOR THE SECRET TO PERFECT SOUTHERN FRIED APPLES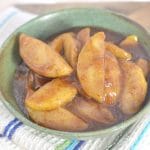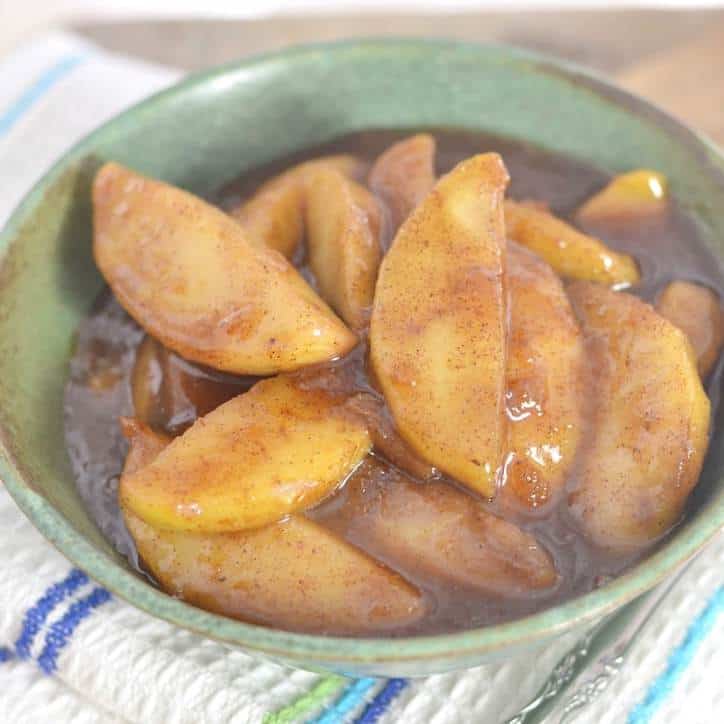 THE SECRET TO PERFECT SOUTHERN FRIED APPLES
This is a recipe for Fried Apples, Caramelized Apples and How to cook Fried Apples.
Course:
SIDE DISH OR DESSERT
Ingredients
2

Granny Smith Apple - about fist sized.

2

Sweet Apple - like fuji - about fist sized.

2

Tbs

lemon juice

10

Tbs

Unsalted Sweet Cream Butter

4

Tbs

Dark Brown Sugar

4

Tbs

White Granulated Sugar

4

Tbs

Honey

2

Tsp

Cinnamon plus a little more for garnish

1

Tsp

Nutmeg

freshly grated if possible

Pinch

of kosher salt
Instructions
Peel the apples. Cut the apples into bite sized slices (remove the core). Coat with the lemon juice and set aside until the pan is ready.

Melt the butter in a skillet over medium heat on the stovetop (I prefer cast iron for even cooking temp - but that is your choice)

Add the apples to the pan of melted butter and cook over medium until it appears that most of the butter is taken up by the apples. You will see that the butter turns from a milky buttery yellow to a more clear and sticky fluid. If you puncture the apples with a fork, they will be mostly cooked through at this point.

Add the sugars, honey, cinnamon, nutmeg and salt. Gently toss the apples to coat with the spices and sugars.

The sugars will dissolve and turn into syrup and the apples will become soft. Gently insert a fork to know when the apples are done. Do not overcook. Remove the pan from the heat and allow to rest for 5 minutes before serving.

Sprinkle with a little more cinnamon before serving.
Recipe Notes
This is a recipe for Fried Apples
TIPS AND TRICKS FOR THE SECRET TO PERFECT SOUTHERN FRIED APPLES
Make sure to cut the apples into even pieces so that they cook evenly.

The step where you cook the apples in the butter will take longer than you think it should – about 5-7 minutes.

Do not overcook the apples.  

Always use both a Granny Smith and another type of apple to give your dish more depth.  If you prefer more sweetness in your apples, then you may want to use 3 sweet apples and 1 Granny Smith.

If you like more cinnamon or less.  If you like more nutmeg or less – that is entirely up to you.  You can always add more or take away more based on your preference.

Some people prefer no honey – that too is up to you.

The pinch of salt brings out the sweetness in the dish, so please leave that in. You won't exactly taste the salt.  

If you use table salt instead of Kosher, just be careful to add only a tiny pinch.

This recipe make about 4-5 ½ cup servings (based on the size of your apples).  If you are using fist sized apples, then that is almost exactly what you will get.  If you are using the tiny apples that people sometimes pick from their own trees, then you might want to add more apples.  If you are using the GARGANTUAN apples that you sometimes find at the grocery (looks like the prize apple from the county fair) then you will want to increase your spices and sugars incrementally based on size.

The peeler I am using in these photos is a DEISS PEELER.  The grater I am using on the nutmeg is a DEISS ZESTER.  I totally recommend all DEISS products.  I have been using them in my kitchen for over a year, nearly daily and they are all as sharp as they can be.  Believe me, they get heavy use in my kitchen.  Worth the small price. CLICK THE PHOTO TO GO LOOK AT THE ITEMS ON AMAZON – affiliate link.

If you want to make more fried apples for a larger crowd, simply increase the recipe.

The real secret to this recipe is the following:  Use the right apples – the balance of apple flavors makes a difference.  Allow the butter to be absorbed by the apples – that is where that soft, delicate, buttery flavor comes from.  Use both kinds of sugars to give a depth to the sweetness.  Using honey gives another depth of flavor to the dish.  Stop cooking the apples when they are done – overcooking apples makes them mushy and that isn't the preferred result.  Adding a pinch of salt balances the sweetness and enriches the flavor.  

Now you know all of the secrets to the secret to perfect southern fried apples!
IF YOU ENJOYED THIS POST ABOUT THE SECRET TO PERFECT SOUTHERN FRIED APPLES, YOU MIGHT ALSO ENJOY….
The Secret to Perfect Old Fashioned Pinto Beans
The Secret to Perfect Chicken Fried Steak
How to make perfect homemade popcorn
The Secret to Perfect Southern Sweet Tea
A VERSE TO SHARE
Some days we are looking for strength.  I often look into my coffee cup for this at 5:30am as I muster the strength to start my day.  You too?  Yeah.  Cheers, friend.
That isn't where the strength is though.  Not at all.  The strength is in the quiet center.  Where we go to connect with The Almighty.  That is where self discipline and love is found too.  
Isn't that the perfect reason to lift up your heart to the Lord first thing in the morning, making him a priority first thing in the day?
I think so too.  
My first prayer probably needs to be, "And help me not to fall back asleep while I speak with you though".  (smile).
Here is part of Paul's letter to Timothy…
2 Timothy:  7-9
For the Spirit God gave us does not make us timid, but gives us power, love and self-discipline. So do not be ashamed of the testimony about our Lord or of me his prisoner. Rather, join with me in suffering for the gospel, by the power of God.  He has saved us and called us to a holy life—not because of anything we have done but because of his own purpose and grace. This grace was given us in Christ Jesus before the beginning of time.