Right now, you are probably saying, "EWWWWW!". But I swear, this is DELICIOUS! Plus, Grilled Chocolate Cheddar = LOVE. Yeah, you probably never thought grilled chocolate cheddar could possible = love, right? It does though! Creating this Grilled Chocolate Cheddar recipe is nothing but an act of love.
Did you ever have a friend so dear that you would do anything for them? Absolutely anything? I mean, I haven't had to hide any bodies or anything (yet) – but when your best bestie says, "I ate this grilled cheese on vacation and it had chocolate in it and I want you to figure out how to make it". What else are you going to do?
FULL DISCLOSURE FOR GRILLED CHOCOLATE CHEDDAR
In the interest of full disclosure, I immediately thought, "That sounds really gross". But when best bestie says it is GOOD! I have to believe her. I trust her with anything. Why not with a grilled cheddar ?
So, anyway, here is the back story. Best Bestie and her Mama went on a trip to Puerto Rico. While there, they bravely tried a restaurant's famous dish, a grilled chocolate cheddar. To their BIG SURPRISE, they both loved it! Here is a photo of Mama, at the restaurant with the grilled cheese in question. (I'll add this photo when I get permission….. until then… here is another photo of the grilled chocolate cheddar! PLUS….. How about I show you a picture of Bestie and me from about 1985 or 1986? ) I know she won't mind because, hey, we were so young and cute then (and we still are NOW!).
Now, you see, I am tasked with coming up with the recipe. The only hint I was able to get – "the chef said you mix the ground up chocolate – it's milk chocolate – in the butter to fry it with". Me: "Ummmm……well……ok…are you SURE it isn't DARK chocolate? " Her: "He said milk chocolate". So, here we are…
THE RECIPE FOR GRILLED CHOCOLATE CHEDDAR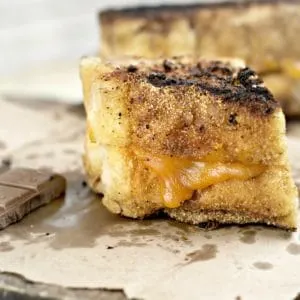 Grilled Chocolate Cheese
The SURPRISING taste revelation of this grilled chocolate cheese recipe will have your family and friends BEGGING for more! PLUS, you'll be the envy of the neighborhood with a rich, melty flavorful new sensation!
Print
Pin
Rate
Ingredients
1

stick of unsalted butter - room temp.

2

oz

milk chocolate candy bar

good quality - pulverized

2

Tbs

unsalted butter

4

slices

Brioche or other thick bread

2

oz

thick slices of good quality mild cheddar

2

oz

milk chocolate candy bar

good quality - chopped in small pieces

¼

tsp

kosher salt

Dash cayenne

Powdered Sugar as garnish - if desired
Instructions
In the bowl of a stand mixer, mix the stick of butter and ½ of the candy bar( the pulverized part) until well blended on a medium speed. You will need to stop the mixer several times and scrape down the sides. A hand mixer is fine to use too. If you are a zealot and have strong arms - then by all means, mix this by hand.

In a heavy duty frying pan on the stovetop over medium low heat (I used my grill pan), melt 2 Tbs unsalted butter.

While pan is preheating, spread the butter onto one side each of the four pieces of bread. (You will have about ¼ left over - or heck, use it all! Live a little). Then sprinkle well with the kosher salt and cayenne - this part is important - it imparts flavor.

Once the pan is heated, place two of the pieces of bread, butter side down onto the pan. Then place the pieces of cheese onto the bread. Then sprinkle the chocolate that is chopped into small pieces onto the cheese. Then cover this with the other two pieces of bread (making two sandwiches) - with the butter side up. Then cover the whole affair with the lid of a pan so that the cheese will steam and melt well.

Cook on one side for about 2 minutes, then turn to the other side - make sure to put the lid back on. If at any point, you start to smell a burning smell, turn the heat down and check your sandwich. Just know that sugary stuff burns easily - and you have to be careful with these.

Your sandwich is done when the cheese is melty and the bread is crusty and looks like a grilled cheese sandwich. Cut in half so that the chocolate inside will run down the side of the bread - 'cause Oooo - wow! Serve immediately. Garnish with powdered sugar if you like.
Notes
Use a thick fluffy white bread like brioche. If you don't have access to that, then a thick texas toast style sliced bread will work!
A medium cheddar is going to be the best cheese for this use! Hoop Cheese works PERFECTLY!
It's VERY IMPORTANT to use a good quality milk chocolate!
You'll want to use an unsalted REAL butter of the best quality you can afford. We really like Plugra, Amish Butter or WalMart brand butter. Use unsalted so that you can control where the salt appears in this recipe.
You'll note that I want you to use KOSHER salt. It's easy to sprinkle and control. That's why you'll want to use it.
Use a good kitchen knife or a food processor to chop the chocolate, you'll need to chop it VERY fine!
I know you are thinking, "the cayenne will make it too spicy" but it won't. Trust me, you'll love it!
The powdered sugar REALLY MAKES the dish, don't forget to add it.
Nutrition
Nutrition Facts
Grilled Chocolate Cheese
Amount Per Serving
Calories 658
Calories from Fat 387
% Daily Value*
Fat 43g66%
Cholesterol 61mg20%
Sodium 772mg32%
Potassium 294mg8%
Carbohydrates 62g21%
Protein 15g30%
Vitamin A 639IU13%
Calcium 295mg30%
Iron 4mg22%
* Percent Daily Values are based on a 2000 calorie diet.
TIPS AND TRICKS FOR GRILLED CHOCOLATE CHEDDAR
Best Bestie said that she believed her original sandwich was on a brioche bread. Of course, I live in very very rural North Carolina and we don't have Brioche as an option at my local grocery – and my good buddy Carolyn – one of the best cooks in the world is out of town (she makes an awesome Brioche) – and I don't have a clue how to make a Brioche….and so, dear friend, we are making OUR Grilled Chocolate Cheddar with a loaf of bread that is supposed to be sliced up into Texas Toast. I figure that is as close as I am going to be able to get to brioche around here without a drive to Winston Salem. You make the best choice you can with bread wherever you live!
THE FIVE BASIC FOOD GROUPS…
Just as a thing to consider – this might be best served as a dessert – but of course, if you are like me and prefer to think of chocolate as one of your 5 basic food groups and cheese as the other four – then by all means, eat this as a main course.
INGREDIENT INFORMATION FOR GRILLED CHOCOLATE CHEDDAR
Cheese – cheese is an important choice for this sandwich. Fortunately, living in rural rural (I give it a double rural for a reason) North Carolina, one thing we are NOT short of is Red Hoop Cheese! Red Hoop Cheese is the best bestest (double best for a reason) cheddar cheese in the world – creamy, smooth, no bite, melts great. So- please try to find you some Red Hoop Cheese too! If you can't find that (I know, it isn't a thing in all parts of the world) – then go with a mild cheddar – the best that you can afford from your local grocery. Please DO NOT go with the processed cheese food for this one. I'm not being a hater – it's just not the right cheese for this recipe.
CHOCOLATE
Chocolate is of utmost importance here. I mean, it is important. Do not go with some off brand milk chocolate. Ewww. I mean really, I'll get you if you do. A Hershey's Bar will do – if that is what you have available to you. For this recipe, I am using a Cadbury's milk chocolate bar. The only "better quality" chocolate that was available at my grocery on the day I went.
BUTTER
Butter is important too. Use the best unsalted sweet cream butter that is available at your grocery. I like Plugra when I can find it. The Amish Butter is excellent as well. Land 'O Lakes is what I used for this recipe.
SALT
Salt is important too. Use Kosher salt not table salt. In fact, my cooking recommendation is to use Kosher salt for all of your cooking. It has a nice grain for hand sprinkling, it melts consistently in your food, it isn't overpowering, it is hard to over salt when using kosher salt. But – I'm getting off into the weeds here – if all you have is table salt then use only a teeny tiny amount and the next time you go to the grocery – buy some kosher salt – you'll thank me.
KITCHEN APPLIANCES – I HAVE A KNIFE
Feel completely free to use your food processor to cut up the chocolate – that is probably ideal. I just don't have one of those lovely contraptions in my kitchen – so I chopped the old fashion way. Just about how I do everything else in the kitchen. Lol.
CAYENNE!!!
BUT I DON'T LIKE THINGS SPICY HOT! Does that sound like you? Ok, then. Fine. Don't add the Cayenne. But seriously, you really might learn to enjoy the tiniest kick with your chocolate if you do
AGAIN WITH THE SALT…
I'm harping on salt here, I know – but honestly – after my recent trip to Sacramento – I learned that some parts of the world really don't like salt and it is super necessary for this recipe. Add the salt. You can adjust it down if you need to – but seriously, add it.

I know you are wanting to know – Well, does this sandwich taste like the one that Best Bestie had on her trip? I have no idea. We will just have to wait and see what she says. All I can say is, THIS sandwich is good. 🙂
AND FINALLY, POWDERED SUGAR
One last note – the powdered sugar – Best Bestie says that the powdered sugar really makes this dish. I am positive it does! I didn't add it here because powdered sugar doesn't photograph that well – but it TASTES sensational! The last time I put powdered sugar on a dish to photograph, someone commented that it appeared to have mold growing on it. That kind of hurt my feelings – so to protect my overly sensitive feelings, I didn't add it here. LOL! But you definitely can!~ It doesn't look like mold in person! If you want to see that other dish – with the mean comment – you can find that HERE.
HEY! ONE MORE THING!!
Please leave me a comment! I love to hear from ya'll! I especially love to hear from you if you have tried the recipe – and what you think – or how it turned out – or how you modified it for your life – 'cause you know, make it your own!
Do you have a favorite sandwich? If so, what is it?
Does anyone know how to make the best Cuban Sandwich Pork ever? That is my next quest! If you have a super great recipe that you will share with me – please let me know!
PHOTO INSTRUCTIONS FOR GRILLED CHOCOLATE CHEDDAR
The Candy Bar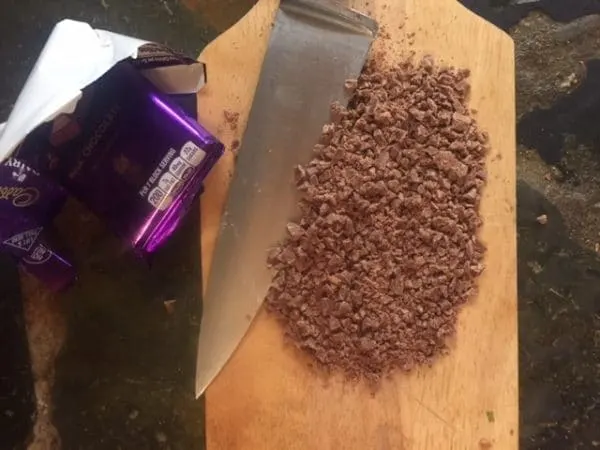 The super chopped – pulverized – Candy Bar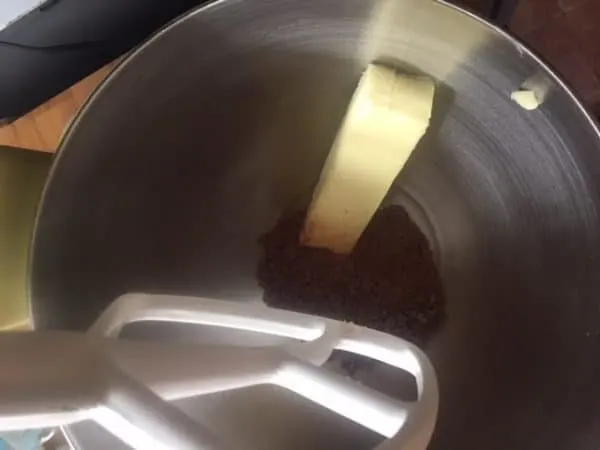 Into the mixer…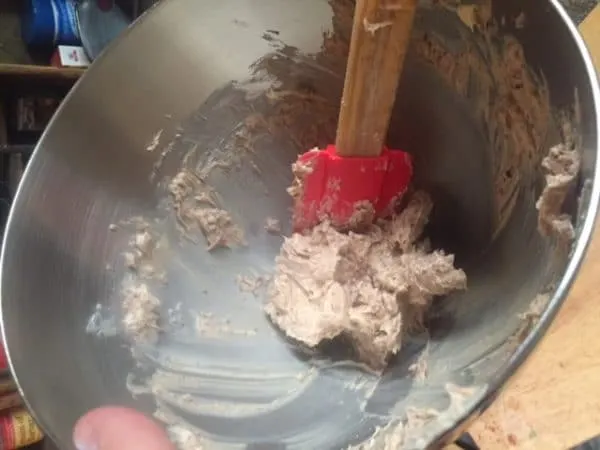 Chocolate Butter!!!
Not Brioche – but Texas Toast bread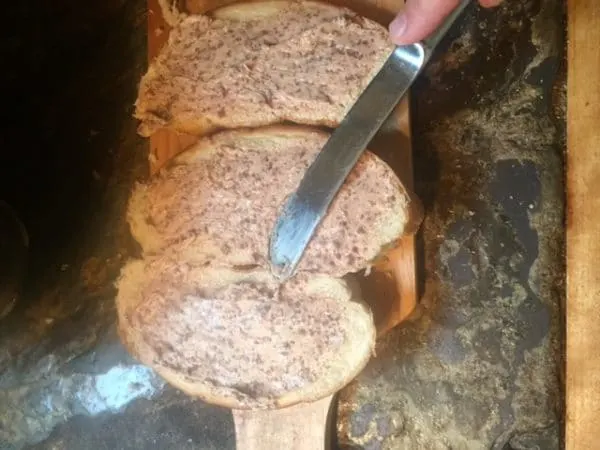 Smear the chocolate butter on the bread!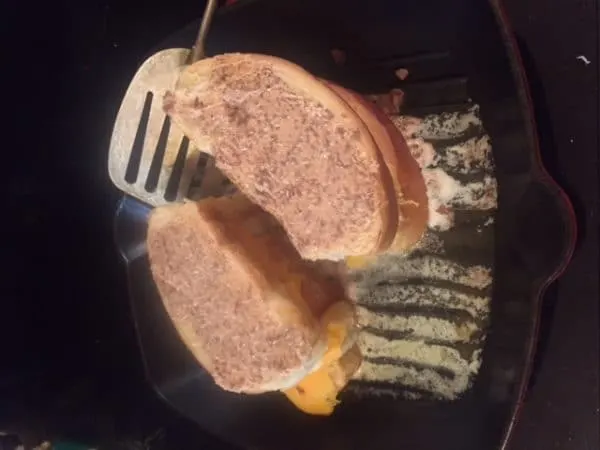 Put it all together and put it in the hot skillet
If You Enjoyed This Sandwich, You Might Also Enjoy…
Peanut Butter and Jelly Sandwich
VERSE TO CONSIDER
From Jesus' Sermon on the Mount:
"And when you pray, do not be like the hypocrites, for they love to pray standing in the synagogues and on the street corners to be seen by others. Truly I tell you, they have received their reward in full. But when you pray, go into your room, close the door and pray to your Father, who is unseen. Then your Father, who sees what is done in secret, will reward you. And when you pray, do not keep on babbling like pagans, for they think they will be heard because of their many words. Do not be like them, for your Father knows what you need before you ask him. ~ Matthew 6:5-8