I am having a ridiculous love affair. It seems so silly to talk about it here, but I thought if I just talked it out a little, then maybe my cravings might lessen and we could all be a little happier, right? That's how it works? Once you name a thing, it becomes less of a thing. Didn't I read that somewhere? My love affair is with The Best Sandwich EVER!
So, a few weeks ago, I am flying out to Seattle for this Food Blogger Conference. I've waited so excitedly and patiently for AN ENTIRE YEAR to attend this thing. One of the main attractions is going to be the MAGNIFICENT FOOD! Right? I mean, it is a FOOD CONFERENCE! (I'm getting excited for next year just thinking about it!).
We do have to realize that taking most of a day to jet across the United States might involve some yucky stale prepackaged ick food. I'm tough, I can take it. Thinking along these lines, I start to panic a little as Sarah Uselton and I are waiting in the D Concourse at Charlotte International for our plane. It is 5am and I realize that we will be on the plane at breakfast time AND lunch time.
I'm giving away $25!!!! Check out this post and scroll ALL THE WAY TO THE BOTTOM – just follow the raffle copter to enter to win!!!
That is when I spy a sandwich shop opening its gates just down the hall. I step inside and order what is now famous in my house (because I talk about it, like every day – seriously – ask my family – they will roll their eyes and tell you!). A surly lady ( I mean, it WAS 5 am) asked what I wanted on my sandwich and although my food wasn't made with love, it was THE BEST! She wrapped my sandwich in crinkly wax paper and sealed it with a sticker. I didn't know when I popped it in the top of my back pack that I would foster a ridiculous obsession for that thing for the next few weeks.
Somewhere over Tennessee, I discovered my new TASTE SENSATION. Here is my original sandwich sitting on the seat back tray with my complimentary (yeah right – I'm pretty sure my fare covered a Coke) ANYWAY, it is sitting with my complimentary coca-cola. Isn't it BEAUTIFUL!
One bite and I KNEW this sandwich would appear in the pages of Loaves and Dishes. Smoky Ham, Creamy mayo, Honey Mustard, sweet and sour pickled roasted peppers, spicy dill pickles and finally Pepper Jack cheese all housed between two soft and yet crunchy pieces of sour dough bread! I HAD to create this at home. HAD TO!
Before you scroll down any further, I need for you to imagine a sound track. Key up "Angles Singing", please. Thanks. OK – now you can scroll….
That's it – make this sandwich. You won't be sorry. I promise. Furthermore, I rarely eat a sandwich so, it is pretty much a guarantee that you will not be finding many more sandwich recipes on Loaves and Dishes. I am not going to say never though – who knows what might happen the next time I go on a trip and find a NEW sandwich!?!
For now though, I have to get back in the kitchen and work on a hack recipe for Pumpkin Cinnamon Soup! The Chef wouldn't share his recipe – not even a hint at the ingredients – and I LOVED that soup! So, now I'm on a quest.
One more thing – while at the conference, I attended a workshop on Stop Motion Photography. I played around with putting together a small Stop Motion Film about my sandwich!! Crazy, eh? Yep! I told you that it is a ridiculous love affair! I don't yet have all of the necessary equipment to actually do this – but since we are friends, I thought I would share this first attempt with you.
Each one should use whatever gift he has received to serve others, faithfully administering God's grace in its various forms. ~ 1 Peter 4:10
If You Enjoyed This Sandwich, You Might Also Enjoy…
Peanut Butter and Jelly Sandwich
Grilled Chocolate Cheddar Sandwich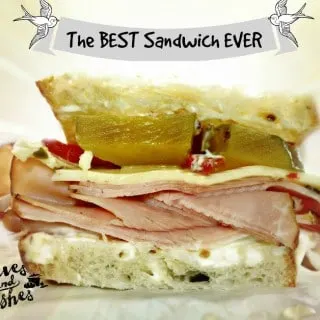 The Best Sandwich EVER
This is absolutely the best sandwich ever. Give it a try!
Print
Pin
Rate
Ingredients
2

slices

crusty sourdough bread

1

tsp

good mayo

1

tsp

good honey mustard

3

crispy good quality dill pickle slices

3-4

strands of roasted red peppers in picking liquid

¼

lb

smoky ham

1

slice

of good quality pepper jack cheese
Instructions
Set out your ingredients and assemble your sandwich. Bread on the outside, mayo, honey mustard, pickles, red peppers, ham and cheese.

Serve with chips and a soft drink.
Notes
It is important to choose good ingredients for this sandwich. Each ingredient stands out on its own here.
Nutrition
Nutrition Facts
The Best Sandwich EVER
Amount Per Serving
Calories 240
* Percent Daily Values are based on a 2000 calorie diet.