Can you ever eat peas and carrots without thinking of Forrest Gump? Me either! But hey, that's you and me, right? We go together like peas and carrots and so let's learn how to cook canned peas and carrots.
As you might know, I'm covering a "How to cook canned…. " series and this is one of that series. Today we will learn how to cook canned peas and carrots on the stove and in the microwave.
If you don't learn anything else from this series, I hope you will learn that most any food can be improved with the addition of the following:
Spicy flavor

Acid

Fat

Salt/Pepper

Sweet
This is the kind of addition we are making to the canned peas and carrots to help them taste a little better.
WHAT ARE CANNED PEAS AND CARROTS
Peas and Carrots are a traditional vegetable dish that have gone together for time immemorial. The problem (at least as far as I can tell from my internet searching) is that people want to know how to season canned peas and carrots.
HOW TO MAKE CANNED PEAS AND CARROTS TASTE BETTER
We will cover that today, but the basics are butter, salt, pepper, sugar, lemon juice and a small sprinkle of red pepper flakes if you so desire.
TIPS AND TRICKS FOR CANNED PEAS AND CARROTS
It is SUPER important that you pour off the water that is in the can with the canned peas and carrots. We will add a little fresh water and you might think, why pour that off and add more? The reason we do this is because sometimes the canning water isn't the best tasting.
If you are against adding the lemon juice (you actually won't taste it – but if you are afriad to add it, then leave it off) you could alternatively add a little splash of cider vinegar, it will serve the same purpose.
IF YOU ENJOYED HOW TO MAKE CANNED PEAS AND CARROTS, YOU MIGHT ALSO ENJOY…
HOW TO COOK CANNED PEAS AND CARROTS IN THE MICROWAVE
Using the recipe below, put all of the items together in a microwave safe bowl and microwave on high for 2 minutes. Stir. Then heat in 1 minute intervals until the dish is heated through.
YA'LL HELP ME OUT NOW, YA HEAR?
Please leave me a 5 star 🌟🌟🌟🌟🌟 comment below in the comment section, all right? I would LOVE to know if you made this recipe or even if you are planning to! Of course, head on over to Pinterest, Facebook and Instagram and tag me with some photos of your creation!
I can't wait!
Ya'll know I love your comments!! ❤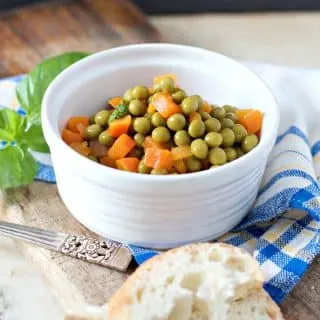 How to Cook Canned Peas and Carrots
A simple recipe for how to cook canned peas and carrots
Print
Pin
Rate
Ingredients
1 8.5

oz

can of peas and carrots

drained

½

cup

clean water

1

Tbs

whole butter

1

tsp

white granulated sugar

½

tsp

lemon juice

½

tsp

onion powder

¼

tsp

red pepper flakes
Instructions
In a small sauce pan over medium heat on the stove top, pour all of the ingredients together.

Heat over medium heat until the dish is heated through, the butter is melted and the water has begun to boil
Notes
Canned peas and carrots are EXCELLENT with mashed potatoes, check out loaves and dishes for the classic mashed potatoes recipe.
Nutrition
Nutrition Facts
How to Cook Canned Peas and Carrots
Amount Per Serving
Calories 150
* Percent Daily Values are based on a 2000 calorie diet.
A VERSE TO SHARE
There is a quote by Angelina Jolie that goes something like this: People always say you are going the wrong way when it's simply a way of your own.
That is so true, isn't it?
HAVE YOU?
How many times in your life have you been told that you are doing something wrong when in fact you were just doing it your own way? Have you changed the way you were doing something because of someone else?
How many times have you changed your path only to find that you should have stayed on your original path?
For me? It is so many times that I can't even count them. That is one of my major faults: Trying to hard to please someone else instead of listening to my own inner voice.
GROWING OLDER
This is something that growing older has helped. Certainly, there is something about passing 50 (cringe) that has improved this for me, since I rarely care what anyone thinks of me any longer. (Please tell me that this isn't just me and that I'm not a crabby old goat because of it. Lol.)
This feeling of choosing your own way reminds me of Pauls second teaching to Timothy. He reminds Timothy to avoid arguments and to be peaceful because we know we are right in the Lord and he is faithful to us also.
I encourage you to read the entire passage which I won't place here, it is certainly worth a read.
2 Timothy 2: 14-15
Keep reminding God's people of these things. Warn them before God against quarreling about words; it is of no value, and only ruins those who listen. Do your best to present yourself to God as one approved, a worker who does not need to be ashamed and who correctly handles the word of truth.