Delicious crunchy on the outside, soft on the inside, flavorful, spiced scrapple is the best breakfast EVER! Served with eggs, waffles or pancakes makes the perfect breakfast or even breakfast for supper dish! First, though, you have to know how to cook scrapple!
Scrapple is a favorite Pennsylvania Dutch dish that has now traveled south! Scrapple is affordable and delicious and a perfect substitute for breakfast sausage!
WHY THIS RECIPE WORKS
It showcases the spiced pork meat with a crispy edge and soft center

Makes use of bacon grease to add more flavor!

Shows you how to put a crispy edge on a delicious piece of meat!
WHAT IS SCRAPPLE
According to my friend Wikipedia, Scrapple is made from pork meat that is cooked and then mixed with cornmeal and spices and formed into a loaf.
HOW DO YOU USE SCRAPPLE
Scrapple comes in a loaf or block form. Slices are cut from the block, dredged in a type of seasoned flour and then fried till crispy on the outside.
HOW TO COOK SCRAPPLE IN THE OVEN
Scrapple CAN be baked (but I recommend pan frying per the directions below). All you really need to do is slice off a ½ inch thick slice, place it on a prepared baking sheet and bake at 375 for 20 minutes on one side and another 20 on the other side.
HOW LONG IS SCRAPPLE GOOD FOR
Once cooked, like sausage, you will want to consume your scrapple within an hour or two. Refrigerate unused scrapple and it will be good for about 5 days in the refrigerator.
Check the expiration date on the package of scrapple to understand when the package expires.
CAN I FREEZE SCRAPPLE?
Freeze scrapple once it has been cooked. Place it in a freezer safe container label it, remove as much air as possible and place in the freezer. It will be good for 3-6 months.
Freeze unused raw scrapple. Follow the same instructions as above and It will be good for 6 months to a year.
WHAT CAN I SERVE WITH MY SCRAPPLE?
Lots of great dishes work with scrapple!
Sweet potato hash brown breakfast bake!
LET'S SEE HOW THIS IS DONE (There's a short video in the recipe card below if you want to see Wendi cook scrapple).
First, open the package and slice off the pieces that you want to cook
Bread the scrapple in Wondra flour and spices
Fry in a small amount of oil and butter for 3-5 minutes per side.
Drain on paper towels
Serve hot…
If you Enjoy Scrapple, You Might Also Enjoy
YA'LL BE SWEET AND HELP ME OUT, OK?
Leave me a 5 STAR 🌟🌟🌟🌟🌟 Comment below. If you made this recipe, I would love for you to share it with me on social media or just email me at wendi(at sign)loavesanddishes.net. Reader comments are the best. I answer right back!
Ya'll MAKE MY DAY when you leave me a comment 🌟🌟🌟🌟🌟 or send me an email!
Join me on social media by clicking the links at the top of the page!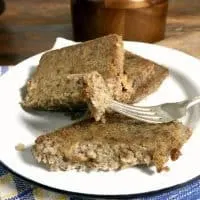 How to Cook Scrapple
This recipe shows you how to get a nice crispy crust on your scrapple and how to make a seasoned breading.
Print
Pin
Rate
Ingredients
4 1/4

inch-thick slabs scrapple

1

cup

instant flour

such as Wondra

½

tsp

garlic powder

½

tsp

onion powder

¼

tsp

cayenne pepper

¼

tsp

kosher salt

¼

tsp

ground black pepper

2

Tbs

bacon grease

2

Tbs

whole butter
Instructions
Cut 4 ¼ inch slices of the scrapple and lay on a clean paper towel (this helps remove moisture).

In a large bowl, mix the Wondra flour, garlic powder, onion powder, cayenne, salt and pepper and mix well, set aside.

In a 10" cast iron skillet, heat the bacon grease and butter until hot and a drop of water spatters enthusiastically.

While the pan is heating, very carefully dredge the scrapple slices in the wondra flour. Pat the flour into the scrapple gently.

Lay each piece of scrapple into the hot oil after it is dredged in the flour. Fry as many as 3-4 at a time.

Cook for 3 minutes per side without disturbing during cooking, turn the pieces very gently.

Remove to a clean paper towel to drain.
Notes
It is ok to leave the cayenne pepper off is you do not like a little hot flavor in your food.
Make sure to use the kosher salt and not table salt.
If using table salt, reduce to "just a pinch" The wondra flour makes a nice crispy exterior, if you use regular flour, it is ok, the edges just might not be as crusty.
Nutrition
Nutrition Facts
How to Cook Scrapple
Amount Per Serving
Calories 219
Calories from Fat 117
% Daily Value*
Fat 13g20%
Cholesterol 22mg7%
Sodium 212mg9%
Carbohydrates 24g8%
Protein 3g6%
Vitamin A 246IU5%
Iron 1mg6%
* Percent Daily Values are based on a 2000 calorie diet.
A VERSE TO SHARE
I'm getting ready to embark upon a few days of intense work and won't be here at my desk much for the next few days. I love the way that Paul ends his first letter to the Corinthians…
1 Corinthians 16: 13-14
Be on your guard; stand firm in the faith; be courageous; be strong. Do everything in love.