YES Livermush is Delicious, crunchy on the outside, soft on the inside, flavorful and spiced! It's the best breakfast ever! Served with eggs, waffles or pancakes makes the perfect breakfast or even breakfast for supper dish! First, though, you have to know how to cook Livermush!
Livermush is a favorite Classic Southern Dish! It is made from pig liver, head parts, and cornmeal and spiced with sage, salt and pepper! Livermush is affordable and delicious and a perfect substitute for breakfast sausage!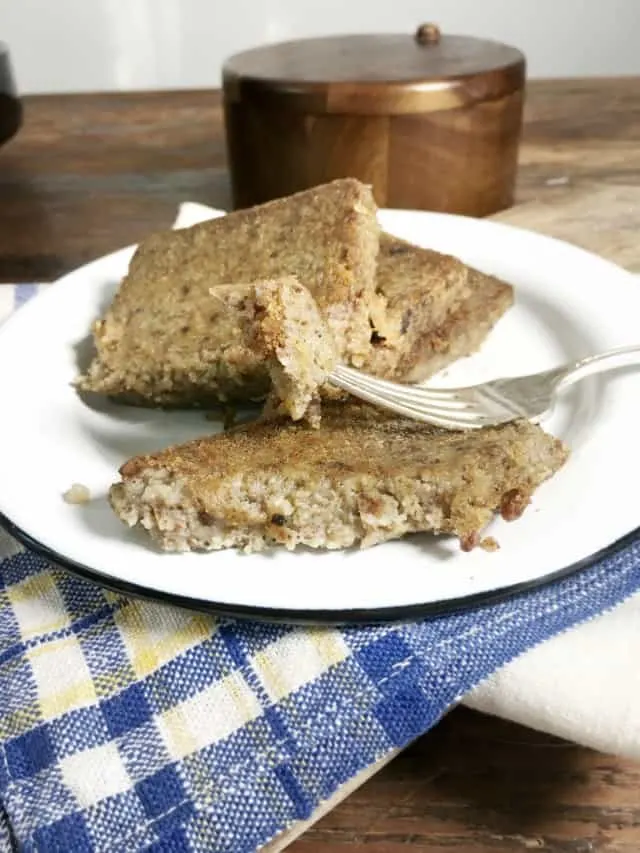 WHY THIS RECIPE FOR HOW TO COOK LIVERMUSH WORKS
It showcases the spiced pork meat with a crispy edge and soft center
Makes use of bacon grease to add more flavor!
Shows you how to put a crispy edge on a delicious piece of meat IN HOW TO COOK LIVERMUSH!
Cook Livermush Like This…
STEP 1. Slice the loaf of livermush into pieces for frying.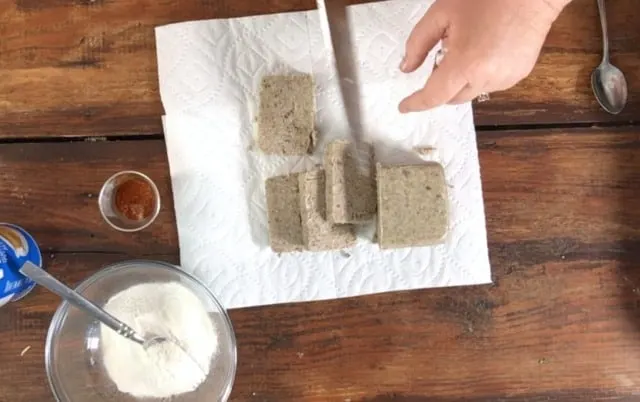 STEP 2. Mix up your breading and lightly coat the pieces to ready for frying (heat up your pan).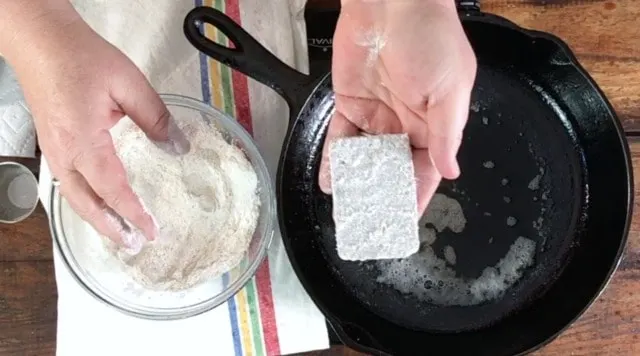 STEP 3. Gently place the pieces into the hot frying pan and cook for about 10 minutes (5 on each side).
STEP 4. Drain on a paper towel. Serve hot!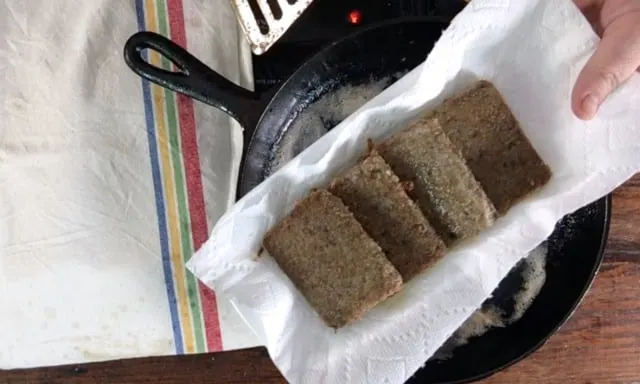 Frequently Asked Questions (FAQ's) about How To Cook Livermush
WHAT IS LIVERMUSH?
According to my friend Wikipedia, Livermush is made from pork liver and meat that is cooked and then mixed with cornmeal and spices and formed into a loaf.
WHAT DOES LIVERMUSH TASTE LIKE?
I think livermush tastes a lot like Scrapple and sausage. It has a deeper more liver taste however.
WHAT IS LIVERMUSH MADE OF?
According to the Neese's website, livermush is made of: Pork Broth, Pork Livers, Cereals (Corn and Wheat Meal), Pork, Salt, Spices
IS LIVERMUSH AND LIVER PUDDING THE SAME THING?
They are very similar and often called the same thing depending on what region of the southern United States you are from.
LIVERMUSH VS SCRAPPLE
Personally, I think the taste is very similar. Scrapple is a Pennsylvania Dutch recipe and livermush originated in the South. Is that the biggest difference? I'm not sure, but I enjoy both and think they taste pretty similar.
Additionally, if you enjoy sausage, you will probably like livermush. It's only a slightly different flavor and I think you will be pleasantly surprised.
HOW DO YOU EAT LIVERMUSH?
With a smile on your face and a fork in your hand! Unless, of course, you've made a breakfast sandwich with it, in which case you just use your fingers.
Seriously though, you eat livermush the same way you eat sausage generally.
IS LIVERMUSH RAW?
The livermush that I purchase from Neese's sausage company is not raw, it is precooked. Check the outside of the package that you have purchased.
HOW DO YOU USE LIVERMUSH?
Livermush comes in a loaf or block form. Cut a slice, dredged in seasoned flour and then fry till crispy on the outside. The livermush that I am using here is already precooked, so… you could eat it right from the package.
HOW TO BAKE LIVERMUSH IN THE OVEN
Yes, bake livermush. All you really need to do is slice off a ½ inch thick slice, place it on a prepared baking sheet and bake at 375 for 10 minutes on one side and another 10 on the other side.
HOW LONG IS LIVERMUSH GOOD FOR?
Once cooked, like sausage, you will want to consume your Livermush within an hour or two. Refrigerate unused Livermush and it will be good for about 5 days in the refrigerator.
Check the expiration date on the package of Livermush to understand when the package expires. How To Cook Livermush
CAN I FREEZE LIVERMUSH?
To Freeze Cooked Livermush, place it in a bag, label it, squeeze out the air and place in the icebox. It will be good for 3-6 months.
Yes! To freeze unused raw Livermush place it in a bag, label it, and place in the cold box. It will be good for 6 months to a year.
WHAT CAN I SERVE WITH MY LIVERMUSH?
Lots of great dishes work with Livermush!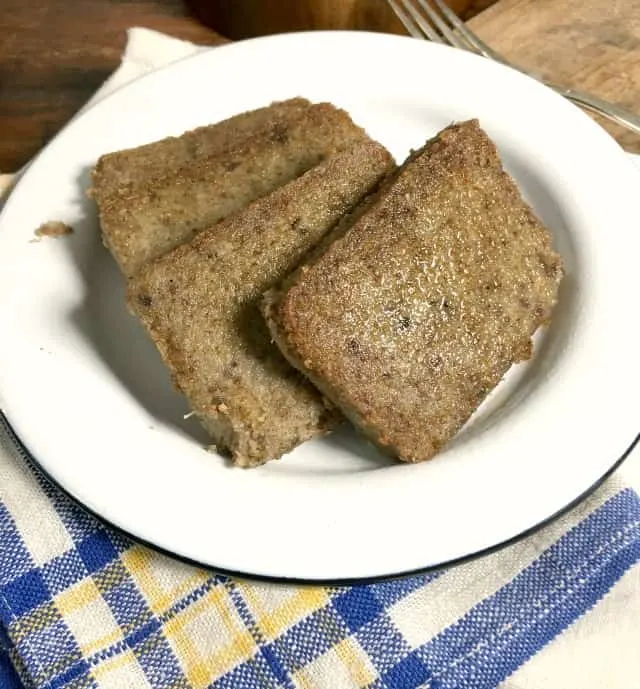 TIPS and TRICKS for How To Cook Livermush
Livermush is pre-cooked. You can eat it from the package if you want (but we recommend frying it to add great flavor!)

I use a light coating of wondra flour to give mine an exceptional crispy crunch BUT if you don't have this, a little flour (all purpose or self rising, either one) will work too. If you don't have any of those, just fry it a little and it will still be good.
YA'LL BE SWEET AND HELP ME OUT, OK?
Leave me a 5 STAR 🌟🌟🌟🌟🌟 Comment below. Reader comments are the best. I answer right back!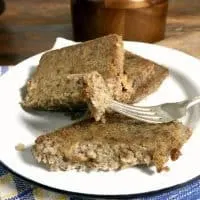 How to Cook Livermush
This recipe shows you how to get a nice crispy crust on your livermush and how to make a seasoned breading.
Print
Pin
Rate
Ingredients
1

lb

livermush

cut in 1/4 inch thick pieces

1

cup

instant flour

such as Wondra

½

tsp

garlic powder

½

tsp

onion powder

¼

tsp

cayenne pepper

¼

tsp

kosher salt

¼

tsp

ground black pepper

2

Tbs

bacon grease

2

Tbs

whole butter
Instructions
Cut 4 ¼ inch slices of the livermush and lay on a clean paper towel (this helps remove moisture).

In a large bowl, mix the Wondra flour, garlic powder, onion powder, cayenne, salt and pepper and mix well, set aside.

In a 10" cast iron skillet, heat the bacon grease and butter until hot and a drop of water spatters enthusiastically.

While the pan is heating, very carefully dredge the scrapple slices in the wondra flour. Pat the flour into the livermush gently.

Lay each piece of livermush into the hot oil after it is dredged in the flour. Fry as many as 3-4 at a time.

Cook for 3 minutes per side without disturbing during cooking, turn the pieces very gently.

Remove to a clean paper towel to drain.
Notes
It is ok to leave the cayenne pepper off is you do not like a little hot flavor in your food.
Make sure to use the kosher salt and not table salt.
If using table salt, reduce to "just a pinch" The wondra flour makes a nice crispy exterior, if you use regular flour, it is ok, the edges just might not be as crusty.
Nutrition
Nutrition Facts
How to Cook Livermush
Amount Per Serving
Calories 561
Calories from Fat 387
% Daily Value*
Fat 43g66%
Cholesterol 104mg35%
Sodium 928mg39%
Potassium 281mg8%
Carbohydrates 24g8%
Protein 20g40%
Vitamin A 309IU6%
Vitamin C 1mg1%
Calcium 10mg1%
Iron 2mg11%
* Percent Daily Values are based on a 2000 calorie diet.
A VERSE TO SHARE
I don't know about you, but I can be pretty irritable and resentful, rude and unbearing of all the things. How about you? This is a good reminder.
1 Corinthians 13: 4-7
Love is patient and kind; love does not envy or boast; not arrogant or rude. It does not insist on its own way; it is not irritable or resentful; does not rejoice at wrongdoing, but rejoices with the truth. Love bears all things, believes all things, hopes all things, endures all things.