Will it stunt a child's growth if they eat Easy Breakfast Casserole about once per week for dinner for their entire childhood? I can attest. No, they will grow up perfectly healthy. I have three living examples to prove it. Seriously – at least once per week – yeah, I'm not proud. "Her poor children, how awful for them to have to eat this dish all the time", is what you are thinking- but actually, last February when my son turned 27, do you know what dish he requested for his birthday dinner? Easy Breakfast Casserole.
So, just like that, we stepped back in time and all three kids (plus their significant others) and sweet hubby and I all gobbled up some more Easy Breakfast Casserole for dinner – just as if it were 15 years ago (or more). At this point, you are probably wondering, "why did she fix this so much?" Because it is easy, for one. Because all three kids loved it and there were never any complaints. Because I have the recipe memorized and finally, dinner is ready in less than an hour and it can be paired with a salad or broccoli and a dinner roll and TA-DA – a balanced meal is prepared! Now, you recipe seekers – here it is – right after the photo – your express lane to dinner heaven. If you want to read more about Easy Breakfast Casserole or learn about any tips and tricks that make this recipe better OR if you simply want to chat – scroll on down and we will pick up our coffee and have a talk down there…
THE RECIPE FOR EASY BREAKFAST CASSEROLE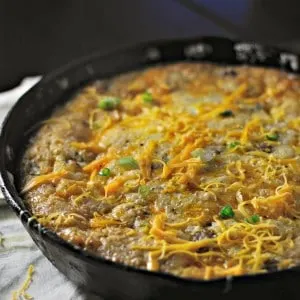 Easy Breakfast Casserole
This easy breakfast casserole is perfect for a holiday brunch or a weeknight meal! Easy to throw together and ready in just a little bit.
Print
Pin
Rate
Ingredients
1 ½

lbs

sausage

2

Cups

shredded Cheddar cheese

6

large eggs

1

Cup

Biscuit Mix

2

Cup

Milk

I use whole milk

Salt and pepper to taste
Instructions
Preheat the oven to 350. Cook the sausage in an oven proof frying pan over medium heat on the stove top. Once sausage is cooked, I usually scoop it out and then spray the pan good with non stick spray - but this is not necessary. I just don't want to take any chances on this sticking to my pan. If you do not have an oven proof frying pan, use a 9x13 baking dish instead and pretreat it with non stick spray. Anyway, replace the sausage into the pan and sprinkle the cheddar cheese over the top.

In a medium sized bowl, mix the eggs, biscuit mix and milk together - beat slightly and add salt and pepper to taste. Pour this over the top of the sausage and cheese.

Bake at 350 for 30-45 minutes (what makes the difference is the size of the pan - if you are using a skillet, it will take about 40 minutes). It is done when the center is no longer jiggly if you shake the edge of the pan
Notes
When browning the sausage, you do not have to get the sausage crispy, just cook till the pink is gone.
This casserole tastes best if you grate your own cheese, but if that isn't in the cards for you today, then bagged shredded cheese is fine.
Nutrition
Nutrition Facts
Easy Breakfast Casserole
Amount Per Serving
Calories 300
* Percent Daily Values are based on a 2000 calorie diet.
THE PHOTOS OF THE PROCESS OF EASY BREAKFAST CASSEROLE
TIPS AND TRICKS FOR EASY BREAKFAST CASSEROLE
In the morning, when you are making breakfast, if you will just brown the sausage while you are doing other stuff in the kitchen, all you will have to do when you come home is put the cooked sausage in the casserole dish and cover it with the cheese and egg mixture and pop it in the oven – SO SIMPLE!! Makes life so easy!

You can use more cheese, you can use less cheese – it really doesn't matter – what matters is what tastes good to you. I have even used mozzarella cheese – and it was wonderful too!

Salt is a thing – be careful with the salt – the cheese is salty – the sausage might be salty – so I rarely put much salt in this recipe. It is entirely a taste thing though.

I didn't put this in the recipe, because it isn't in the photos and people like to see what is actually in the recipe – BUT – this is really super good with some parmesan cheese sprinkled over the top before baking. I also really LOVE it with onion diced and thrown in with the sausage to brown. My children do not like onion though -so, I hardly ever make it this way. Garlic too – oh GARLIC TOO! YUM! But that is me. 🙂

***This tip being added late for my friends who are not aware of biscuit mix. I typically use Bisquick (they didn't pay me to say that – its just the truth) – but have also used the Aldi brand of biscuit mix and it works just as well. I am sure there are some other brands that work well too. However, some of my friends here are from the UK and other spots on the globe where biscuit mix is not a thing. In fact, US biscuits are not even a thing. These people live in places where what they call a biscuit, we call a cookie. So there you go. DO NOT MAKE THIS RECIPE WITH ANY KIND OF COOKIE MIX. lol. That would just be weird! I have found a suitable substitute recipe. At one time I personally had a substitute recipe – but have since lost it. Go check out My Baking Addiction and her Biscuit Mix recipe. It is very similar to what I once had so I am sure it works fine – although I have not tried her recipe myself yet. CLICK HERE FOR THAT RECIPE.
Easy Breakfast Casserole
RECIPE INSPIRATION FOR EASY BREAKFAST CASSEROLE
You know what? I have no idea where this recipe originally came from. I think I read it on the side of a box of biscuit mix. I don't know, it was a super long time ago. So – I think that is where we should give credit. Bisquick is the biscuit mix I have used the most – and I think it is their recipe – so, let's go with that.
Hey – writing this recipe has been a learning thing for me – I didn't know that I didn't know how to spell biscuit! But there you are. Thank you spell check.
Do you ever do that? I do that all the time. Learn stuff from the spell check. I have gone my whole life spelling some things wrong. Writing this blog, I have learned to spell Sandwich, caramel, biscuit and…. hmmmm…. fajita! I'm sure there were more, but that is all that I can think of.
What words are a challenge for you to spell? Who knows, maybe you are laughing so hard at me and my pathetic spelling that you can't even pay attention at this point. Please leave me a comment. If you tried this recipe – let me know how it turned out! If you have suddenly decided that you are, after all, a smart and decent speller because you compared yourself to me – let me know that too! Glad I could be of service. 🙂 Have a good one!
Taste and see that the LORD is good; blessed is the one who takes refuge in him. ~ Psalm 34:8