Perfectly seasoned, crisp and bright green is how we LOVE a Broccoli recipe. Finding the perfect spice blend can be a challenge, but you'll be able to do it perfectly when I show you how to season broccoli!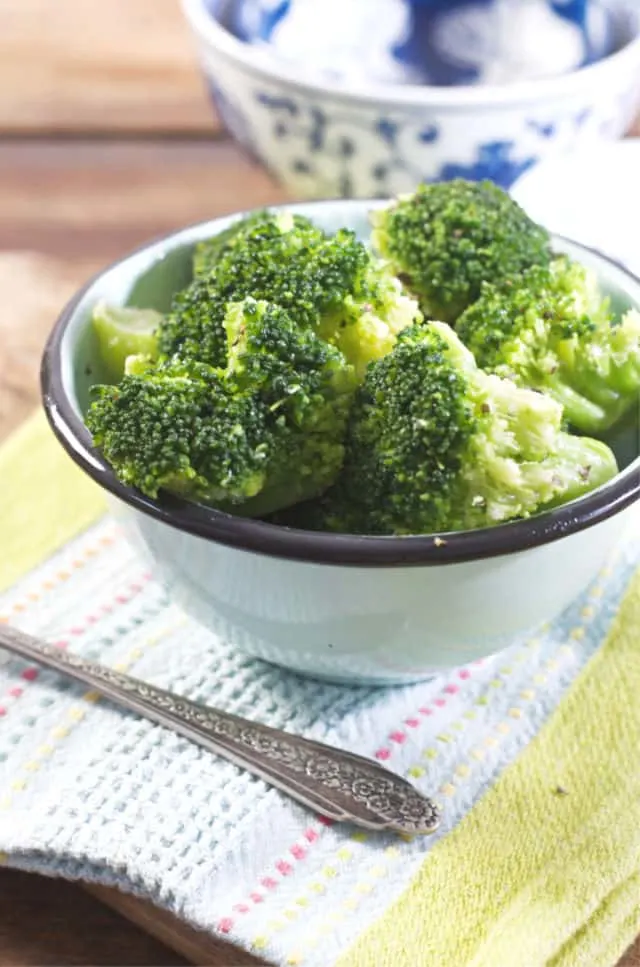 Why This Recipe Works
Easy
Fast
You probably have everything you need in your pantry already.
Here's How It's Done
STEP 1. Cut Fresh broccoli into florets. These should be roughly bite size pieces.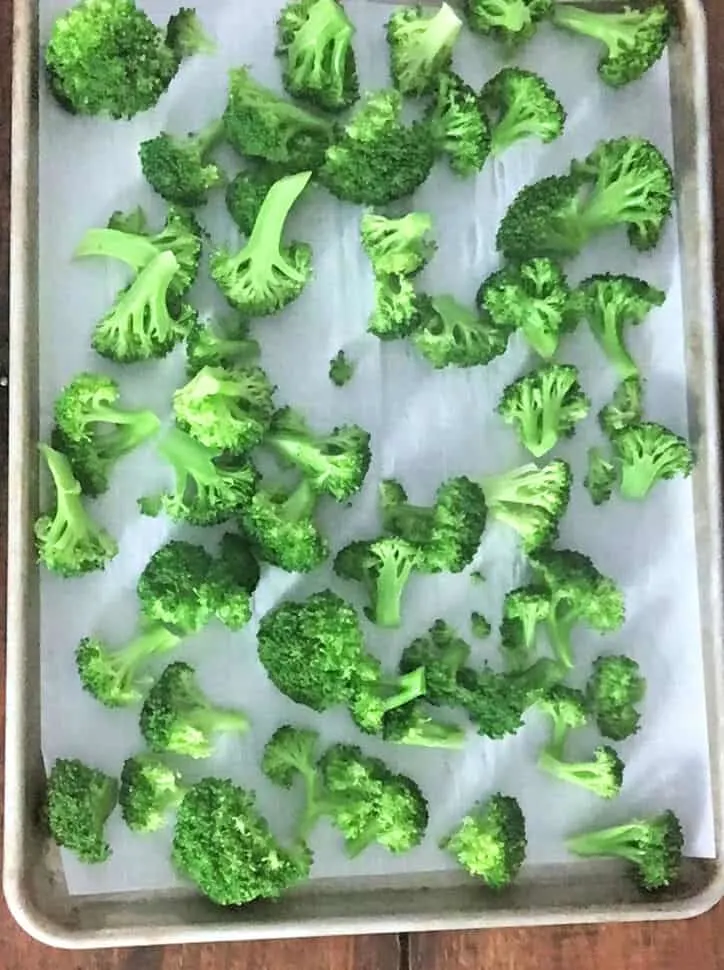 STEP 2. Put the broccoli florets into a small sauce pot and cover with water.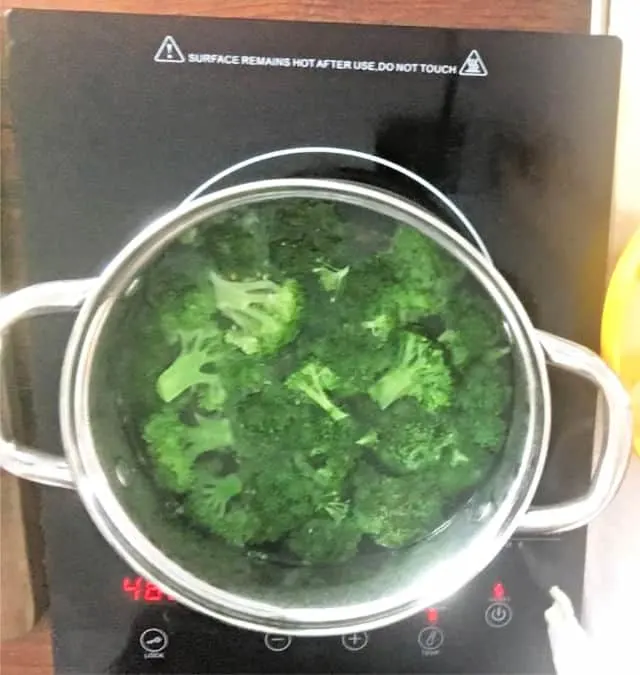 STEP 3. Add seasoning, butter and salt and pepper to water. Put over medium heat. Stir frequently, if the water evaporates just add more.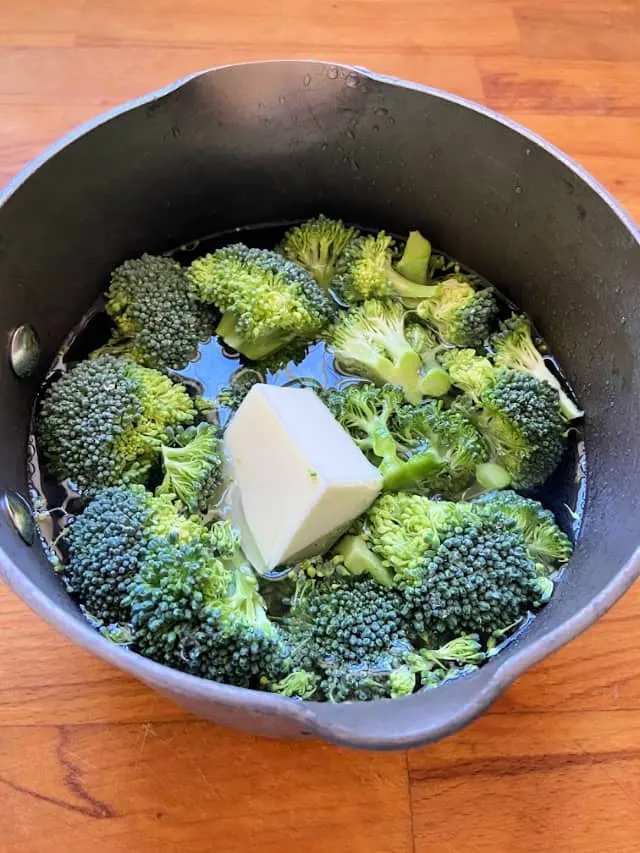 STEP 5. Add lemon and soy sauce to the broccoli. Toss to coat.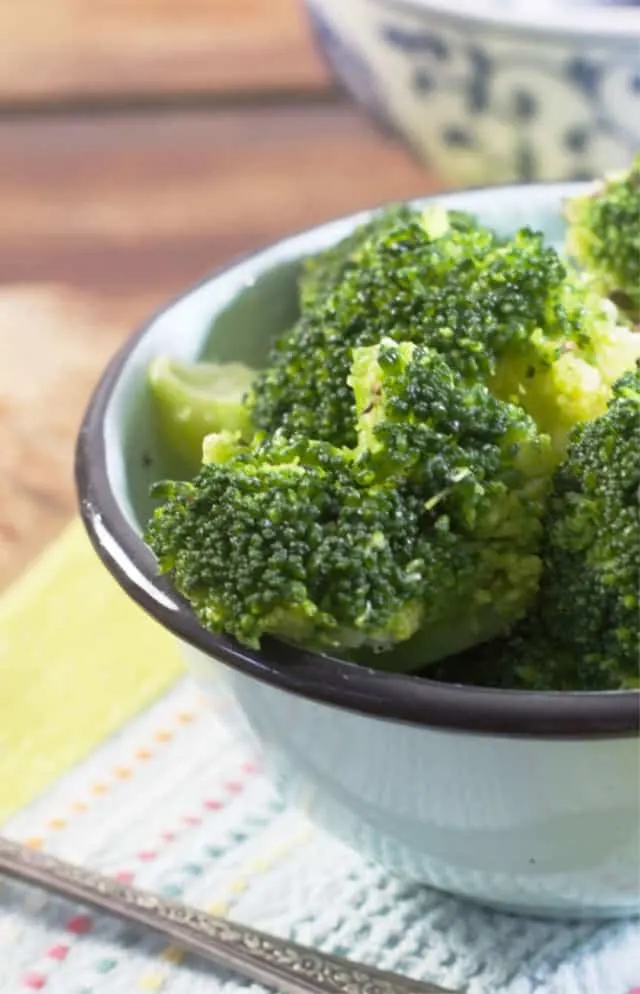 Frequently Asked Questions (FAQ's)
What Can I Add to Broccoli To Make It Taste Better?
To make broccoli taste better, you'll want to add LOTS of flavor! You do this by amping it up with…
Salt/ Pepper – helps overcome the bitter and add an interested element
Red Pepper – To add a KICK!
Lemon Juice – Gives the final dish some acid.
Soy – Adds Umami which is overall flavor!
You can season your broccoli by ……
Want to season your broccoli? You can always think of broccoli as the base and then go for flavor groups like…
Indian Seasoned Broccoli – Add a healthy dose of cumin, ginger, salt and butter. Delicious!
Asian Flare Broccoli – Sesame oil, ginger and garlic with a dash of red pepper!
Mexican Broccoli Anyone – Salt, Chili powder, cumin and Coriander!
What Can I Put On My Broccoli?
Try some of these for a great taste sensation…
Melted Cheese

Roasted Broccoli

Steamed Broccoli

Garlic Salt

Butter
How Should I Cook My Broccoli?
You can ….
Steam,

Roast,

Stir fry,

saute or even

grill broccoli.
How To Season Frozen Broccoli?
Just add the seasonings mentioned in the recipe, spices, butter, salt, pepper, lemon juice and soy sauce. You could also add garlic salt.
Try our recipe for How to Cook Frozen Broccoli and you won't be sorry!
What Can I Serve With This Dish?
Serve your Seasoned Broccoli with….
Can I Freeze Broccoli?
Yes, blanch it first and then put broccoli in a freezer safe container and freeze for up to 6 months.
How Long Is It Good For?
This broccoli, once cooked is good for about 5 days in the refrigerator.
Don't allow to sit out for more than 2 hours.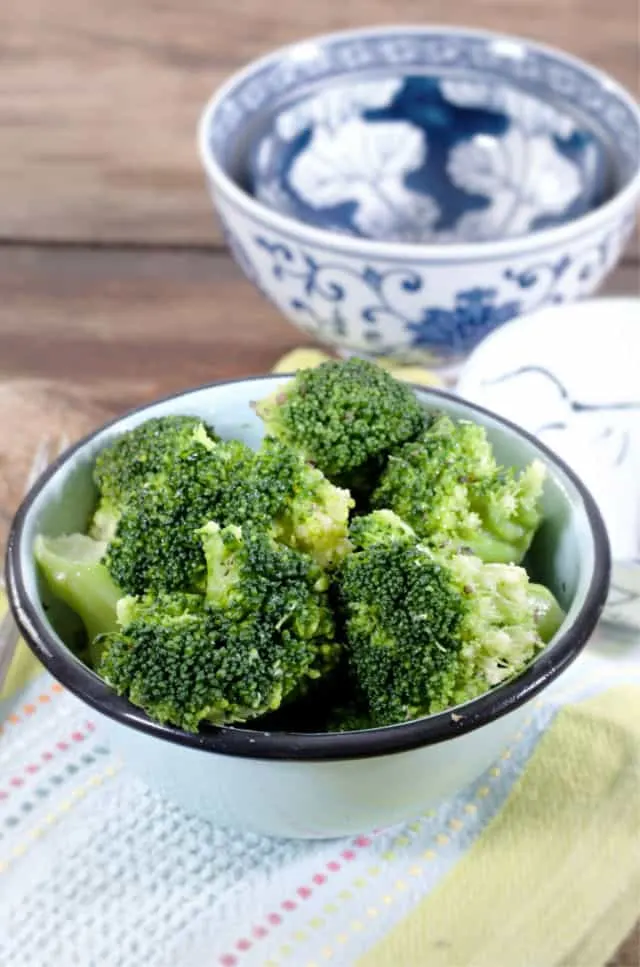 Tips and Tricks for How To Season Broccoli
When cutting the broccoli, you'll want to use mostly the heads and not the stalks. Stalks can be pretty fibrous and unappetizing.

Cut the broccoli into bite sized pieces so that you won't have to cut so much when you are eating.

Try adding more or less of the particular spices that you like.

It's important to have a balance of fat, salt, heat, acid and umami which all makes the broccoli taste better.

Want to know more about broccoli? The USDA will hook you up!
If you Enjoyed This Recipe, You Might Also Enjoy…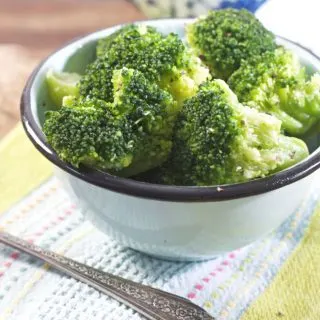 How to Season Broccoli
We LOVE a Broccoli recipe that is perfectly seasoned, crisp and bright green is the BEST with a delicious fresh dinner! It can be a challenge, but you'll be able to do it perfectly and I'll show you how to season broccoli!
Print
Pin
Rate
Ingredients
1

head of broccoli

½

cup

of water

plus more as needed.

3

Tbs

Butter

½

tsp

Kosher Salt

½

tsp

ground black pepper

½

tsp

red pepper flakes

1

Tbs

Soy Sauce

1

tsp

lemon juice
Instructions
Cut the broccoli head into florets and place into a sauce pan. Pour the water over the top.

Add the butter (just plunk it on top).

Add the salt, pepper, red pepper by sprinkling over the top.

Set the stove on medium and heat the broccoli, stir frequently. If the water evaporates, add more by the ½ cup full. This method of cooking mostly steams the broccoli.

Cook for about 10 minutes or until the broccoli is the level of crunchiness that you prefer.

Turn the stove off and add the soy sauce and lemon juice, stir well. Serve hot.
Notes
While cooking the broccoli, you may need to add more water, have it on stand by and ready to pour into the pan.
People like their broccoli in varying levels of doneness. If you like yours more crunchy, then cook less, if you like yours more done, then cook more.
If you don't have lemon juice, use the same amount of cider vinegar instead.
You can substitute Braggs liquid aminos for the soy sauce.
It's fine to use the low salt soy sauce.
Substitutions:
If you use a bag of precut broccoli heads, that is fine too. Just try to estimate the amount for one head of broccoli. If you use more broccoli, you'll need to increase the other ingredients. It's fine to eyeball these measurements.
Its fine to substitute margarine or a butter substitute for the butter.
If using regular table salt, cut the amount in half and sprinkle well overall.
Nutrition
Nutrition Facts
How to Season Broccoli
Amount Per Serving
Calories 131
Calories from Fat 81
% Daily Value*
Fat 9g14%
Cholesterol 23mg8%
Sodium 673mg28%
Potassium 490mg14%
Carbohydrates 11g4%
Protein 5g10%
Vitamin A 1283IU26%
Vitamin C 136mg165%
Calcium 74mg7%
Iron 1mg6%
* Percent Daily Values are based on a 2000 calorie diet.
A VERSE TO SHARE
In Isaiah we find what Isaiah saw concerning Judah and Jerusalem in the last days. We certainly aren't there yet, are we?
Isaiah 2:4
He will judge between the nations
and will settle disputes for many peoples.
They will beat their swords into plowshares
and their spears into pruning hooks.
Nation will not take up sword against nation,
nor will they train for war anymore.