Here is my one sentence commercial for these classic Irresistible Peanut Butter Cookies: A tasty crunchy and yet chewy classic peanut butter cookie that is super simple and uses what you probably already have in your pantry!
Terrific to have on hand as a snack after breakfast while you clean up the kitchen. Who am I kidding? You can't keep cookies like this "on hand" because you ate them all after breakfast!
Of course, that is my problem, not yours and I probably shouldn't encourage you to join me in my bad habits.
Let's just say, these cookies are brilliant, peachy and ridonkulously good and you will be tempted to eat them all in one sitting. It behooves you to give them away or to hide them from yourself lest you DO eat them all. Does hiding cookies ever work for you? Do you feel successful when you "find" a cookie you have "hidden" from yourself? No. You don't. You feel guilty – it's like helping your kids find the Easter Eggs – cause you already know where they are.
The recipe for these cookies comes, yet again, from the pile of recipes my daughter brought from her husband's grandmother's house. It is much like my own peanut butter cookie recipe, it just happens to be the one that we made today. It is handwritten on a 3×5 card in neat grandmotherly handwriting.
I'm a grandmother now – when is my handwriting going to change to that even, orderly and tidy script? Right now it looks like a pack of lame camels dawdling across quicksand on stilts. Someone please help me order up some proper grandmother handwriting.
The good news is, at least I DO have practice sneaking cookies and I can slide kids some treats like a suitable grandmother should. The best part? I'm not afraid of their daddy either- and they know it. In fact, he is wondering where the Mama who taught him, "no snacking before meals" went?
I know where she is. She is hiding with his kids down in the pantry scarfing up some irresistible peanut butter cookies!
You might also enjoy Caramel M&M's Brown Sugar Cookies! or even Christmas Crinkle Cookies
THE RECIPE FOR IRRESISTIBLE PEANUT BUTTER COOKIES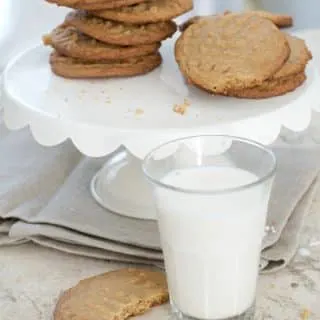 Irresistible Peanut Butter Cookies
There's a reason I called them irresistible, it's because they are! Seriously, the favorite cookie I make around here.
Print
Pin
Rate
Ingredients
¾

Cup

Creamy Peanut Butter

½

cup

vegetable shortening

1 ¼

Cup

packed dark brown sugar

3

Tbs

milk

1

Tbs

Pure Vanilla Extract

1

large egg

1 ¾

Cup

all purpose flour

¾

tsp

baking soda

¾

tsp

salt
Instructions
Preheat the oven to 375. Prepare 2 large baking sheets with parchment paper.

Mix together the peanut butter, shortening, brown sugar, milk and vanilla in the bowl of a stand mixer. Mix on medium until well blended. Add the egg and mix until blended. In a separate bowl, mix together the flour, baking soda and salt - mix well by hand. Gradually add the flour mix to the wet mix (in thirds) and mix on low speed until well blended.

Drop by Tbs full 2 inches apart onto the parchment prepared sheet. No more than 12 per sheet. These cookies spread out. Flatten slightly with the tines of a fork first one way and then again at a 90 degree angle.

Bake for 7-8 minutes or until set and just starting to brown. Cool for 2 minutes on the baking sheet and then remove to a cooling rack to cool completely. Makes 3 dozen
Notes
Making the cross hatch in the cookie seems like too much, but do it, you won't be sorry.
Nutrition
Nutrition Facts
Irresistible Peanut Butter Cookies
Amount Per Serving
Calories 220
* Percent Daily Values are based on a 2000 calorie diet.
TIPS AND TRICKS FOR IRRESISTIBLE PEANUT BUTTER COOKIES
DO NOT try to put more than 12 of these cookies on a cookie sheet. They spread out and you will end up with square cookies from them touching each other.

If you try to use a bigger spoonful, you will end up with bigger cookies, yes, you will – however, they will spread out even more and you will have to adjust your baking time – you are on your own there.

You can store these in zip lock bags once they are cooled – they hold up really good.

Ridiculously good crumbled on some good quality vanilla ice cream.

Also ridiculously good dunked in some chocolate syrup

You MUST chase these with ice cold milk if you eat one while it is still warm. That is a MUST.

Ridiculously good dunked in cold milk till soggy.

Would probably also be ridiculously good crumbled up with milk poured over them – eaten like a cereal (ok, I know that is going a little far – but what can I say). I haven't tried it. Yet.
A VERSE TO SHARE
Romans 12 is simply one of my favorite passages. I think in this season, especially in this season, it is a blessing.
Love must be sincere. Hate what is evil; cling to what is good. Be devoted to one another in love. Honor one another above yourselves. Never be lacking in zeal, but keep your spiritual fervor, serving the Lord. Be joyful in hope, patient in affliction, faithful in prayer. Share with the Lord's people who are in need.Practice hospitality. Romans 12: 9-13
Hey – remember a year ago? When we did this recipe? Pumpkin Pie with Pecan Drizzle
This peanut butter cheerio bars is a great peanut butter flavor and easy to make!