130 days until Christmas!!! Yes, I said it! I'm not starting my baking early – but I am not willing to wait 4+ months to have Old Fashion Chocolate Crinkle Cookies either! So there! I made them and I hope you will to! Plan to put these cookies on your Christmas baking list – you could put them on your Halloween, Thanksgiving and "Fall in general" list as well!
This cookie is delightful to make, eat and look at – and you won't be sorry that you gave it the time to fix a couple pans full! Imagine what your friends will say when this chocolaty cakey cookie shows up at their door!
Recipe inspiration for Old Fashion Chocolate Crinkle Cookies
I can remember as a child, a delightful elderly lady at my church would make these cookies for Christmas each year. I thought that they were heavenly! I had forgotten all about them until I received a copy of "Cook's Illustrated" magazine and THERE THEY WERE! This recipe comes straight from the magazine – except – when I was ready to start baking, I didn't have any unsweetened baking chocolate and had to substitute butter and cocoa. If you don't have unsweetened baking chocolate, you can substitute 1 tbs of butter plus 1/4 cup unsweetened cocoa powder. That is what I did and DELISH! So – the recipe here is the original recipe. Its wonderful. I could show you a picture of some crumbs right now – but I'll save you the horror. Just go make some yourself.
When Jesus spoke again to the people, he said, "I am the light of the world. Whoever follows me will never walk in darkness, but will have the light of life ~ John 8:12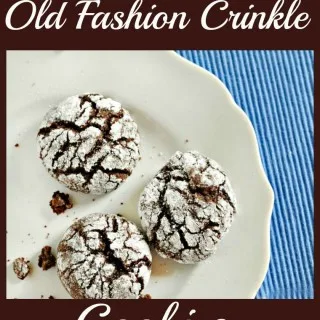 Old Fashion Chocolate Crinkle Cookies
Chocolatey and beautiful crusted white cookies. These take your right back to Grandma's holiday cookie tray. Perfect and beautiful.
Print
Pin
Rate
Ingredients
1

Cup

all purpose flour

1/2

Cup

unsweetened cocoa powder

1

tsp

baking powder

¼

tsp

baking soda

½

tsp

salt

1 ½

cup

packed brown sugar

3

large eggs

4

tsp

instant espresso powder

1

tsp

vanilla extract

4

oz

unsweetened chocolate

chopped

4

Tbs

unsalted sweet cream butter – melted

½

cup

granulated sugar

½

cup

confectioners sugar
Instructions
Place oven rack in the center of the oven and preheat to 325. Line 3 baking sheets with parchment paper or wax paper. Whisk flour, cocoa, baking powder, baking soda and salt together in a bowl.

Combine the unsweetened chopped chocolate and the butter together in a mug and microwave on 1/2 power until melted - 2-3 minutes - if the butter becomes hot - allow it to cool before proceeding.

Whisk brown sugar, eggs, espresso powder and vanilla together in a larger bowl. Add the melted butter and chocolate mixture and mix until it becomes thick.

Fold in the flour mix into the egg mixture – this is difficult to mix and the powdered chocolate will want to float on the top of the more liquid mix. Just keep stirring it will eventually come together. Once all of the dry streaks are gone – allow the mixture to set for at least 10 minutes.

Place granulated sugar and powdered sugar onto saucers – Use a #30 scoop so that the cookies come out the same size. Scoop out the cookie dough and drop onto the granulated sugar – roll around and coat – then move to the powdered sugar – and roll around and coat so that there is an even thin coat of powdered sugar on the cookie ball.

Place the cookie balls onto the lined baking sheet – 11 per sheet. This recipe makes 27 cookies – so three sheets will be needed.

Bake cookies one sheet at a time – check at 11 minutes. The cookies will be puffed and cracked with the darker cracks looking raw. Let cool completely before trying to remove from the cookie sheet.
Notes
Make sure to serve with a napkin! These can be a little messy.
Nutrition
Nutrition Facts
Old Fashion Chocolate Crinkle Cookies
Amount Per Serving
Calories 120
* Percent Daily Values are based on a 2000 calorie diet.