Many years ago when I met my sweet hubby – who wasn't then my hubby – I noted that he had the terrible habit of stealing my croutons (especially those fresh Italian Croutons from scratch) from my salad. There was an irritating proportional ratio in which the nicer the establishment, the more croutons he stole. In my family, we NEVER grabbed food off of one another's plate. We NEVER sampled someone else's food – ever – unless we were under the age of 3 and simply didn't know better.
However, in the new dating world that I found myself back then, I simply chose to ignore the crouton stealing. That is, until one evening I went to dinner with my sweet hubby – who wasn't then my hubby – and his children. When the food arrived, they ALL took food off of one another's plate and no one seemed to mind! I have to be honest here. I didn't know what to do. I wanted to guard my own plate with a fork and stab the first hand that ventured across the table towards my dinner.
A change happened in me, however, as I watched them happily sampling each other's dinner. I realized that they were each getting a better deal than me! They each were able to sample the fish, the ribs and the steak while I was stuck in both my own ways and with my own hamburger! I am happy to report that while I still don't just dig in on someone else's plate, I do now share my dinner with my family and try their dinner and that has led to many happy bellies.
So, anyway, back to the point of this story. Croutons. The nicer the establishment, the more croutons my sweet hubby would steal from my bowl! That is because in nicer establishments, the kitchen staff MAKE the croutons and they TASTE MUCH BETTER!
Not only is this the best tasting option, it is also the most economical! The last time I bought good croutons for a salad, the bag was about $3.50. I could have made my own croutons with the bread I throw out (just about every week) instead for nearly FREE! I ask you, what is better than free? Nothing. That's what!
Recipe Inspiration for Italian Croutons from Scratch
The problem? I didn't know how to make croutons. Maybe you don't either is what I am thinking. So, now that I know, I am going to share the secret with you! Once you know how to do this, you will be putting croutons on everything! In your soup. In your salad. On your hamburger. (OK – maybe not on your hamburger – but you get the idea).
Here is how I learned how to make delicious croutons – my daughter Sarah taught me – one time when she was home from college on break. She had been working at one of those world class farm to table restaurants (where of course they make everything themselves) and when I said something about croutons, she looked at me like I had two heads. "Mama, all you do is cut up some bread and put some olive oil or butter on it and sprinkle it with some salt, pepper and herbs and then bake it till its dry". She might as well have shouted, "DUH, Mama!!!" at me. lol.
Last week when I made the Spicy Bean and Sausage Stew, I made croutons to go on that – and WHOOWEE, it was so good! The sweet hubby came in the kitchen and just started eating the crotons off of the sheet pan! Another menu option!
Try these on top of some delicious Italian Summer Soup!
With that, I'll leave you to sampling the croutons. Use any kind of bread you have. I have found that I love croutons made from stale English Muffins. In the perfect world, we wouldn't have stale English Muffins (because someone always eats them before they go stale), but sometimes mom has to go to a conference and no one makes any food for themselves and the muffins go stale. Perfect crouton makings!
The LORD is good to those whose hope is in him, to the one who seeks him; 26 it is good to wait quietly for the salvation of the LORD. ~ Lamentations 3:25-26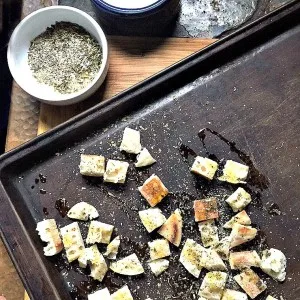 Italian Croutons from Scratch
This recipe is written to make croutons for 4 salads or soups, but that really depends on how many croutons you are accustomed to eating at one sitting
Print
Pin
Rate
Ingredients
1

Whole English Muffin

or any bread will do cut into 1 inch cubes

1

tsp

salt

½

tsp

ground black pepper

½

tsp

onion powder

½

tsp

garlic powder

¼

tsp

dried thyme

¼

tsp

dried oregano

¼

tsp

dried basil

2

Tbs

good olive oil
Instructions
Preheat the oven to "broil" (If you don't have a broil feature, set the oven on 350).

Place the English Muffin (bread) pieces onto a cookie sheet. Mix all of the dry ingredients together in a small bowl and mix together well with a fork.

Drizzle the olive oil over the bread crumbs and then sprinkle well with the mixed dry ingredients. You may have extra ingredients left over.

Bake until browned and crunchy – if using broil – watch very closely as they will be done in only a minute or so. If baking – watch closely and expect closer to 5 minutes. Remove from the oven, cool slightly and serve over salad, soup or…?
Notes
You can change up the taste by changing the flavorings in the croutons
Nutrition
Nutrition Facts
Italian Croutons from Scratch
Amount Per Serving
Calories 100
* Percent Daily Values are based on a 2000 calorie diet.