What is better in the cool fall air than a hearty stew? Nothing. Nothing is better! I know you – my audience – will look at this list of ingredients and say "WHOA" too many ingredients. But I promise – you WON'T be sorry! Most of these ingredients are herbs and seasonings. The actual stew is just a few veggies, sausage and beans. YUM!
As you read this post, Sarah Uselton and I will be heading home from Seattle, Washington's International Food Blogger's Conference. You might even have seen a post or two from us while we are there! I hope so. If you haven't, then we must have had some technology problems.
I am hoping that this stew will keep you warm until later in the week when I can return with new and exciting recipes to delight your tummy!
Recipe Inspiration for Bean and Sausage Stew
This past week, my latest issue of Saveur Magazine arrived. They had a delicious looking recipe for a Bean and Sausage Stew that I thought I might try. After reading through the recipe however, I thought, who has time for all of that? I think I can make something that will taste just as good with ingredients I have in the kitchen already. So, you see, that is what we have here!
I have no idea if mine is as good as theirs – because I didn't make theirs. I did, however, make mine and I can say, "It is good!". Try it, you'll like it!
For the wages of sin is death, but the gift of God is eternal life in Christ Jesus our Lord. ~ Romans 6:23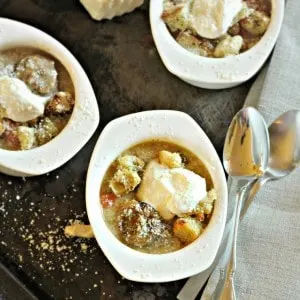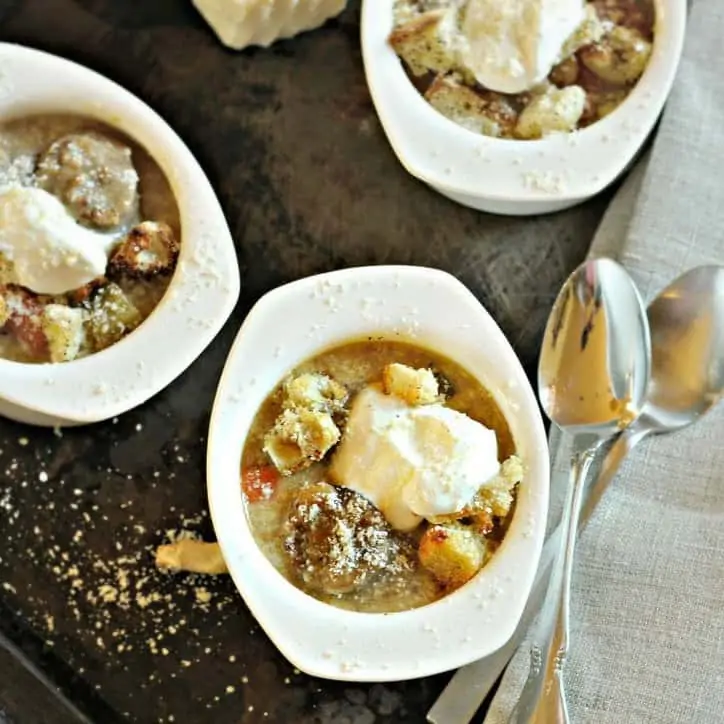 Spicy Bean Sausage Stew
A deliciously spicy way to use some canned beans and sausage! Perfect for a cold winter day!
Print
Pin
Rate
Ingredients
4

Italian Sausages

2

tbs

olive oil

4

Medium size carrots – cut in nickel size slices – ¼ inch thick

3

stalks celery - chopped

1

medium onion – chopped

2

cans of Cannelini Beans

1

box of beef broth

about ¾ quart

1

tsp

onion powder

1

tsp

garlic powder

1

tsp

dried celery

1

tsp

dried chipotle pepper flakes

1

tbs

whole grain mustard

1

tbs

Worcestershire sauce

2

tsp

sugar

2

tbs

apple cider vinegar

1

sprig of sage

2

sprigs rosemary

½

cup

parmesan cheese

1/3

Cup

sour Cream

Salt and pepper to taste
Instructions
In a frying pan fry the Italian sausages in the olive oil. While frying, chop up the carrots, celery and onion and add to the frying pan with the sausages and fry until the sausages have good color on each side and until the carrots/celery and onion have some color as well (do not need to be completely done before next step). Remove the sausages from the pan when color has developed.

In a separate large stock pot add the beans, broth, onion powder, garlic powder, dried celery, pepper flakes, mustard, Worcestershire sauce, sugar and vinegar. Tie the sage and rosemary in a bundle with kitchen string and add to the large stock pot.

Slice the sausages in disk shapes – about ½ inch thick – when cool enough to handle.

Add the sausages and the carrot mix to the sauce pot. Heat on Medium until bubbly – reduce heat to low. Add the parmesan and sour cream and heat through. Remove the herb bundle when ready to serve. Top with a croutons a dollop of sour cream and some parmesan cheese shavings.
Notes
If you do not have the fresh herbs, it is ok to substitute 1/2 tsp of the same dried herbs and place directly into the stew.
Kitchen strings is usually a cotton type string. You can find it at the grocery where they sell other kitchen utensils.
Nutrition
Nutrition Facts
Spicy Bean Sausage Stew
Amount Per Serving
Calories 346
* Percent Daily Values are based on a 2000 calorie diet.