You want to save money with dried Pinto Beans and you want perfect southern smoky soft pinto beans. There's just one question, "HOW TO COOK PINTO BEANS ON THE STOVE TOP"?
The directions on the bag of dried pinto beans can be a little confusing. That's no problem. Let me show you "HOW TO COOK PINTO BEANS ON THE STOVE TOP".
How To Make Pinto Beans
To Make Pinto Beans, first wash the pinto beans and remove any bad beans from the mix. Then, pre-soak overnight OR boil on medium high for 10 minutes. Drain and rinse. Then make the beans over medium low heat in water or stock with garlic powder, onion powder, concentrated broth, cayenne and a bit of bacon until tender (about 2-3 hours).
HOW TO COOK DRIED BEANS
The basic process is the same for all dried beans when cooking on the stove top. Simply follow the basic rules for How to Cook Pinto Beans on the Stove Top. You might want to check out The Secret to Old Fashioned Pinto Beans too.
How To Cook Pinto Beans On The Stove
To Cook Pinto Beans on the Stove, first wash the dried beans and remove any bad beans from the mix. Then, pre-soak overnight OR boil on medium high for 10 minutes. Drain and rinse. Then cook the beans over medium low heat in water or stock with seasonings until tender (about 2 hours).
The recipe below gives you specific instructions for a great recipe, but that is the nut and bolts basics of the process. You'll want to add as much flavor as possible while cooking, so I recommend following the recipe.
How Long To Cook Pinto Beans
Cook Pinto Beans (dried) for 2-3 hours on simmer after soaking or pre-boiling. This allows time for the beans to soften as well as for the seasonings to "marry". If you are cooking canned beans, you'll want to cook them for at least 30 minutes for flavors to develop, but they are already cooked.
How to Cook Pinto Beans
To Cook Pinto Beans, first wash the dried beans and remove any bad beans. Then, pre-soak overnight OR boil on medium high for 10 minutes. Drain and rinse very well. Then cook the beans over medium low heat at a simmer in water or stock (best flavor) with seasonings until pinto beans are tender (about 2-3 hours).
HOW TO SEASON PINTO BEANS
Seasoning is very important with Pinto Beans (or any dried bean) and there is some disagreement about the subject. Loaves and Dishes, as the comfort food center of the universe, advises the following:
SALT – Use salt when cooking the beans. Keep in mind any other sources of salt you may be using such as bacon, broth concentrate, etc.
BROTH or BROTH CONCENTRATE – I always recommend to cook the beans in broth or to use broth concentrate. For the concentrate, in general, use one teaspoon for each quart of water. If using broth, simply use broth instead of water.
MEATS – Bacon or a ham bone is often the best choice. Do not try to use country ham – there isn't enough fat and it just doesn't work out.
UMAMI – (depth of flavor) – onion, garlic, peppers, etc. Add some of these to the pot and cook in butter until cooked through well, then add your beans and water. You won't be sorry!
SUGAR – Yes, that's right. I said, "Sugar". Just a spoonful. I've been given this tip by more elderly Southern cooks than you can imagine – believe me, it is true.
SPICY – While you and I might LOVE some spicy on our pinto beans, not everyone does. I recommend to set the bottle of hot sauce on the table and let your guests decide for themselves.
HOW MUCH WATER DO YOU USE TO COOK PINTO BEANS
Use enough water to cover your beans by about 2 inches. So, however many beans are in your pot, use water that is 2 inches above the level of the pinto beans.
THE BASICS OF HOW TO COOK PINTO BEANS ON THE STOVE TOP
START WITH A SOAK…
USE FRESH DRIED BEANS – It may seem like beans should be good for approximately EVER, but that isn't true. Use beans by the date on the package. Don't keep them more than two years.
RINSE THE BEANS AND REMOVE ANY THAT LOOK QUESTIONABLE – Rinse the pinto beans under cool running water. If you note that some are broken, more shriveled, black or dark brown or simply look odd then pick them out and throw them away.
ALLOW THE BEANS TO EITHER SOAK OVERNIGHT OR PROVIDE A 10 MINUTE BOIL FIRST – Beans require a little push off from the bank, so to speak. So, pour the beans in a bowl and cover with water by 2 inches the night before you plan to cook the beans.
RINSE THE BEANS AFTER THE SOAK (OR BOIL) – Once the beans have been sufficiently soaked (or boiled) pour the soaking water off and rinse the beans well. This helps remove all of any remaining grit, grime and field sprays that may have been left on the bean before it was packaged.
ADD SOME FLAVOR…
ADD THE INGREDIENTS YOU WILL USE FOR FLAVOR – If you plan to use bacon or onion or garlic or….? Brown those items in the bottom of your soup pot in a little bit of oil. Remove the pot from the heat, pour the soaked beans into the pot.
THEN COOK THE PINTO BEANS…
COVER THE BEANS WITH 2 INCHES OF WATER – Place the beans into the soup pot with the flavor ingredients and cover with cool clean water to 2 inches above the level of the beans.
HEAT THE WATER TO SIMMERING – Simmering is a light boil. There is no need to heavily boil the water when just a gentle simmer will do. Add some salt during the boiling and add the broth concentrate.
SIMMER UNTIL DONE – Simmer gently until done – start checking in on the beans at the 2 hour mark. Some people like their pinto beans a little firm. A few more people like their pinto beans buttery soft. The longer the pinto beans cook, the softer they will be come.
MAKE SURE YOUR FLAVORS ARE ON POINT…
TASTE FOR PROPER SEASONING – There is nothing worse than an unseasoned pinto bean so please, taste the pinto beans before you serve them. If they don't taste just right to you then please add some salt and pepper! It is likely to take more salt and pepper than you think is reasonable.


IF YOU ENJOYED HOW TO COOK PINTO BEANS ON THE STOVE TOP, YOU MIGHT ALSO ENJOY….

Would You Love to Cook the PERFECT Southern Dinner?

IMAGINE YOU, COOKING THESE! YOU CAN DO IT TOO!

Served with (choose one)

Chicken Pie or

And…

Add A little Yum Yum Sauce

Deviled Eggs made with this Easy Peel Hard Boiled Egg

And finish it all off with…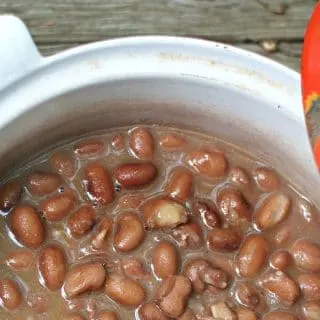 How to Cook Pinto Beans on the Stove Top
This recipe gives you detailed instructions for how to cook pinto beans on the stove top
Print
Pin
Rate
Ingredients
1 16

oz

bag of pinto bean

2

tsp

olive oil

1

small yellow onion - diced

2

cloves

garlic - minced

4

slices

of thick cut applewood smoked bacon - cut into 1 inch pieces

½

tsp

salt

4

tsp

chicken broth concentrate

1

bay leaf
Instructions
Rinse the bag of beans well and remove any that look like they are past their prime. If unsure - chuck it.

Pour the beans into a large bowl and cover with at least 2 inches of water and allow to soak overnight. Alternately, you can boil the beans at a steady boil for about 10 minutes before you begin to cook them. Whether you soak or parboil, pour the water off from this step.

In a six quart stock pot on medium heat, heat the olive oil and saute the onion and garlic until they smell really good and the pieces become translucent.

Remove the pot from the heat and add the beans, bacon, salt, chicken broth concentrate and one bay leaf and enough cool clean water to cover the beans by 2 inches. (If you are sensitive to salt, then you can always decrease the amount)

Heat the beans on medium until they come to a light boil then reduce the heat to low.

Stir the beans occasionally and don't let them get to a strong boil. Cook until done. I tell doneness by tasting - you could also spoon some out and smash it in your fingers. If it is smashy- through and through - they are done.
Notes
Stir the beans frequently to prevent scorching.
You'll want to add a little water or broth if the beans start looking dry and if some of the liquid has evaporated.
Remember that canned beans are already cooked, so essentially you are just warming them up BUT if you put raw bacon in the beans, you'll need to wait until it is fully cooked through before serving.
Nutrition
Nutrition Facts
How to Cook Pinto Beans on the Stove Top
Amount Per Serving
Calories 99
Calories from Fat 27
% Daily Value*
Fat 3g5%
Cholesterol 4mg1%
Sodium 152mg6%
Potassium 203mg6%
Carbohydrates 11g4%
Protein 4g8%
Vitamin C 1.2mg1%
Calcium 21mg2%
Iron 0.9mg5%
* Percent Daily Values are based on a 2000 calorie diet.
A VERSE TO SHARE
Earlier this week, I received the quarterly mailing from my alma mater, Maryville College. It is a small liberal arts college in Tennessee where many people know each other. Receiving this little magazine is something like a family reunion that arrives in the mail.
The usual course is for me to briefly scan the articles in the front about the current students and faculty but I find myself racing to the back where the annals of marriages, births, achievements and deaths reside.
Back 30 years ago, the news from my comrades resided in the "marriages" and "births" sections. It seems that we moved on into the "achievements" section for some years and now, I dread turning those last few pages to find if any of my classmates have matriculated to the next stage in life, "death".
Thank goodness, in this volume, there were none reported from my era at the college.
UNRELATED?
While this seems like a wholly unrelated item, you'll find that I tie it up at the end. Today I decided to tag my elementary school teachers in a hilarious Facebook post concerning teaching elementary school. I am friends with several of them.
I made the post and ended up tagging three teachers as well as the daughter of a fourth. However, that made me realize that 7 of my other elementary school teachers have already passed on.
And before you say it, NO, I wasn't in elementary school 12 years! There were several years where we rotated classrooms during the day! Lol.
NEW CHAPTERS
All of this has made me realize that I am heading to a new chapter in life and because of this I am comforted by Ecclesiastes. In other chapters of my life, I don't think I noticed the changes so much.
Perhaps I didn't notice because things were all so shiny and new in the previous chapters. That isn't true anymore. For a lot of things Ecclesiastes speaks the truth in saying, "there is nothing new under the sun".
What is new and shiny and exciting is knowing that God's love is with us as we travel through life. We are His children in all stages.
Likewise, I find great comfort in getting to know YOU, my life traveling companions. I would love to hear from you, especially if you have found something helpful on this website because it means the world to me knowing that you are out there and that something here worked for you. My email is wendi(at)loavesanddishes.net
Ecclesiastes 3: 1-8
There is a time for everything,
and a season for every activity under the heavens:
a time to be born and a time to die,
there is a time to plant and a time to uproot,
a time to kill and a time to heal,
there is a time to tear down and a time to build,
a time to weep and a time to laugh,
there is

a time to mourn and a time to dance,
a time to scatter stones and a time to gather them,
there is a time to embrace and a time to refrain from embracing,
a time to search and a time to give up,
there is a time to keep and a time to throw away,
a time to tear and a time to mend,
there is a time to be silent and a time to speak,
a time to love and a time to hate,
there is a time for war and a time for peace.