These deliciously simple refrigerator pickled okra 's are a delightful way to make interesting and tasty appetizers for the holidays without a lot of time or fuss! You will be so surprised at how EASY this recipe is and how much you actually LOVE refrigerator pickled okra!
Surprise your holiday guests with these EASY and DELICIOUS cute appetizers made from refrigerator pickled okra that you MADE YOURSELF! I mean, seriously, can you believe it!
WHY THIS RECIPE WORKS
ITS EASY!
Your guests will never believe that YOU not only put together such cute appetizers but that you ALSO made the refrigerator pickled okra yourself! BUT YOU DID!
Pickled okra tastes great and is NOT slimy.
The tang and heat are exactly right!
I know you have LOTS of questions about pickled okra so let's address a few of those…
CHECK OUT THIS QUICK VIDEO OF WENDI MAKING PICKLED OKRA!
WHAT IS REFRIGERATOR PICKLED OKRA?
Pickled okra is okra in the pod that has been preserved in a mixture of vinegar, spices and sugar.
Okra grows on a tall plant as the seed pod.
My good friends over at Plum Granny Farms in King, NC let me take photos of some of their okra plants to share with my readers. Plum Granny is an organic farm in Stokes County, NC.
CAN PICKLED OKRA GO BAD?
Yes, it can go bad, but it isn't going to go bad quickly. It saves in the refrigerator about as long as pickles of any kind do.
HOW LONG CAN YOU LEAVE REFRIGERATOR PICKLED OKRA SITTING OUT?
Put your refrigerator pickled okra back in the fridge within 2 hours of getting them out of the fridge.
IS REFRIGERATOR PICKLED OKRA GOOD FOR YOU?
Like most foods, that totally depends on what you think is good for you. Do you want to know what ALL of the ingredients in your food are? Then, making your own pickled okra is very good for you.
Are you wondering if pickled okra is keto? The answer is no. If you thumb through these pictures you'll see that I added sugar so these aren't the pickled okra for you.
Looking for a low calorie snack that is crunchy and has fiber? Then pickled okra might be just exactly the thing for you!
WHAT DOES PICKLED OKRA GO WITH?
I'm SO GLAD you asked this question! Pickled okra MAKES AWESOME APPETIZERS!
This is just ONE of MANY okra recipes!
See my instructions below for the directions and some fun photos.
IS PICKLED OKRA OK DURING PREGNANCY?
Are you allowed to have vinegar, sugar, salt and some spices as well as okra? If so, then these refrigerator pickled okra should be ok AND they are easy to make.
If you aren't sure, then ask your doctor.
WHERE IS PICKLED OKRA IN THE STORE?
If you plan to buy your pickled okra rather than making your own, you should be able to find it where the pickles and olives are located.
However, let me make one more plug for making your own. Okra is cheap and the supplies are cheap and its EASY to make!
This pickled okra requires NO CANNING!
YAY!
TIPS AND TRICKS FOR MAKING REFRIGERATOR PICKLED OKRA
Put the onions, dill and garlic in the jar BEFORE you put the okra in the jar.
Stuff as much okra into the jar as you can get
It is fine to use a different sized jar. Use whatever size jar you have.
If you keep your old glass spaghetti sauce jars or other jars, use those to make your refrigerator pickled okra in! Recycle and reuse!
If you can't find dill, no worries, just leave it off (same for any of the other spices but DO NOT leave off the apple cider vinegar).
TO MAKE APPETIZERS USING YOUR REFRIGERATOR PICKLED OKRA:
We love to make fancy little appetizers for holiday parties with our refrigerator pickled okra! It is so easy too!
Who wouldn't love to find a great okra recipes!
We pair the okra with:
Baby Gherkins
Blue Cheese
Olives
Manchego Cheese (or other hard cheese)
Anchovies
Red Bell Peppers
Deli Ham
The general rule of thumb for a good toothpick pickled okra appetizer is:
Only put about three things together.
Try to get a hot, sweet and fat on a stick together.
Avoid putting the two cheeses together.
If you cut the cheese into a cube, it will hold the whole stick up on a plate for serving!
Have fun when putting on the toothpick, mix and match colors and shapes!
You just have to balance out your okra recipes!
***These beautiful plates were sent to me by my friends at Barn Light Electric Company to use in a holiday appetizer post, if you would like some of these beautiful plates, please go check out Barn Light and pick up a set just like mine! ***
HOW TO SERVE REFRIGERATOR PICKLED OKRA APPETIZERS
We serve our okra recipes with:
Cocktail napkins or small plates
With a glass of wine or beer
Sit the appetizers up straight on a plate so that people can come by and pick one up easily.
These little okra recipes appetizers are GREAT before a heavier meal such as Cowboy Lasagna or All The Secrets to perfect Crockpot Pot Roast
Let's see how to make Refrigerator Pickled Okra
First, assemble your ingredients.
Then begin heating the cider vinegar over medium heat.
Add the sugar and stir until it dissolves.
Then add the spices and salt and heat until it begins to bubble and then remove from the heat. Allow the mixture to cool and pour it over your packed jars (see the video above). Place the jar in the fridge for at least 2 days.
The finished product
THE RECIPE FOR REFRIGERATOR PICKLED OKRA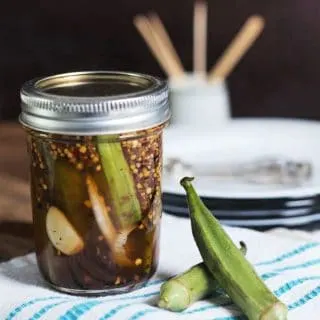 Refrigerator Pickled Okra
This recipe post gives instructions for how to make refrigerator pickled okra
Print
Pin
Rate
Ingredients
15

small pods of okra

(about 9 oz)

1/3

Cup

sweet onion

thinnly sliced

4

dill sprigs

2

cloves garlic

per jar

1/2

cup

apple cider vinegar

1/3

cup

granulated white sugar

1/2

tsp

kosher salt

1/2

cup

water

2

tsp

coriander seeds

1

tsp

yellow mustard seeds

1

tsp

dill seeds

1

tsp

black peppercorns

1/2

tsp

crushed red pepper
Instructions
Divide the okra, sweet onion slices, dill sprigs and garlic cloves among the jars you will use. (2 pint jars). Place the onion, dill and garlic in the bottom of the jar and then pack the okra in tightly as possible.

Over medium heat on the stove top in a medium sized sauce pan, heat vinegar, sugar, salt and 1/2 cup of water. Stir and heat until the sugar and salt dissolves.

Turn the heat off and add the coriander, mustard, dill seeds, peppercorns and crushed red pepper. Turn the heat back on and bring to a boil. Remove from the heat.

Carefully pour the solution over the packed jars of okra.

Tightly cover with a lid and place into the refrigerator once cooled. Keep refrigerated for up to a week.
Notes
Wash the okra well before using and remove any bad spots with a sharp knife.
Cut the tops of the okra so that the stem is removed but not the little cap at the top.
Use the freshest okra possible.
If you can't find dill sprigs, it is ok to leave them out.
It is ok to use plain white vinegar instead of apple cider vinegar.
If using table salt, use half the amount shown.
Nutrition
Nutrition Facts
Refrigerator Pickled Okra
Amount Per Serving
Calories 105
* Percent Daily Values are based on a 2000 calorie diet.
A VERSE TO SHARE
It is so easy to become immersed in today's culture, isn't it? You try to hold yourself apart and be accountable for where you mind travels and then you suddenly find yourself swooped away in a facebook (or any other) struggle.
It's easy to become something like the okra in this recipe. Saturated in the brine that surrounds you!
I'm trying. I know you are too.
While it isn't easy (and what is easy that is worth our time?), I encourage you to keep your mind fresh and on things that are good and right.
Romans 12:1-2
Therefore, I urge you, brothers and sisters, in view of God's mercy, to offer your bodies as a living sacrifice, holy and pleasing to God as this is your true and proper worship.
Do not conform to the pattern of this world, but be transformed by the renewing of your mind. Then you will be able to test and approve what God's will is as his good, pleasing and perfect will.