Creamy, tangy, herby and perfect with EVERYTHING, you KNOW resistance is futile! Not only is this recipe for restaurant ranch dressing easy, it is clinically proven to improve the flavor of any dish you serve it with (at least here in the south).
Do you ask for a side of ranch dressing with nearly everything you order at a restaurant? I hate to admit it, but I do too! Okra? Check. French fries? Yes. Any cut of fried chicken? Yep! Baked potato? Hello!
Now, this extremely addicting forever favorite, restaurant ranch dressing, is perfectly in your reach and you won't believe how simple it is, too. Seriously, just three ingredients and a good whisk and you are on your way! No need to crack open that bottle of second rate ranch dressing! Make the REAL thing!
WHY THIS RECIPE FOR Restaurant Ranch Dressing Recipe WORKS
Easy to use packet is ready for you to whisk it together.

Uses ingredients you already have in your fridge

Real mayonnaise and whole milk make it creamier!

It's the REAL thing!
WHAT MAKES RESTAURANT RANCH DRESSING RECIPE SO GOOD?
There's a lot of things in that little packet that make it so good, but to start with…
Real Mayonnaise

Whole Milk

Using the name brand dressing mix.

Flavorings and Seasonings that are added to the mix packet.
WHERE CAN I BUY RESTAURANT RANCH DRESSING?
You can buy restaurant quality ranch dressing at ANY local grocery store, the thing is, you have to mix it up yourself and it is EASY to do!
Just like how you can't buy premixed and ready coffee in a canned drink, you can't buy fresh delicious ranch dressing. You just have to mix it up yourself. It's EASY though, just follow the recipe card below.
Simply purchase the Hidden Valley Ranch Dressing packets and follow the recipe at the bottom of this page!
There's even a video!
HOW LONG DOES RESTAURANT RANCH DRESSING LAST?
If you mix up a batch of this dressing and keep it in the refrigerator with a lid on it, it will last about a week to 10 days.
No worries, you will use it up long before it goes bad!
CAN I FREEZE RESTAURANT RANCH DRESSING?
No, you can't freeze it. It has mayonnaise in it. When mayonnaise is frozen and then thawed, it separates into a yucky, unappetizing mess. Ewww. It's gross.
WHAT TOOLS DO I NEED TO MAKE RESTAURANT RANCH DRESSING RECIPE?
You will need…
A bowl

Whisk

Measuring cup.
In the video (check out the recipe card below to see), I mention my baby spatula, here's a link to that. (I'm an amazon affiliate and this photo is an amazon affiliate link. It won't change your price but will share some commission. Click the photo to go through to Amazon to compare prices (Thank you!).
WHAT CAN I USE MY RANCH DRESSING ON?
Oh man, ranch dressing is good on literally everything! Try it on…
How to cook spiral ham without drying it out
Perfect Steak house baked potato
LET'S SEE HOW Restaurant Ranch Dressing Recipe IS DONE!
(There's a video down in the recipe card, check out Wendi making this dressing!)
First you want to measure out a cup of mayonnaise into a large bowl
Then you want to add a cup of whole milk
Add the packet of ranch dressing to the mixture
Then whisk well until it is all mixed together well
YA'LL BE SWEET AND HELP ME OUT, OK?
Leave me a 5 STAR 🌟🌟🌟🌟🌟 Comment below. If you made this recipe, I would love for you to share it with me on social media or just email me at wendi(at sign)loavesanddishes.net. Reader comments are the best. I answer right back!
Ya'll MAKE MY DAY when you leave me a comment with a 5 STAR 🌟🌟🌟🌟🌟 or send me an email!
Join me on social media by clicking the links at the top of the page!
THE RECIPE FOR RESTAURANT RANCH DRESSING RECIPE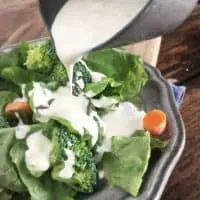 How to Make Hidden Valley Ranch Dressing
Perfect, creamy wonderful and delicious on everything, you'll love knowing how to make hidden valley ranch dressing
Print
Pin
Rate
Ingredients
1

Packet of Hidden Valley Ranch Dressing Mix

1

Cup

Mayonnaise

1

Cup

Whole Milk
Instructions
Mix all the ingredients together in a medium sized bowl and whisk briskly.

Allow to stand for 5-10 minutes and mix will thicken slightly.

Pour into the container you wish to keep the dressing in, cover tightly and refrigerate.
Notes
You can use mayonnaise substitute if you desire, but the end results will not be the same.
Any kind of mayonnaise will work but do not use miracle whip salad dressing as that is a different flavor.
Substitute skim, 2% or 1/2 % milk if that is what you feel you need to do, but the resulting ranch dressing will not be as thick and creamy.
If you want to add more flavor, use buttermilk instead of milk in the recipe.
Kick up the final recipe by adding some chopped fresh chives. The color and flavor is beautiful.
Allow the whole thing to sit in the fridge for about an hour or more to thicken.
If the resulting recipe is thicker than you prefer, simply add more milk to the recipe to thin it.
Always mix it well or shake well before using so that the ingredients get a remix and any settling is shaken up.
Ranch dressing is literally wonderful on everything! Use it on pizza, eggs, meats, veggies, breads, everything.
Nutrition
Nutrition Facts
How to Make Hidden Valley Ranch Dressing
Amount Per Serving
Calories 209
Calories from Fat 198
% Daily Value*
Fat 22g34%
Cholesterol 15mg5%
Sodium 199mg8%
Potassium 51mg1%
Carbohydrates 2g1%
Protein 1g2%
Vitamin A 68IU1%
Calcium 40mg4%
Iron 0.1mg1%
* Percent Daily Values are based on a 2000 calorie diet.
A VERSE TO SHARE
A river flows about 300 yards from my house. I can't see it. Sometimes, after a big rain, I can hear the creek that runs behind my house which feeds into the big river.
Over the years I have noticed that sometimes the river has very little water and the rocks on the bottom are poking up through the surface.
At times, I have seen the river so full that it is nearly coming over the road and is many feet deep.
I'll admit that I've been scared for the river during each of these extremes.
At all times of the year that river flows on heading towards the ocean, never ceasing.
I feel like that river sometimes, strong, angry and rushing into the next things or weak and small where every part of my inner thoughts are poking through my skin.
I'm thankful that no matter my own condition, God is there, giving me a framework to lean on.
I'll just add one thing to this. This is a POWERFUL passage that has great meaning to us today. I recommend that you read starting at Isaiah 58:1 and continue on down the page.
Isaiah 58:11
The Lord will guide you always;
he will satisfy your needs in a sun-scorched land
and will strengthen your frame.
You will be like a well-watered garden,
like a spring whose waters never fail.