I'll admit it. No one is going to come breaking down your door to get at a baked potato. Well, except me maybe. Baked Potatoes are one of my all-time top-ten favorite foods – especially if you add some whole cream butter, salt and pepper, sour cream and sharp cheddar cheese. Do I have your attention now? I hope so! Did you ever notice that those steakhouse baked potatoes are better than you make at home? Come on, I'll show you how to make a perfect steakhouse baked potato too!
As I was thinking of posting this recipe, it occurred to me that this is probably the recipe that I make the most often at my house. Why? Because what goes with almost everything? A Perfect Steakhouse Baked Potato!! So – for you recipe seekers, here is the recipe for the Perfect steakhouse baked potato – no scrolling for you – this is the express lane. Everyone else who would like to read more, just continue past the recipe and the photos (and hopefully the video if I was able to get it to load) and we will have a big chat about the Perfect Steakhouse Baked Potato.
THE RECIPE FOR THE PERFECT STEAKHOUSE BAKED POTATO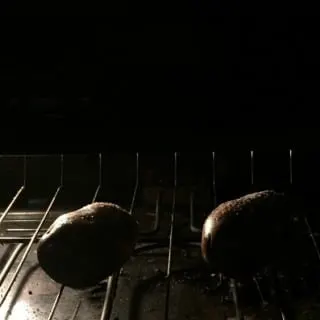 Perfect Steakhouse Baked Potato
This recipe for the Perfect Steakhouse Baked Potato is a wonderful addition to your kitchen magic! There are some special tips and tricks about this recipe that are listed on the original post at www.loavesanddishes.net.
Print
Pin
Rate
Ingredients
1

Russet Baking Potato per person

1

Tbs

vegetable oil per potato

1

tsp

Kosher Salt per potato
Instructions
Early in the day, long before dinner, wash your potatoes and allow them to completely dry before preparing for dinner. Preheat the oven to 350.

One hour before dinner, pour the Tbs of vegetable oil on a paper towel and rub the oil over the entire outside of the baked potato. Over the sink, sprinkle the oiled potato with kosher salt so that the oil adheres to the potato. Most of the salt will fall off of the potato - you might want to put a plate under the potato and catch the salt and use it on the next potato. That is up to you. Using a sharp knife and poke at least 4 holes into each potato.

Place the potatoes bare skinned directly onto the rack of the oven. Bake for 45 minutes. Remove from the oven and allow to rest for 10 minutes. You can bake as many potatoes this way as will fit in your oven.
Notes
Use a good sized Russett potato for excellent baked potatoes.
Nutrition
Nutrition Facts
Perfect Steakhouse Baked Potato
Amount Per Serving
Calories 150
* Percent Daily Values are based on a 2000 calorie diet.
PHOTOS FOR THE PROCESS OF MAKING THE PERFECT STEAKHOUSE BAKED POTATO
TIPS AND TRICKS FOR THE PERFECT STEAKHOUSE BAKED POTATO
The potatoes must be completely COMPLETELY dry before applying the oil. Otherwise, the skin will not turn out crispy.

Make sure to poke the holes in the potatoes. The potato will not cook correctly if you forget – it takes longer to cook. Also- the potato hisses and acts like it might explode when you are ready to take it from the oven if you forget. It is kind of scary. Don't forget.

It is best to remove the potato from the oven with either tongs or with oven mitts – I have dropped many potatoes by trying to spear them with a fork. Just saying.

If you make extra potatoes when you bake them this way – they are easily warmed up again (ask me -I know, I ate one of these for lunch today!).

Left over baked potatoes are EXCELLENT chopped up and fried in a little oil in a frying pan and eaten as hashbrowns for breakfast! YUM!
RECIPE INSPIRATION FOR THE PERFECT STEAKHOUSE BAKED POTATO
A long long time ago (like 25 years ago), I had a neighbor who worked at a steakhouse and on the old Nashville Dinner Train (so sad that old dinner train isn't around any more) and she told me how to bake potatoes this way. So – now, I am sharing this secret with you.
So, tell me – what is your favorite easy recipe like this? I consider this like my Yum Yum Sauce Recipe – so easy it is amazing! Do you have any kitchen tips that are so easy that you dont even consider them a recipe? That is kind of how I feel about baking a potato – but then again, I didn't know how to bake a potato like this before my neighbor told me. I always wrapped them in aluminum foil before!
Leave me a comment below and let me know…. I LOVE COMMENTS!!! I would LOVE to chat with you! I promise to answer every one!
I can do all this through Him who gives me strength. ~ Philllipians 4:13