Sarah's Sausage Balls
The Dog YELPED!
That's no way to get ready for a party.
Not at all.
"It couldn't be ANY EASIER, just mix together sausage, bisquick and cheese – it is that simple – the simplest dish in the world", my friend said. "You are a GREAT cook, certainly it won't be any trouble for you". (I wish you could hear my eyes rolling in my head right now).
And that is how the Great Sausage Ball Fiasco started.
Three years ago, I wanted to make sausage balls for a Christmas party I was attending. I asked my friend, but she didn't know an exact recipe. I said, "no worries, I'll just google sausage ball recipes". That should get me going on the right path, right?
What I found was a question of international intrigue. I promise you, there IS NOT just ONE recipe for sausage balls – there are millions – 2 Cups of Bisquick. 3 Cups of bisquick. 1 ½ Cups of bisquick. No one can agree on the bisquick and no one can agree on the amount of cheese either. It's a mystery.
Please tell me how a woman who can cook, write and run a cooking website is absolutely UNABLE to make the "easiest dish in the world"…. A recipe with only THREE ingredients? I tried FIVE different recipes and they were ALL terrible!
The final insulting try resulted in a flatish hard and dry ball of YUCK, to which I thought, "Hmmmm, I bet the dogs will LOVE them". I threw one from the deck to my 140 lb Rottweiler, "Blue", in the back yard. My aim is bad and his catching skills worse. The sausage ball whacked him right on top of the head. He YELPED and ran for his dog house.
Feeling like a failure, I chucked every single sausage ball in the trash 30 minutes before the party started and dug around for a bag of chips to take instead.
A year later, my son, who is also a fine cook called and said, "Mom, you know those sausage balls that people bring to parties? How do you make those?". I laughed.
"I don't know, but I can tell you how to make a really MEAN tool for whacking the dog made out of Biscuit mix, Sausage and cheese".
THE RECIPE FOR Sarah's Sausage Balls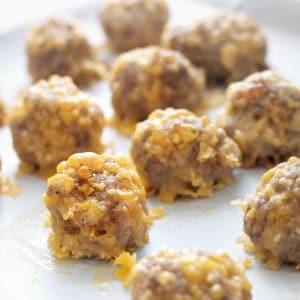 Sarah's Sausage Balls
This recipe for sausage balls is great for a party! If you enjoyed it, please visit www.loavesanddishes.net again! We've got a lot more where this came from!
Print
Pin
Rate
Ingredients
1

lb

sausage - uncooked - hot or mild

your choice.

2

Cups

biscuit mix

2

Cups

sharp cheddar cheese

1

tsp

onion powder

1

tsp

garlic powder

4

oz

cream cheese
Instructions
Preheat the oven to 375. Prepare 2 baking sheets with parchment paper. Shred the cheese if not already shredded and mix all ingredients together in a medium sized bowl using your hands - not the mixer. Form into 1 inch - golf ball sized balls.

Makes 6 dozen 1 inch balls. Makes 2 dozen golf ball sized balls. If you go for the golf ball size balls, you will note that they squash down a little on the bottom side.

Bake for 15 minutes for 1 inch balls, 20 minutes for golf ball sized balls.

Remove from the oven, allow the baking sheet to cool for a minute or two and then remove the sausage balls to a baking rack to cool completely. OK, go ahead, pop one in your mouth - but be careful- they might still be hot!

Perfect for freezing when unbaked.
Notes
Make sure to use exact proportions and measurements.
Nutrition
Nutrition Facts
Sarah's Sausage Balls
Amount Per Serving
Calories 220
* Percent Daily Values are based on a 2000 calorie diet.
TIPS AND TRICKS FOR Sarah's Sausage Balls
Use your hands to mix the ingredients – they will mix better, quicker and more thoroughly.

The cream cheese makes these sausage balls slightly moist

You will note grease on the baking sheet – just don't look – better out than in as I like to say.

There is a REAL danger in eating WAY too many of these, causes a belly ache. Ask Sarah, she will tell you.

I haven't tried freezing these after baking – but I'm sure they freeze fine. Probably better to freeze them before baking though – so that you can gobble them up when they are hot out of the oven.

These are great the next morning crumbled up in your grits. Just saying.
WHY IS THIS CALLED SARAH'S SAUSAGE BALLS?
This recipe is called Sarah's Sausage Balls for two reasons
Sarah, my daughter, invented this recipe based on an old recipe we found cut from a magazine in her husband's grandmother's collection of recipes.

Sarah made these sausage balls for the website and ate so many that she gave herself a belly ache. They are pretty good!
A VERSE TO SHARE
I love this story and was reminded of it today, so I thought I would share. This particular part of the Bible starts with two examples of how if you lose something, you look for it and you REJOICE when you find it!
I can certainly relate, I'm forever losing everything! The worst is when I lose my glasses – but that is a total departure from the point of this verse.
Anyway, God rejoices when a sinner repents and comes asking forgiveness with a heart that is turned.
Thank you Jesus for making this possible.
Jesus continued: "There was a man who had two sons. The younger one said to his father, 'Father, give me my share of the estate.' So he divided his property between them.
"Not long after that, the younger son got together all he had, set off for a distant country and there squandered his wealth in wild living. After he had spent everything, there was a severe famine in that whole country, and he began to be in need. So he went and hired himself out to a citizen of that country, who sent him to his fields to feed pigs. He longed to fill his stomach with the pods that the pigs were eating, but no one gave him anything.
"When he came to his senses, he said, 'How many of my father's hired servants have food to spare, and here I am starving to death! I will set out and go back to my father and say to him: Father, I have sinned against heaven and against you. I am no longer worthy to be called your son; make me like one of your hired servants.' So he got up and went to his father.
"But while he was still a long way off, his father saw him and was filled with compassion for him; he ran to his son, threw his arms around him and kissed him.
"The son said to him, 'Father, I have sinned against heaven and against you. I am no longer worthy to be called your son.'
"But the father said to his servants, 'Quick! Bring the best robe and put it on him. Put a ring on his finger and sandals on his feet. Bring the fattened calf and kill it. Let's have a feast and celebrate. For this son of mine was dead and is alive again; he was lost and is found.' So they began to celebrate.
"Meanwhile, the older son was in the field. When he came near the house, he heard music and dancing. So he called one of the servants and asked him what was going on. 'Your brother has come,' he replied, 'and your father has killed the fattened calf because he has him back safe and sound.'
"The older brother became angry and refused to go in. So his father went out and pleaded with him. But he answered his father, 'Look! All these years I've been slaving for you and never disobeyed your orders. Yet you never gave me even a young goat so I could celebrate with my friends. But when this son of yours who has squandered your property with prostitutes comes home, you kill the fattened calf for him!'
"'My son,' the father said, 'you are always with me, and everything I have is yours. But we had to celebrate and be glad, because this brother of yours was dead and is alive again; he was lost and is found.'"
Luke 15: 11-31