If you follow me on Facebook, you will know that three weeks ago I sent out a message into the wide world that said, "I created a great new recipe tonight, but I can't share it with you yet because we ate every bite before I could take pictures". Well, HERE IT IS!! Later than I thought it would be, but that's ok, because typically, I cook something at least THREE times before I share it with you. There is the original creation (if you could see the notes I jot down while cooking these things, you would laugh – who could possibly decipher what I write down?) . Then there is the cooking it again according to my notes and turning it into a real recipe and making final adjustments to that recipe. Finally, there is cooking it from the recipe as written to make sure it is just right. I have now prepared this Seriously Good Asterisk Chicken 5 times (not because it needed adjustments, but because it is so GOOD!). It is so good, that I barely had any left to make photos THIS time. 5 TIMES IN THREE WEEKS PEOPLE!!! We are still eating every little drop and then licking our fingers for more!!! As I write this, the food model and every last trace of it is gone again.
Recipe seekers, by now you know, the second paragraph begins the express lane. If you only came for the recipe, here it is. Everyone else, please join me after the recipe and a few photos for a chat. I want to tell you more about this recipe because it is some Seriously Good Asterisk Chicken!!
THE RECIPE FOR SERIOUSLY GOOD ASTERISK CHICKEN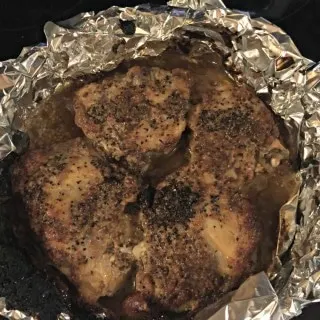 Seriously Good Asterisk Chicken
This smells so heavenly you'll be rubbing it on your wrists.
Print
Pin
Rate
Ingredients
4

Chicken Thighs - bone in and skin on

½

Cup

whole grain mustard

good quality - it matters

½

Cup

Dark Brown Sugar

2 ½

Tbs

Balsamic Vinegar

good quality - it matters

salt and pepper to taste - about a tsp of each.
Instructions
Preheat the oven to 450 (yes, that is the right temp). Sprinkle the thighs on both sides with salt and pepper and let set while you prepare the dish. Using a 9x9 square or round oven proof dish (very important to use this size dish), mold heavy duty aluminum foil into the dish. Use at least two layers and make sure they criss cross so that your pan is well protected.

In a medium size bowl, mix the mustard, brown sugar and the vinegar together. Mix well and the resulting mix should have the consistency of molasses. You can add a little extra vinegar if it is too thick to stir easily (but you want it very thick).

Place your chicken pieces in the aluminum coated baking dish skin side down and pour half of the mix over the top of the chicken. Turn the chicken over and pour the other half over the skin side. Leave the skin side up. Use a spoon and make sure that each piece of chicken is very well covered and coated.

Once the chicken is coated well, place your dish on the center rack of your oven and bake for 40 mins. When done, you should have a nice gravy in the bottom of your pan. These are delicious served with long grain and wild rice and a green veggy with with the gravy spooned over the rice. SEE THE TIPS AND TRICKS SECTION BELOW
Notes
Use the best mustard you can find, it matters.
Nutrition
Nutrition Facts
Seriously Good Asterisk Chicken
Amount Per Serving
Calories 280
* Percent Daily Values are based on a 2000 calorie diet.
TIPS AND TRICKS FOR SERIOUSLY GOOD ASTERISK CHICKEN
The size of the baking dish is important for this recipe. You can use as much chicken as you want for the recipe – but the point is that the baking dish should only be slightly larger than the room that the chicken will take up.

I have found that it is quite important to leave about a ½ inch to an inch of space between the chicken pieces in the baking dish. This allows the sauce to brown properly on the chicken skin without drying the chicken out or leaving too little gravy in the pan.

You will notice, this recipe calls for whole grain mustard. That means the mustard with the tiny round seeds in it. This is NOT Dijon mustard. This is NOT the bright yellow mustard. Look for the mustard with the seeds. Important factor. Now, I DO recommend you try a whole grain mustard that is found near Asheville, NC – I order mine from there, but I ran out making this dish so much and had to buy some whole grain mustard at my local grocery – and that was delish as well. So, just saying, This Lusty Monk Mustard is Delish – you'll love it. Worth the shipping.

Balsamic Vinegar. I can't stress this enough. A good Balsamic Vinegar is like the difference in a store brand coca-cola and The Real Thing. If you have a local store that only sells Vinegars and Oils – by all means, go in there and tell them you want the basic Balsamic Vinegar. It will be delicious. If you don't have this option, then buy the best Balsamic that you can. The difference is unbelievable. Honestly, it is! It saves for a long time too – so, it ends up being fairly economical.

I use thighs in the recipe because I have experimented with several cuts of meat and the bone in/skin on thighs are the best. You can use a different cut, that is fine, just know that your cooking time will be affected and the taste will too. Large bone in/skin on breasts take about 40 mins. Boneless/skinless thighs cook more quickly – like check them at 30 mins and the taste just isn't the same. I haven't tried any other cuts of meat.

I will add – I have found that while this recipe works great with any green veggie I have tried it with, it doesn't work well with every kind of starch. I have tried mashed potatoes – eh. Not great. I have tried brown rice – eh. Not great again. Due to time issues, I tried it with the preboxed Long Grain and Wild Rice – you know, the one done by someone's Uncle – and that was actually very good. I am also thinking it would be great with some cooked carrots and probably with a great baked potato, steak house style.

This is the MOST IMPORTANT TIP!!! MOST IMPORTANT!! I don't have process photos this time, because honesty, you just mix the stuff in a bowl and pour it over. However, you MUST line your baking dish with aluminum foil. The pictures of the chicken in the iron skillet are JUST FOR PICTURES! I did not cook it that way. Here is a photo of the chicken just out of the oven. See how the aluminum foil is double layered? It is like this because this sauce bakes up like a GLUE! It is very hard to get it off of your bakeware if it leaks on there.
RECIPE INSPIRATION FOR SERIOUSLY GOOD ASTERISK CHICKEN
I was cruising around Pintrest one day doing what you do on Pintrest and saw an interesting looking chicken dish and noted that it was made with Dijon mustard and that the chicken baked at 450 – which I thought was too high. As I got to thinking of that as a recipe, I searched mustard chicken recipes on Google and found that there were a LOT of recipes out there calling for mustard and maple syrup. When I think about that – a weird gag thing happens inside my brain. I can't even describe it. Mustard and Maple Syrup – ummmm….. nope. Not going there. It might be delicious but I just can't make myself go there. I know that Mustard and honey are delicious together. So, as a twist, I tried out mustard and brown sugar and after tasting that concoction, I thought, some balsamic vinegar would be the perfect thing with this – and it worked out beautifully! When you bake it at that hot temp on that chicken thigh – the skin browns to a lovely color and the taste is like an exotic and tasty BBQ. Oh MY GOSH! Makes me wish I had some more! My family might be eating this for the SIXTH time in three weeks. lol!
I DO have to give Ashley and James a shout out for the name of this recipe. They were here the last time I made this dish and we were talking about what I would call it for the blog. I told them that I can't call it what I call it here at home, "'cause this blog is a family place " (as if my home isn't). They suggested the "asterisk" part which could have gone like this A** or like this "Asterisk". I opted for the Asterisk. Now you know! Sometimes it takes a whole family to name a recipe.
If you enjoyed this recipe, you might also enjoy Honey Mustard Curry Chicken
Trust in the LORD with all your heart and lean not on your own understanding: In all your ways submit to him, and he will make your paths straight.
Proverbs 3:5-6