***This post first appeared on Loaves and Dishes on April 20, 2018 and has been updated with new information!*** Why HELLO big bowl of steaming hot grits on a slow Sunday morning! Creamy, luscious, filling and delicious Southern Creamy Cheese Grits – AHHHH!
If you've never made grits or if you believe that grits "don't taste like anything" or if you have any other negative thought about grits – then just get out of my kitchen – errr…. I mean, I invite you to try mine. Cause baby, Grits is GOOD!
A few months ago, after eating my gazillionth bowl of wretched grits at a restaurant, I thought, "I really need to show my readers HOW to make grits – the right way" (so that they are velvety and luxurious and delightful and for HEAVEN'S sakes, seasoned right).
HOW TO ADD FLAVOR TO GRITS…
Grits with no salt and pepper are just the worst. THE WORST I tell you. Unseasoned grits are like biting on the empty metal band that wraps around a pencil eraser. Yeah. You know what I'm talking about. We need Southern Creamy Cheese Grits!
THEN LIFE HAPPENED….
Then, life happened. Someone needed a recipe designed and something at home developed and…. Well, here it is, 9 months later and FINALLY today, I am showing you how to make Southern Creamy Cheese Grits. Better late than never, bless my heart.
There is really nothing to it – and so, you would think that TERRIFIC grits would be everywhere. Sadly, NO, they aren't. Good grits are almost nowhere. Great grits are like Unicorns. Best wishes finding some Southern Creamy Cheese Grits .
If you watch the video above, you see that I like to add cheese to my grits – heck, I like cheese on almost anything, but especially grits! Grits are like a blank canvas. Add a breakfast of eggs, sausage and cheese and, I swear, there is almost nothing finer than mixing that all together in one single glorious pile. In fact, that would be my last meal request – were I in that position. Please sir, serve me up some Southern Creamy Cheese Grits.
GRITS GET GUSSIED UP!
Sometimes grits get gussied up and go to town. It cracks me up that grits that have been allowed to sit in the pan for a while and congeal are called Polenta and that grits the way I eat them are called "creamy" polenta. That causes me to get my southern girl look on and say things out loud like, "Awwww, come on now".
(Now, don't get me wrong, I've eaten Polenta and I've eaten Grits nearly every day of my life and I'm aware that there are a few differences….. but come on girl, they are more alike than different – thinking about it makes me feel LIKE THIS).
I promise, if you follow my instructions, watch the video and for God's sakes, don't forget the salt and pepper WHILE THE WATER IS BOILING, you won't go wrong. I mean, seriously, that can't be too many directions to follow. Just boil water, put salt in, put grits in, stir continuously and when nearly done add milk, butter and cheese. Taste. Add more salt and pepper if needed. See? Easy.
So, you tell me, why are heavenly yummy grits so darn difficult to come by?
WHY ARE GOOD Southern Creamy Cheese Grits SO HARD TO COME BY?
THERE ARE SOME QUESTIONS I KNOW YOU WANT THE ANSWER TO….
WHAT ARE GRITS ANYWAY?
Grits are coarsely ground dried corn pieces that you then boil according to my recipe to make the most delicious dish you ever tasted! You'll find that grits come in several "grinds" that make them easier (quicker) or more difficult (longer) to cook.
A quick survey of the local grocers tells me that we have…
Instant grits – ground almost so fine that it is a powder. Whirling around in the microwave for one minute will yield you a single serving of tasteless goo. (I didn't say that).
5 Minute Grits – These are the type I recommend for daily use. This type of grit is easy to cook and predictable. My recipe below is based on these grits.
Course Ground – These grits have a larger grain to them and take much longer to cook. Course Ground grits require some experience and a good eye for cooking to prepare well. You will typically find course ground grits are made locally.
ARE GRITS GOOD FOR YOU?
Again, the answer to this question depends on what your specific diet is? Do you like low fat foods with enough carbohydrates to get you through the day? Do you enjoy a hot bowl of breakfast that sticks to your tummy and fills you until lunch time? If so, then yes!
Are you diabetic or on a low carb diet? Then, grits probably aren't for you.
Do you add a lot of butter, cream and cheese to your grits while trying to stay on a low fat diet? Again, grits may not be for you.
CAN YOU FREEZE GRITS?
I do not recommend freezing already cooked grits. Reconstituting is more difficult and simply not worth it.
WHAT CAN YOU DO WITH LEFT OVER GRITS?
If you have left over grits, you can put them in the refrigerator and allow them to congeal. Later, you can cut them into squares and fry them in oil to serve as a base for a meat dish. Not the tastiest use in my book, but that is what some people do.
HOW TO REHEAT GRITS
Let's pretend for a moment that you awoke early on a Saturday morning and made a pan of grits for breakfast. The children didn't arise from bed for another 2 hours and by the time they were ready to eat their grits, the grits had congealed.
If you simply try to stir the grits, you will not get far. You will find clumpy gross grits.
To reheat the grits,
Turn the burner on low
Add a little milk (or water) to the pan
Use a whisk and stir the grits together until the lumps are gone. If you are having trouble, add more milk (or water).
HOW MANY PEOPLE CAN YOU MAKE GRITS FOR?
Now you know the secrets and we can keep Southern Creamy Cheese Grits alive together. The really lovely thing? You can make Southern Creamy Cheese Grits for one person or for 100 people – the only thing that changes is the size of your pot and the amount of the ingredients. What follows is for one hungry person or two dainty people or three people who have never eaten grits before and just want a spoonful to try.
TIPS AND TRICKS FOR Southern Creamy Cheese Grits
You will hear people say to use only the stone ground grits. Stone ground is nice and they have a great taste – but require a little more boiling than the store bought quick grits. I usually have the quick grits in my cabinet. The "grit" is a little smaller on the quick grits.

Just being honest here – I don't recommend the instant grits – they have a lot of added flavorings that make them a strange color and the taste is different – besides, you lose the "grit" in the instant grits.

Even though I always say to use a wooden spoon for everything, this is the one dish that I personally use a metal serving spoon to stir with. Why? I don't know. I never measure my ingredients for grits and had to make a special effort to measure this for you. There is a certain feel to the spoon in the resistance of the water that lets me know that the amount of grits is right. I know, that's weird. But I swear, it's true. In fact, if you absolutely PROMISE to add the grits to the water AS SOON as they start to boil, you can leave off the ¼ cup of water from the 1 ¼ cup listed. I add the extra ¼ because I always get busy with something else when waiting for the water to boil and by the time I realize it IS boiling, I've already lost some to evaporation.
I KNOW HOW YOU FOLKS ARE!
Now, I grew up in Ohio, so I know how you folks are – you are going to want to put some cream and sugar in your grits – like you do with your cream of wheat – but frankly I think that is obscene. Grits aren't meant to be on the sweet side of the plate – they are savory. Let's keep it that way. I don't want to have the same discussion with you that I have to have with my husband about white rice. (He is from Virginia – where their tastes lean a little different in that category).

Besides sweet stuff though – grits are good with EVERYTHING. Cheese – yes. Garlic – yes. Gravy – yes. Brown gravy- yes. Meats – yes. Veggies – yes. Sugar – NO! Butter – yes.

If you haven't been a grits eater before, the one thing that you HAVE to know is that grits congeal after a certain amount of time sitting in the pan. If this happens to you – no worries – simply add a little water – like ¼ cup or so – and heat and stir – they will loosen right back up. It might take a little while – but have patience – everything good is worth waiting for.
IS IT GLUE?
The next thing you need to know is that small amounts of dried grits left in a dish or pan will dry like the best glue you EVER used! Do NOT try to scrub them clean – your arm will get tired. Don't cry either – there is a solution. Just let the dish soak for a little bit and they will come right off like magic.

Grits stick to your belly – so if you are planning a morning of hard activity, like say, lumber jacking OR planting trees OR climbing mountains, grits are the perfect breakfast food. You will not get hungry until lunch! If you are planning for a morning of cartoon watching – just know – your snacky belly will probably be quiet for a while.

One FINAL thing about grits. They are CHEAP! A serving of quick grits at my local store price is 0.19c per serving! And they fill you up till lunch? Yes. Sign me up!
IF YOU ENJOYED THESE SOUTHERN CREAMY CHEESE GRITS, YOU MIGHT ALSO ENJOY….
The Secret to Old Fashioned Pinto Beans
Toasted Almond Raspberry Baked Brie
YA'LL, HELP ME OUT, OK?
Please leave me a 5 star comment below in the comment section, all right? I would LOVE to know if you made this recipe or even if you are planning to! Of course, tool on over to Pinterest, Facebook and Instagram and tag me with some photos of your creation!
I can't wait!
Ya'll know I love comments!! ❤
THE RECIPE FOR Southern Creamy Cheese Grits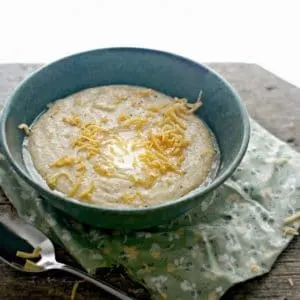 Southern Creamy Cheese Grits
If you enjoyed this recipe, stop on by Loaves and Dishes for LOTS more!
Print
Pin
Rate
Ingredients
1 ¼

Cup

water

½

tsp

kosher salt

¼

tsp

pepper

3

heaped TBS of grits

1

Tbs

unsalted sweet cream butter

¼

Cup

whole milk

¼

Cup

shredded sharp cheddar cheese
Instructions
Bring water to a boil on the stove top over high heat. You can add the salt and pepper while you are waiting for the water to boil.

Just as water starts to boil, pour in the grits. Stir. Stir frequently. As the grits start to boil hard, turn the heat down to medium. Eventually the water will cook down and the grits will start to thicken, bubble and spring out of the pan onto your arm (be careful they are hot). Keep stirring, but you can turn the heat down a little more if they are popping out and burning you. Stir some more.

Just as the grits are becoming thick like the consistency of pudding, add the butter, milk and cheese. Stir some more. Wait at least 1 minute, but they are ready to eat whenever they are the consistency you like. I like mine thick like pudding. Some people like theirs a little more soupy. You be the judge. They will become thicker the longer you allow them to cook.

Remove from the heat
Notes
A simple side dish for any American meal!
Nutrition
Nutrition Facts
Southern Creamy Cheese Grits
Amount Per Serving
Calories 150
* Percent Daily Values are based on a 2000 calorie diet.
A VERSE TO SHARE
The most incredible things have happened this week. Some I am not really able to discuss here, but let's just say, "It's good" and it has to do with my day job. Then, I prayed to God to please show me that I am on the right path, especially concerning this website. Do you know, God himself gave me a glimpse of what he has in store for this ol place called Loaves and Dishes. I think it is pretty incredible. Now, do I mean, he came down here to my little office (spare bedroom) and opened his BIG BOOK of the future and said, "Now here Wendi (in his most Godly voice), I want you to see what I have in store for you".
Ummm…. well, no. That is not what I mean, cause then I suspect you would think that I am crazy. Maybe you already do.
What I mean is, I prayed, "God please help me to know that I am on the right path" and all DAY LONG I received positive messages. Sometimes, those messages were even from YOU, dear reader. YOU! Did you know that sometimes when you reach out, YOU are God's messenger? You ARE! You are like an angel sent to answer a prayer!
We should probably all consider that a little more closely when we are thinking about being ugly. Don't you think?
DIG INTO SCRIPTURE
Anyway, that made me dig into scripture and I found this one to share….
(Also, as an aside, do you know that Matthew 7 and Luke 11 say almost exactly the same thing on this? Yeah, go check it out. That makes me think, IT'S TRUE!)
Luke 11: 1-12
One day Jesus was praying in a certain place.
When he finished, one of his disciples said to him, "Lord, teach us to pray, just as John taught his disciples."
He said to them, "When you pray, say:
"'Father,
hallowed be your name,
your kingdom come.
Give us each day our daily bread.
Forgive us our sins,
for we also forgive everyone who sins against us.
And lead us not into temptation.'"
JESUS SAID…
Then Jesus said to them, "Suppose you have a friend, and you go to him at midnight and say, 'Friend, lend me three loaves of bread; a friend of mine on a journey has come to me, and I have no food to offer him.' And suppose the one inside answers, 'Don't bother me. The door is already locked, and my children and I are in bed. I can't get up and give you anything.'
I tell you, even though he will not get up and give you the bread because of friendship, yet because of your shameless audacity he will surely get up and give you as much as you need. "So I say to you: Ask and it will be given to you; seek and you will find; knock and the door will be opened to you. For everyone who asks receives; the one who seeks finds; and to the one who knocks, the door will be opened.
"Which of you fathers, if your son asks forOr if he asks for an egg, will give him a scorpion? 13 If you then, though you are evil, know how to give good gifts to your children, how much more will your Father in heaven give the Holy Spirit to those who ask him!"