Jump to Recipe
This post was a sponsored post by Ragu through Linqia.
Man, do I have a recipe to catapult you straight to ROCKSTAR status today! Say Hello to my friends, the Cheeseburger Shellys! Three words. Easy, FAST, lick the plate GOOD! Your family and friends are gonna hollar "MORE!! MORE!!! MORE!!!!" My very own sweet hubby said, "DANG BABY! THESE ARE GOOD!" Then, he didn't say another word, because his mouth was full. The only thing we heard after that was a fork scraping across a plate.
Just looking at the these delicious Cheesy Cheeseburger Shellys might make you think that they are too hard to even attempt, don't let looks fool you! You are smarter than that! We quit letting looks fool us after that cute boy in 10th grade, right? Yeah, right! Come see what I mean and Watch this little video I threw together. By the way, turn up the volumn 'cause – super cute music.
SEE WENDI'S CHEESEBURGER SHELLYS MOVIE
Now, I know you recipe seekers are all about the recipe with a "Get on with it!" "Where's the RECIPE?". Well, partner, it is RIGHT HERE. I hope you will hang around long enough for the tips and tricks because that is where the "REAL MEAT" is. But hey, if it is the recipe you want, it is the recipe you will get.
THE RECIPE FOR CHEESEBURGER SHELLYS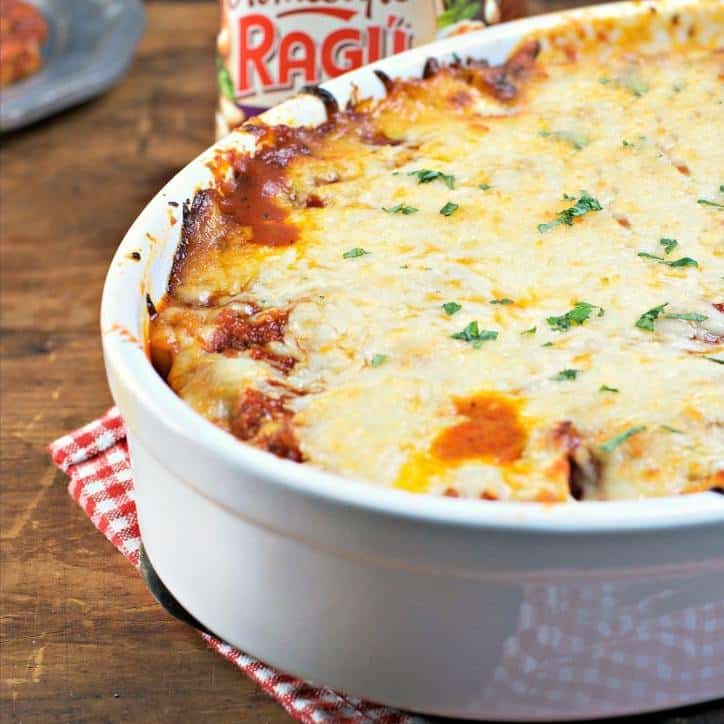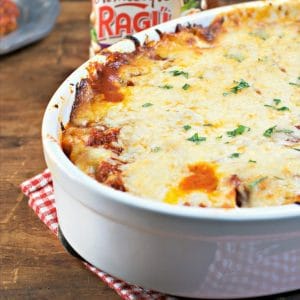 Cheeseburger Shellys
IF you enjoyed this recipe - please join us at www.loavesanddishes.net for more easy terrific recipes that make you a KITCHEN ROCKSTAR!
Print
Pin
Rate
Total Time:
1
hour
5
minutes
Ingredients
½

Box Jumbo Pasta Shells

6 oz - prepared per box instructions

2

Tbs

Olive Oil

1

lb

of ground beef

3

cloves

garlic - minced.

½

onion - chopped small

½

tsp

salt

½

tsp

pepper

1

block of cream cheese - softened and cut into 1 inch blocks

1

tsp

garlic powder

1

tsp

onion powder

2

tsp

Italian Seasoning

½

tsp

salt

½

tsp

pepper

8

oz

Triple Cheddar shredded mix

1

jar of Ragu Homestyle Sauce - 23 oz

1-2

Cups

Mozzarella Shredded Cheese
Instructions
Preheat the oven to 350. In a medium frying pan over medium heat on the stove top add 2 Tbs Olive Oil. Crumble the ground beef into the pan. Add the minced garlic and chopped onion so that all of them can cook together. Add the salt and pepper.

When the ground beef is browned, add the softened cream cheese, garlic powder, onion powder and Italian Seasoning, salt and pepper. Stir until cream cheese is mostly melted. Stir in the Triple Cheddar Shredded Cheese. Stir in the shredded cheese and then remove from heat. Set aside to cool slightly.

In a 2 quart baking dish, spread a little bit of the pasta sauce - maybe ¼ cup. Just so shells won't stick. Using a household teaspoon, fill each shelly with the hamburger cheese mixture. Once the shelly is full place it in the baking pan. Repeat until the baking dish is full with shellys lined up like little soldiers. You may have more meat mix than shells - or all of your shells may not fit- in that case just put your extra hamburger around in the dish - you can see what I did in my movie here. Save the extra shellys for a different cooking project.

Once shellys are in place, cover with the remaining pasta sauce and spread the sauce around to cover. Sprinkle the Mozzarella Cheese on top. Bake for 30 mins until the pasta sauce is bubbling through and the cheese is melting and starting to brown.
Nutrition
Nutrition Facts
Cheeseburger Shellys
Amount Per Serving
Calories 300
* Percent Daily Values are based on a 2000 calorie diet.
TIPS AND TRICKS FOR CHEESEBURGER SHELLYS
As always, use the freshest and most local beef that you can find. I mean, you only have to see that stuff about pink slime on You Tube once to convince you.

I used Ragu Homestyle Roasted Garlic for this recipe and with good reason, check out the label. All good stuff in there! There are 5 Ragu Homestyle Pasta sauces – any of them would work great for Cheeseburger Shellys. I've tried them all and you probably should too! Great for the pantry and a quick and delicious meal! No artificial anything – just like we like it.

Be careful, the shells might still be hot – test them first!

This recipe goes VERY FAST – the thing that takes the longest is for the water to boil.

You will notice that I used real onion, real garlic PLUS garlic powder and onion powder to the hamburger meat- you are a real watcher! That is because we LOVE flavor over here. You will too!

You might also notice that I salted the pasta water AND the hamburger – again, clever person! Because you want seasoning at all layers of your dinner!

After you drain the pasta – you COULD toss it with a little oil so that the noodles don't stick together – however, if you are working quickly – the noodles will be fine in the amount of time it takes to brown the hamburger. If you are going to be even a little longer – hedge your bets and toss with oil.

This dish is DELISH warmed over too! It's perfect Cold – right out of the fridge. I snuck a bite- I know.

You can sprinkle the top with some Parmesan Cheese too – so good.
WHAT DOES HOMESTYLE MEAN TO LOAVES AND DISHES
In my own family traditions, my grandmother stands out in my mind. Both of them actually. They were both always cooking and making sure that their families were comfortable, fed and cared for. It is recipes like this one that make that possible in my own fast paced life. This is certainly a recipe that I will be preparing for our big family get togethers but also for just Mark and me. It's delicious and the sauce is thick and wonderful. I hope you enjoy. Ragu told me that homestyle and real ingredients are important to them too and that is why they have made these terrific homestyle sauces.
A VERSE TO SHARE
As you know, we have been covering Jesus' sermon on the mount for the past few weeks. Here is the end. Powerful too.
35 And Jesus said to them, "I am the bread of life. He who comes to Me shall never hunger, and he who believes in Me shall never thirst. 36 But I said to you that you have seen Me and yet do not believe. 37 All that the Father gives Me will come to Me, and the one who comes to Me I will by no means cast out. 38 For I have come down from heaven, not to do My own will, but the will of Him who sent Me. 39 This is the will of the Father who sent Me, that of all He has given Me I should lose nothing, but should raise it up at the last day. 40 And this is the will of Him who sent Me, that everyone who sees the Son and believes in Him may have everlasting life; and I will raise him up at the last day. ~ Matthew 6: 35-40