Bright, fresh and endlessly like the taste of summer, strawberry water is the perfect strawberry infused water to get your day going! Try any of Loaves and Dishes terrific beverages today!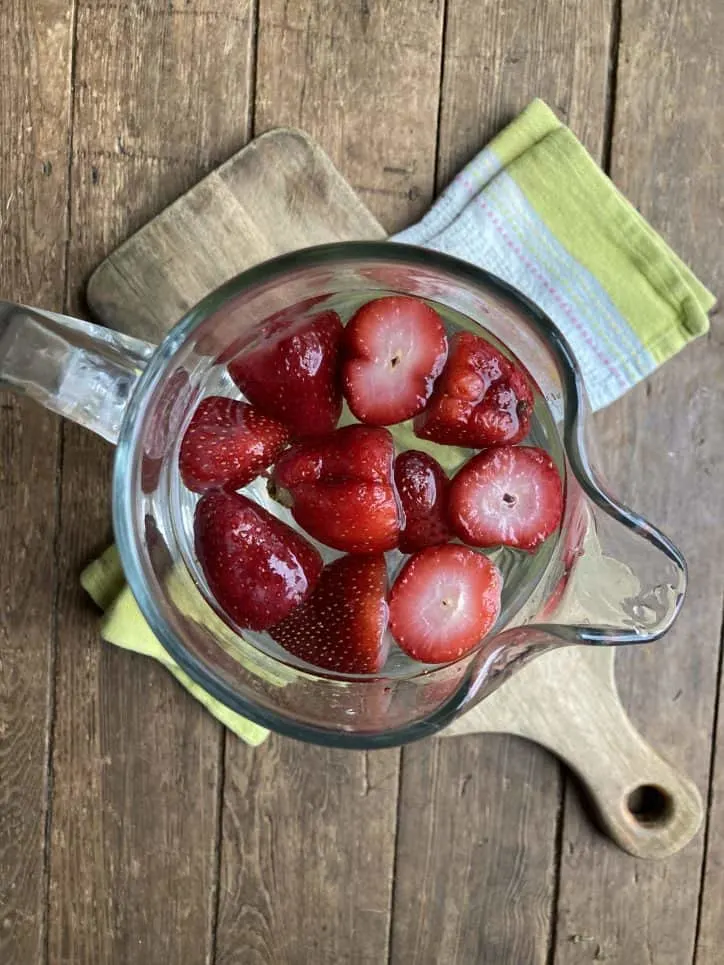 Strawberry Water
When you need a little pick me up and are just OH SO TIRED of plain water, try some fruit infused water like this strawberry infused water!
Do you love sparkling waters (but don't love the price), me TOO! It's no problem to make your own!
Feel like you are at the spa when you pour this lovely enticing fruit water from the pitcher to your awaiting cup!
Here's What You'll Need: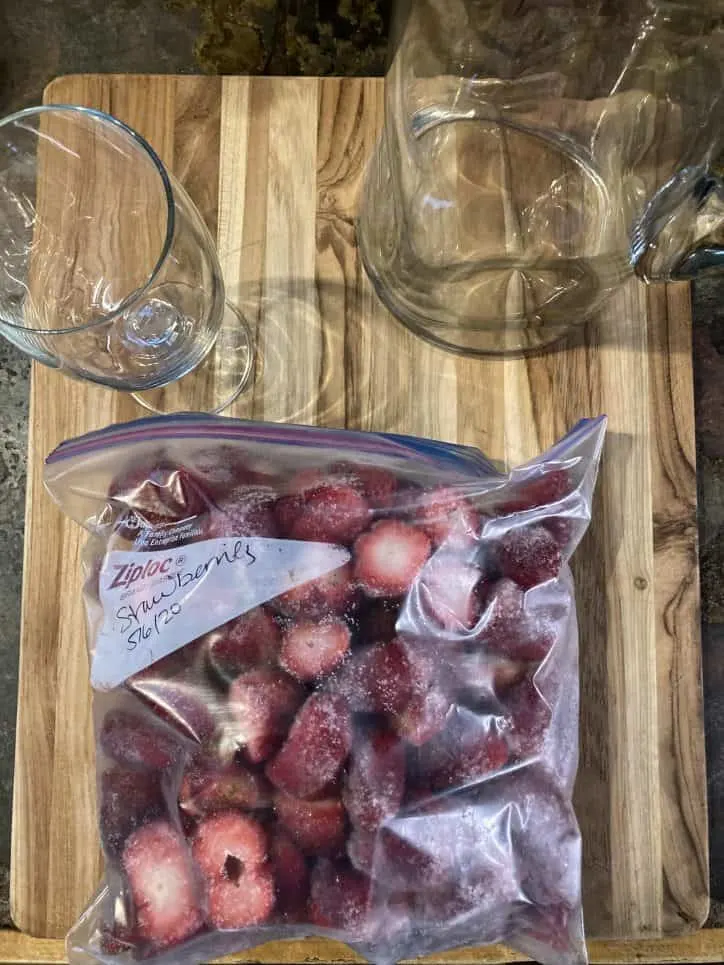 Water – Fresh and Clean!
Strawberries – Fat, bright, red and beautiful! Use the freshest ones you can find! Frozen is perfect because they are picked and quickly frozen at the peak of freshness!
A Container – anything from a mason jar to a pitcher to keep in your refrigerator
It's Easier Than You Think!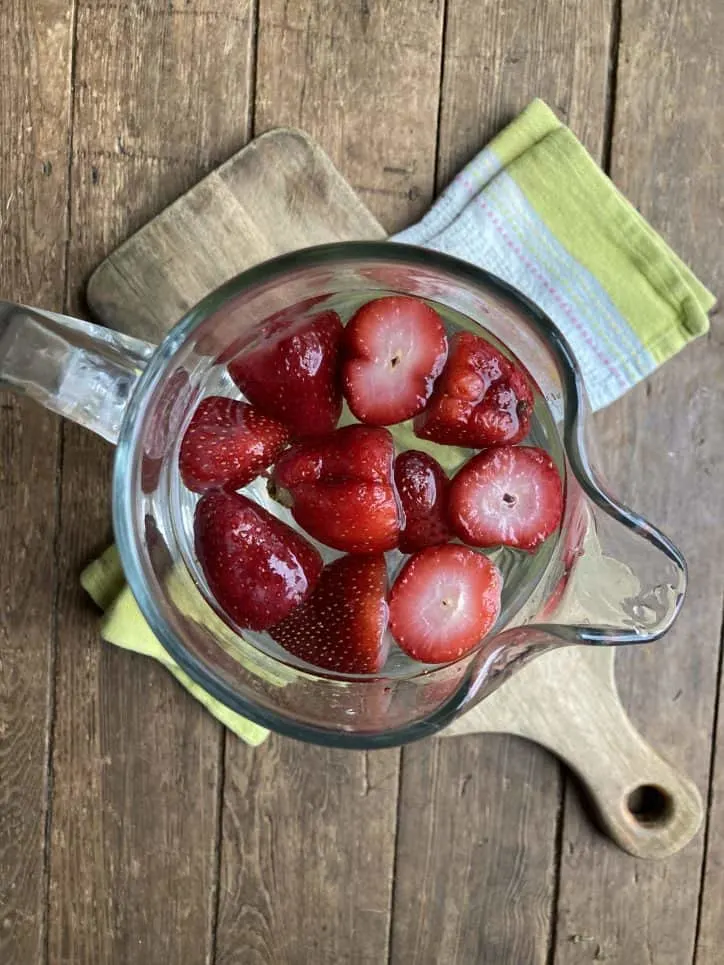 So easy that even a June bug can do it! (You'll feel about that summery too!)
You'll LOVE how EASY this is and it SAVES money, tastes great and is even good for you!
Here's an Overview of How To Make This! (The short step by step over view).
Place Strawberries Into Your Pitcher or Jar.
Mash a Few of the Berries Before Placing Into the Pitcher if you prefer (I didn't in these photos or video).
Fill With Water and Place into the Fridge for At Least 30 mins up to 4 hours.
Frequently Asked Questons (FAQ's) Put your research questions/answers here
What Are The Benefits of Strawberry Water?
Since this isn't a health site, I'll go with the known items about strawberries. They are a terrific source of vitamins and minerals and besides that, they taste GREAT! What a great way to save some money!
Can I Use Frozen Strawberries?
Yes! Of course! Frozen strawberries were picked and frozen at the height of freshness! You can't go wrong with frozen strawberries!
How Do I Know If Strawberries are Fresh?
Look at the berries, do you see many in the package that are shriveled or moldy? If so, move along. You can always choose frozen strawberries which are often less expensive.
Do I Wash the Strawberries Before Putting Them In The Water?
You will want to give your strawberries a good rinse with fresh water before using.
Can I Eat the Berries Out of the Strawberry Infused Water?
Definitely! You'll be adding some great nutrients to your diet by doing so!
How Long Can The Strawberries Stay In The Water?
Remove the strawberries after 4 hours. You can eat them or just discard them.
Can I Use a Sparkling Water to Make My Fruit Infused Water?
Absolutely yes! Just understand that you'll want to make smaller quantities because the bubbles leave the water pretty quickly.
What Other Flavors Go With Strawberry Water?
Strawberries go GREAT with some other flavors! Try one of these combos today!
Strawberry Lemon
Blueberry Strawberry
Blackberry Strawberry
Mint Strawberry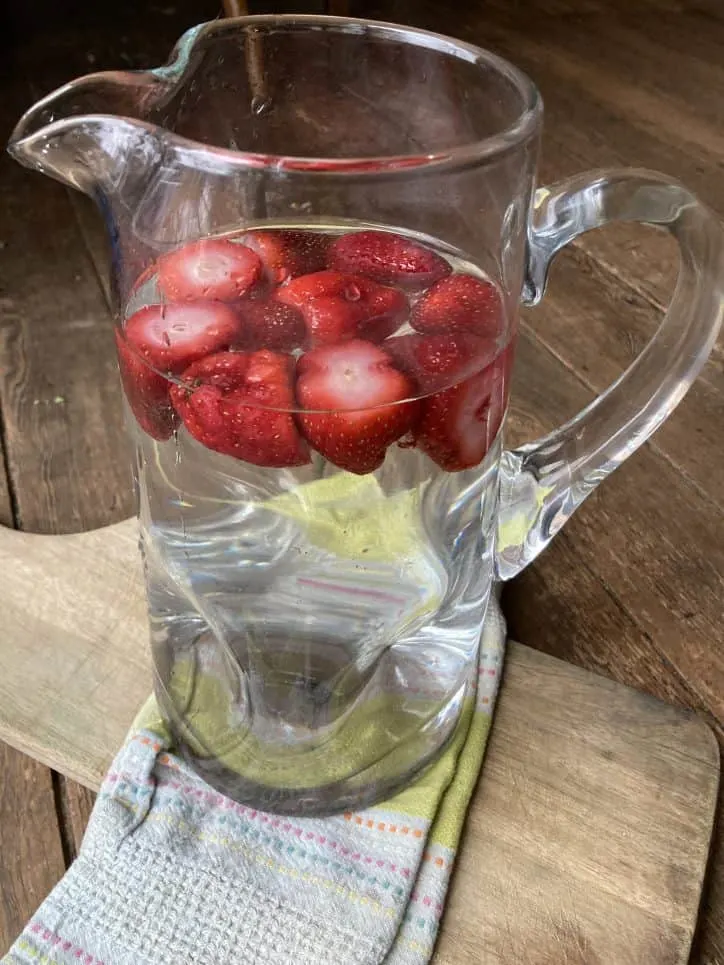 Tips and Tricks
Use the freshest berries you can, frozen berries work just fine.
Crush some of the berries so that you'll get the most flavor and color from them .
Allow the berries to infuse for at least 30 minutes. Leave them in the pitcher for up to 4 hours but remove them after that.
Save the infused water in the refrigerator for up to 3 days.
Try mixing your strawberry water with other flavors like lemon or raspberry.
Do you prefer sparkling water? No problem, use that instead of regular water.
You can learn all kinds of great info about blueberry nutrition at the North Carolina Strawberry Association.
PRO TIP: For a fancy twist, dip the rim of the glass in colored sugar. Its beautiful and adds a bit of sweetness to your day.
If You Enjoyed This Lovely Beverage, You Might Also Enjoy…
Watch Me Make This Here..
Can You Help Me Out?
Please leave a 5 STAR COMMENT in the comment section below. This helps others to find the recipes at Loaves and Dishes!
I would LOVE to have you as a newsletter reader! Sign up for the newsletter and get HOT COOKING tips (not more than once per week) to your inbox!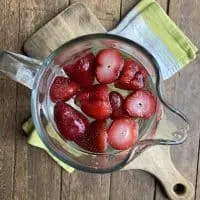 Strawberry Water
Bright, fresh and endlessly like the taste of summer, strawberry water is the perfect strawberry infused water to get your day going! Try any of Loaves and Dishes terrific beverages today!
Print
Pin
Rate
Ingredients
2

Cup

Strawberry

fresh or frozen

1/2

gallon

water

tap is fine, filtered works too
Instructions
Place strawberries into a pitcher and cover with 1/2 gallon of water

place into the refrigerator for at least 30 minutes. Use as desired. Discard strawberries after 5 hours.
Notes
It is fine to use fresh or frozen strawberries.
Cut the strawberries into slices or halves if you prefer this look.
Remove the strawberries after 5 hours but the water can be kept for up to 5 days.
Consider combining flavors by adding other fruits or cucumber or rosemary to the water.
PRO TIP – Using frozen strawberries will help chill the water more quickly.
Nutrition
Nutrition Facts
Strawberry Water
Amount Per Serving (1 cup)
Calories 23
Calories from Fat 9
% Daily Value*
Fat 1g2%
Sodium 24mg1%
Potassium 110mg3%
Carbohydrates 6g2%
Protein 1g2%
Vitamin A 9IU0%
Vitamin C 42mg51%
Calcium 26mg3%
Iron 1mg6%
* Percent Daily Values are based on a 2000 calorie diet.
I'm struggling with being patient with something today and needed this. I thought you might need it too.
Romans 12:12
Rejoice in hope, be patient in tribulation, be constant in prayer.