Hello Dear Friends!!! Welcome to Loaves and Dishes, I am so very glad that you are here.
If you came here expecting to find cheesy enchiladas (as I mentioned in my last post) – I have to apologize – I made the enchiladas and they were delicious. However, the pictures weren't drool worthy, so I decided to try again on a different day when perhaps I have better lighting, different cheese, a better camera finger – whatever the secret to great photos is. But it just didn't happen this time. Instead I have something everyone loves!!! BACON!!! Wrapped around pork!!! With roasted Garlic and Rosemary. What could be better?
The smell of Rosemary Bacon Wrapped Pork Loin is absolutely intoxicating!! I swear, I am going to invent smell-o-vision so that I can entice you with the smell of this cooking!!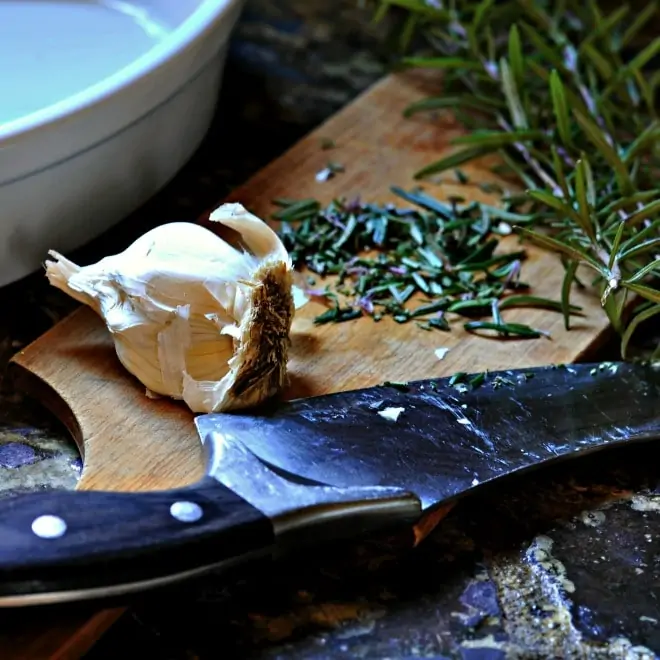 Well, anyway – I have to tell you about some of my past experience cooking pork loin. Ewwww. That's the experience! Tough, dry, stringy yuck. Maybe you have had a similar experience.
Those days are gone, my friend. They are gone! This recipe is pure perfection! I promise. You CAN NOT go wrong. Oh MY GOSH people! The taste of that tender pork loin wrapped in that PERFECT BACON with the smell of the roasted garlic and rosemary. It is "knock you down" overwhelming!
The secret – and this is an important secret. So Shhhhh…. Don't tell anyone. You MUST (you heard the word MUST, right?). Let's say it one more time to make the point. You MUST have a thermometer. A good one. A thermometer that actually reads the right temperature. Not a thermometer that comes from the "something less than $5 store".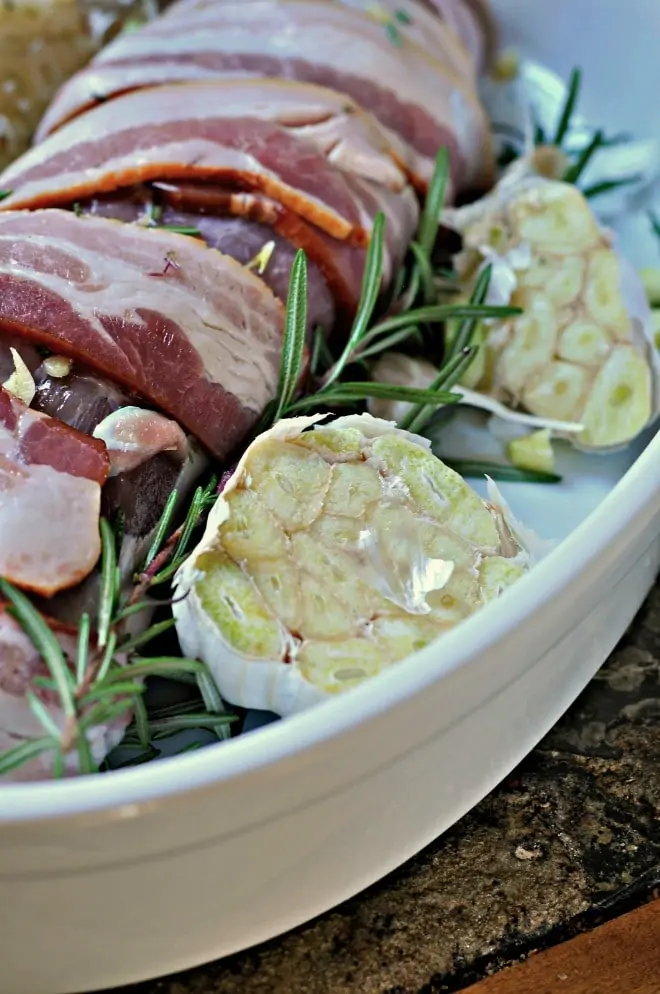 Think of how many meals you will save by using your thermometer! Once I started using a thermometer when baking meat – my cooking changed dramatically! Seriously.
I have had about 4 different thermometers of the dollar store variety. The temp didn't read correctly and I ruined a lot of food before I broke down and bought a decent one. Don't do what I did.
Here is the one I have – but as long as you have a decent one, you will be fine. I prefer the large digit – easy to read variety because I would rather not wear my glasses in the kitchen – but maybe that is not a problem for you. 🙂
Disclaimer – if you decided to buy this thermometer by following this link, I will earn a small (single digit) percentage of that sale. That said, I would never lead you astray…. Especially not to earn a few dimes.
Thank you so much for visiting Loaves and Dishes, I hope you will come again very soon!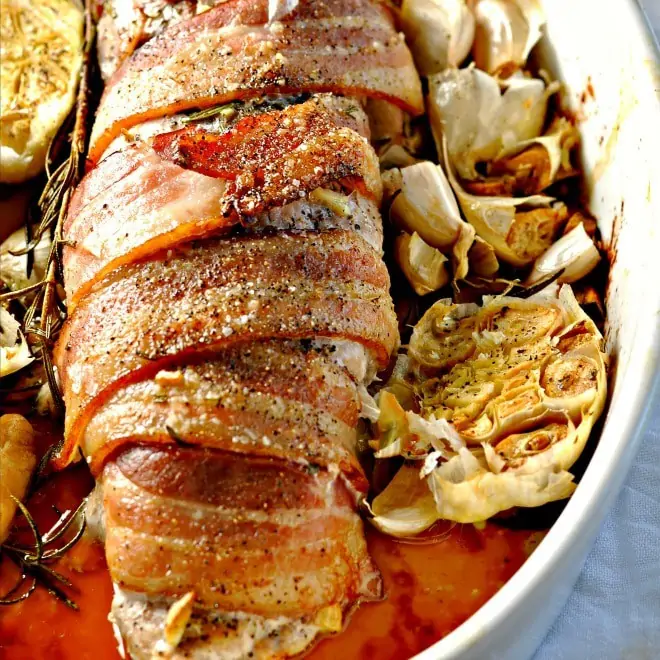 Coming up after Rosemary Bacon Wrapped Pork Loin
The Best Ever Spaghetti Sauce
Don't forget to subscribe to Loaves and Dishes so that I can send you an email notice when the next recipe posts. I PROMISE to never give (or sell) your email address to anyone else – and I PROMISE not to bug you to death!
Serving suggestions for Rosemary Bacon Wrapped Pork Loin
Serve with a fresh green salad and roasted sweet potatoes. Perfection.
Now I ask you, Make Dinner, Not War.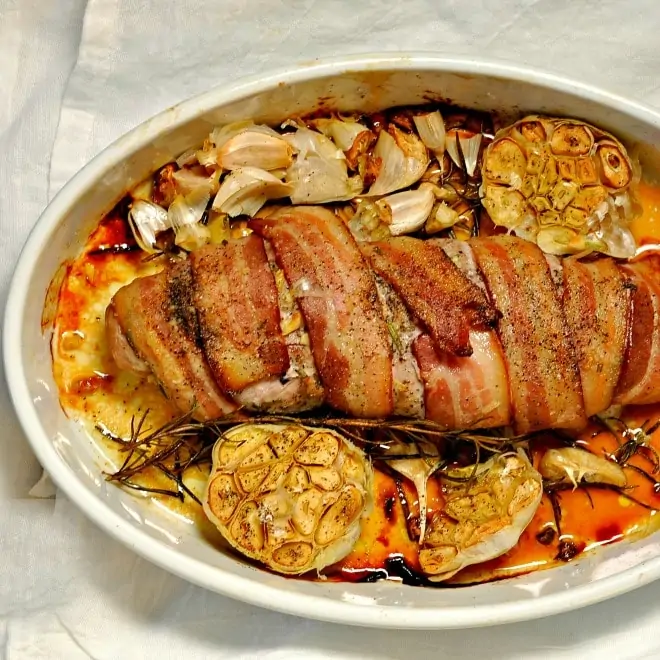 What, then, shall we say in response to this? If God is for us, who can be against us? ~ Romans 8:31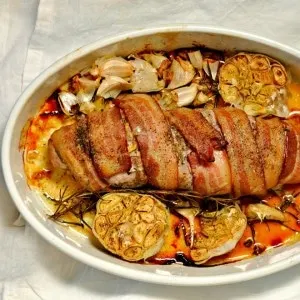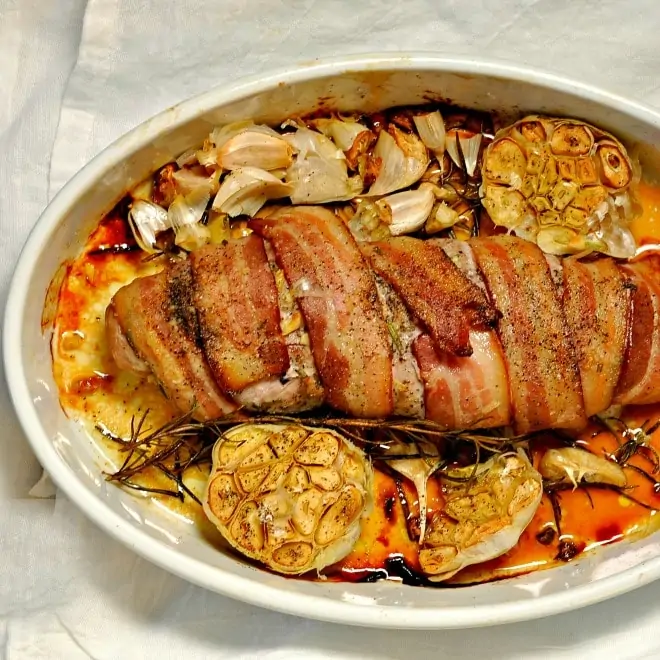 Rosemary Bacon Wrapped Pork Loin
This delicious and easy weeknight Rosemary Bacon Wrapped Pork Loin is juicy and flavorful and will fill your home with its mouthwatering aroma.
Print
Pin
Rate
Ingredients
4

garlic cloves – finely chopped

2

heads of garlic – halved crosswise

4

sprigs Rosemary – fresh

coarsely chopped

4

sprigs of Rosemary – fresh and whole

1 ½

tsp

kosher salt

4

Tbs

olive oil – divided

Fresh ground black pepper

11/2

lb

pork tenderloin

4

slices

thick bacon – no flavoring added to bacon
Instructions
Preheat the oven to 425

Toss the chopped garlic, chopped fresh Rosemary, salt, pepper and 2 tbs olive oil together in a small bowl.

Rub mixture on the pork loin and place in a zip lock bag and allow to marinate in the refrigerator x 1 hour – up to 24 hours.

When ready to cook, spread the whole fresh rosemary sprigs in the bottom of an oven safe large baking dish.

Remove tenderloin from the zip lock bag and wrap with the four slices of bacon so that the bacon slices begin and end on the bottom side of the tenderloin (to secure bacon in place)

Lay the tenderloin on top of the rosemary sprigs and then place the halved garlic beside the tenderloin (as close a possible) in the baking dish.

Drizzle everything with the remaining 2 tbs of olive oil and any remaining contents of the marinating bag.

Roast in the oven at 425 until an instant read thermometer reads 145. This will depend on the size of the pork loin and the temperature the pork loin began at. So- start checking at about 25 minutes (remove roast from the oven, insert thermometer in the thickest part of the roast – allow to read. Replace into the oven if needed and check again in about 5-10 minutes. Do not allow roast to go over 145 or will start to be dry, stringy and chewy).

When roast has come to the correct temperature, remove from the oven and allow it to rest for 10 minutes – that means, don't do anything to it for 10 minutes. This allows time for the juices to go back into the meat so that it will be juicy and tender.
Notes
Easy and simple way to make a juicy porkloin.
When wrapping with bacon, make sure the bacon covers the exposed parts of the pork loin.
If you aren't crazy about the garlic, do not worry about the amount of garlic in this recipe. The garlic simply perfumes the meat, you won't be eating whole heads of garlic, unless you really like garlic. In which case, go ahead and eat the garlic, or spread it on toast because it is yummy!
Nutrition
Nutrition Facts
Rosemary Bacon Wrapped Pork Loin
Amount Per Serving
Calories 220
* Percent Daily Values are based on a 2000 calorie diet.