Jump to Recipe
Every summer, like a real derelict with a humongous tomato problem, I hoard every beautiful homegrown plump red tangy tomato I can find. You too? Great! I need some friends to share in my addictions. This recipe comes in handy for a bumper crop of cherry tomatoes which should be bumpering right about now! Summer Cherry Tomato Salad!
Actually,I used cherry tomatoes for this recipe, but you could use any tomato – just cut up bite sized. So simple and only a few ingredients.
Oh those red jewel toned beauties with the bright green basil. You just can't go wrong at all with a Summer Cherry Tomato Salad. This is like an italian tomato salad, but isn't. You can even play with the ingredients some to make them just right for you!
The Inspiration for Summer Cherry Tomato Salad
A few years ago, some friends and I went into an "Olive Oil and Vinegar Store". We were fascinated by the depth and breadth of offerings! We were wined and dined with the very best oils and vinegars we had EVER tasted! Our guide showed us a very similar recipe and I have been making this type of easy salad since.
If you are interested in some adventurous and fresh recipes, I would totally recommend these types of businesses if they are giving example tours!
If you enjoy tomato recipes, I hope you'll scoot on over and enjoy a few of these others:
THE RECIPE FOR Summer Cherry Tomato Salad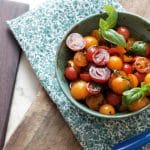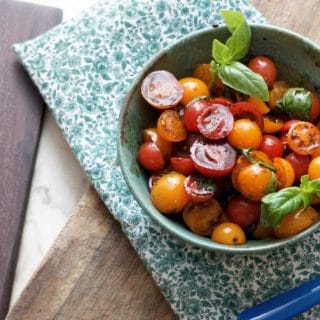 Summer Cherry Tomato Salad
A beautiful summer tomato salad (that you can actually make any time of the year).
Keyword:
tomato salad, cherry tomato salad
Ingredients
4

cups

fresh and ripe cherry tomatoes - cut in half if larger than a dainty mouthful.

2

Tbs

Balsamic Vinegar

1

Tsp

granulated white sugar

½

tsp

black pepper

½

tsp

kosher salt

10

basil leaves cut chiffonade
Instructions
Cut the tomatoes in half if they are larger than bite sized.  Add all ingredients to a medium sized bowl (except the basil leaves) and gently mix well with a spoon.

Sprinkle the basil leaves over the top and serve.
Recipe Video
Recipe Notes
You can use any of the small tomatoes available in your grocery fresh veggie section.  Often you will find other types of small tomatoes and those are fine.  Just make sure they are bite size for your salad.  You may need to cut them up a bit. 
Nutrition Facts
Summer Cherry Tomato Salad
Amount Per Serving
Calories 120
* Percent Daily Values are based on a 2000 calorie diet.
Tips and Tricks for Summer Cherry Tomato Salad
You can and should try this recipe with other types of tomatoes – it is cherry tomatoes here because that is what I had. Works great with other tomatoes – just cut them up into bite sized pieces.

One thing I personally don't like about cherry tomatoes is the sometimes tough skin – that is another reason for cutting them in half – helps to break into the tough skin. If in doubt, cut in half.

There are many ways to change up this recipe. Would be TERRIFIC with some added goat cheese – particularly the blue cheese kind or the sundried tomato and oregano kind.

You can add other herbs as well – try fresh oregano.

It IS important to add the sugar and salt. That gives you a nice balance of flavor that you won't want to miss.

You can try other vinegars – personally – I like the taste of Balsamic with tomatoes – but you be the judge. Rice Wine Vinegar would be nice – but very tart – so maybe just try half the amount to start. Apple Cider vinegar would work too – again start with half and increase to your taste.

The Balsamic does give a brownish color that I think is fine – but you may not.

You could even add a small dice of onion or garlic – I wouldn't go heavy – but a little would be tasty.

A few dices of cucumber would work too. It's all up to you – very versatile salad.
A VERSE TO SHARE
Over this past weekend, I heard a radio preacher discussing the prosperity doctrine. Do you know about that? It seems that the Prosperity Doctrine has a rather LARGE following, for sure.
Of course, why wouldn't people follow? A promise of a powerful God who is waiting and willing to grant all of your wishes, particularly concerning your pocketbook? Wow.
What do you think of that?
Frankly, I'm kind of shocked.
God does want for us what we want, right? I've even talked about that here before when we talked about Luke Chapter 11. Jesus tells us how to pray the Lord's Prayer and then goes on to tell us that "ask and it shall be given unto you".
Right?
What was Jesus talking about?
But, was Jesus talking about a new speed boat? Was he talking about an 11 Million dollar home? Was he talking about a new car?
What if our desires aren't that rich? Was he talking about the new $300 tennis shoes you want? Was he talking about smiting your enemy?
What about healing you from a dreadful disease? Was he talking about that?
Does this mean that people who become sick and die just didn't believe enough? They didn't, for some reason, grab hold of the healing that was theirs to take?
That's horse dookie and we both know it. I've been a nurse for nearly 30 years and I PROMISE you, in the thousands of dying people that I have cared for (who all died, by the way) there was PLENTY of Christians and many who felt that God would heal them.
What is God Promising?
I don't think God is promising to grant our wishes like a big Santa Claus. Instead, God promises to forgive us our sins through the blood of Jesus Christ. God promises that we won't be tempted more than we can handle. He promises to comfort us and he promises to finish the work he has started. Plus, every bit of our suffering will be used for good.
Those are some pretty stout promises.
Let's be clear though. God doesn't promise anyone a new Cadillac. He doesn't promise to heal you from Cancer.
In Luke Chapter 11, Jesus does encourage us to ask. Jesus encourages us to be bold. Jesus is talking in parables here – he was known for doing that. Specifically, in this passage, Jesus is talking about God saving your soul and accepting you into the fold – he WAS NOT talking about getting you a new car.
Just Think About Jesus for a Minute
Consider for a moment ALL of the other teachings of Jesus. Jesus went around asking people to give up their earthly belongings and to follow him, right? Jesus preached many times about the problems that riches bring. He said that riches get in the way of a person's path with God.
Jesus preached about giving to the poor. Jesus WAS poor.
As you know, I am a nurse, a mom, a home cook and a food blogger. I am NOT a minister and I am not formally trained in the Bible.
I am human though and I am a Christian. I think the best that any of us can do is to research what we are told and pray for discernment.
So, I just ask you to read with discernment as you read your bible. That is what I pray for you and for me – to read with discernment. I pray you will look up what you are fed – and see what the entire chapter/book says. Identify for yourself the key points and what is being said.
Hosea 14: 1-9
Return, Israel, to the Lord your God.
Your sins have been your downfall!
Take words with you
and return to the Lord.
Say to him:
"Forgive all our sins
and receive us graciously,
that we may offer the fruit of our lips.
Assyria cannot save us;
we will not mount warhorses.
We will never again say 'Our gods'
to what our own hands have made,
for in you the fatherless find compassion."
"I will heal their waywardness
and love them freely,
for my anger has turned away from them.
I will be like the dew to Israel;
he will blossom like a lily.
Like a cedar of Lebanon
he will send down his roots;
his young shoots will grow.
His splendor will be like an olive tree,
his fragrance like a cedar of Lebanon.
People will dwell again in his shade;
they will flourish like the grain,
they will blossom like the vine—
Israel's fame will be like the wine of Lebanon.
Ephraim, what more have I to do with idols?
I will answer him and care for him.
I am like a flourishing juniper;
your fruitfulness comes from me."
Who is wise? Let them realize these things.
Who is discerning? Let them understand.
The ways of the Lord are right;
the righteous walk in them,
but the rebellious stumble in them.