READY IN 10 MINUTES! Yum Yum Sauce is Perfect, tangy, slightly sweet and delicious on ANY stir fry, rice, meat or veggies. Shoot! It's great on EVERYTHING!
Want to have your family BEGGING for more dinner? Serve it with this sauce and YOU will be the Kitchen Rock STAR of your dreams! No JOKE!
THIS IS HOW YOU DO IT:
Step 1.
Measure your ingredients out and using a LARGE bowl pour them in the bowl together.
Step 2.
Whisk those ingredients together REALLY good until no lumps remain.
Frequently Asked Questions (FAQ's)
What Is Yum Yum Sauce?
Yum Yum Sauce is a white mayo based sauce that is often offered at Japanese Steakhouses'. The chef cooks in front of you and then offers about three sauces with your meal?
One of the sauces that are typically offered is the Yum Yum Sauce (the white one). This is that sauce!
How Do You Make Yum Yum Sauce?
If you search the internet for a recipe, you will find advice saying, "Just mix mayo and ketchup together".
WHAT? No! Do not just mix mayo and ketchup together. Please, just follow my recipe below. You won't be disappointed!
Can Yum Yum Sauce Be Made Ahead?
Yes! Of COURSE! It is BEST when made the day before! Letting those flavors mingle in the fridge makes it taste SO MUCH BETTER!
Can I Freeze Yum Yum Sauce?
No, Unfortunately you can NOT freeze Yum Yum Sauce. Most anything made with Mayonnaise will not freeze well. The mayo separates and is clunky and totally unappealing once it has been frozen.
How Long Does Yum Yum Sauce Keep?
This keeps for about a week or maybe a little more if you keep it in a container with a lid in the refrigerator.
Never leave Yum Yum Sauce out for more than 2 hours.
TIPS AND TRICKS FOR YUM YUM SAUCE
Allow this yum yum sauce to sit in the fridge for a while before you add more sugar or before using on your food because the flavors have to get to know each other first!
Pour This on EVERYTHING! It makes an excellent dip for chips, veggies and breads. Yum Yum is perfect on eggs and noodles. I believe you could pour it on a rubber tire and munch away!


This recipe makes a large quantity and should stay good in your fridge for at least a week and probably more. (I just had some last night that had been in the fridge for 2 weeks).
IF YOU ENJOYED THIS RECIPE FOR , YOU MIGHT ALSO LIKE…
Easy Two Ingredient Rice Dish
Roasted Chicken and Veggies (One Pan Dish)
Shrimp Sauce, Japanese White Sauce which is all the same thing!
Be sweet and leave me a 5 STAR COMMENT 🌟🌟🌟🌟🌟 below, please. It helps others to find the recipes here at Loaves and Dishes.
Please sign up for the newsletter and get your FREE copy of "9 Secrets to Immediate Kitchen Confidence"!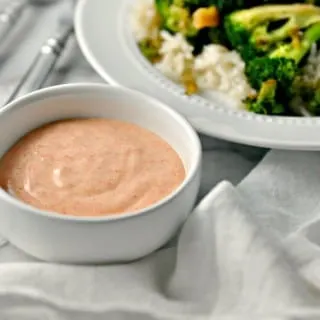 Yum Yum Sauce
This is the recipe for Yum Yum Sauce. Easy and simple
Print
Pin
Rate
Ingredients
2

Cups

of Mayonnaise

½

Cup

Ketchup

3

Tbsp

Sugar

1

Tbsp

Garlic Powder

1

Tbsp

Paprika

1

tsp

onion powder

1

tsp

salt

½

tsp

cayenne pepper

½

Cup

of water

1

tsp

Sriracha or other hot sauce.
Instructions
Mix all ingredients in a bowl – may add extra sugar to taste.

Allow to sit in refrigerator for at least an hour before serving so that flavors can meld.
Notes
Be ABSOLUTELY SURE that you are using Garlic POWDER and Onion POWDER and not garlic salt and onion salt. If you use the salt version, this recipe will be WAY too salty.
Some folks like to add some melted butter and more sriracha and cayenne. This gives more flavor without a ton more heat.
The whisking sometimes seems to take forever. No worries, just keep at it and the lumps WILL eventually whisk out.
I find that either Hellman's, Dukes or Blue Plate mayo work best for this recipe.
It is fine to substitute a mayo substitute (like a vegan mayo) if you need to for dietary purposes.
PRO TIP: Make this the day BEFORE you plan to use it and it will taste so much better once the flavors have had time to meld.
Nutrition
Nutrition Facts
Yum Yum Sauce
Amount Per Serving (3 tbs)
Calories 169
Calories from Fat 153
% Daily Value*
Fat 17g26%
Cholesterol 9mg3%
Sodium 320mg13%
Potassium 37mg1%
Carbohydrates 4g1%
Protein 1g2%
Vitamin A 232IU5%
Vitamin C 1mg1%
Calcium 4mg0%
Iron 1mg6%
* Percent Daily Values are based on a 2000 calorie diet.
***This recipe first appeared on Loaves and Dishes on April 18, 2019 and has been updated with new information, recipe tips and frequently asked questions***
A VERSE TO SHARE
Perhaps I've shared before that I do a lot of chanting of the Lord's Prayer. Jesus tells us in his Sermon on the Mount that this is the way to pray and that God already knows of our wants and needs. So, I take Jesus at his word and simply say the Lord's Prayer.
He DOES seem to know without me spelling it out.
Matthew 6:9-13
"This, then, is how you should pray:
"'Our Father in heaven,
hallowed be your name,
your kingdom come,
your will be done,
on earth as it is in heaven.
Give us today our daily bread.
And forgive us our debts,
as we also have forgiven our debtors.
And lead us not into temptation,
but deliver us from the evil one.'