Jump to Recipe
You might know Yum yum sauce by one of its many other names: Shrimp Sauce, Japanese White Sauce or even Benihana Sauce.  We know it as the tasty goodness one finds in a Japanese Steak House!
During visits out west, I have never found this Yum Yum sauce in any Japanese eateries.  Did I just go to the wrong place?
If you have had this sauce out west, would you please leave me a comment and let me know?  I feel like they need a Yum Yum Sauce missionary to take yum yum sauce to them!
Perhaps a Yum Yum Sauce missionary is what is needed. Therefore, today, I'll help you out by giving you the recipe for Yum Yum Sauce ( also known as Japanese White Sauce, Benihana Sauce and Shrimp Sauce).  
WHAT IS YUM YUM SAUCE?
Yum Yum Sauce is a white mayo based sauce that is often offered at Japanese Steakhouses'.  The chef cooks in front of you and then offers about three sauces with your meal? One of the sauces that are typically offered is the Yum Yum Sauce (the white one).  This is that sauce!
HOW DO YOU  MAKE YUM YUM  SAUCE?
If you search the internet for a recipe, you will find advice saying, "Just mix mayo and ketchup together".  WHAT? No! Do not just mix mayo and ketchup together. Please, just follow my recipe below. You won't be disappointed!
TIPS AND TRICKS FOR YUM YUM SAUCE
You may enjoy this yum yum sauce a little more sweet, if you do, then add more sugar.   

If you are very concerned about this being too hot, then don't add the ground cayenne.  The sriracha isn't adding heat . Instead, it is adding flavor, so please don't remove the sriracha unless it is a last resort.

Allow this yum yum sauce to sit in the fridge for a while before you add more sugar or before using on your food because  the flavors have to get to know each other first!

Pour Yum Yum Sauce on EVERYTHING! It makes an excellent dip for chips, veggies and breads.  Yum Yum is perfect on eggs and noodles. I believe you could pour it on a rubber tire and munch away!




This recipe makes a large quantity and should stay good in your fridge for at least a week and probably more.  (I just had some last night that had been in the fridge for 2 weeks).

I'm not really in the habit of buying anything premade, but I DO have to give a shout out to the frozen PF Chang's chicken fried rice, I tried it, and it is pretty good – of course, I soaked it in this Yum Yum Sauce, so….
IF YOU ENJOYED THIS RECIPE FOR YUM YUM  SAUCE, YOU MIGHT ALSO LIKE…
Easy Two Ingredient Rice Dish
Roasted Chicken and Veggies (One Pan Dish)
Shrimp Sauce, Japanese White Sauce  which is all the same thing!
THE KITCHEN EQUIPMENT THAT I USE FOR YUM YUM SAUCE ARE…
A whisk makes all the difference in mixing yum yum sauce.  It quickly incorporates all ingredients and breaks up any lumps, if there are any.  Just fyi, I do not own this particular OXO whisk – but I own other OXO products and they are all fabulous.  The two whisks that I use were both freebies
.  (This is an affiliate link and if you click the photo of the whisk it will take you right to Amazon so you can price check.)

A metal kitchen bowl also is great for this Yum Yum Sauce recipe.  These bowls are light weight, easy to stack and handle and easy to clean up.  They go right in the dishwasher and nothing seems to cling to them. (Again this is an affiliate link and if you click the photo of the bowl, it will take you straight to Amazon so you can check prices)
THE RECIPE FOR YUM YUM SAUCE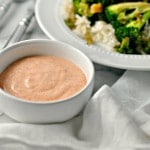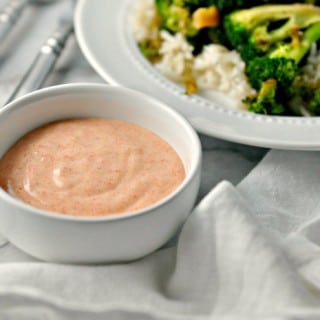 Yum Yum Sauce
This is the recipe for Yum Yum Sauce. Easy and simple
Ingredients
2

Cups

of Mayonnaise

½

Cup

Ketchup

3

Tbsp

Sugar

1

Tbsp

Garlic Powder

1

Tbsp

Paprika

1

tsp

onion powder

1

tsp

salt

½

tsp

cayenne pepper

½

Cup

of water

1

tsp

Sriracha or other hot sauce.
Instructions
Mix all ingredients in a bowl – may add extra sugar to taste. Allow to sit in refrigerator for at least an hour before serving so that flavors can meld.
Recipe Video
Recipe Notes
Simple and delicious yum yum sauce.
Nutrition Facts
Yum Yum Sauce
Amount Per Serving
Calories 200
* Percent Daily Values are based on a 2000 calorie diet.
A VERSE TO SHARE
How do you go out and about in the world?  Head down, ignore other people and get home as quickly as possible?  I admit it, that is me some days.
Do you greet others on the street with a smile and a "How are you"?  Do you wish them well and ask God to bless them, trying to see the good in them automatically?
Oh how I wish that was me.
Lately I've been really trying to pray at the beginning of the day, "Dear Lord, please let me be an instrument of your love and use me in the way that best glorifies you".  Then during the day when I notice something going right or a little less social anxiety, I say, "thank you Lord" or "Thank you, Jesus".
Perhaps I've shared before that I do a lot of chanting of the Lord's Prayer.  Jesus tells us in his sermon on the mount that this is the way to pray and that God already knows of our wants and needs.  So, I take Jesus at his word and simply say the Lord's Prayer.
He DOES seem to know without me spelling it out.
Matthew 6:9-13
"This, then, is how you should pray:
"'Our Father in heaven,
hallowed be your name,
your kingdom come,
your will be done,
   on earth as it is in heaven.
Give us today our daily bread.
And forgive us our debts,
   as we also have forgiven our debtors.
And lead us not into temptation,
   but deliver us from the evil one.'