Mom's make special dishes just for holiday's like, " Mom's Holiday Brown Rice". This one is my personal favorite that my mom made every single holiday! Do you assume special holiday dishes are difficult to prepare? That is what I think. Guess what? I am WRONG! This is the simplest dish EVER.
For most of my life this dish appeared at every single holiday. My mom would lovingly announce that she had made her brown rice dish and as soon as it is out of the oven, dinner would be ready.
Then, with great care she would set this dish on the table. Perfect Brown Rice. Every Single Time.
My favorite part is always when the corner pieces are a little over done and crunchy and they stick together and form a crust. Unfortunately, I was unable to recreate this for this photo.
I have to tell you though. When I talked to my mom about this recipe – she didn't have the recipe written down and didn't remember how to make it exactly. I was on my own to recreate it! She only knew that it took beef consume and butter. I could remember her cutting an onion. I could also remember the day she decided she didn't like onion soup in it.
I searched the internets for literal days trying to locate a recipe. I found a recipe on Yummly that was close – but no cigar. Finally, I threw all of the recipes I had collected in the trash and just went with what I knew and BAM! This is it!
THE RECIPE FOR MOM'S HOLIDAY BROWN RICE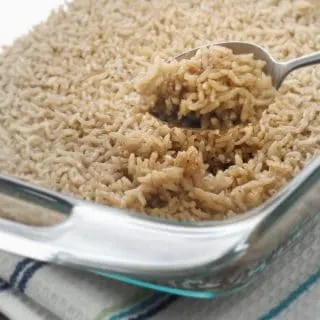 Mom's Holiday Brown Rice
Simple and Easy holiday rice dish
Print
Pin
Rate
Ingredients
1 ½

cups

white rice

2 10

oz

cans of beef consume soup

I used Campbell's

1

Tbs

Worcestershire

2

tsp

onion powder

1

tsp

garlic powder

1/4

tsp

salt

½

tsp

pepper

½

Cup

- 1 stick of sweet cream unsalted butter
Instructions
Preheat the oven to 350 and prepare a 9x13 baking dish with non stick cooking spray.

In the baking dish combine the rice, soup, worcestershire, onion powder, garlic, salt and pepper. Stir with a fork and spread the rice around the pan as much as possible. See tips and tricks for substitutions.

Cut the butter into pats and place carefully around the surface of the dish (it will float on top of the consume).

Tightly cover the top of the dish with aluminum foil and make sure it is sealed well.

Place in the center of the oven and bake for 1 hour. After an hour, remove from the oven and allow to rest for 5 minutes before removing the aluminum foil. Serve hot.
Notes
Sometimes when you make this dish, the rice in the corners of the dish cook up crispy and make the MOST delicious crunchy rice. So, go for the corners first.
Nutrition
Nutrition Facts
Mom's Holiday Brown Rice
Amount Per Serving (1 g)
Calories 150
* Percent Daily Values are based on a 2000 calorie diet.
TIPS AND TRICKS FOR Mom's Holiday Brown Rice
Instead of the onion powder, you can use half an onion chopped into tiny pieces and then browned till translucent in a skillet – cook in butter. Of course, you would do this before you began the rest of the recipe. The fact is that I don't have a single onion in my kitchen today – I know, right – so, I couldn't do it that way, but that is how my mom always made this recipe.

This recipe won't work with other kinds of rice – just use the basic white rice. Not the instant rice, not the minute rice, not wild rice, not arborio, not jasmine, not….. You get the idea. Just plain ol' white rice that has to be cooked for an hour before it is ready.

If you can't locate the beef consume, the beef stock (in the soup can) will work too – it just won't be as flavorful. You might have to add some salt at the table.

This dish is EXCELLENT served with a pot roast, baked chicken, pork chops, broccoli and ANYTHING with gravy.

If my memory serves me right – for some years, my mom made this with one can of beef consume and one can of Campbells Onion Soup (the kind in the can). I tried this in one of my experimentation versions and I just didn't like it AT ALL! Too bitter! Ewww. I can remember when I was small and my mom was making this for a holiday but was unable to find the onion soup – and so just used two cans of consume. That is how we ate it ever after. We all liked it better. See photo above for what it looks like with the French Onion Soup added.

This isn't a tip or a trick – I'm just tickled that I can share this recipe with you in time for Thanksgiving. It is wonderful and is right out of my childhood brain to you – what could be better comfort food than that?
IF YOU ENJOYED MOM'S HOLIDAY BROWN RICE, YOU MIGHT ALSO ENJOY…
Seriously Good Asterisk Chicken
A VERSE TO SHARE
"Sometimes you just have to fight fire with fire". "You have to get down on their level before you can make them understand".
That was what a friend of mine said recently when we were discussing the actions of a group we have observed.
I argued, "just because someone else is acting like a pig doesn't mean one has to get down in the mud and waller around with them", "there is no reason to bring oneself down to that level".
In the end, we agreed to disagree. We don't agree about what to do with the prisoners on The Walking Dead either. Sometimes you just have to decide that your friendship is worth more than the side you take in a debate.
How to respond
This discussion led me to delve into my Bible for more information about why I believe the way I do. I know it partially comes from my parents teaching me to always take the high road. I know it comes from my past job in marketing where I learned that you just don't respond to most types of negative comments because it is beneath notice.
Often, it is best to simply respond with a kind or humorous remark to let the other side know you heard them but are unaffected by them.
In my gut though, I know my real feelings come from my religious upbringing.
From Paul
I found my response in Paul's letter to the Philippians. Paul entreats the Philippians to always act with honor. He says to, "Let your gentleness be evident to all".
That said, I can't square up my thoughts about what to do with the prisoners on The Walking Dead – so, I'll have to study that for a while too.
Peace and Blessings as we go into our week of Thanksgiving!
Philippians 4: 4-8
Rejoice in the Lord always. I will say it again: Rejoice! Let your gentleness be evident to all. The Lord is near. Do not be anxious about anything, but in every situation, by prayer and petition, with thanksgiving, present your requests to God. And the peace of God, which transcends all understanding, will guard your hearts and your minds in Christ Jesus.
Finally, brothers and sisters, whatever is true, whatever is noble, whatever is right, whatever is pure, whatever is lovely, whatever is admirable—if anything is excellent or praiseworthy—think about such things.