Jump to Recipe
You might know Japanese White Sauce by one of its many other names: Shrimp Sauce, Yum Yum Sauce or even Benihana Sauce.  I simply know it as the delicious goodness that you find at a Japanese Steak House!
Interestingly enough, I have visited California, Utah and Arizona over the past couple of years and haven't found this tongue tingling sauce in any of those places, regardless of the name I asked for.  Do you have any Japanese White Sauce? (Blank Stare). How about Yum Yum Sauce? (More Blank Stares)
Have you ever heard of Shrimp Sauce?  (We have Teriyaki!). Benihana? Nope.  Nothing. The only response was blinking eyes, which are lovely but do nothing to help with the Japanese White Sauce dilemma!
Today, I'll help you out by giving you the recipe for Japanese White Sauce, Yum Yum Sauce, Benihana Sauce and Shrimp Sauce all in one!  YAY!  Because you do not want to visit a Japanese restaurant without this delicious stuff!  You might need to take your own!
WHAT IS JAPANESE WHITE SAUCE?
Japanese White Sauce is often offered at Japanese Steakhouses'.  You know, the kind of steak house where you sit in a half circle around the grill and the chef entertains you while cooking your food?  One of the sauces that are typically offered is the house white sauce. This is that sauce!
HOW DO YOU  MAKE JAPANESE WHITE SAUCE?
If you search the internet, you will often see the advice, "Just mix mayo and ketchup together".  Nothing could be further from the truth. Instead, just follow my recipe below. You won't be disappointed!
IF YOU ENJOYED THIS RECIPE FOR JAPANESE WHITE SAUCE, YOU MIGHT ALSO LIKE…
Creamy Artichoke Baked Chicken
Old Fashioned Butterscotch Pie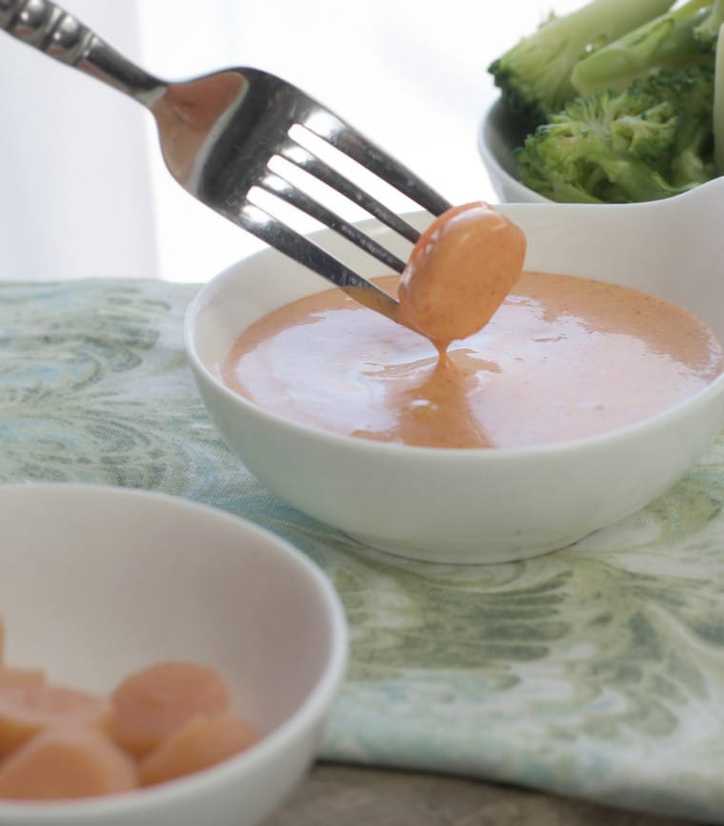 Carrots are good in Japanese White Sauce!
TIPS AND TRICKS FOR JAPANESE WHITE SAUCE
I've noted that some people really like this sauce to be sweet – if so, add more sugar.  

If you don't like the hot quality, then don't add the ground pepper.  The sriracha isn't adding much heat – it is adding flavor – so don't remove that unless it is a last resort.

Allow this to sit in the fridge for a while before you add more sugar or before using on your dinner – the flavors have to marry and meld and generally get to know each other.

Pour it on EVERYTHING! It is good as a chip dip, a veggie dip, on eggs, on noodles – literally everything.  I bet Lima Beans might even taste good with Japanese White Sauce on top! That is saying something!




This makes a large quantity and should stay good in your fridge for at least a week.  Maybe longer – but I wouldn't push it much past that. No worries, it will be gone long before then.

I'm not really in the habit of buying anything premade, but I DO have to give a shout out to the frozen PF Chang's chicken fried rice, I tried it, and it is pretty good – of course, I soaked it in this Japanese White Sauce, so….
MY FAVORITE BOWL SET AND WHISK…
For this recipe, you will need a good bowl and whisk.  Here is my favorite set of bowls and whisk. (Affiliate link that you can click through to Amazon to check it out).The video shows my HEAVY pyrex bowl – ouch wrists!
The bowls stack easily, are lightweight and thus don't hurt my wrist when I dig them out of the cabinet.  They clean up so easily and go right in the dishwasher.  Not really expensive.  I used to prefer stoneware or Pyrex – but these are so much lighter, my wrists thank me!
THE RECIPE FOR JAPANESE WHITE SAUCE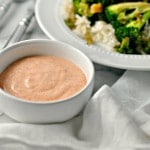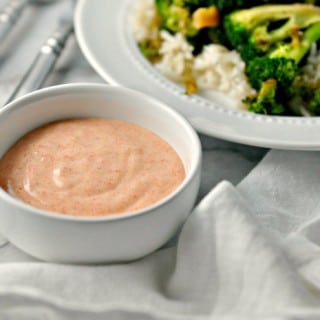 Japanese White Sauce
This is the white sauce that is served at Japanese Steak Houses
Keyword:
japanese white sauce, yum yum sauce
Ingredients
2

Cups

of Mayonnaise

½

Cup

Ketchup

3

Tbsp

Sugar

1

Tbsp

Garlic Powder

1

Tbsp

Paprika

1

tsp

onion powder

1

tsp

salt

½

tsp

cayenne pepper

½

Cup

of water

1

tsp

Sriracha or other hot sauce
Instructions
Mix all ingredients in a bowl – may add extra sugar to taste. Allow to sit in refrigerator for at least an hour before serving so that flavors can meld. You will want to whisk the ingredients together very quickly to mix the mayo in thoroughly.
Recipe Video
Recipe Notes
This is the white sauce that is served at Japanese Steak Houses!
Nutrition Facts
Japanese White Sauce
Amount Per Serving
Calories 200
* Percent Daily Values are based on a 2000 calorie diet.
A VERSE TO SHARE
Today, I don't have a lot to say about the verse.  I'm simply sharing. It is too awesome for my simple words anyway.  I pray for your blessing in what you are reading. Amen.
Mark 16: 1-8
When the Sabbath was over, Mary Magdalene, Mary the mother of James, and Salome bought spices so that they might go to anoint Jesus' body. Very early on the first day of the week, just after sunrise, they were on their way to the tomb  and they asked each other, "Who will roll the stone away from the entrance of the tomb?"
But when they looked up, they saw that the stone, which was very large, had been rolled away. As they entered the tomb, they saw a young man dressed in a white robe sitting on the right side, and they were alarmed.
"Don't be alarmed," he said. "You are looking for Jesus the Nazarene, who was crucified. He has risen! He is not here. See the place where they laid him. But go, tell his disciples and Peter, 'He is going ahead of you into Galilee. There you will see him, just as he told you.'"
Trembling and bewildered, the women went out and fled from the tomb. They said nothing to anyone, because they were afraid.