Jump to Recipe
You might know Shrimp Sauce by one of its many other names: Japanese White Sauce, Yum Yum Sauce or even Benihana Sauce.  I simply know it as the stuff I want to guzzle at a Japanese Steak House!
If you live on the west coast, you might not have heard of Shrimp Sauce.  You probably haven't heard of it by any of it's other names either such as Japanese White Sauce, Yum Yum Sauce or maybe not even Benihana Sauce.
HERE'S A SHORT VIDEO OF WENDI MAKING THIS SHRIMP SAUCE…
The full recipe is at the bottom of this post, but see Wendi making this recipe in this short video and check out how easy it is to do!
NOW BACK TO THE POST…
While I have no idea WHY this isn't a thing on the west coast, I know it IS a thing on the east coast.  Perhaps my west coast friends can mix up a batch and share? I hope so!
Today, I'll help you out by giving you the recipe for Japanese White Sauce, Yum Yum Sauce, Benihana Sauce and Shrimp Sauce all in one!  YAY!
WHAT IS SHRIMP SAUCE?
Shrimp Sauce is often offered at Japanese Steakhouses'.  You know, the kind of steak house where you sit in a half circle around the grill and the chef entertains you while cooking your food?  One of the sauces that are typically offered is the house white sauce which is also called Shrimp sauce. This is that sauce!
Interestingly enough, Shrimp sauce does NOT contain shrimp.  It IS the pretty pink color of shrimp though!
HOW DO YOU  MAKE SHRIMP SAUCE?
If you search the internet, you will often see the advice, "Just mix mayo and ketchup together".  Nothing could be further from the truth. Instead, just follow the recipe below. You won't be disappointed!
THE EQUIPMENT I LIKE FOR SHRIMP SAUCE
These are affiliate links and you can click any photo to go straight through to Amazon.  This sauce makes quite a bit, so I do put it in a sealable container in the fridge that is easy to pour, of course.

Everything is easier to mix in a good quality stainless steel mixing bowl with easy clean up, light weight and stackable.

A good whisk makes a difference for the ease of mixing.
TIPS AND TRICKS FOR SHRIMP SAUCE
If you like for this sauce to be sweet, simply add more sugar.   

Concerned about too much heat? Then don't add the ground cayenne pepper.  The sriracha isn't adding heat – it is adding flavor – so don't remove that unless it is a last resort.

Allow this mixture to sit in the fridge for a while before you add more sugar or before using on your dinner – the flavors have to marry and meld and generally get to know each other.

Pour this shrimp sauce  on EVERYTHING! It makes a wonderful chip dip, a veggie dip, on eggs, on noodles – literally everything!




This makes a large quantity and should stay good in your fridge for at least a week.  Maybe longer. No worries, it will be gone long before then.
THE RECIPE FOR SHRIMP SAUCE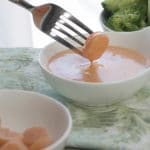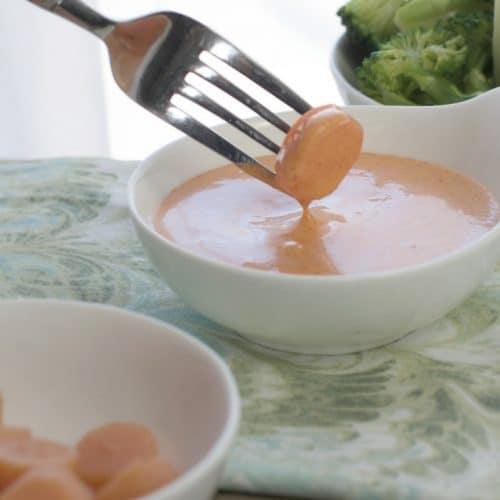 Shrimp Sauce
This is a recipe for Shrimp Sauce like you would find in a Japanese Restaurant
Keyword:
shrimp sauce, yum yum sauce
Ingredients
2

Cups

of Mayonnaise

½

Cup

Ketchup

3

Tbsp

Sugar

1

Tbsp

Garlic Powder

1

Tbsp

Paprika

1

tsp

onion powder

1

tsp

salt

½

tsp

cayenne pepper

½

Cup

of water

1

tsp

Sriracha or other hot sauce.
Instructions
Mix all ingredients in a bowl – may add extra sugar to taste. Allow to sit in refrigerator for at least an hour before serving so that flavors can meld.
Recipe Video
Recipe Notes
This is a sauce like you would find in a Japanese Restaurant.  Makes an excellent veggie dip or even a chip dip.
Nutrition Facts
Shrimp Sauce
Amount Per Serving
Calories 301
* Percent Daily Values are based on a 2000 calorie diet.
A VERSE TO SHARE
Jesus loves the little children, all the children of the world.  Red and Yellow, Black and White, they are precious in His sight, Jesus loves the little children of the world.
You couldn't resist singing while you read that, could you?  It's funny because I didn't hear you say anything about what country those kids had to live in.  I didn't hear you say that Jesus loves Christian children or Jewish children or….
Nope, it say, "Jesus loves the little children", all the colors.
That's all I have to say about that.
John 3: 16-18
For God so loved the world, that he gave his only Son, that whoever believes in him should not perish but have eternal life. For God did not send his Son into the world to condemn the world, but in order that the world might be saved through him. Whoever believes in him is not condemned, but whoever does not believe is condemned already, because he has not believed in the name of the only Son of God