READY IN 5 MINUTES! This creamy, tangy and super delicious shrimp sauce is perfect for Japanese meals, meats, vegetables, rice or just about anything! It would probably be good on a rubber tire! It's ridiculously good and easy!
If you live on the west coast, you might not have heard of Shrimp Sauce. This sauce goes by other names too such as Japanese White Sauce, Yum Yum Sauce or even Benihana Sauce.
WHY THIS RECIPE WORKS!
Easy
Ready in 5 minutes.
Makes enough to enjoy for a few days.
Great on EVERYTHING!
HERE'S HOW IT IS DONE
STEP 1.
Assemble your ingredients. Have everything measured and ready to go. Put them in a Large bowl together.
STEP 2.
Whisk all of the ingredients together until smooth. Then refrigerate.
This sauce is BEST if you refrigerate for a few hours before using, but if you can't wait, no worries, its good right away too!
FREQUENTLY ASKED QUESTIONS (FAQ)
WHAT IS SHRIMP SAUCE?
Shrimp Sauce is often offered at Japanese Steakhouses'. You know, the kind of steak house where you sit in a half circle around the grill and the chef entertains you while cooking your food?
One of the sauces typically offered is the house white sauce which is also called Shrimp sauce. This is that sauce!
Interestingly enough, Shrimp sauce does NOT contain shrimp. It IS the pretty pink color of shrimp though!
HOW DO YOU MAKE SHRIMP SAUCE?
If you search the internet, you will often see the advice, "Just mix mayo and ketchup together".
Nothing could be further from the truth. Instead, just follow the recipe below. You won't be disappointed!
HOW LONG IS SHRIMP SAUCE GOOD FOR?
You can keep shrimp sauce in the refrigerator, in a jar with a lid for about 2 weeks.
Never leave the shrimp sauce out of the refrigerator for longer than 2 hours.
CAN I FREEZE THE EXTRA SHRIMP SAUCE?
No, unfortunately, you can not freeze shrimp sauce. The mayonnaise in it separates when frozen turning it into a gloopy mess.
IS SHRIMP SAUCE SPICY?
No, shrimp sauce is not spicy in the least. The Sriracha and the cayenne don't add as much heat as they do flavor.
WHAT CAN I SERVE SHRIMP SAUCE WITH?
Shrimp sauce is super good on Restaurant Style Chicken Fried Rice. Perfect on Frozen Broccoli too!
How about some delicious carrots? These Pork Pepper Kabobs are excellent with Shrimp sauce too!
TIPS AND TRICKS FOR THIS RECIPE
If you like for this sauce to be sweet, simply add more sugar.
Concerned about too much heat? Then don't add the ground cayenne pepper. The sriracha isn't adding heat – it is adding flavor – so don't remove that unless it is a last resort.
Allow this mixture to sit in the fridge for a while before you add more sugar or before using on your dinner. The flavors have to marry and meld and generally get to know each other.
Pour this shrimp sauce on EVERYTHING! It makes a wonderful chip dip, a veggie dip, on eggs, on noodles – literally everything!


This makes a large quantity and should stay good in your fridge for at least a week. Maybe longer. No worries, it will be gone long before then.
IF YOU HAVE ENJOYED THIS RECIPE, YOU MIGHT ALSO ENJOY…
or maybe, my Best Sandwich Ever
HELP ME OUT, OK?
Leave me a 5 STAR COMMENT 🌟🌟🌟🌟🌟 below, please. It helps others to find the recipes here at Loaves and Dishes.
Want hot cooking tips and new recipes to come straight to you? Make sure to sign up for the weekly email!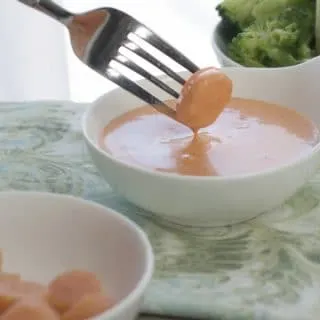 Shrimp Sauce
This is a recipe for Shrimp Sauce like you would find in a Japanese Restaurant
Print
Pin
Rate
Ingredients
2

Cups

of Mayonnaise

½

Cup

Ketchup

3

Tbsp

Sugar

1

Tbsp

Garlic Powder

1

Tbsp

Paprika

1

tsp

onion powder

1

tsp

salt

½

tsp

cayenne pepper

½

Cup

of water

1

tsp

Sriracha or other hot sauce.
Instructions
Mix all ingredients in a LARGE bowl – may add extra sugar to taste. Allow to sit in refrigerator for at least an hour before serving so that flavors can meld.
Notes
SUBSTITUTIONS:
You can substitute any hot sauce for the sriracha, but sriracha is the best.
Substitute raw sugar for granulated if need be.
Leave off the cayenne if you are concerned about heat.
PRO TIP:
Make this the day before you plan to use it, then stir well before serving. This allows the flavors to marry and it is SO DELICIOUS!
Nutrition
Nutrition Facts
Shrimp Sauce
Amount Per Serving
Calories 422
Calories from Fat 378
% Daily Value*
Fat 42g65%
Cholesterol 23mg8%
Sodium 800mg33%
Potassium 92mg3%
Carbohydrates 10g3%
Protein 1g2%
Vitamin A 580IU12%
Vitamin C 1.1mg1%
Calcium 9mg1%
Iron 0.4mg2%
* Percent Daily Values are based on a 2000 calorie diet.
A VERSE TO SHARE
Do you know the song, Jesus loves the little children?
It doesn't say anything about what country those kids live in. There's no specifying which heritage of kid is loved most….
Nope, it says He loves all the colors.
That's all I have to say about that.
John 3: 16-18
For God so loved the world, that he gave his only Son, that whoever believes in him should not perish but have eternal life. For God did not send his Son into the world to condemn the world, but in order that the world might be saved through him. Whoever believes in him is not condemned, but whoever does not believe is condemned already, because he has not believed in the name of the only Son of God