Today, I have a special EASY treat for you.  This Smoked Sausage and Cheesy Orzo is so simple that you can whip this up in a few minutes after you arrive home from work AND you can make it nearly entirely in one dish – as long as you have the orzo cooked ahead of time!  Simple and delicious!  Serve this with a simple salad and you have a complete meal – ready in minutes.  Affordable too!
I know that you, like me, are so busy that your head could spin!  Especially coming into the fall months.  You need meals that are hot, delicious, simple and ready in minutes.  Smoked Sausage and Cheesy Orzo is for you!
This dish occurred to me as I looked through my fridge after we were home from vacation and the only thing in there was some cheese, left over broccoli and a package of smoked sausage.  After digging around, I did find some onion and garlic.  Thankfully, my garden had produced one more decent looking green bell pepper.
The garden – that is another topic altogether.  At least the blackberry plants are still alive.  What I have learned is that we need to take our vacation in early June – before the garden even starts to think about being ready.  Mid-July and everything is coming in and demands that something be done with it, right NOW! Again, though, that is a topic for another day.
Although I made this dish with orzo (I had already used up all of my rice and I haven't been back to the store), I think it would be equally as tasty with rice or even with some other form of pasta (orzo is just a tiny pasta).  You could use your left-over rice from some previous dinner even.  SHhhh….. I won't tell anyone!
As an aside- you could also add some other veggies – I can hardly think of any veggie that wouldn't be good with this dish.  I might try some carrots, cauliflower, peas or even green beans in the future.  I used cheddar – but a Mexican blend would be good too.  Just adjust to your tastes!
Heal me, O LORD, and I will be healed; save me and I will be saved, for you are the one I praise. ~ Jeremiah 17:14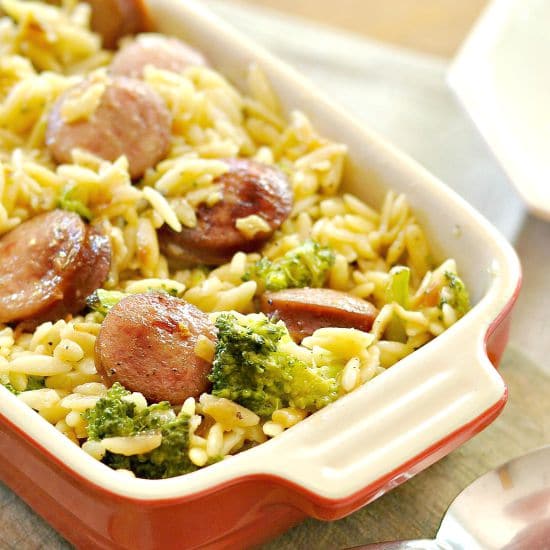 Smoked Sausage and Cheesy Orzo
Author:
Loaves and Dishes
Ingredients
1 ½ Cups uncooked Orzo (about 3 cups if already cooked)
2 tbs vegetable or olive oil
1 small onion
1 clove garlic
½ green bell pepper
1 cup bite sized broccoli florets
1 package of Smoked Sausage (about 16 oz, typically)
Salt and pepper to taste
⅓ cup milk
1 ½ cups shredded cheddar cheese
Instructions
In a large sauce pot, bring 3 quarts of water to a boil and cook the orzo per the package instructions. Don't forget to salt the water. If you want to do something unconventional and be like me, drop the broccoli florets into the boiling pasta water for about 3 minutes while the pasta is cooking. This precooks the broccoli to just the right softness for the dish – and then you don't have to wait for them to cook in the frying pan later. Dip them out with a slotted spoon when they turn bright green and set them aside.
While the pasta and broccoli are cooking, dice up the onion, bell pepper and mince the garlic. Cut the sausage into disks – about ½ inch thick. Heat a large skillet with the oil on medium heat on the stove top. When the oil is hot, add the onion and bell pepper and cook until the onion is translucent. Add the garlic and the sausage. While this cooks, the orzo should be about ready. Drain the orzo per package instructions and set aside until the sausage is browned.
When the sausage is browned, add the orzo and the pre-cooked broccoli to the skilled and cut the heat to medium low. Add the cheese and the milk. Salt and pepper to taste. You can then serve from the frying pan or turn out into a baking dish to serve.