This luscious tasty EASY Southern Baked Spaghetti is just the thing for an easy weeknight meal! But don't be fooled by how easy and tasty it is! This Southern Baked Spaghetti goodness can just as easily work for date night too!
Don't you LOVE Southern Baked Spaghetti with those delicious cheese pulls with every bite and crusty cheese dripping over the edge of the dish? Yes Girl, YES! This is the dish for you! Ready in less than an hour and PERFECT every time! I'll show you how!
WHY THIS DISH WORKS
You can use whatever sauce you prefer.

Perfect way to use up leftover spaghetti and sauce.

Easily made vegetarian by the choice of your sauce

Use a variety of noodles, it's your choice!

Lots of cheese options too!
Let's get right into the questions everyone asks!!!
CHECK OUT THE RECIPE CARD AT THE BOTTOM FOR A QUICK VIDEO OF WENDI MAKING THIS DISH AND SHOWING YOU HOW TO DO IT.
HOW DO YOU GET SAUCE THROUGHOUT THE BAKED SPAGHETTI?
That is easy! You do one of the following:
Layer the noodles and sauce in the baking dish.

Sauce the noodles in the sauce before you start to assemble your baked spaghetti.
HOW DO I MAKE SURE TO GET CHEESE THROUGHOUT MY BAKED SPAGHETTI?
You will layer the cheese into the baked spaghetti to ensure that it goes all the places that it should.
WHAT CAN I DO TO MAKE MY SPAGHETTI EVEN MORE INTERESTING?
There are LOTS of ways to change up this recipe! You could do any of the following…
Layer pepperonis on top and throughout the spaghetti while layering.

Use cubes of cream cheese in the layers of your baked spaghetti for added cheesy creamy taste

Sprinkle the inner layer of the spaghetti with an italian herb seasoning.

Use chicken in your sauce.

Add cottage cheese to your layers.

Try some meatballs in the layers.

Add Velveeta to your layers.

If you can imagine it, you can add it to your baked spaghetti!
FREQUENTLY ASKED QUESTIONS (FAQ) AND TIPS AND TRICKS…
WHAT KIND OF CHEESE DO I USE FOR A SOUTHERN BAKED SPAGHETTI?
I recommend using 2-3 kinds of cheese for awesome taste!
Shredded mozzarella

Thin sliced provolone on the top

Add some sprinkled parmesan for a deeper taste.

Try some small cut up pieces of cream cheese added to the layers.
WHAT KIND OF SAUCE DO I USE?
Any jar of spaghetti sauce straight off the shelf
CAN A BAKED SPAGHETTI BE MADE AHEAD?
YES! A southern baked spaghetti can be made the day before and refrigerated. Also, you can make a baked spaghetti and freeze it, then just bake it when ready.
CAN A BAKED SPAGHETTI BE FROZEN?
Yes, of course! A southern baked spaghetti can be frozen. Just assemble, cover well with freezer safe material and freeze for later.
WHAT TEMPERATURE FOR A BAKED SPAGHETTI?
You will bake a southern baked spaghetti in a moderate oven at 350.
WHAT DO I COOK A BAKED SPAGHETTI IN?
Any oven safe cookware will do, I like to use this dish (you can see it in the video in the recipe card below) (this photo is an Amazon link and I am an Amazon Affiliate. You can CLICK THE PHOTO to go through to Amazon to compare prices. If you choose to purchase this way, I earn a commission that does not affect your purchase price and THANK YOU!)
HOW DO I REWARM A FROZEN BAKED SPAGHETTI?
There are two ways to do this.
Allow the baked spaghetti to thaw to room temp. Bake in 350 oven for about 40 minutes.

Put the entire frozen deal in the oven (cover with aluminum foil). Heat on 325 for about an hour and half. Remove the aluminum foil after an hour.
HOW LONG IS BAKED SPAGHETTI GOOD FOR?
Once cooked, your baked spaghetti will be good for about 5 days in the fridge. Keep it covered.
Do not allow it to sit out on the counter for longer than 2 hours at a time.
LETS SEE HOW THIS THING IS DONE…
Prepare your baking dish and then layer spaghetti, sauce and cheese into the dish
Then again layer spaghetti, sauce and cheese until the dish is full.
Top with shredded cheese and thin sliced provolone cheese.
Bake for 35-45 minutes until the top is bubbly and the dish is warmed through.
WHAT CAN I SERVE WITH MY SOUTHERN BAKED SPAGHETTI?
Slow cooker Green Beans with Bacon
How to cook Frozen Corn on the Cob
YA'LL BE SWEET AND HELP ME OUT, OK?
Leave me a 5 STAR 🌟🌟🌟🌟🌟 Comment below. If you made this recipe, I would love for you to share it with me on social media or just email me at wendi(at sign)loavesanddishes.net. Reader comments are the best. I answer right back!
Ya'll MAKE MY DAY when you leave me a comment 🌟🌟🌟🌟🌟 or send me an email!
Join me on social media by clicking the links at the top of the page!
THE RECIPE FOR SOUTHERN BAKED SPAGHETTI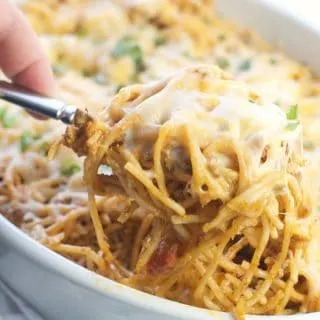 Southern Baked Spaghetti
This easy baked spaghetti has all the perfect flavors. Perfect for a potluck, guests or even date night at home. You don't have to tell anyone that you were simply using up leftovers!
Print
Pin
Rate
Ingredients
24

ounces

Spaghetti Sauce -pre cooked

1 16

oz

box spaghetti noodles - precooked

1 8

oz

bag shredded Mozzarella

8

slices

thin sliced Provolone cheese
Instructions
Preheat the oven to 350

Spray the oven safe baking dish with non stick spray

Layer ½ of the precooked spaghetti noodles into the bottom of an oven safe baking dish (for the amounts of noodles and sauce stated in the recipe, an 9x13 pan will work fine.)

Spoon ½ the sauce over the noodles and then layer ½ the cheese over the sauce.

Repeat the layers.

Top with shredded cheese and slices of provolone.

Bake for 35-45 minutes until heated through and bubbly and browned on top.
Notes
You can make this baked spaghetti with any amounts of spaghetti that you have as long as the sauce is enough and the size of your baking container is correct.
If you prefer to make this dish with jarred sauce, that is fine too. It should require one bottle per half box of spaghetti noodles.
You can use other noodles besides spaghetti noodles for a different look.
In the video I make this dish using cold sauce and cold noodles, if you have hot sauce and hot noodles, put the noodles directly into the sauce and then layer half of that mixture in the bottom of the baking dish, lay the cheese on top of that and then layer the spaghetti mixture and top with the cheese. YUM!
Make this dish vegetarian by using a vegetarian sauce.
You can make this dish vegan by using vegan sauce and vegan cheese.
Nutrition
Nutrition Facts
Southern Baked Spaghetti
Amount Per Serving
Calories 200
* Percent Daily Values are based on a 2000 calorie diet.
A VERSE TO SHARE
The other day I brought up New Year's resolutions here. Did I tell you that I haven't been doing them? Ever? I mean, I made resolutions. I never kept them.
Last year, a friend brought me the concept of having a "word" that my new year would center around. I picked a word. That word changed my life.
Last year's word was "Flourish".
This year, I've picked a different word that will help me with the challenges I see in myself.
One such challenge is hanging on to negativity. I do it. I don't mean to, but I do.
Here is what I learned from my reading over at The Upper Room this morning
That negativity stems out of the bitterness of not having a forgiving spirit.
Unless I learn to let go of things and forgive, it's going to get pretty rough for me.
It says so right in Mathew 6 after Jesus teaches us all the way we should pray.
I hope that you, too, will remember to forgive others and not harbor ill will in your hearts. Just let it go.
It doesn't mean that the other person will escape from punishment, instead it means that you will escape your own punishment of suffering under the weight of your own negative emotions.
Mathew 6:14-15
For if you forgive other people when they sin against you, your heavenly Father will also forgive you. But if you do not forgive others their sins, your Father will not forgive your sins.