Once you know how to make meatballs for spaghetti, your dinner problems will be SOLVED! Meatballs are super versatile, easy and you can make meatballs on the stove top, you can bake meatballs or for a quick dinner, you can even use frozen meatballs!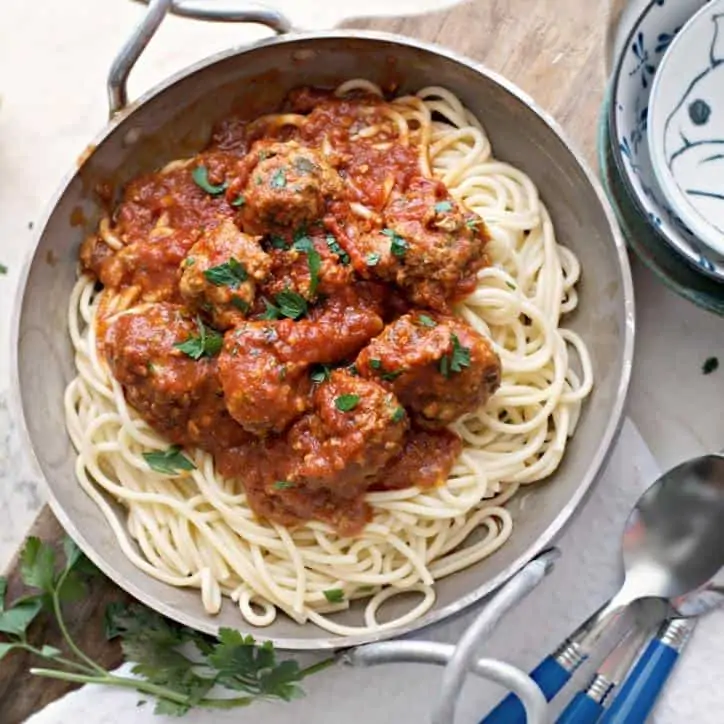 How To Make Meatballs For Spaghetti
Everyone LOVES a terrific meatball! Meatballs go great with all kinds of sauces, everything from a terrific tomato sauce to a delicious cheese sauce and everything in between!
Around Loaves and Dishes, we've tried all kinds of meatballs! Everything from three ingredients meatballs to store-bought right out of the bag and onto the smoker meatballs!
They are a dish that everyone loves and perfect for holidays, parties, get togethers or a quiet night at home! This is also a terrific alternative for a Christmas dinner that's finger licking good!
If you want to thicken up your spaghetti sauce, I've got that covered too!
What Goes In Meatballs for Spaghetti?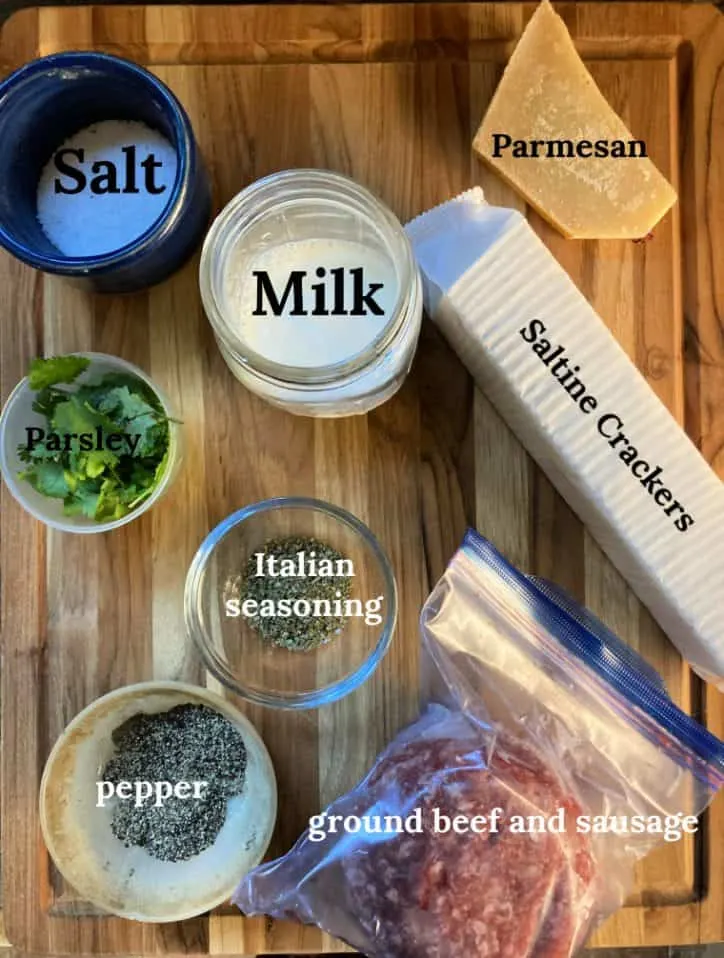 Basically, all the wholesome good stuff you want to see in home cooking! These meatballs can be cooked on the stove or baked in the oven (and a little of both is a good option too!)
Milk – Use whole milk here and you won't be sorry! The milk gives a soft luxurious feel to the meatball that is out of this world!
Saltines – The saltines are the secret mojo! They combine with the milk to make a moist (I know a lot of people hate that word) and tender meatball!
Ground Beef – You'll need a leaner blend 90/10 or 80/20 for these meatballs.
Ground Sausage – Look for a good quality and nicely spiced sausage, go with the best brand you can afford.
Eggs – The eggs act as binders to hold the whole project together!
Italian Seasoning/Salt/Pepper/Garlic – all the right seasonings that give these meatballs their zing!
Parmesan – So much flavor in these meatballs come from this parmesan, you'll want to go with a good quality cheese (not the kind that comes in a can).
Parsley – fresh green parsley gives lovely color and a little fresh zip to your meatballs.
How To Make Baked Meatballs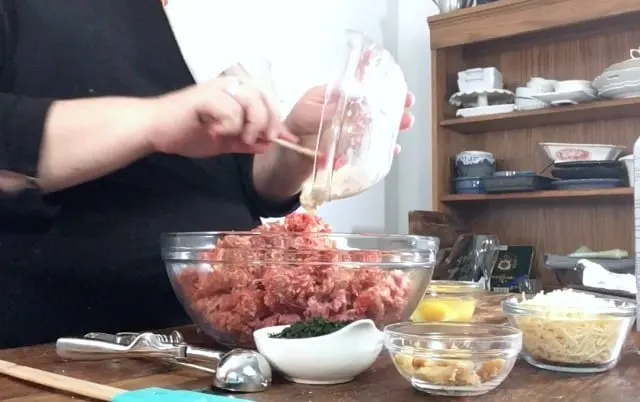 These meatballs are so versatile! You can bake them in the oven (leaves a great little char on the edges! YUM!). We will cover other ways to make them further down in this post!
Let the crackers and the milk get to know each other!
Mix the ingredients together.
Scoop into even sized balls (use a scoop, helps make things perfect!).
Make baked meatballs by placing onto baking sheet and bake these meatballs in the oven!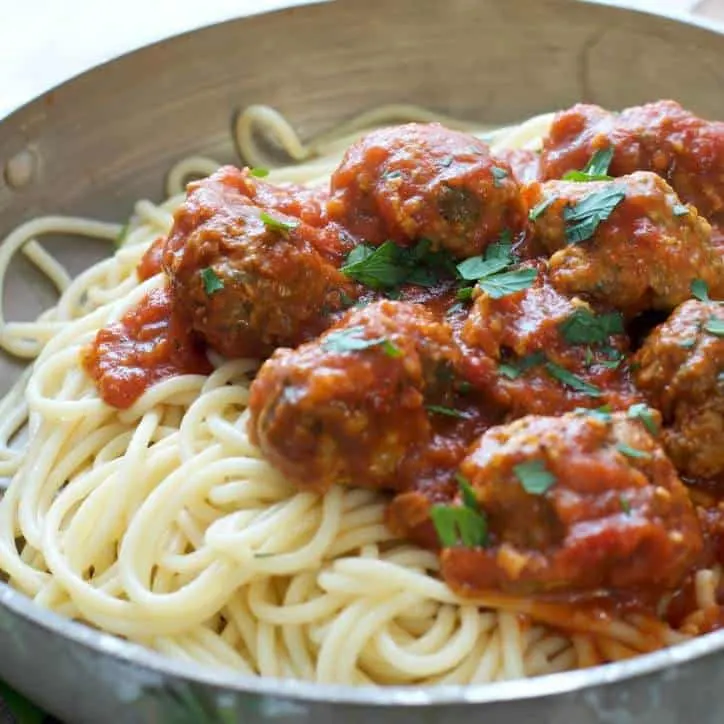 How To Cook Meatballs on the Stove
Don't want to bake them in the oven? No worries! Simply roll them out and cook them on the stove! EASY PEASY!
Melt the crackers in the milk.
Mix everything together.
Roll into even sized balls.
Cook meatballs on the stove in a frying pan in a little bit of oil.
Make these either way, your family is going to bang the table fore MORE MORE MORE!
What To Serve With Spaghetti and Meatballs
Oh there are so many GREAT things to serve with spaghetti and meatballs that I don't even know where to start!
Of course, you are going to want to start off with a delicious starter like an antipasto, italian summer soup or a charcuterie board!
Then, move on to a fresh salad featuring the best lettuce, tomatoes and beautiful orange carrots that you can find!
Everyone loves to sop up your sauce with some texas toast!
Then follow your main meal with a tasty dessert! Something light like an old fashioned sugar cream pie will do nicely!
For MORE great dinner ideas, I hope you'll check out my collection of Easy Comfort Foods. If you aren't finding a recipe you were really looking for, I hope you'll request a recipe right here!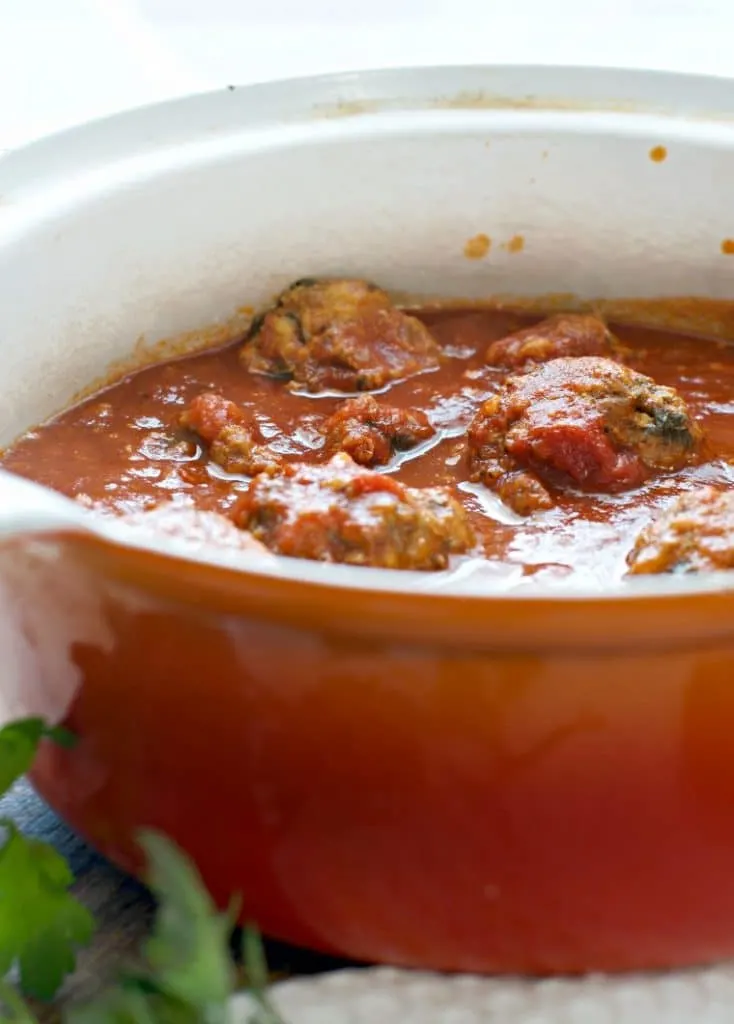 Hungry For More?
Subscribe to my newsletter where I share all the latest recipes, hot cooking tips of the week and little glimpses into the kitchen! I hope you'll join me!
Watch Me Make This Simple Meatball Recipe!
Can You Give Me A Hand?
Please leave a 5 star comment in the comment section below. This helps others to find the recipes at Loaves and Dishes!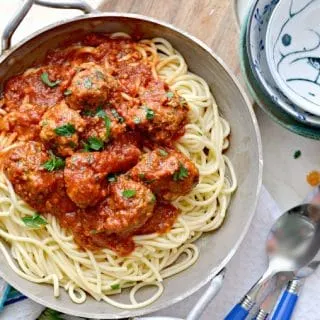 How to Make Meatballs for Spaghetti
Easy Meatball Recipe! You can make meatballs in the oven. You can make meatballs on the stove! Either way and they will be AWESOME!
Print
Pin
Rate
Ingredients
⅓

Cup

Whole milk

½

cup

smashed saltine crackers

1

lb

ground beef

1

lb

ground sausage

1

tsp

minced garlic

2

large eggs

2

Tbs

Italian seasoning

1

tsp

kosher salt

1

tsp

ground black pepper

½

cup

parmesan cheese

¼

cup

finely chopped parsley
Instructions
Preheat the oven to 425.

Prepare two baking sheets with aluminum foil sprayed heavily with non stick cooking spray and set aside.

In a small bowl, mix together the whole milk and the saltine cracker crumbs. Mix well and set aside.

Place all of the other items into a large bowl together – tearing the meat into small pieces as you go. Do not mix the meats until ready to add in the crackers/milk mix.

When the cracker milk mix resembles breakfast cereal that has been allowed to sit out for too long and has become very soggy, then add to the meat mixture and using your hands mix well. Only mix together until it appears that it has been evenly mixed. Then stop! If you over mix, your meatballs will be chewy.

Once the meat mixture is well mixed, roll into balls that are about the size of golf balls and place on the baking sheets – placing no more than 12 per sheet. I recommend using a 1 – 1 1/2 inch scoop so that they all turn out even.

Bake at 425 for 15-20 minutes. Remove from the pan and place into an awaiting rich tomato sauce and simmer for several hours until ready to serve. We prefer to serve over spaghetti
Notes
The Meatballs
This is really important – DO NOT over handle the meat. Usually, I have you mixing things in as soon as you add them. Not this time. Simply start with the saltines in the milk and let that sit. While that is soaking, put ALL of the other stuff in a bowl and let it set until the saltine milk is ready to add. When you add the saltine milk, then using your hands, gently mix everything together as completely as possible. As SOON as it is mixed together, start rolling your meatballs.

I experimented with several sizes of meatballs. The size that holds its shape the best is a little smaller than a golf ball. Go with that size.

Roll the meatballs up and place them on the prepared pan.

DO NOT forget to spray your tin foil with non stick cooking spray – because the meatballs will stick and then you will lose that wonderful caramelization along the bottom of the meatball.

The meatballs are gonna sag a little when they cook – don't worry – it is normal.

Remove the meatballs from the pan GENTLY – they aren't baseballs.

Ever so gently drop the meatballs into the sauce.
Simmering
Simmer means that the sauce just barely bubbles. No vigorous stirring of the sauce once the meatballs are added. Gentle stirring only. Scrape up along the bottom of the dish with each stir.

Simmer for a couple of hours if you can and stir every once in awhile.
The Ingredients
I used Italian parsley in this dish but I'll be honest I live in the country and I can't always find Italian Parsley at the grocery here. Curly parsley will do. I think it has less flavor though (just my opinion). Chop the parsley as fine as you are able, it doesn't wilt a lot in the meatballs.

As usual, if you don't like garlic (I sometimes get complaints that I use too much garlic in my recipes) – you could leave it out – but then your meatballs won't taste just right – so, you decide. Plus – there is always the added benefit of vampire deterrent if you add the garlic. Lol.
The Milk
I know you are probably going to have questions about the saltines in the milk. Here is the answer to your question. Have you ever let a bowl of cornflakes sit out for too long and when you come back they are all mushy and unappetizing? That is what the saltines should look like. They are ready to add to the hamburger when they have absorbed all of the milk. That is how you will know. You must stir them pretty frequently to encourage them to absorb all of the milk.

You probably are going to ask me if you can use 2% or 1% or skim milk in this recipe. The answer is no. Use Whole milk. That is part of the beauty of the recipe – you can even brag – "Try my whole milk meatballs"
Nutrition
Nutrition Facts
How to Make Meatballs for Spaghetti
Amount Per Serving
Calories 386
Calories from Fat 270
% Daily Value*
Fat 30g46%
Cholesterol 127mg42%
Sodium 856mg36%
Potassium 361mg10%
Carbohydrates 5g2%
Protein 23g46%
Vitamin A 346IU7%
Vitamin C 3mg4%
Calcium 130mg13%
Iron 3mg17%
* Percent Daily Values are based on a 2000 calorie diet.
Sometimes I am not a very graceful loser. Are you? If you can't admit defeat in a gracious way, it says a lot about you. Unfortunately, if you are a sore loser and other people witness you being such, it also sheds terrible light on Christianity as a whole.
So, when I have lost (even though I gave it my best effort), I'm going to work harder to accept my defeat and simply try harder next time. Right? How about you?
Proverbs 15:27
Whoever is greedy for unjust gain troubles his own household, but he who hates bribes will live.