Buttery, Fluffy and Full of Flavor not to mention EASY these Canned Biscuits Recipes are for YOU! You'll get flavor, flaky, crunchy crust with a buttery fluffiness with these 10x Canned Biscuits Recipes!
These quick and easy changes will 10X your old canned biscuits that will absolutely have your family BANGING the table for more!

WHY THIS RECIPE WORKS?
It's fast! (It takes 30 secs more than the usual way you prepare biscuits)
This will make your biscuits TASTE GREAT!
Your family will scarf down the biscuits and thank YOU for fixing them!
These are the best canned biscuits ANYWHERE!
VIDEO OF WENDI FIXING THESE BEST CANNED BISCUITS YOU WILL EVER TASTE!
HOW DO I KNOW WHAT THE TOPPINGS GO WITH?
Having smoked sausage and cheesy orzo and onions for supper? Great – just prepare with no toppings
Are you Having best ever spaghetti sauce for supper? Perfect! Prepare the parmesan, garlic and black cracked pepper topping.
Having easy breakfast casserole for supper? Wonderful! Prepare with the sweet topping.

You can even mix it up! You can make up your own toppings! The possibilities are endless.
WHAT DO I SERVE THESE BISCUITS WITH?
Soups

Stews

Breakfast for Supper

Spaghetti

Any meal that involves a tomato sauce

A meal that involves an alfredo sauce

Any meal that involves a gravy!
Get it?
These biscuits are perfect for SOPPING UP anything. (That's a southern term – but I bet you know what it means wherever you are from).
CAN CANNED BISCUITS BE SAVED?
Once cooked, the biscuits will last like any other bread in your cabinet.
Place the cooked biscuits in a plastic zip lock bag and store for 3-5 days.
If you very tightly seal the dough, you can use it the next day. Wrap tightly in plastic wrap and place into a zip lock type plastic bag.
FAQ
HOW LONG ARE THE BEST CANNED BISCUITS GOOD FOR?
The best canned biscuits are good for 3-5 days once you have baked them. Store them in a plastic resealable bag in the cupboard for warming up later.
DO CANNED BISCUITS EXPIRE?
Yes, canned biscuits do expire, look for the expiration date on the package. You'll see that they usually have a pretty long expiration date.
DO CANNED BISCUITS HAVE TO BE REFRIGERATED?
Yes, canned biscuits need to remain refrigerated until you are ready to use them.
WHAT IF I WANT TO MAKE BISCUITS FROM SCRATCH?
I've got you covered right here with All the Secret to Perfect Southern Biscuits
Use Canned Biscuits as Dumplings!
Yes! They certainly can. Substitute them for the drop dumplings in this recipe: Chicken and Drop Dumplings
Do Canned Biscuits Have Eggs?
For this, you will have to look at the ingredient list of your canned biscuits as many use differing ingredients.
How To Make Canned Biscuits in the Toaster Oven.
To Make Canned Biscuits in your Toaster Oven…
Set the temperature according to your biscuit package (usually 350-400).
Put the biscuits on a piece of aluminum foil or a toaster oven tray.
Bake for the time specified on the biscuit roll (usually 20-25 minutes).
Then follow the instructions below for the topping to make your biscuits EXTRA SPECIAL!
How To Cook Canned Biscuits Recipes in a Skillet
Use an oven safe skillet (like a cast iron skillet).
Prepare the skillet with some non stick cooking spray or coat with butter.
Lay the biscuits into the skillet. (I like to put mine in a circle where they are touching each other).
Bake according to package instruction and add one of the special toppings I list below.
How To Make Canned Biscuits Without an Oven.
Follow the directions listed above for how to make canned biscuits in a toaster oven!
Tips and Tricks for Canned Biscuit Recipes
Canned biscuits are the perfect base for all kinds of flavors and have so many uses! Always keep a few cans in your refrigerator for a quick meal!
Be sure to prepare your skillet with a little non stick spray or a coating of oil or butter before starting. We don't want all of that deliciousness to stick to the pan.
Consider other canned biscuits recipes when you are making a family meal, there's lots of ways to dress them up.
If you have left overs, be sure to put them in a resealable plastic bag to keep them fresh
Ya'll Help Me Out, OK?
Please leave a 5 STAR Comment in the comment section below. This helps others find the recipes at Loaves and Dishes!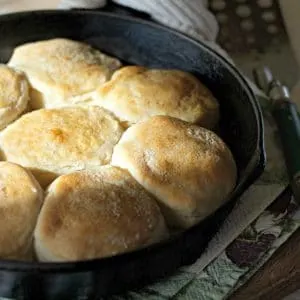 10x Canned Biscuits
This recipe gives you several toppings to try on your canned biscuits to take them to the next level to make the best canned biscuits ever!
Print
Pin
Rate
Ingredients
2

Tbs

unsalted sweet cream butter for every 4 biscuits

Pinch

of kosher salt

1

Can of Canned biscuits - any type
Savory Topping
1

clove

minced garlic

4

Tbs

freshly grated parmesan cheese

Fresh cracked black pepper - to taste
Sweet Topping
1

Tbs

white granulated sugar

1

tsp

cinnamon
Instructions
Select a cast iron skillet for the number of biscuits that you are choosing to make. If you will not make the entire can of biscuits- you can wrap the remainder tightly in plastic wrap and store in the fridge for a couple of days until ready to use. Place your butter in your cast iron skillet and place the skillet in the oven. Turn the oven on to preheat to the stated temp on your can of biscuits.

Mix together the topping ingredients that you choose and set aside.

When the oven comes to temperature, remove the skillet from the oven. Working quickly, wipe the biscuit in the melted butter and then turn it over and set it in the pan (so that both sides of the biscuit will be buttered). Be careful not to burn your fingertips - the butter is hot! Snuggle the biscuits up to one another in the pan so that they are touching. Once as many biscuits are in the pan as you desire, sprinkle with the desired topping and place the pan in the oven

Bake according to the package instructions for your biscuits. Remove from the oven when done. Serve immediately.
Notes
You can make the best canned biscuits ever by simply following these directions. Choose the different toppings for your biscuits based on what you like best to go with your dinner.
You'll need to know that once cooked, your biscuits will last for 3-5 days and you can reheat them in the oven or toaster oven. The microwave doesn't work that great for reheating bread.
Nutrition
Nutrition Facts
10x Canned Biscuits
Amount Per Serving
Calories 55
Calories from Fat 36
% Daily Value*
Fat 4g6%
Cholesterol 9mg3%
Sodium 97mg4%
Potassium 8mg0%
Carbohydrates 4g1%
Protein 1g2%
Vitamin A 108IU2%
Vitamin C 1mg1%
Calcium 35mg4%
Iron 1mg6%
* Percent Daily Values are based on a 2000 calorie diet.
***This recipe first appeared on the pages of Loaves and Dishes on October 18, 2018 and has been updated with new information, nutrition information, updated FAQ's, equipment and tips and tricks***
A VERSE TO SHARE
Do you ever think about Paul? I think about Paul a lot. Paul who was imprisoned, beaten and mocked many times all in the name of his Christian beliefs. Most of what we know as the Bible was written by Paul in letters to one church or another.
Paul didn't give up.
I love his words here, encouraging others.
2 Timothy 1: 8-9
Rather, join with me in suffering for the gospel, by the power of God. He has saved us and called us to a holy life—not because of anything we have done but because of his own purpose and grace.