Jump to Recipe
We've all been there.  It's dinner time and everyone is hungry.  Canned biscuits are easy and quick – but nothing special.  Here is a quick and easy change that will 10X those old canned biscuits into something that will absolutely have your family BANGING the table for more! 10x Canned Biscuits
The best part?  This tiny change only takes about 30 seconds more than preparing canned biscuits the usual way.
What I didn't say is, "THIS ISN'T A DIET RECIPE".  OK – it is a kind of diet – but it isn't the type of diet that you usually associate with the beginning of the year.  This is a comfort food diet.  This is a "it's cold outside and I want something hot and crunchy and soft and flaky diet."

The other best part?  You can change up the toppings and dress these up depending on the type of meal you are having – but that can wait for the actual recipe – check out this video to show you the basics.    
The other best part?  You can change up the toppings to dress these up depending on the type of meal.  
Having smoked sausage and onions for supper?  Great – just prepare with no toppings
Having spaghetti for supper?  Perfect!  Prepare the parmesan, garlic and black cracked pepper topping.
Having breakfast for supper?  Wonderful!  Prepare with the sweet topping.  
You can even mix it up! You can make up your own toppings!  The possibilities are endless.  
These crunchy buttery biscuits are perfect with:
Soups

Stews

Breakfast for Supper

Spaghetti

Any meal that involves a tomato sauce

Any meal that involves an alfredo sauce

Any meal that involves a gravy!
Get it?  
These biscuits are perfect for SOPPING UP anything.  (That's a southern term – but I bet you know what it means wherever you are from).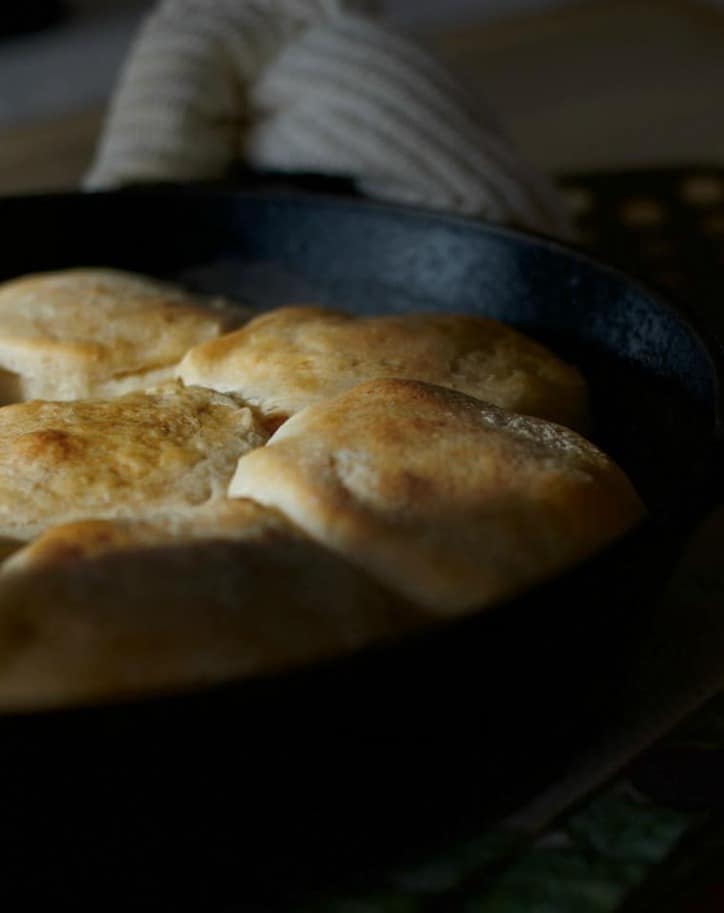 They are also perfect for throwing a few pieces of sandwich meat on and making them a meal all by themselves!
Have you ever enjoyed a crunchy breaded tenderloin biscuit or ham and cheese on a buttery crunchy biscuit?  Yeah.  Me too. You get the idea.
Are you ready to 10X your boring old canned biscuits?  Are you ready to Up the Ante? Well, here you go.  Go WILD my friends.
Recipe Inspiration for 10x Canned Biscuits
A few weeks ago, my dear friend Carolyn P and I were discussing biscuits.  You know, what else do foodies discuss?  Anywho… I was telling her about how my son complimented my biscuit once by saying that they were almost as good as canned biscuits.  Then she shared how her mom used to make biscuits when she was a kid by melting the butter in the skillet as the oven came to temp and then dipping the biscuits in the butter and flipping them before she put everything back in the oven.  I tried it too.  Here it is!  I mean, so tasty!
Thank you Carolyn.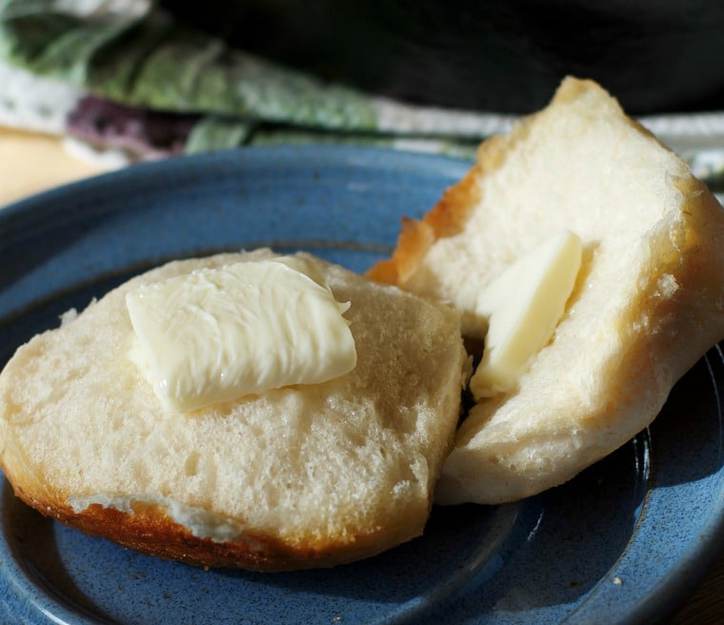 THE RECIPE FOR 10x Canned Biscuits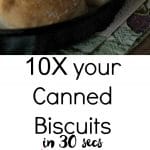 10x Canned Biscuits
Ingredients
2

Tbs

unsalted sweet cream butter for every 4 biscuits

Pinch

of kosher salt

1

Can of Canned biscuits - any type
Savory Topping
1

clove

minced garlic

4

Tbs

freshly grated parmesan cheese

Fresh cracked black pepper - to taste
Sweet Topping
1

Tbs

white granulated sugar

1

tsp

cinnamon
Instructions
Select a cast iron skillet for the number of biscuits that you are choosing to make. If you will not make the entire can of biscuits- you can wrap the remainder tightly in plastic wrap and store in the fridge for a couple of days until ready to use. Place your butter in your cast iron skillet and place the skillet in the oven. Turn the oven on to preheat to the stated temp on your can of biscuits.

Mix together the topping ingredients that you choose and set aside.

When the oven comes to temperature, remove the skillet from the oven. Working quickly, wipe the biscuit in the melted butter and then turn it over and set it in the pan (so that both sides of the biscuit will be buttered). Be careful not to burn your fingertips - the butter is hot! Snuggle the biscuits up to one another in the pan so that they are touching. Once as many biscuits are in the pan as you desire, sprinkle with the desired topping and place the pan in the oven

Bake according to the package instructions for your biscuits. Remove from the oven when done. Serve immediately.
A VERSE TO SHARE
Do you ever think about Paul?  I think about Paul a lot.  Paul who was imprisoned, beaten and mocked many times all in the name of his Christian beliefs.  Most of what we know as the Bible was written by Paul in letters to one church or another.  This passage is a letter to Timothy.
Personally, I don't like some of the things that Paul wrote.  I see in some passages where he seems to be perpendicular to the teachings of Jesus.  That said, I'm not Bible scholar – I'm just a Bible reader.  I don't think Jesus said that we EVER have to LIKE what we find in the Bible.  Did he? 
In fact, Jesus was a radical.  A super radical of his time.  How outlandish to be teaching "Love your neighbor".  He was so "out there" in fact, that he ultimately paid the highest price.  
A very high price.
Paul too – spending his life mostly locked in jail – pleading with people to simply follow the teachings of Jesus and never giving up hope.  
While I might not like or agree with everything that Paul taught.  I have to admire his faith.  Given the same set of circumstances would I have had the same faith?  I don't know.  From my cushy desk chair here it would be easy to say "sure I would".  Sitting in a cold and hard jail cell, alone, estranged from friends and family?  Maybe not.
Paul didn't give up.  
I love his words here in 2 Timothy 1 – – encouraging others.
2 Timothy 1: 6-14
For this reason I remind you to fan into flame the gift of God, which is in you through the laying on of my hands. For the Spirit God gave us does not make us timid, but gives us power, love and self-discipline. So do not be ashamed of the testimony about our Lord or of me his prisoner. Rather, join with me in suffering for the gospel, by the power of God. He has saved us and called us to a holy life—not because of anything we have done but because of his own purpose and grace. This grace was given us in Christ Jesus before the beginning of time, but it has now been revealed through the appearing of our Savior, Christ Jesus, who has destroyed death and has brought life and immortality to light through the gospel.  And of this gospel I was appointed a herald and an apostle and a teacher.  That is why I am suffering as I am. Yet this is no cause for shame,because I know whom I have believed, and am convinced that he is able to guard what I have entrusted to him until that day.