Jump to Recipe
Have you ever wondered how to put together a perfect pasta salad?  Have you ever wondered how to mix the ingredients to get EXACTLY the taste you want?  If that sounds like you, read on dear friend, the answers are RIGHT HERE!
HOW TO MAKE PASTA SALAD?
Like me, you have probably eaten literal TONS of wonderful pasta salad (don't act like you don't get heaping spoonfuls every single holiday dinner).  Some pasta salads have creamy dressing, some have italian dressing. They never have the same ingredients, but they all taste delicious!
Have you ever made a pasta salad that wasn't delicious?  Me too!
That is why I'm sharing ALL the Secrets of Tasty Pasta salad in today's post. It is as simple as an algebra or chemistry equation.  (Don't run! – it is simple!)
ALL THE SECRETS TO PERFECT PASTA SALAD
If you are like me, pasta salad is made in your home to serve one of two functions:
You have a function to attend and you are taking a pasta salad for the potluck

You have a ton of leftovers in the fridge and they need to find a home – Hello Pasta Salad!
This is the answer for both situations.  Here is the basic algebraic chemical formula for a perfect pasta salad, every single time!
WHAT GOES INTO A GREAT PASTA SALAD
(1 lb Pasta) + (crunch ingredients +color ingredients) + (protein ingredient) + (fresh herby flavor) + (Big Flavor ingredients) + (Dressing) + (salt and pepper to taste) = FANTASTIC PASTA SALAD
Read on for the lists of items in each area.
THE INGREDIENTS FOR  ALL THE SECRETS TO PERFECT PASTA SALAD
Cold Pasta Salads are made just like warm ones, you simply follow the formula above and your pasta salad will be perfect whether it is cold or hot.
PASTA  
Choose any bite size pasta that you like: If you use an entire box, that is usually ONE pound. Prepare according to the package instructions, including adding salt to the cooking water.  Drain the pasta well and do not add the other ingredients until the pasta has cooled to at least room temp.
Macaroni

Penne

Wheels

Rotini

Corkscrews

Etc.
CRUNCH AND COLOR INGREDIENTS
Choose any combination of crunch and color ingredients that you like, do so in a ratio of 3 Cups to 1 lb  pasta .
Bell Peppers, any colors

Broccoli

Cauliflower

Asparagus (cut into bite size pieces)

Squash cut into half disks

Zucchini

Cherry tomatoes

Fresh Green Peas

Thin sliced mushrooms

Sugar Snap or Snow peas

Celery (cut small)

Fresh, crispy green beans
***Some of these tougher veggies, you may choose to blanche in hot water for a few minutes to soften them for the salad (hello Broccoli).  If you choose not to blanch them, then cut smaller.  Blanching DOES brighten their color significantly and will make a prettier salad.
***Remember that grilling or roasting some veggies also brings out whopping flavor!  Try roasting some carrots, tomatoes, broccoli or bell peppers to put in your pasta salad!  So delicious!

PROTEIN INGREDIENTS
Choose one protein ingredient add it in a ratio of 1 Cup:1 lb of pasta. Make sure the protein is seasoned to taste with salt and pepper before adding to the salad.
Boiled egg

Canned Bean – like garbanzo, pinto, black bean

Lobster

Shrimp

Crab

Tuna

Mild Cheese – like swiss, muenster, Jack, cheddar, etc.

Shredded Roasted Chicken

Roasted or Toasted Cashews, peanuts, pine nuts or sunflower seeds
*** Beef and Pork (other than as cured meats)  are not often an additive in pasta salad – I don't know why – so, if you feel adventurous, make sure it is fully cooked, cut very small and has a lot of flavor.  My recommendation would be to go with a theme for a beef pasta salad – like a "Philly cheese steak" pasta salad adding beef, provolone chunks, bell peppers, onions,  roasted mushrooms and roasted tomatoes. ***
***Keep in mind if you will be able keep your pasta salad cold while serving.  Many of these protein items will not remain fresh for long left out to the elements***
BIG FLAVOR INGREDIENTS
These ingredients gives your pasta salad a real POP!  Choose any of the following in a ratio of 1 Cup to 1 lb of pasta.  Mix and match at will – just stay with the total ratio.
Pepperoni

Salami

Ham

Feta cheese

Blue Cheese

Goat Cheese

Red Pepper flakes

Olives

Capers

Sundried Tomato

Bacon

Prosciutto

Pine nuts

Salmon

Grated Parmesan
FRESH HERBY FLAVOR
This is probably the most important ingredient of all (besides pasta).
Choose any of the following in an ratio of ⅓ Cup: 1 lb pasta
Red onion – sliced thin and/or chopped

Green onion/scallions

Chives

Basil

Thyme

Orange Zest

Lemon Zest

Dill (Usually works best with creamy dressings)

Mint (Usually works best with creamy dressings)

Fresh Parsley

Cilantro

Arugula

Rosemary (very strong and woody – use less – about 1 Tbs per lb of pasta – and chop very small)

Tarragon (very strong flavor – use less – about 1 Tbs per lb of pasta)
SALAD DRESSING
This is a MUST do ingredient!  (if you want your pasta salad to turn out right, that is).  Add in a 1 Cup:1 Lb pasta salad ratio.  (You can always add a tad more if you need to).
Choose any of the following or one of your own – and gently toss it in:
Bottled Ranch Dressing

Ranch Dressing you make from the dried packet

Bottled Italian Dressing

Bottled Zesty Italian

Bottled Green Goddess

Italian Dressing you make from the packets

Italian Dressing made from the packet and substitute lemon juice for water.
*** Use any salad dressing that you choose (you might sample it on a small bowl of the pasta salad before dumping it in to make sure you like it).  The secret is to make sure the salad dressing is well mixed before adding it  – this helps it adhere to the pasta.  
*** I do not recommend any Balsamic Vinegar based dressing as this usually turns the pasta a brown unappetizing color.
SALT AND PEPPER TO TASTE
Now, you have to give it a taste and add a final dose of salt and pepper.  Fresh cracked pepper is always a lovely ingredient and has a little pop of flavor too.  Be careful with the salt – it is easy to add too much but without it the pasta salad will be a dud.
SAMPLE PASTA SALAD RECIPES FOR ALL THE SECRETS TO PERFECT PASTA SALAD: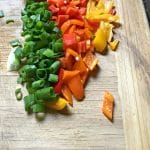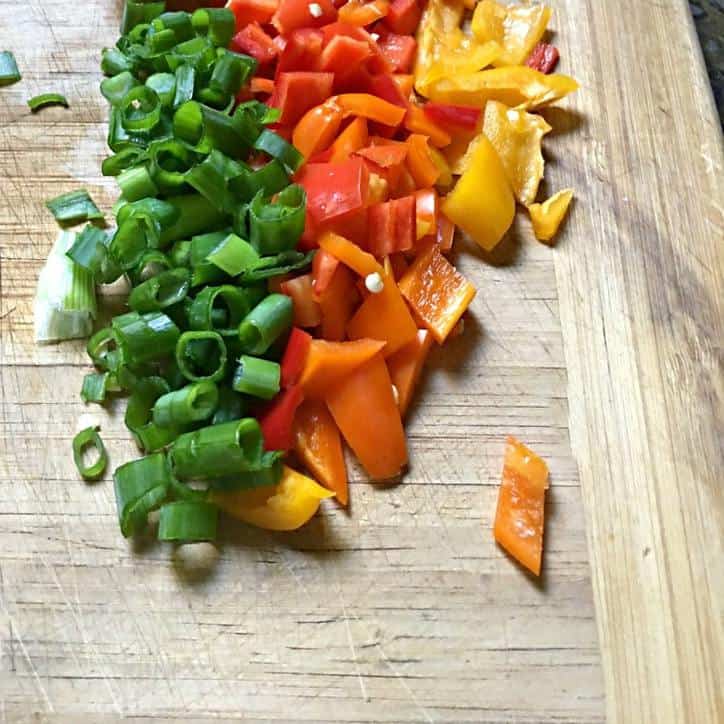 ALL THE SECRETS TO PERFECT PASTA SALAD
Simple recipe for pasta salad
Ingredients
1

lb

Pasta

1

Chopped Bell Pepper

any color or mix and match

2  

Cups

Chopped Cherry tomatoes

1

Cup

Garbanzo Beans

½

Cup

of Ham

½

Cup

Muenster Cheese

⅓

Cup

Thinly sliced and chopped red onion

½

Cup

Good quality Olive Oil

½

Cup

Lemon Juice

2

packets of Italian Dressing
Instructions
Cook Pasta according to package instructions.  Be sure to salt the water well.  When reaches al dente (about 10 minutes), drain and cool.

Chop all of the remaining ingredients (except lemon juice, olive oil and italian dressing) into bite sized pieces.

Mix lemon juice, olive oil and italian dressing into a small glass jar with a lid and shake well.

Mix the pasta and chopped ingredients gently with a spatula.  Pour the dressing over the top and gently fold in with a rubber spatula.  Chill and serve cold.
Recipe Notes
Easy Pasta Salad
Nutrition Facts
ALL THE SECRETS TO PERFECT PASTA SALAD
Amount Per Serving (3 g)
Calories 140
* Percent Daily Values are based on a 2000 calorie diet.
Green Goddess Pasta Salad
1 lb Pasta

3 Cups broccoli and carrot slaw (available in veggie section of grocer)

1 Cup Pinto Beans

¾ Cup sliced black olives

¼ Cup sun dried tomato

⅓ Cup fresh chopped parsley

1 Cup Green Goddess Dressing

All American Pasta Salad

1 lb Pasta

1 Cup Broccoli (blanched)

1 Cup Carrot disks (blanched)

1 Cup Red peppers chopped

1 Cup Pinto Beans

1 Cup Pepperonis

1/3 Cup Arugula

2 Tbs Green Onions chopped

1 Cup Ranch Dressing
High Falutin Pasta Salad
1 lbs Pasta

3 Cups Asparagus tips – blanched

1/2 Cup black beans

½ Cup Toasted Walnuts – chopped fine

1 cup goat cheese

1 Tbs red pepper flakes

⅓ Cup arugula

2 Tbs chopped chives

½ cup good quality olive oil

½ cup good quality mild rice wine vinegar
IF YOU ENJOYED THIS RECIPE AND POST, THEN YOU MIGHT ALSO ENJOY…
10 Minute Homemade Creamy Pasta Sauce
A VERSE TO SHARE
What do you believe about your own success?  Do you believe that you are have achieved your station in life by working hard and making good choices?  I'm sure that has a great deal to do with it.
The Bible tells us many times to be wise and make good choices.  
Do you believe that you have reached your goals because God is in your life?  You have prayed for success and your prayers were answered?
The Bible tells us to boldly ask for what we want, right?  
We've talked before about how God wants for us what we want.
But what about people who haven't achieved.  What about people who live in poverty as adults?  How did they get there?  
Do you believe it is because of their bad choices and laziness?
Perhaps.  Then again, it might not be.  Have you ever walked in the shoes of someone of a different race?  Have you taken off your white skin and become brown?  Have you removed your brown skin and become white?  No. You haven't.
I only know of one story where someone steps into a skin other than his own.  That is the story of Jesus Christ.  Do you know him?  If you do, then you are brothers and sisters in Christ. I encourage you to find love for your brother man (woman) regardless of his skin color.  
That is the only way to peace that I know.  
I beg you to step out of your narcissistic egotistical world view and look with generosity on your brother, turning your cheek if you have to.  After all, isn't that what Christians are called to do?  
I think so.
1 John 4: 7- 21
Dear friends, let us love one another, for love comes from God. Everyone who loves has been born of God and knows God. Whoever does not love does not know God, because God is love.  This is how God showed his love among us: He sent his one and only Son into the world that we might live through him. This is love: not that we loved God, but that he loved us and sent his Son as an atoning sacrifice for our sins.  Dear friends, since God so loved us, we also ought to love one another.  No one has ever seen God; but if we love one another, God lives in us and his love is made complete in us.
 This is how we know that we live in him and he in us: He has given us of his Spirit.  And we have seen and testify that the Father has sent his Son to be the Savior of the world.  If anyone acknowledges that Jesus is the Son of God, God lives in them and they in God.  And so we know and rely on the love God has for us.
God is love. Whoever lives in love lives in God, and God in them.  This is how love is made complete among us so that we will have confidence on the day of judgment: In this world we are like Jesus.  There is no fear in love. But perfect love drives out fear, because fear has to do with punishment. The one who fears is not made perfect in love.
 We love because he first loved us.  Whoever claims to love God yet hates a brother or sister is a liar. For whoever does not love their brother and sister, whom they have seen, cannot love God, whom they have not seen. And he has given us this command: Anyone who loves God must also love their brother and sister.