Holy Moly. CHUNKY GUACAMOLE!  (I couldn't resist!). You need a quick recipe that you can take to parties this summer, don't you?  I knew you did!  This is THE ONE!  Simple.  Easy. Will be gobbled up in a few minutes.  Promise.
At one time there was a fun little Mexican Restaurant in Winston Salem called, "El Sombrero".  El Sombrero won some local food awards for various dishes, but if you ask me, the best dish in the whole place – hands down- was the chunky Guacamole.  The problem with El Sombrero was – it was TOO FAR away from me!  An hour drive is too far to enjoy Chunky Guacamole whenever I want!  Because, believe me, I want this stuff way too much!
I had to learn to make Chunky Guacamole myself! This recipe has been in my repertoire for a few years now and is one of my "go to" dishes for when I am in a hurry,  but need to take a dish with me somewhere.  Just add some tortilla chips and you are GOLD!
Let me start by saying, you could make an even better tasting version by making your own Pico De Gallo.  Fantastic – but that takes a lot of time – chopping.  In this version, however, we are going for "quick and easy" as well as tasty and delicious.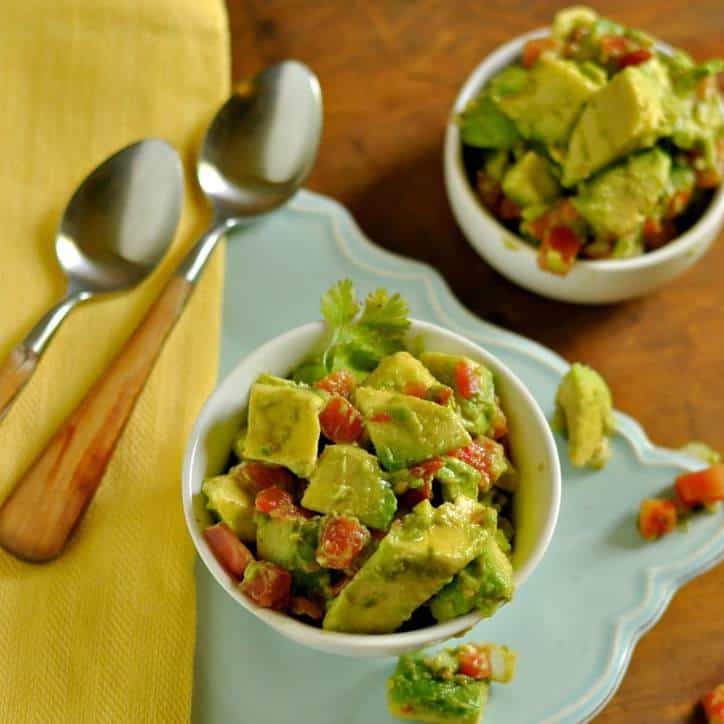 What is your "go to" dish when you need to take something but must run out the door in a few minutes?  Let me know in the comment section below!
I hope you will enjoy this chunky guacamole as much as we have!
This is how we know what love is: Jesus Christ laid down his life for us. And we ought to lay down our lives for our brothers.  John 3:16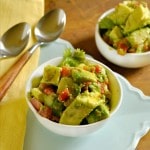 Chunky Guacamole
Ingredients
3

ripe avocados

1

package of store prepared Pico de Gallo

available in the fruits and veggie section

¾

tsp

garlic salt

1

lemon – juice

Salt and pepper to taste
Instructions
Remove the avocado skin and seed, cut into 1 inch cubes and place in a bowl. Add the Pico de gallo and garlic salt. Stir gently.

Squeeze the juice of one lemon over the top and stir while adding juice.

Add salt and pepper to taste.

Serve with tortilla chips, garnish with lime slices and cilantro leaves.