I've got something unpopular to say. Here it is: It is kind of fun being popular! Don't you think so? I'm not talking about "Homecoming Queen" popular – Lord knows, I've never experienced that kind of popularity. I'm talking about the kind of popular where people are glad to see you coming. For a long time I've noted that cooking can make one popular even when one might not be otherwise. Seriously. Show up with a crockpot full of Creamy Fettucini Alfredo and see what happens. Even if you have a scowl on your face, people will say, "Here she comes WITH DINNER"!! They will be hopping around like happy puppies. Make some Blueberry Muffins or Sausage Gravy for your husband and his buddies on a weekend morning and you'll see – instant popularity -, "HEY MARK, We LOVE your wife! You LUCKY Dog". Of course, they are speaking from their bellies, but I'll take it. Blueberry Cobbler has the same effect.
I don't want to sound like Lucille Ball talking about Vitameatavegimin (hilarious) by the way, "It will make you poopular". But, you know, if you want to up your game some, cooking is one way to do it – just sayin. Now, I know some of you are thinking, "I came for the recipe already!". Welcome to the Loaves and Dishes Express Lane. Here is the recipe. But for the rest of you – the ones who want to know "the rest of the story" and the Tips and Tricks about this recipe as well as where I got this recipe, just hang in there. Stay with me after the recipe and the process photos and we will chat….. come on….
THE RECIPE FOR BLUEBERRY COBBLER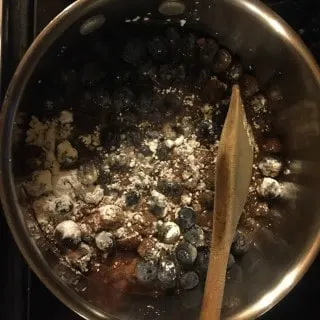 Blueberry Cobbler
If you would like to know the special "tips and tricks" for this recipe please visit the original post at www.loavesanddishes.net
Print
Pin
Rate
Ingredients
For the Cobbler
2

Cups

Frozen Blueberries

1 14

oz

can of Sweetened Condensed Milk

1

lemon zest

2

cups

of biscuit mix - divided

¾

Cups

cold butter plus 2 tbs divided.

½

cup

firmly packed dark brown sugar

½

cup

chopped pecans
For the Sauce
½

cup

sugar

1

tbs

cornstarch

½

tsp

ground cinnamon

¼

tsp

ground nutmeg

½

cup

water

2

Cups

frozen blueberries
Instructions
Preheat the oven to 325. Spray a 9x9 or 9" round baking dish with cooking spray (you can even use a cast iron skillet!). In a medium sized bowl combine the blueberries sweetened condensed milk and the zest of one lemon.

In a large bowl place 1 ½ cups of the biscuit mix and cut in ¾ cup of the butter with two knives or a pastry cutter. Once all cut in - (will be coarse sized biscuit mix pieces) pour this into the blueberry mix. Mix gently and spread into the prepared pan. Sprinkle the pecans over the top of that. Set aside.

Combine the remaining ½ cup of biscuit mix with the brown sugar in a small bowl. Cut in the remaining 2 Tbs of butter. Sprinkle this over the top of the blueberry mix. Bake at 325 for 65 minutes.

Combine all of the sauce ingredients in a small saucepan and heat over medium heat on the stove top. Once the cobbler is finished, serve and either pour the sauce over the top or allow guests to serve as they would like. Cobbler is excellent served with icecream.
Notes
This recipe is rich but so delicious.
Nutrition
Nutrition Facts
Blueberry Cobbler
Amount Per Serving
Calories 350
* Percent Daily Values are based on a 2000 calorie diet.

TIPS AND TRICKS FOR BLUEBERRY COBBLER
If you do like I almost always do – and accidentally put all of the butter in with all of the biscuit mix – don't worry about it. Just scoop out about ½ cup of it after you have cut in the butter. Add the brown sugar to that and sprinkle it on the top. It will work out just fine.

For these photos, I very carefully drizzled the blueberries over the top just before I took the photos. In fact, my friend Rebecca served this dish allowing guests to put their own blueberries on. However, when I make this at home, I just pour ALL of the blueberries over the top and let it set. It works that way too. Not as nice for pictures though.

Don't' let the blueberry sauce overcook because all of the little blueberries will burst and it won't be as pretty.

The cobbler part of this recipe is very cakey. That is how it is supposed to be.

The most excellent thing you will ever eat is this cobbler, hot out of the oven with very cold vanilla ice cream on top. You can't beat that. Ever.

I have made this with fresh and with frozen blueberries. I actually think using frozen blueberries and using them frozen right in the recipe for both the sauce and the cake is the best.

***Adding this item late due to questions that I have been asked. I typically use Bisquick for a biscuit mix – not as a paid endorsement – just as a fact. There are several other brands and substitutions out there which work well too. For example, right this moment, I have the Aldi Brand Biscuit mix in my cabinet and find that it works just as well. That said, some of my readers live across the pond (so to speak) and are not familiar with biscuit mix (or even the U.S. kind of biscuits – because a UK biscuit is a cookie to us!). So, here is a recipe for biscuit mix. I have not made biscuits from this recipe but I USED to have the recipe myself – and I can't find it. I know this is very similar to what I had at one time. Perhaps this is a post for another day. Go check out My baking Addiction and her Biscuit Mix Recipe right HERE.
THE RECIPE INSPIRATION FOR BLUEBERRY COBBLER
A few years ago, probably like 8 or 9 years ago (can it really be that long)? Yes. It can. I went to a ladies dinner at my friend Rebecca's house. We all brought something. I believe it was in celebration of my other friend (Emily's) (who watched GREASE on TV with me the other day) birthday. Anyway, we gathered at Rebecca's house and she made this cobbler.
As usual, I was trying to lose weight. I have been trying to lose weight for well over 30 years. 6 months ago, I finally gave up and decided to just let happen what would happen. I completely figured I would weigh about 600 lbs in a year. In effect, I said, "To H*LL with it". Guess what? I've lost about 35lbs since then. I'm eating whatever I want to eat and I am trying to listen to my body and stop when I am not hungry anymore. That's it. I'm being reasonable. I have never ever tried being reasonable before. Reasonable is just not my style. (It is one of the gifts of getting older though – I get bent out of shape less about a whole lot of things and that makes me more reasonable). I'm not recommending that YOU start being reasonable – I'm just telling you what is working for me today. It is perfectly conceivable to me that it might stop working tomorrow – that is kind of the way things go for me – maybe for you too. However, just moving forward with life regardless of what is going on around me, being present, not worrying, praying, dancing, trying to listen to my body and being reasonable – it is working for me. (I also stopped worrying about a whole bunch of other things – and some amazing transformations have happened – but I'm not ready for that tell all yet).
Anyway, Rebecca prepared this lovely blueberry cobbler. It was heavenly. I only ate about ½ of my piece because, as I said, I was dieting and all about denying myself everything. Finally, though, I had to ask her for the recipe. This is her recipe. I only changed a few tiny things. I think she said she got the recipe from the Eagle Brand website – because they make a sweetened condensed milk which this recipe calls for.
I hope that you will try this recipe and if you do – please leave me a comment and let me know how it went. Any suggestions or hints and tips and tricks of your own? I LOVE comments. Thank you for visiting!
Do not be quickly provoked in your spirit, for anger resides in the lap of fools. ~ Ecclesiastes 7:9