Jump to Recipe
I know you came here to read about Corn Dip, but I have to ask – what is the most vital purpose of your kitchen?  Is it food preparation?  At my house, the most IMPORTANT purpose of the kitchen is for listening to music and dancing.  This has something to do with Corn Dip because some terrific dancing took place while I prepared this Corn Dip.  Corn Dip has such a long history for me and I want to share it ALL with you.  I am hoping that you have a similar dish in your life – cause I want to hear about that!
This Corn Dip that you see right here has a fascinating and TORRID history, but some of you are here only for the recipe. That's fine. At Loaves and Dishes we have an express lane.  A photo follows this and then the recipe.  However, if you want to see some pictures of the process for how to put this together, if you want to know the tips and tricks to preparing Corn Dip OR if you want to know what in the world Corn Dip has to do with kitchen dancing or how it could possibly have a TORRID past, then meet me after the recipe and the process photos and we will chat.  
THE RECIPE FOR CORN DIP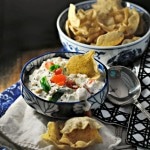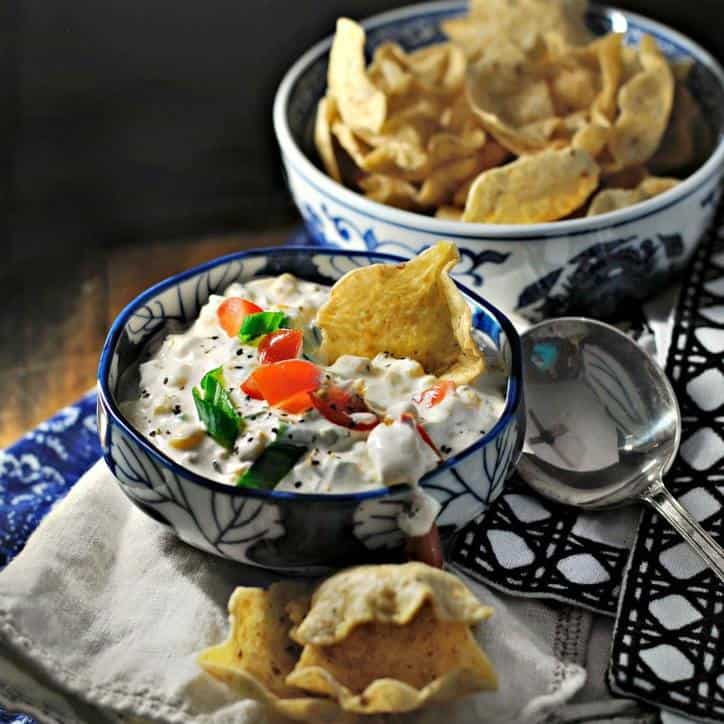 Corn Dip
If you enjoy this recipe for Corn Dip, please visit www.loavesanddishes.net for more great recipes!
Ingredients
1 16

oz

sour cream

1 ½

Cups

Mayonnaise

2 15.2

oz

cans of southwest corn

6

green onions chopped

4

jalapeños seeded and chopped

2

cans chopped green chilis

2 ½

Cups

shredded cheddar cheese
Instructions
Mix all ingredients, stir well. Refrigerate for 1 hours before serving. Serve with corn chips.
PHOTOS OF HOW TO PUT CORN DIP TOGETHER
DANCING AND CORN DIP
Hello again dear friend.  Yesterday the TV "LIVE" version of GREASE came on TV!  Did you see it?  A friend of mine planned to come over and bring her children so we could watch it together!  A few years ago, our daughters starred in the local production of GREASE and it is a wonderful memory that we share.  Maybe I can dig a few of those pictures out for you.  Anyway, my friend was coming and we planned to have "Dip Night" in which we would share our favorite dips and just let that be our dinner. Here is a picture of the cast.  Thanks Peter Holland! 
My  baby grandson who is almost 5 months old was also visiting.  He has a special baby chair that allows him to sit on the kitchen counter when I am working in there.  We have a LOT of fun together.  We sing.  We jingle the measuring spoons.  We play with wooden spoons.  Good Times!  We also CRANK up the TUNES!  In my kitchen, I am usually playing Bluegrass because everyone knows – that is the best kitchen music ever!
Bluegrass also inspires dancing – well, for me anyway it does.  Yesterday while making this corn dip with my grandbaby sitting on the counter and with the Bluegrass Tunes cranked up – I was showing him my very best dance moves!  He laughed and laughed.  While he can't talk yet, I just know he was thinking, "Mimi, you have the MADDEST dance SKILZ EVER!".  I could tell because of the way he was smiling!  
Isn't that what the kitchen is for?  I mean, if the kitchen wasn't for dancing – then why would there be such a flat wide space?  Of course it is for dancing!  Preparation of good food DEMANDS dancing! My feet and the whole rest of me gets really happy thinking about delicious food coming soon!  It makes for a happy dance move!  (Just DO NOT let out a "WHOO!" while dancing to Bluegrass in the kitchen – because that scares the baby and makes his eyes go wide and his hands swing into the air).  I haven't yet schooled him on the proper hollaring etiquette involved in listening to the Best Bluegrass ever. He will learn.
THE TORRID HISTORY OF CORN DIP
So where did this recipe come from?  I'll tell you.  It came from my friend Heidi.  Heidi and I have known each other for about 30 years – we went to college together. Heidi is just one of a large group of my girlfriends from college who still get together every year.  We affectionately call our time together, "Girls Weekend".  It is coming right up by the way!
Girls weekend has changed over the years.  Many years ago when we were young Several years ago when we were younger *** one could say that we occasionally indulged a little too much.  On one such year when we met in Gatlinburg, TN Heidi brought this lovely recipe for Corn Dip.  While yours truly controlled herself (that year anyway), a few others did not.  Sadly, some of us ended up seeing this corn dip over and over and over again for the rest of the night.  That is all I am going to say about that except, I don't think Corn Dip is welcome at Girls Weekend any more. ***(Wording changed because THE HEIDI who supplied this original recipe emailed to say that she had read my post and she protests to being "middle aged".  "We're still young, dang it. Sort of young."  LOL.  Here is to you, my friend.  We ARE young.  It's all relative anyway. 🙂
That said, I still love Corn Dip and am thankful that Heidi shared this recipe.  I hope you will give it a go and let me know how it works for you!  The comments section is way on down there at the bottom of this post – I would love for you to leave me a comment and let me know if you are a kitchen dancer too.  Maybe we could start a club or something.  What kind of music do you have in your kitchen?  Radio? Stereo?  I have two computer speakers on top of my refrigerator that I can hook my phone up to and use Pandora or my Amazon Prime Music.  Anyway, tell me all about it – I want to know! 🙂  I can't wait to chat about it.
One thing I feel compelled to say this time – Ya'll know by now that I am a Christian and that is why I share a Bible Verse on each post. I have never said this to you before, but for some reason I feel led to today.  Maybe it is meant for you.  If you want to talk to me about your path with God, I would love to talk to you.  You can email me and we will go from there.  I am not practiced or skilled at leading anyone to The Lord – but I am counting on the fact that He will supply the right words and the right actions at the right time. I have spent a lot of my time in the world lost or walking the wrong path.  Maybe some of my mistakes can help you. The result is that I am content now and I pray that you are too.
Many are saying of me, "God will not deliver him." 3 But you, LORD, are a shield around me, my glory, the One who lifts my head high. 4 I call out to the LORD, and he answers me from his holy mountain. 5 I lie down and sleep; I wake again, because the LORD sustains me. 6 I will not fear though tens of thousands assail me on every side. ~ Psalm 3:2-6