Summer weekends mornings are made for enjoying the warm sun, curling up on the deck furniture and enjoying mouthful after yummy mouthful of blueberry mini muffins with a crumble top. Thats how unapologetic comfort food should be!!
The best part about a blueberry mini muffins with a crumble top? You can eat MORE because they are so small! And hey, if YOU are small, these are the right size for you!
***FYI*** THE PRINTABLE RECIPE CARD IS THE VERY LAST ITEM ON THIS POST***
Mr. Loaves and Dishes insists that these mini muffins have the correct proportion of crisp exterior to soft interior with blueberries. I must admit, these are LOADED with berries. If for some reason you like more cake in your blueberry mini muffins, then just back off on the berries, it won't mess up the recipe at all.
WHAT IS A Blueberry Mini Muffins with a Crumble Top?
Just like the title implies, these are the small bite sized muffins and they are packed with blueberries! This particular muffin has a crumble top. If you aren't interested in the crumble top then you might want to check out my BAM! Blueberry mini-muffins because, No crumble top.
CAN YOU USE FROZEN BLUEBERRIES FOR Blueberry Mini Muffins with a Crumble Top?
The short answer is, yes! You CAN use frozen blueberries. Simply dump the frozen berries into the mix when blueberries are called for. You may have to bake a few minutes longer and the blueberries may not explode like the fresh do but they will still taste AWESOME!
WHAT IS THE DIFFERENCE IN STREUSEL AND CRUMBLE TOPS?
Technically, there is probably a difference, but for our use, they are the same. You can go look at the definition of streusel topping on Wikipedia and you can look up crumb topping on Martha Stewart and you will see that they are essentially the same.
WHAT DO I USE TO MAKE THESE Blueberry Mini Muffins with a Crumble Top
There are THREE kitchen items that I think you should have in your arsenal before making these mini muffins and You can click the pictures as an affiliate link where you can go through to Amazon to see the item for sale.
Of course, you need a MINI MUFFIN PAN – otherwise, how else would you get the tiny muffins?
Secondly, I recommend using THE MINI MUFFIN CUPS , this helps make the pan easier to clean when you are done. Bad memories of cleaning the pan can cause you to avoid making them the next time – so, do everyone a favor and use the papers. You will want to make these again. If you aren't going to use the cups, then please, for the love of God use a good baking spray and spray the devil out of the pan, cups, sides, etc.
I also recommend a small scoop. I have one of these SMALL SCOOPS and I use it ALL the time! It is especially handy with these muffins because it puts exactly the right amount of blueberry mini muffins with a crumb top mix right into the cup without slopping it everywhere.
TIPS AND TRICKS FOR MINI BLUEBERRY MUFFINS WITH A CRUMBLE TOP
I think I already gave all of the tricks but I'll do a quick run down again here:

Use the muffin papers because this is a sticky mess in your muffin tin if you don't.

Use baking spray if you don't use the muffin papers and I mean, you need to spray the heck out of that pan.

That little scoop pictured above is a life saver with these mini blueberry muffins with a crumb top because you can get the exact right amount of muffin batter into the cup without spilling it everywhere.

TERRIFIC USES

These are terrific for a party, for kids, for snacking and for portion control. Do NOT leave them out where you can graze and eat as many as you like – unless of course, you are aiming to loosen your belt a few notches.

We love to take these along in a ziplock bag on bicycle trips – they are perfectly travel worthy.

These freeze well, so if they make more than you need, simply freeze the rest. You can microwave them as you want to enjoy them – or just give them a few minutes and they thaw to room temp rather quickly.
IF YOU ENJOYED THIS RECIPE, YOU MIGHT ALSO ENJOY….
Blueberry Balsamic Chicken Salad
PHOTO INSTRUCTIONS FOR HOW TO MAKE BLUEBERRY MINI MUFFINS WITH A CRUMBLE TOP
THE RECIPE FOR MINI BLUEBERRY MUFFINS WITH A CRUMBLE TOP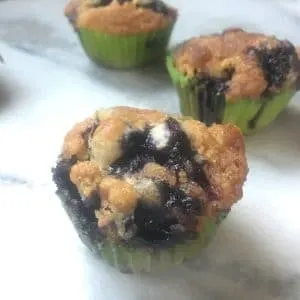 BLUEBERRY MINI MUFFINS WITH CRUMBLE TOP
This is a recipe for blueberry mini muffins with a delicious crumb top
Print
Pin
Rate
Ingredients
For the Muffins
1 ½

Cup

All Purpose Flour

¾

Cup

Sugar

½

tsp

salt

2

tsp

baking powder

1/3

Cup

Vegetable Oil

1

egg beaten

1/3

Cup

plus ½ cup milk

¼

tsp

pure vanilla extract

1/8

tsp.

pure almond extract

2

Cups

fresh or frozen blueberries
For the Crumb Top:
⅓

Cup

packed dark brown sugar

2

Tbs

All purpose flour

¼

tsp

ground cinnamon

⅛

tsp

ground nutmeg

1

Tbs

unsalted butter
Instructions
For the Muffins:
Preheat the oven to 400

Prepare muffin tins by either spraying with baking spray or placing muffin cups.

In a medium sized bowl, whisk together flour, sugar, salt and baking powder to make sure well blended.

In a separate small bowl, beat the egg. Add the oil and both measurements of milk and the vanilla and almond extracts to the egg and mix.

Pour the liquid ingredients into the dry ingredients and mix well with a spatula – do not over mix.

Fold in the blueberries gently with a spatula.

Fill muffin cups to ¾ full.
For the Crumb Top:
In a small bowl mix all of the ingredients for the crumb top together.

Using your hands, pinch and crumble the butter into the other ingredients until it resembles course and bumpy cornmeal.

Sprinkle this onto the tops of the muffins. Do not mix in. Proceed with baking.
BAKE:
Bake at 400 for 20-25 minutes. Check at 18 minutes and recheck every 2 minutes thereafter till done.
Notes
This recipe makes about 24-30 small mini muffins using blueberries and a crumb top
Nutrition
Nutrition Facts
BLUEBERRY MINI MUFFINS WITH CRUMBLE TOP
Amount Per Serving
Calories 127
* Percent Daily Values are based on a 2000 calorie diet.
A VERSE TO SHARE
Here we sit on the precipice of Easter. We all know about Jesus' sacrifice for our sins. It is a heavy burden we all carry, especially if we turn our backs and walk away without accepting this tremendous gift.
Yet, I can't stop thinking about Mary. Perhaps because I identify with her as a mother. Sure, we are separated in so many ways it is unfathomable (nationality, religion, time – just to name a few). However, the truth of motherhood crosses all barriers present.
MY OWN CHILDREN..
When I think about my daughters and I ziplining a couple of years ago and how I couldn't even bare to watch them leap from the platform, I have some tiny realization of how Mary must have felt. I'll admit, that isn't much of a comparison. It is all I have though.
That small comparison does remind me that it is LOVE is what is behind those emotions. A true love, the love of a mother. A mother's love always protects, always trusts, always hopes, always perseveres.
I am in awe of Mary nearly as much as I am in awe of her son. Thank you Mary for your gift.
1 Corinthians 13:4-8
Love is patient, love is kind. It does not envy, it does not boast, it is not proud. Love does not dishonor others, it is not self-seeking, it is not easily angered, it keeps no record of wrongs. It does not delight in evil but rejoices with the truth. Love always protects, always trusts, always hopes, always perseveres.
It never fails. But where there are prophecies, they will cease; and where there are tongues, they will be stilled; where there is knowledge, it will pass away.