Tangy, sweet and that PERFECT taste of fall! Today is the day for cooked apples and I know you and your family will be thrilled with this or any of my country favorite sides!!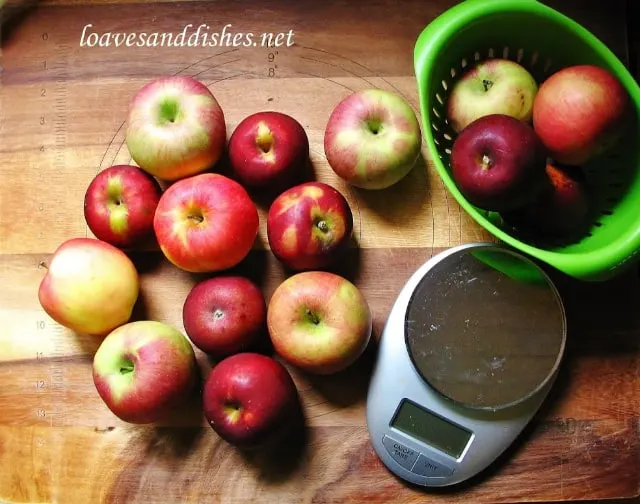 Cooked Apples
A real family favorite the gives a zingy apple taste without overpowering it with spices and other flavors.
Let the Appleness SHINE through, I say!
Here's my secrets for how to make your cooked apples the STAR of the dinner table!
Layers of Flavor – by using real butter, brown sugar and different types of apples.
Cook the Apples Properly – you don't want to overcook these apples in order to keep the flavor of the apples intact.
Rounding Out Flavor – by making sure we have a little sweet, heat, acid, fat and salt. Most of the flavor combos for the best cooked apples ever.
Here's What You'll Need For Knock Your Socks Off Cooked Apples!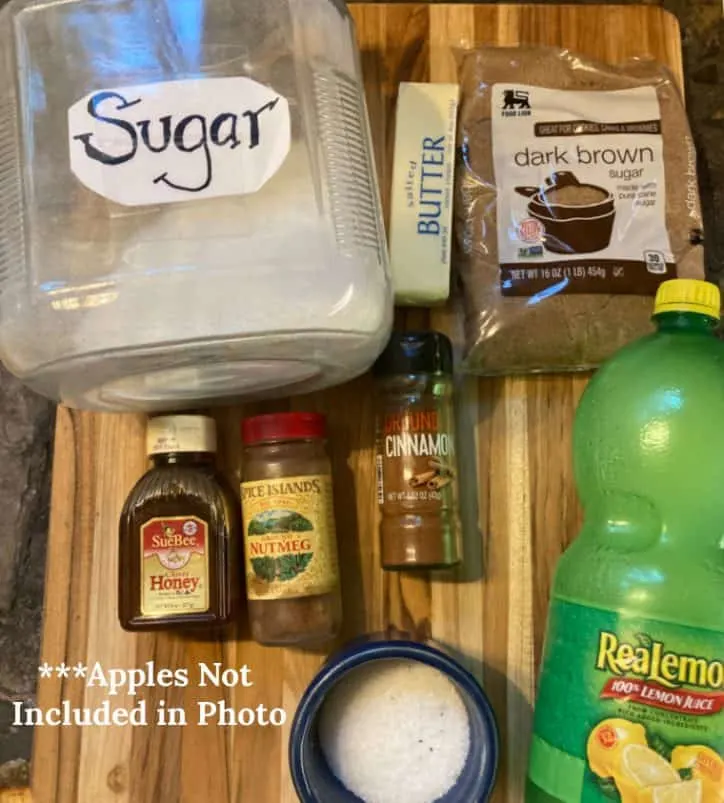 A Variety of 4 Apples that includes 2 Granny Smith.
Butter
Dark Brown Sugar
White Sugar
Honey
Lemon Juice
Ground Cinnamon
Kosher Salt
Here's How You Do It…
The Key Steps For Success:
Peel the apples and cut into bite size slices.
Coat with lemon juice.
Cook in Butter.
Add the sugar and seasonings.
Frequently Asked Questions (FAQ's)
How Long Are Cooked Apples Good For?
Cooked apples will keep covered in the refrigerator for about 5 days.
Don't let cooked apples sit out for more than 2 hours before refrigerating.
Can I Freeze Cooked Apples?
You CAN freeze cooked apples, but the consistency changes slightly when you thaw them. If you have access to fresh apples, you will probably prefer to make these when you want them from fresh ingredients.
Can I Use Cooked Apples in Other Recipes?
Sure! We love ours on pancakes, waffles and as a topping on ice cream!
What To Serve With Cooked Apples
A garlic roasted pork loin is an awesome choice as is any pork chop or cut of pork.
For a quick and delightful dinner, simply make cooked apples and link sausage. Top with a few leaves of a bitter green like arugula and you've got a delicious meal that hits all the flavor points!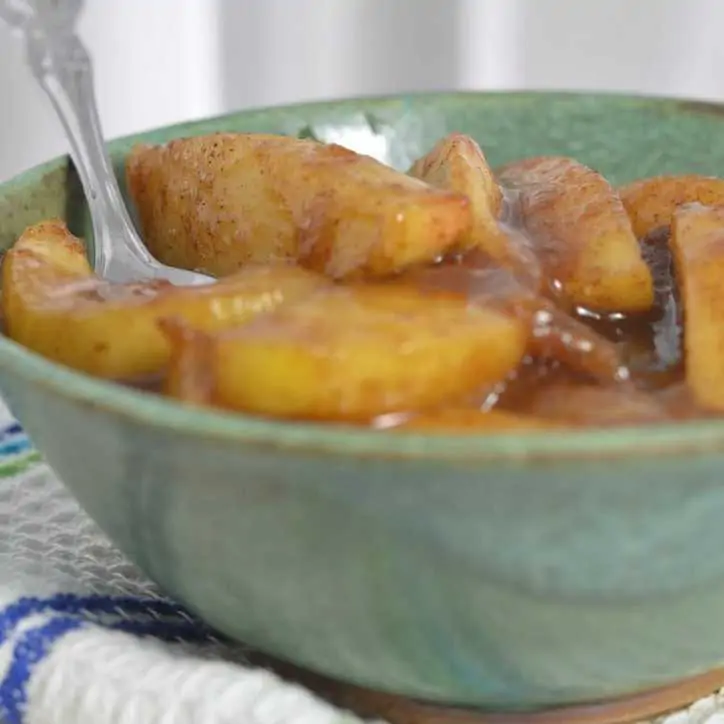 Tips and Tricks
It's important to choose at least two types of apples and one of those must be Granny Smith. The granny smith gives the dish some TANG and also she holds up well against the heat maintaining her shape!
The other apple you choose should be more in the sweet spectrum. Something like a Gala is a good choice.
Of course, you can substitute out margarine or a butter substitute for the butter, but believe me, the butter tastes best. This is a special treat and something you should just splurge on when you make it.
If you want the BEST tasting results, go with a whole cinnamon stick and an actual nutmeg nut and then grate those on a microplane. The flavor boost is phenomenal. However, if what you have is the already ground kind, that will work too.
Are you using table salt instead of kosher? Then start with half the amount. Kosher salt has a bigger grain to it and it isn't as salty when using it.
When using kosher salt, add the salt, give it some time to dissolve and then taste. This allows time for the salt to dissolve and mix in with the dish.
The salt really brings out the tanginess and sweetness of the apples.
When cooking the apples, only cook them until they are fork tender. Remove from the heat and allow them to rest for just a bit before serving.
You are surely going to ask: Do I REALLY NEED three kinds of sugar? I guess that depends if you want the depth of flavor that this dish provides. If so, then yes.
Want to know a whole lot more about the history of apples in cooking? Here's an interesting article!
PRO TIP: Slowly cook the apples in the butter until the butter absorbs. This is what gives those apples a delightful buttery flavor.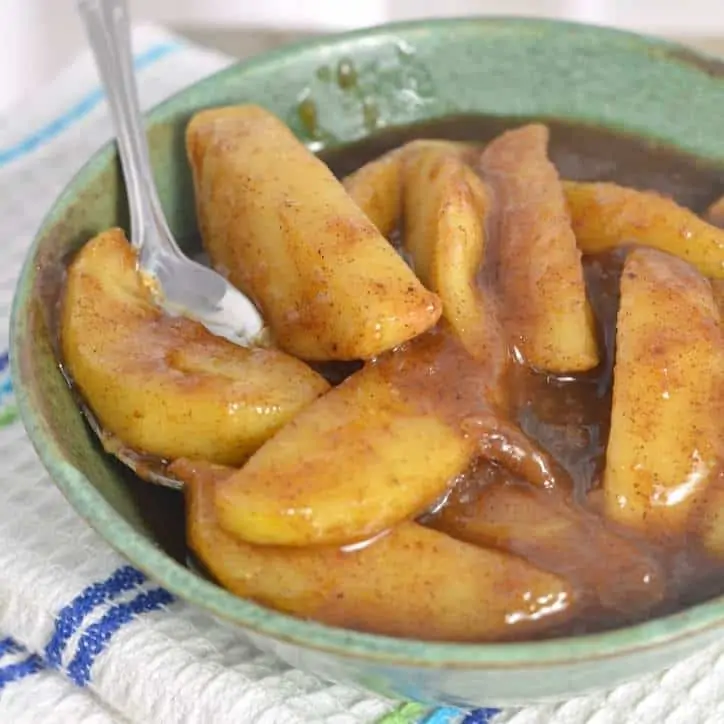 If You Enjoyed This Apple Recipe, You Might Also Enjoy…
Watch Me Make Cooked Apples!
Would You Help Me Out?
Please leave a 5 STAR review in the comment section below. This helps others to find the recipes at Loaves and Dishes!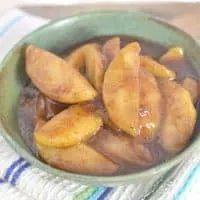 Cooked Apples
Cooked apples the way you remember them from way on back then. Warm, delicious, buttery and a hint of cinnamon and nutmeg but allowing the apple goodness to shine through!
Print
Pin
Rate
Ingredients
2

Granny Smith Apple – about fist sized.

2

Sweet Apple – like fuji – about fist sized.

2

Tbs

lemon juice

10

Tbs

Butter

4

Tbs

Dark Brown Sugar

4

Tbs

White Granulated Sugar

4

Tbs

Honey

1

Tsp

Cinnamon plus a little more for garnish

1

Tsp

Nutmeg

freshly grated if possible

Pinch

of kosher salt
Instructions
Peel the apples. Cut the apples into bite sized slices (remove the core and seeds). Coat with the lemon juice and set aside until the pan is ready.

Melt the butter in a skillet over medium heat on the stovetop (I prefer cast iron for even cooking temp – but that is your choice)

Add the apples to the pan of melted butter and cook over medium until it appears that most of the butter is taken up by the apples. You will see that the butter turns from a milky buttery yellow to a more clear and sticky fluid. If you puncture the apples with a fork, they will be mostly cooked through at this point.

Add the sugars, honey, cinnamon, nutmeg and salt. Gently toss the apples to coat with the spices and sugars. Continue to cook over medium heat.

The sugars will dissolve and turn into syrup and the apples will become soft. Gently insert a fork to know when the apples are done. The fork tines will slide right in with little to no effort. Do not overcook. Remove the pan from the heat and allow to rest for 5 minutes before serving.

Sprinkle with a little more cinnamon before serving if you enjoy more cinnamon.
Notes
Pro Tips:
Use the right apples – the balance of apple flavors makes a difference.

Allow the butter to be absorbed by the apples – that is where that soft, delicate, buttery flavor comes from.

Use both kinds of sugars to give a depth to the sweetness.

Using honey gives another depth of flavor to the dish.

Stop cooking the apples when they are done because overcooking apples makes them mushy and that isn't the preferred result.

Adding a pinch of salt balances the sweetness and enriches the flavor.
Nutrition
Nutrition Facts
Cooked Apples
Amount Per Serving (1 g)
Calories 341
Calories from Fat 180
% Daily Value*
Fat 20g31%
Cholesterol 51mg17%
Sodium 7mg0%
Potassium 148mg4%
Carbohydrates 45g15%
Protein 1g2%
Vitamin A 657IU13%
Vitamin C 8mg10%
Calcium 24mg2%
Iron 1mg6%
* Percent Daily Values are based on a 2000 calorie diet.
A VERSE TO SHARE
I've recently had the opportunity to spend a lot more time outdoors. I guess we all have.
During this time, I've often wondered how people learned to survive from foraging and eating off the land.
There are many edible plants, but knowing which ones to eat is a challenge for sure.
I think modern man wouldn't fare as well.
Genesis 1: 29
And God said, "Behold, I have given you every plant yielding seed that is on the face of all the earth, and every tree with seed in its fruit. You shall have them for food.