You are probably going to look at this recipe for Apples and Ale Barbecue Chicken and say, "Wendi THAT is just taking it a BIT too far". Then again, you haven't tasted Apples and Ale Barbecue Chicken yet, so you should hold your judgement until you do, OK?
I promise you one thing, this ain't yo mama's bland ol baked chicken and it also ain't your daddy's grilled and burnt barbecue chicken. Did I just insult BOTH of your parents? I didn't mean to, it's just an expression.
HELLO FLAVOR!
What I'm getting at is that once you add THIS much FLAVOR to your chicken dish, you will speed right around past go, collect your $200 and keep right on trucking to Flavor Town where the traffic circle drives right around Apples and Ale Barbecue Chicken
Ya'll know that this series of recipes (Stuffed Flank Steak and BIGGEST baddest best Burger) are entries into the Budweiser Sauces and Marinades recipe challenge.
HOW DID THIS RECIPE FOR APPLES AND ALE BARBECUE CHICKEN HAPPEN?
Budweiser was kind enough to send me a sample of their sauces and marinades to try and I thought I would go one better by adding some of their beer as well.
Because when you are taking things too far, you might as well pass the finish line, am I right?
Pinky Swear, this is the juiciest and most flavorful chicken you will EVER eat. No joke. Go try Apples and Ale Barbecue Chicken today!
TIPS AND TRICKS FOR Apples and Ale Barbecue Chicken
This dish requires a frying pan that will go from stove top to oven. I prefer an iron skillet for this job, but a stainless steel pan with a fully metal handle will do the job too.

You will read the directions for turning the chicken this way and that, skin side first,etc and you might think, "I'm not going to go to all of that trouble". Trust me, you WANT to go to that trouble. That charred skin is the best thing you will put in your mouth today, honest.

When you put the chicken in the pan, pick exactly where it needs to sit, lay it in there and then LEAVE IT ALONE. If you go flipping your meat all around, you'll tear the skin and then you'll miss out on the delightful taste of that skin and I would feel so sorry for you.

You really will need a thermometer for this dish if you want it to go exactly right. You know I'm always encouraging you to have one anyway. It's worth the price of buying a good one.
IF YOU ENJOYED Apples and Ale Barbecue Chicken, YOU MIGHT ALSO ENJOY….
YOU CAN CHECK OUT BUDWEISER SAUCES AND MARINADES AT THE FOLLOWING PLACES:
Hey! Join the fun and check out Budweiser Sauces on Budweiser's social media channels and use the hashtags #BudweiserSauce, #BudweiserBBQSauce, #KingOfSauces when you recreate these dishes! It'll be fun and I'll be looking for your recipes!
YOU CAN CHECK OUT BUDWEISER HERE….
YA'LL HELP ME OUT NOW, YA HEAR?
Please leave me a 5 star 🌟🌟🌟🌟🌟 comment below in the comment section, all right? I would LOVE to know if you made this recipe or even if you are planning to! Of course, head on over to Pinterest, Facebook and Instagram and tag me with some photos of your creation!
I can't wait!
Ya'll know I love your comments!! ❤
THE RECIPE FOR Apples and Ale Barbecue Chicken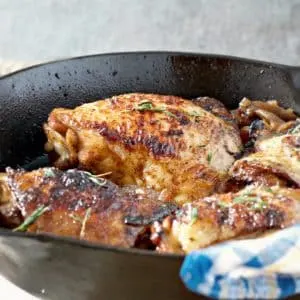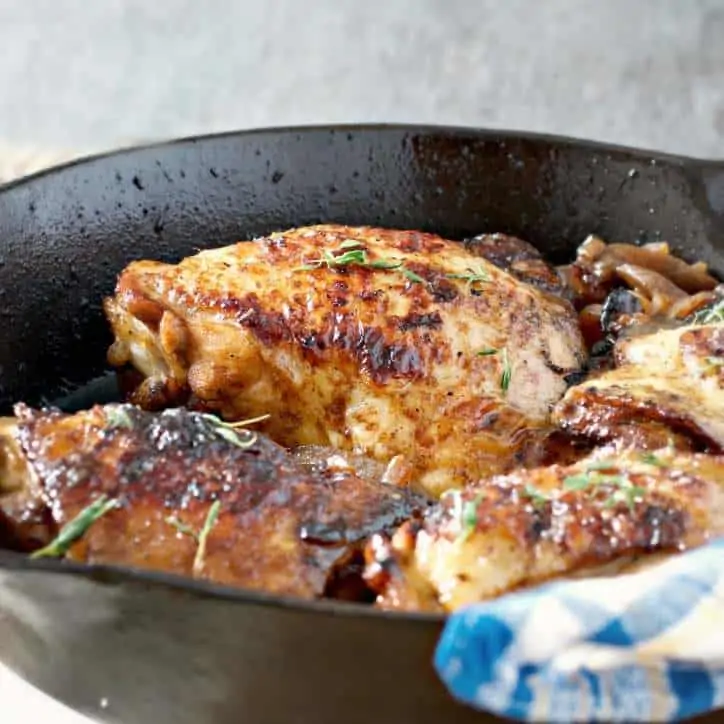 Apples and Ale Chicken Barbecue
Full on taste for Apples and Ale Barbecue
Print
Pin
Rate
Ingredients
4

Large skin on and bone in chicken thighs

1

package of Budweiser Sizzling Steakhouse marinade

1

Tbs

vegetable oil

½

Vidalia onion cut into thin slices

4

minced garlic cloves

1

Cup

Budweiser Freedom Reserve Red Ale

use regular Budweiser if the ale is unavailable

½

cup

chicken broth

6

sprigs fresh thyme

3/4

Cup

Budweiser Brewmaster's Premium Barbecue Sauce Sweet and Spicy flavor

½

gala apple cut into 6 slices

leave skin on.
Instructions
Place the 4 large chicken thighs into the Budweiser Sizzling Steakhouse marinade bag and zip seal the bag. Place the bag into the refrigerator 24 hours before you plan to use the chicken (do this for at least 6 hours but 24 is better).

Remove the chicken from the marinade bag and discard the marinade.

Preheat the oven to 450.

In an oven safe skillet (prefer a well seasoned iron skillet), heat vegetable oil over medium high heat until oil is shimmering on the stovetop. Place the chicken, one piece at a time, skin side down. The chicken will sizzle and pop (that's what we want it to do). Cook the chicken without moving it around for 6-8 minutes on the skin side.

Carefully (so as not to peel the skin off) Flip the chicken over and cook the other side for 3 minutes.

Flip the chicken back to the skin side down and place the chicken into the oven and roast for about 15-20 minutes.

Remove the skillet from the oven - be careful, that skillet is HOT. Using tongs, remove the thighs to a plate to rest. Cut the oven heat down to 350.

Pour off all but 2 Tbs of the accumulated chicken juices.

Place the skillet on a burner and set to medium high heat. Add the onion and garlic and cook until the onion is soft.

Add the ale, broth, thyme all at once and use a wooden spoon to scrape all of the flavorful bits off the bottom of the pan.

When the liquid begins to boil, add the barbecue sauce and the apple slices and cook until the sauce begins to thicken.

Replace the chicken into the frying pan and spoon the sauce up over the chicken until well coated.

Place the chicken back into the oven and bake until the chicken is reheated and cooked through. Spoon the sauce up over the chicken every 3-5 minutes until done. Chicken is done when an internal thermometer placed in the thickest flesh (and not on the bone) reads 165. Remove the chicken from the oven and allow to rest on the stovetop for 5 minutes. Make sure to spoon the sauce over the chicken before serving.

Serve with some sauce over mashed potatoes or rice and garnish with fresh thyme.
Notes
A tangy zippy recipe using the Budweiser marinade, barbecue sauce and Red Ale.
Nutrition
Nutrition Facts
Apples and Ale Chicken Barbecue
Amount Per Serving
Calories 260
* Percent Daily Values are based on a 2000 calorie diet.
A VERSE TO SHARE
Ecclesiastes 9:7 Go, eat your food with gladness, and drink your wine with a joyful heart, for God has already approved what you do.