Want to make a Beautiful Easy Strawberry Easter Cake that will STUN your family and friends? Want to hear, 'YOU made THIS?" with astonishment in their voice? No worries, I got you on this one. Easy, simple, BEAUTIFUL and so tasty you'll be shocked!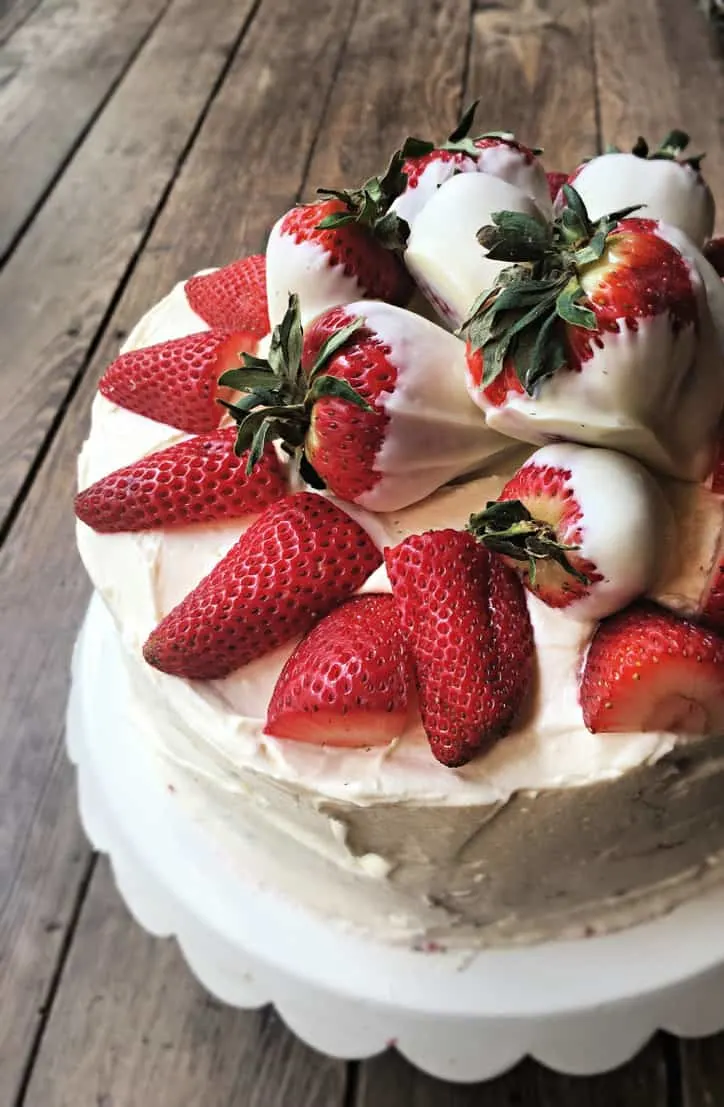 Why This Recipe For Easy Strawberry Easter Cake Works
You'll be amazed at your ability to make such a beautiful easy strawberry cake in no time at all. It will delight you to your core to see your family gobble it down and argue over who gets to eat the candy coated strawberries from the top!
Uses ingredients you probably already have at home or can get easily!
Beyond that, you won't believe that you can make such an easy but delicious icing from a Cool Whip Container and some cream cheese!
We always enjoy this lovely cake at the end of a holiday dinner with Ham, green beans and mashed potatoes with gravy!
Here's How to Make It
STEP 1.
Bake a boxed white cake and let it cool. I use a two layer cake here but you can do a sheet cake as well. Assemble ingredients for the icing.
Coat strawberries with candy coating and place them into the fridge.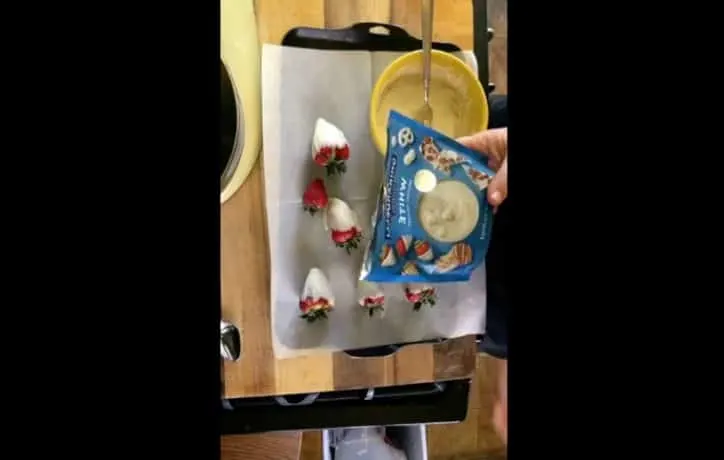 STEP 2.
Mix your icing ingredients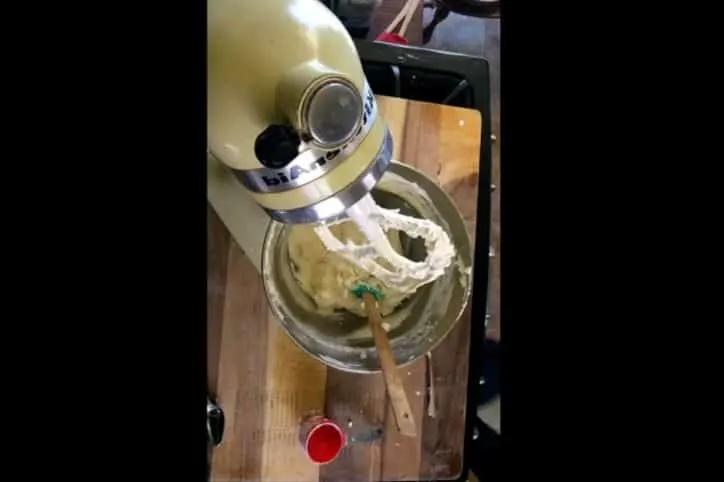 STEP 3.
Make your filling.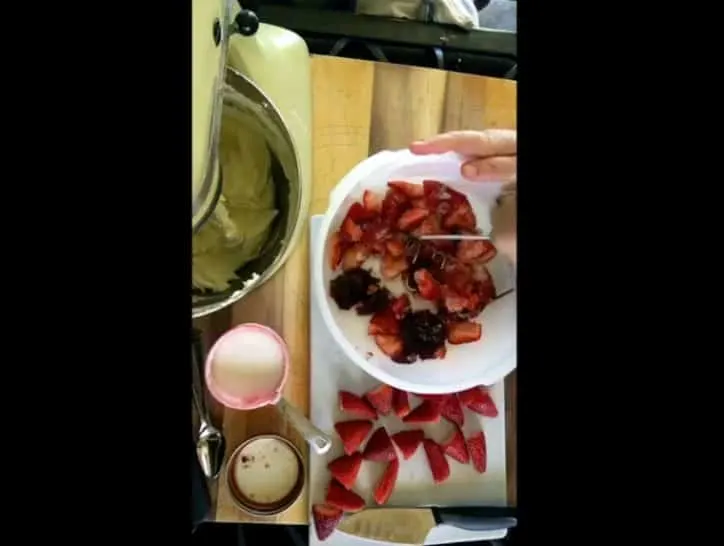 STEP 5.
Assemble the cake and apply the icing.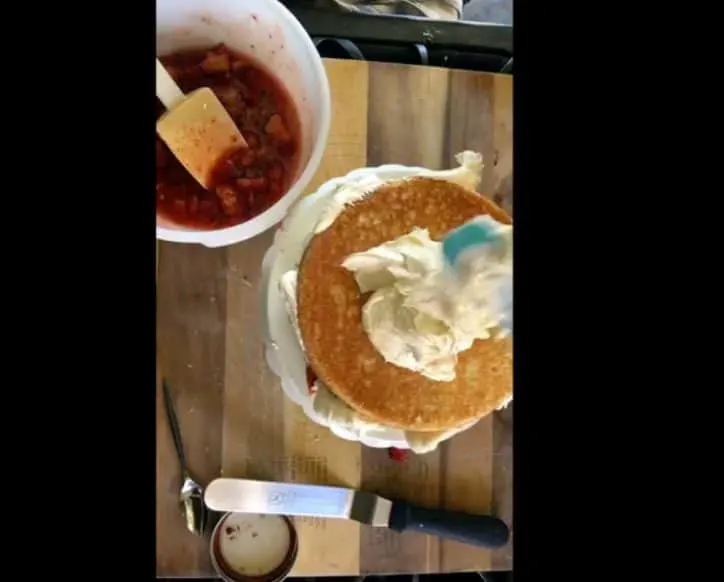 STEP 6.
Carefully place the candy coated strawberries and pieces of strawberries on the top of the cake and refrigerate until ready to use.
Frequently Asked Questions (FAQ's) about Easy Strawberry Easter Cake
Do I Have To Use a White Cake Mix?
No, you do not. I actually usually prefer a yellow cake mix, but the white does look nicer for an Easter Cake.
Do I Have To Use Cool Whip or Can I Make My Own Whipped Cream?
You CAN make your own whipped cream, but I've never done it that way and I just can't say what the results will look like after a day or two in the refrigerator if you have left overs.
If you DO use your own whipped cream, I caution you to add in 1 heaping tablespoonful of sour cream. This helps to stabilize your icing and will keep it from turning weepy.
Can I Use A Different Kind Of Fruit?
Yes, you definitely can use a different kind of fruit, however, you will want to consider leaving the whole candy coated strawberries on the top because this makes for a stunning cake topper.
Other fruits you might consider (or consider a mixture of a few of these)
Blueberries

Kiwis

Raspberries,

Blackberries
I would not recommend bananas.
Does This Cake Need to Be Refrigerated After Making?
This cake will be fine sitting out for a few hours, but if you need to keep it longer than that, then yes, cover it and put it in the fridge. It tastes excellent when cold.
If I Make It As a Sheet Cake, Do I Try To Cut It In Half For the Filling?
No, if doing as a sheet cake, use a sturdy round handled wooden spoon and poke holes through the cake about 2 inches apart pour the filling into the holes.
Then, you will top the cake with icing and with the strawberries.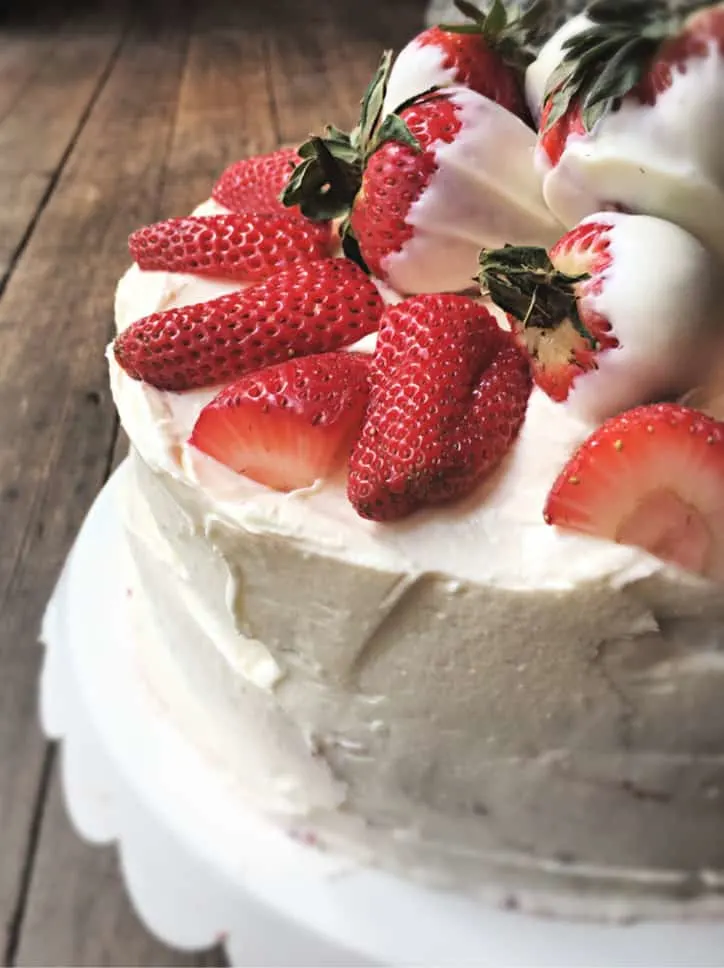 If You Would Like to Cook Along With Me You Can Go Over to My YouTube Channel and See the Full Hour Long Cook Along!
Click this Photo to Go Now!

Tips and Tricks for a Perfect Cake
Bake your cake ahead, allow it to cool completely before icing.

Set your cream cheese and cool whip out a couple of hours before making the cake, this way they will be completely room temperature before trying to make into icing.

Choose the largest, prettiest strawberries for the top.

Leave the green tops on the strawberries for a stunning effect.

Before serving, allow your guests to choose a strawberry from the very top.

Offer any extra middle filling as a drizzle for the cake you serve.

Always use the candy melts or official candy coating for the strawberries, melted chocolate chips do not work in this application.

Want to know what happens if you use three whole eggs instead of just the egg whites in your boxed white cake? Here's the answer.
PRO TIP: If for any reason your cake did not turn out right, cut it into pieces and layer it into a trifle bowl using the filling, cut strawberries and icing between layers. It will still be beautiful, no worries!
Here is a type of candy melts like you will need for coating the strawberries, look in your grocery store near the chocolate chips or you can order these by clicking the photo and going straight to Amazon for comparison shopping.
This is an affiliate link and I am an affiliate of Amazon and I will receive a commission from your purchase, so thank you, if you go this route.
Seriously though, you should be able to find these much more affordably near your own home in a grocery or even at Walmart or Target.
If You Enjoyed This Cake Recipe You Might Also Enjoy These Other Cake Recipes
Cinnamon Roll Cake From Scratch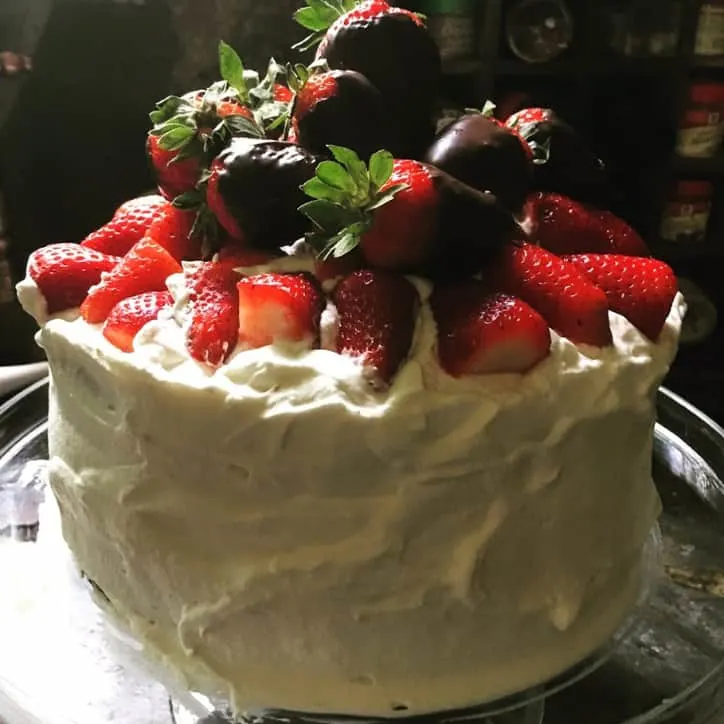 Ya'll Help Me Out a Little, Please?
In the comment section at the bottom of the page, leave a 5 STAR comment so that other citizens of the internet will be able to find Loaves and Dishes and this recipe more easily!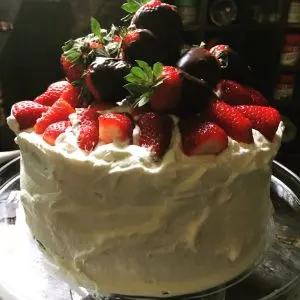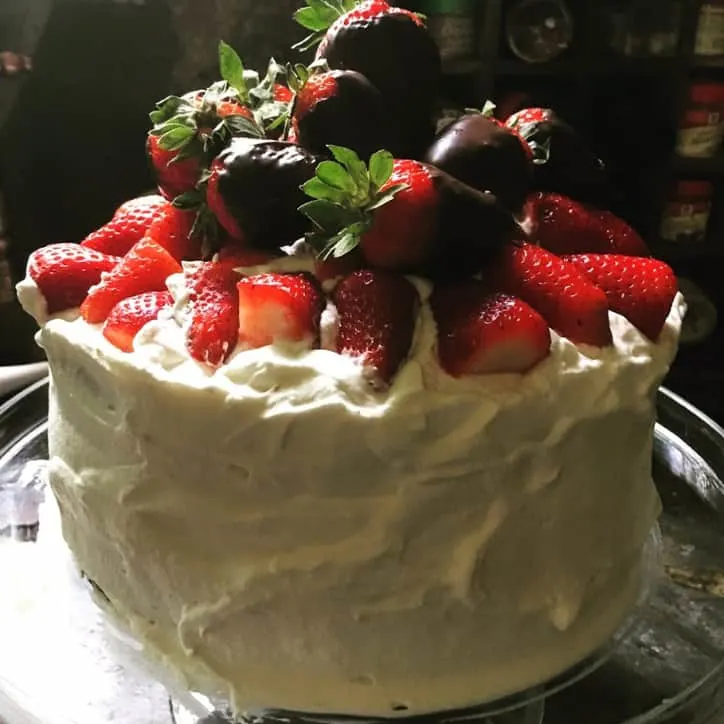 Easy Strawberry Easter Cake
Want to make a Beautiful Easy Strawberry Cake that will STUN your family and friends? Want to hear, 'YOU made THIS?" with astonishment in their voice? No worries, I got you on this one. Easy, simple, BEAUTIFUL and so tasty you'll be shocked!
Print
Pin
Rate
Ingredients
For the Cake
1

White Cake Mix

Bake per box instructions either as two layers or as a sheet cake.
For the Topper
10

Strawberries

large, fresh only

5

oz

candy melts

white or brown is fin, my grocery has ghirardelli brand near the chocolate chips
For the Icing
8

oz

cool whip

room temperature

8

oz

cream cheese

room temperature

1

Cup

Powdered Sugar

1

Tbs

vanilla extract

2

tsp

almond extract

be careful, it comes out of the little jar fast!

¼

Cup

Milk

can use cream if needed, may need as much as ½ cup
For the Filling
1

Pint

Strawberries

Fresh

1

Cup

Granulated Sugar

2

Tbs

Strawberry Jam
Instructions
Several Hours Before Starting
Lay the cool whip and cream cheese out on the counter a couple of hours before starting.

Bake the cake per package instructions and set aside to cool. Rinse and dry all of the strawberries and set those aside. Lay a piece of parchment paper onto a baking sheet and set aside.
For the Topper
Melt the candy melts in a microwave safe bowl in 30 second intervals, it may take up to a minute and half to completely melt. Stir well between rounds in the microwave. Do NOT allow it to become very hot, just just want it warm and melted. If it becomes too hot, allow it to cool before using on strawberries.

Choose 5-7 large pretty strawberries and leave the green tops on. Dip these one at a time in the candy melt and use a spoon to ensure that candy covers most of the strawberry. Lay the strawberries onto the parchment paper and when done, place tray in the fridge.

Remove the green stems from the remaining strawberries and Cut theminto halves and quarters so that they are bite size pieces. Set aside.
For the Icing
In the bowl of a stand mixer or with a hand mixer in a large bowl, on a low speed, combine the cool whip, cream cheese, powdered sugar, extracts and ¼ C milk. Beat until creamy and thick. If there are many lumps or it is too thick add milk by the Tbs full. You probably won't need more than 3 Tbs extra, at the most. The icing should be THICK but spreadable.
For the Filling
Remove the tops of all the strawberries from one pint container. Cut them into quarters and place into a medium size bowl.

Add one cup of sugar and using a potato masher, large fork or a hand mixer, mash and mix the strawberries and sugar. Add the jam and keep mashing until the entire mixture resembles a thin strawberry jam. Set aside.
For a Layer Cake
Use 2-3 Tbs of icing to glue the bottom cake to the cake plate.

Place the first cake, top side down onto the cake plate.

Spread the filling onto the top of the bottom cake but only spread it to within 2 inches of the sides. Don't put too much, or it will want to squeeze out between layers. Keep the amount you have left over to serve with the cake.

Put the other cake on top of the first cake, upside down.

Using a spatula and an offset spatula, spread the icing over the surface of both cakes. If some of the filling seeps out, just keep icing, it will be fine.

When the cake is iced, remove the candied strawberries from the refrigerator and pile them artfully onto the center of the cake. Place the pieces of strawberry that you cut onto the top and or sides of the cake for decoration.

Refrigerate if you will not be eating it in the next two hours. Keeps up to 5 days in the fridge if covered.
For a Sheet Cake
Using the round handle of a wooden spoon, poke holes in the cake every 2 inches.

Gently pour the strawberry jam mixture into the holes and allow to soak into the cake. You will likely have some left over, just save it

Ice the cake with the icing.

Set the candy coated strawberries into an artful pile in the center of the cake.

Either drizzle the remaining jam over the top of the cake OR save it to serve with the cake.

Refrigerate if you will not be eating it in the next two hours. Keeps up to 5 days in the fridge if covered.
Notes
You will have some left over candy melt, it works great to coat onto potato chips or pretzels. Simply put them on parchment paper and place in the fridge until set. Then you can put into zip lock bags for a later treat!
The extra jam mix can be used to drizzle on the cake for those who prefer more.
You can also add 1 tsp of lemon juice and it will keep for about a week to use as jam for your morning toast!
Be careful if making a Duncan Hines Classic White Cake to ONLY use three egg WHITES and not the whole egg, it causes the cake to seriously deflate and turn into something that resembles a fat pancake (ask me how I know!).
Nutrition
Nutrition Facts
Easy Strawberry Easter Cake
Amount Per Serving
Calories 624
Calories from Fat 144
% Daily Value*
Fat 16g25%
Cholesterol 36mg12%
Sodium 574mg24%
Potassium 233mg7%
Carbohydrates 115g38%
Protein 6g12%
Vitamin A 450IU9%
Vitamin C 44mg53%
Calcium 220mg22%
Iron 2mg11%
* Percent Daily Values are based on a 2000 calorie diet.
A VERSE TO SHARE
Sometimes having patience with those we love is the hardest struggle! Why is that? I don't know, but I feel it.
At times, I even struggle with having patience for myself!
Ephesians 4:2
Be completely humble and gentle; be patient, bearing with one another in love